Nha Trang Markets: how to find, what to buy, prices
Markets is a bright illustration of nation's day-to-day activities, its humdrum, "unpolished" side. Today we look upon main Nha Trang markets.
For those, who prefer to combine shopping with rest, we recommend to read the article: "Shopping malls in Nha Trang". But if you're sated with rest and looking for something to buy for yourself, your friends and relatives in Nha Trang, then markets is what you need!
We put main Nha Trang markets on a map so that you can easily find them. To open the menu, click an icon in the top left corner of the map.
Xom Moi Market
Perhaps the most non-touristic market in Nha Trang. The bulk of goods on sale are foodstuffs. The majority of purchasers are locals. Tourists, who come to feel the national color, are sometimes shocked with steady stinking odor, rubbish heaps and insanitary conditions, prevailing on bazaar. Looked for exotica? Get it! Here you can find merchants sitting right on the ground, bikes prowling among the rows, bazaar clatter and chatter.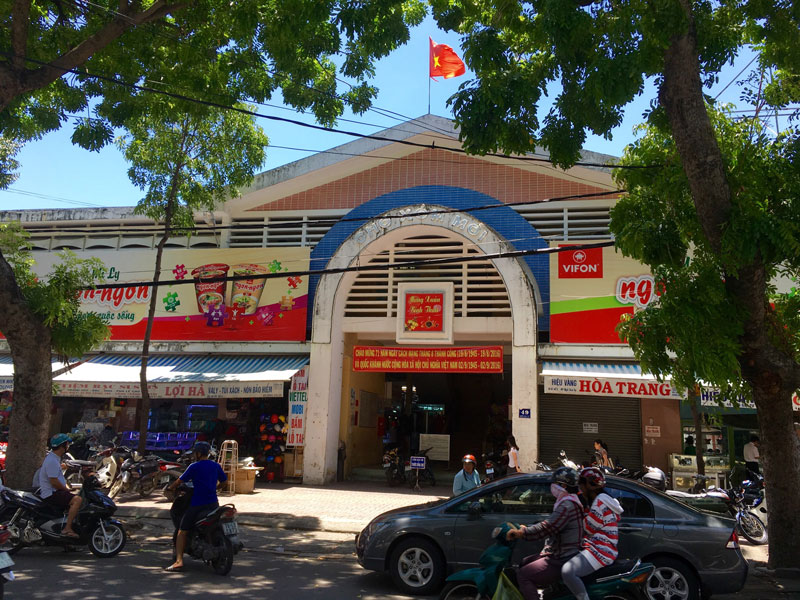 But this is the place where you can buy goods at the minimal prices, straight from the source, if you know how to bargain, of course. The majority of sellers speak neither Russian nor English. But has that ever stopped anyone? There are also wholesale dealers who trade at consumer goods marketplace and neighboring streets. They already speak languages, it's cleaner here and service is better. As a result, prices are higher. However hepcats claim that in season it doesn't matter where you buy fruits – in the market, in tourist street or in the store – difference in prices is insignificant.
What to buy?
Primarily we recommend you to clap your eyes on Vietnamese fruit. Approximate prices per kilo are (prices can be volatile depending on a season):
mango – 10 000-20 000 vnd;
rambutan – 20,000 vnd;
durian – from 25,000 vnd per season to 60,000 vnd;
dragon – 15 000-20 000 vnd;
coconut – 8 000-10 000 vnd apiece;
pineapple – 15 000 vnd apiece.
Market is open from 5 a.m. till the nightfall. The majority of private traders close up by noon and at that time you can purchase fruit and vegetables with a discount.
How to find?
Xom Moi market is located close to the Settlement at Ngo Gia Tu street and Huynh Thuc Khang street.
Cho Dam Market
Nha Trang Cho Dam Market is large and well-developed market where both tourists and locals stock up. In the center of the market there is a round two-storeyed building. Here manufactured goods like dishes, shoes, bags, watches, bijouterie, souvenirs and whatnot, are sold. On the second floor there are drapery and clothes. Roofed shopping streets disperse from the building according to inconceivable logic. Houseware and vegetables, herbs and shoes, marbles and candy are here in one row. When there are no more counters, trade slip right to the ground.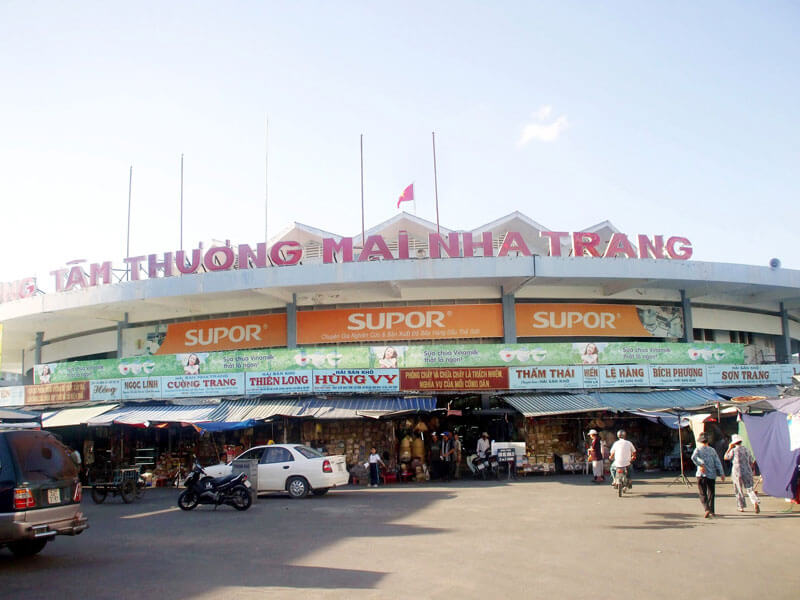 What to buy?
Here it is worth to buy low-priced goods in memory of your trip, souvenirs for your relatives and friends like:
summer cotton cloth (t-shirts, sarafans, shorts);
green tea (lotus, jasmine), Vietnamese coffee;
herbs, candy, dried seafoods;
textiles (silk, cotton);
liqueur made form scorpions and snakes, rum.
souvenirs.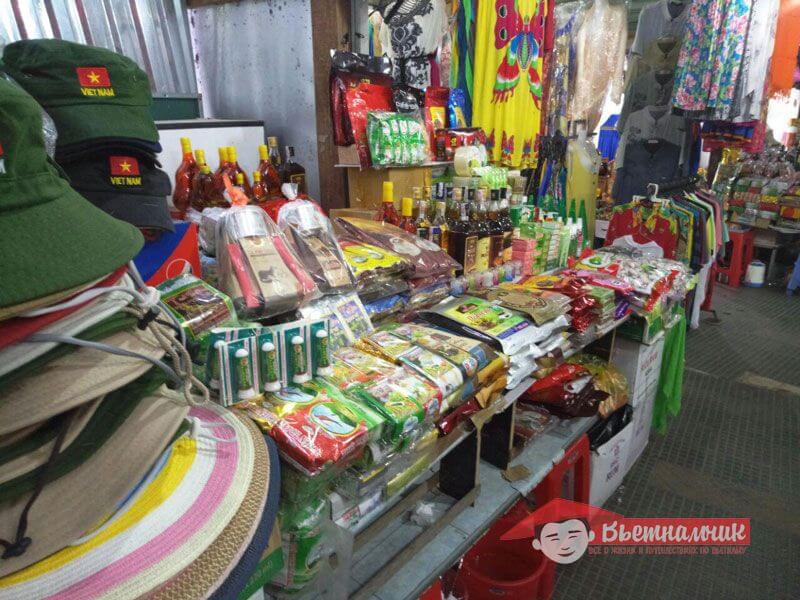 If you're not an expert it's a risk to buy expensive goods as on other markets of the world, because it's easy to fall across a fake. That is why marbles, silver, crocodile leather goods is better to buy in a store. Don't forget to bargain. Prices are set to high on markets – maybe two or even fourfold.
Guide for those who is not used to bargaining. Far not everyone has an eye for bargaining. To prevent yourself from doubts along the lines of "Did I not overpay?":
make a list;
kick the tires in a supermarket and at some other places;
don't put away for the last day;
set the amount you're ready to spend on a particular product;
take it easy, there is always someone who say that he's bought something at better price.
Remember they always sell for a higher price to tourists than to locals. It's a trend. They do the same all over the world.
How to get there?
Bus 4, taxi. The market is open 6 a. m. till 6 p.m.
Night market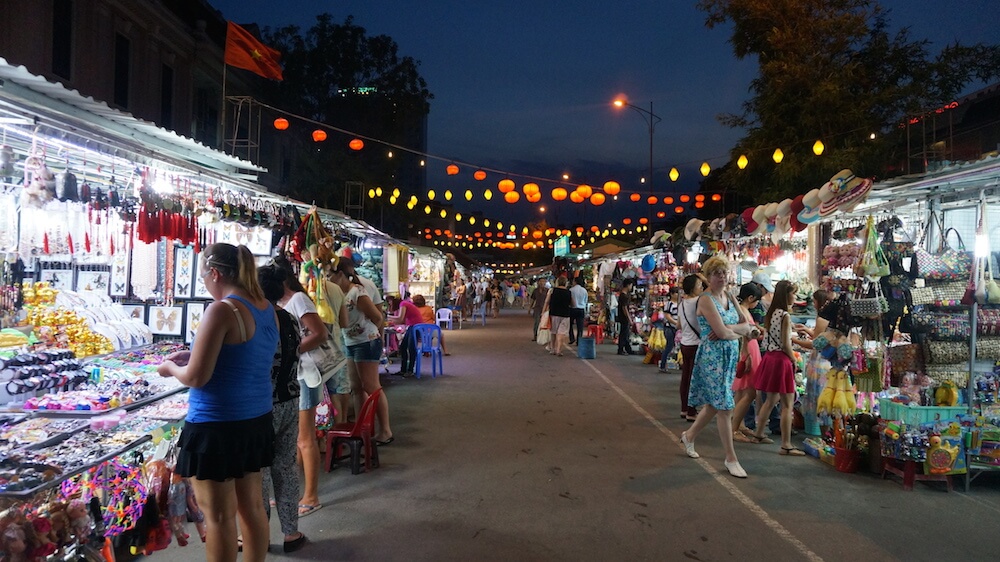 Nha Trang Night market is a typical souvenir market that you can find in every tourist town. It's a street with market stalls located perpendicular to the quay. The title "night market" is quite inexact. As cafes in Vietnam close at 10 p.m. and stores close even earlier, then a market that stay open until midnight can be considered as a night market. As usual, tourists bind visiting this market with night promenade along the seaside. Here they sell plenty of goods along the lines of "a cool bauble". Standard set include: bijouterie, string bracelets, magnets and beach accessories.
What to buy?
Some sundries as souvenirs:
knick knackery, bracelets – from 30 000 vnd;
traditional hats – from 30 000 vnd;
magnets and trinkets – from 10 000 vnd;
bamboo pictures – from 500 000 vnd.
How to find?
You will surely get sight of the market, walking along the seaside. It's close to "Lotus" (the building in the shape of flower, exhibition center).
We wish you splendid purchases!
If you still have questions, ask them here in comments!