Eco Park Yang Bay in Vietnam – attractions and entertainment
At a distance of 40 km from the resort city of Nha Trang, which is located in the central part of Vietnam and is very popular with tourists from Russian-speaking countries, there is a wonderful place, highly recommended for visiting – Park Yang Bay. Even the road with the scenery of delightful beauty enthralls, and even the park itself causes a storm of positive emotions.
On the way to the Yang Bay eco-park, you can see villages, mountains, rice fields, tropical forests. Traveling to Yang Bay is an excellent additional tour of Vietnam. In this park, 3 waterfalls – Yang Bay, Ho Che and Yang Kang. The largest of these is the Yang Bay waterfall, from which the name of the entire park also originates.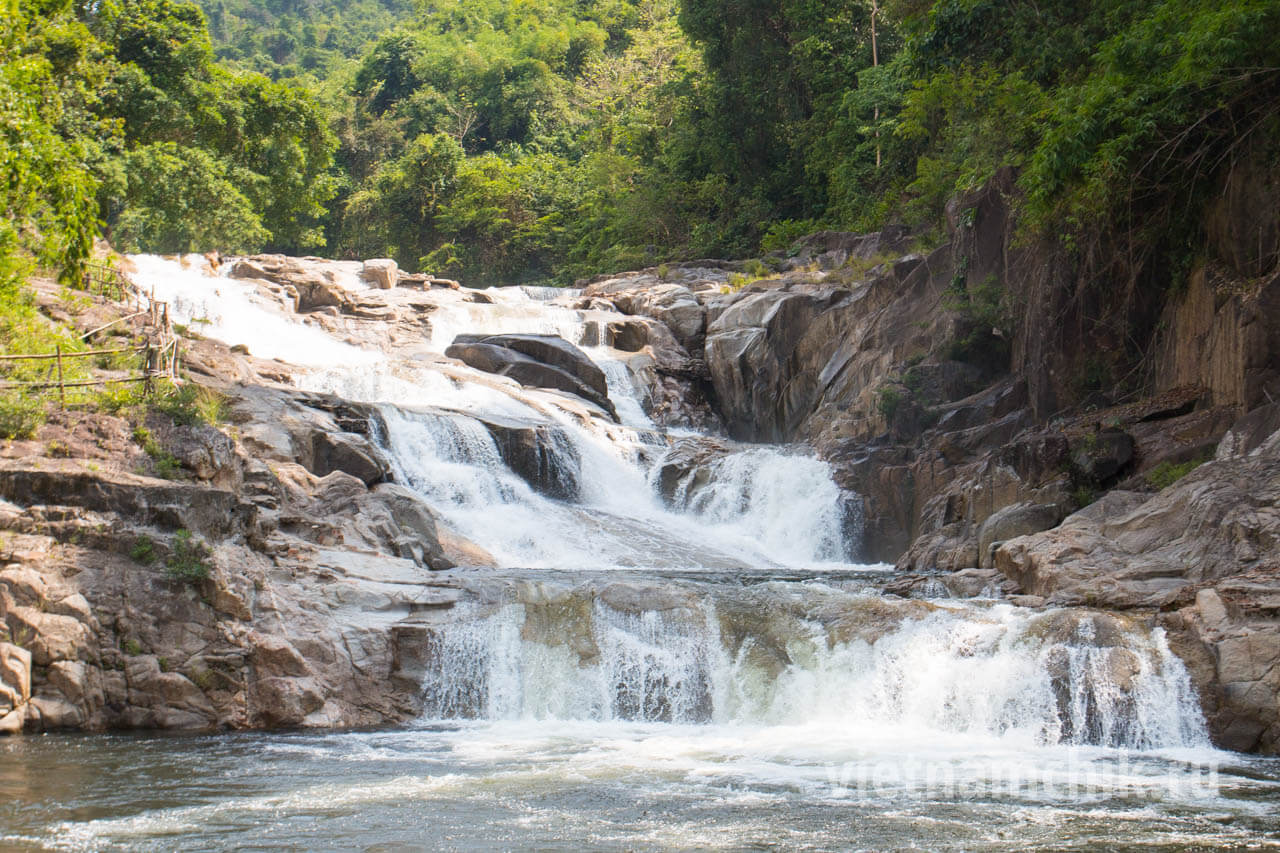 In addition to the waterfalls, the park has thermal springs and a mini zoo where animal shows are held. Also worthy of attention is the musical performance of representatives of a small local people – Raglav.
General information
The park is quite far from popular resorts. There are no hotels, only small villages with poor huts. Tourists go here on excursions mainly from Nha Trang – this is the nearest to the park Vietnamese resort. The entrance fee here costs 100 000-250 000 dong (this is approximately $5-12). This price includes visiting the attractions of the park and hot springs. For entertainment you need to pay separately.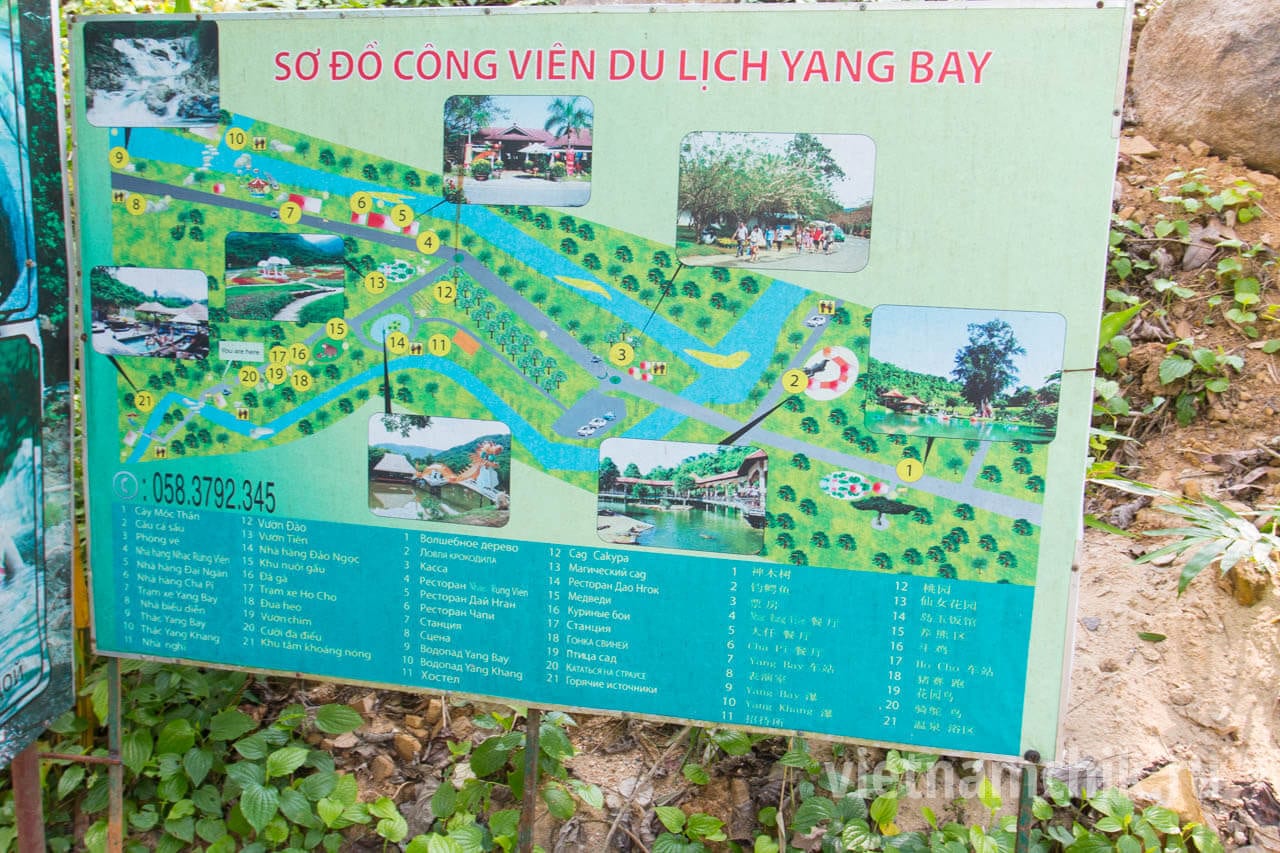 The most expensive ticket includes the services of an individual guide. Ecopark works from 8:00 to 17:00 hours. Near the entrance is a large stand, which shows the scheme of the park. It can also be bought at the ticket office, where tickets are sold. You can move around the area on foot or by free transport: small small cars are provided for the small tourist companies, for larger groups of excursion groups – special wagons.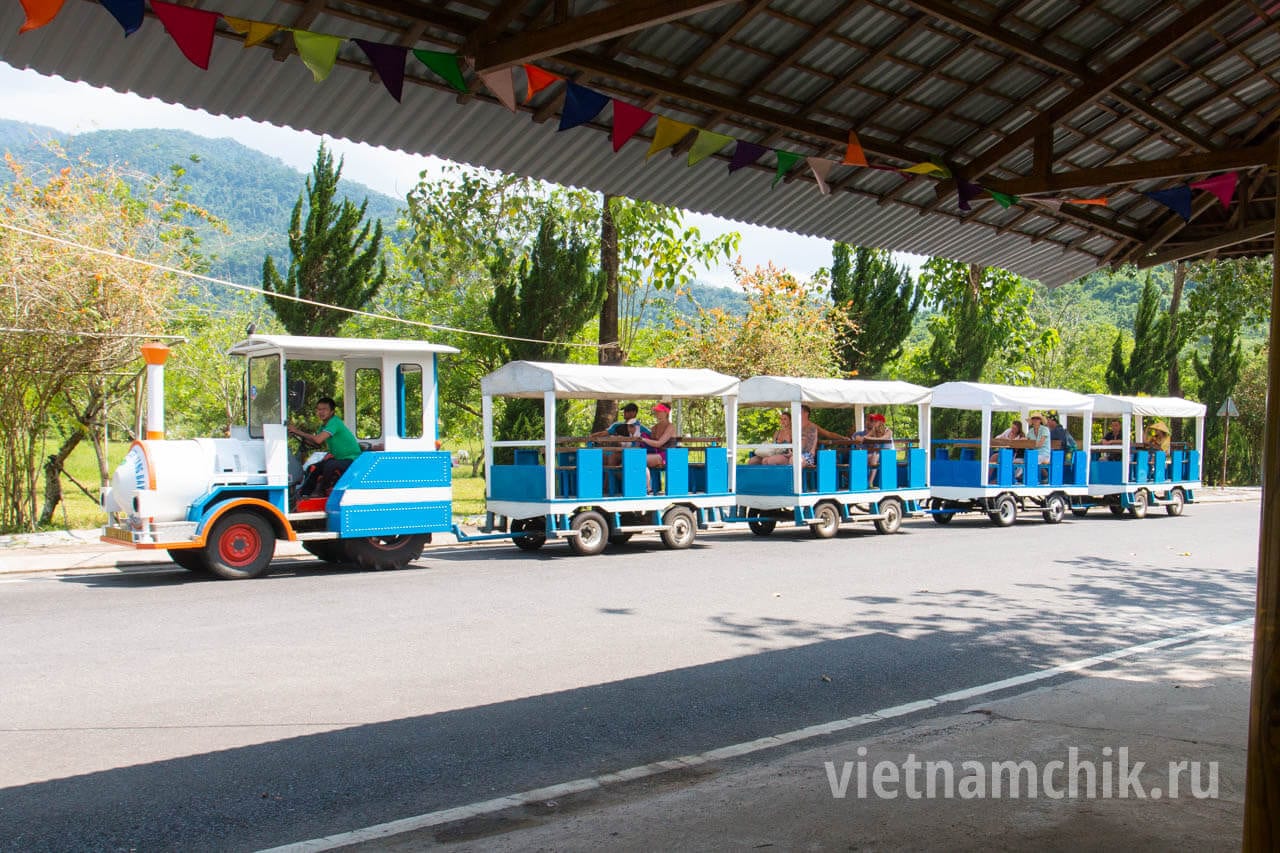 How to get to Yang Bay from Nha Trang
You can get there in several ways. The most convenient (and most expensive) is a taxi. Ask the taxi driver to came for you when you finish the tour of the park (you need to set the time), or wait at the entrance. It will cost $ 50-80 (there and back). It is especially advantageous to take a taxi when you travel by a group of 3-4 people and at the same time you are afraid to move on a bike.
Those who prefer to travel independently and are not afraid to ride a bike, for the road to the waterfalls from Nha Trang will pay much less. In particular, the bike can be rented in Nha Trang at a price of $ 5 per day, approximately the same amount will cost its refueling with gasoline. Taking into account the costs of entrance tickets, entertainment and lunch, the whole trip will cost about $ 30 for two people, whereas the cost of the corresponding tour tour in Nha Trang travel agencies is $ 25-40 per person.
It is important to get used to the chaotic movement in Vietnam. Driving on the opposite lane here is the norm. As well as the fact that drivers do not stop at pedestrian crossings. First, you need to drive along a smooth good road from Nha Trang to Dalat (17 km), then turn left, after which another 12 km to move on a less level, but already half-empty road, passing by rice fields and villages and reaching the park.
How else can you reach the Park of Yang Bay? Buy a tour at the travel agency Nha Trang. The price of it depends on the number of people in the group, from the guide – he is Russian or Vietnamese, and on whether lunch is included. Yang Bay is a fairly extensive park, you can not have time to inspect everything on such a large territory, so the guide's help will be very useful.
Waterfalls, thermal springs
On one of the slopes of the mountain you can see the largest of the three local waterfalls – Yang Bay. It is unusually beautiful and powerful, especially during rainy periods. Its waters are cool and clean. There are always enough people who want to swim at the foot of this waterfall. For safety, fences are built here and rescuers work. On the opposite side of the mountain flows another waterfall – Yang Kang, with muddy because of the content of red clay waters, which nobody wants to swim.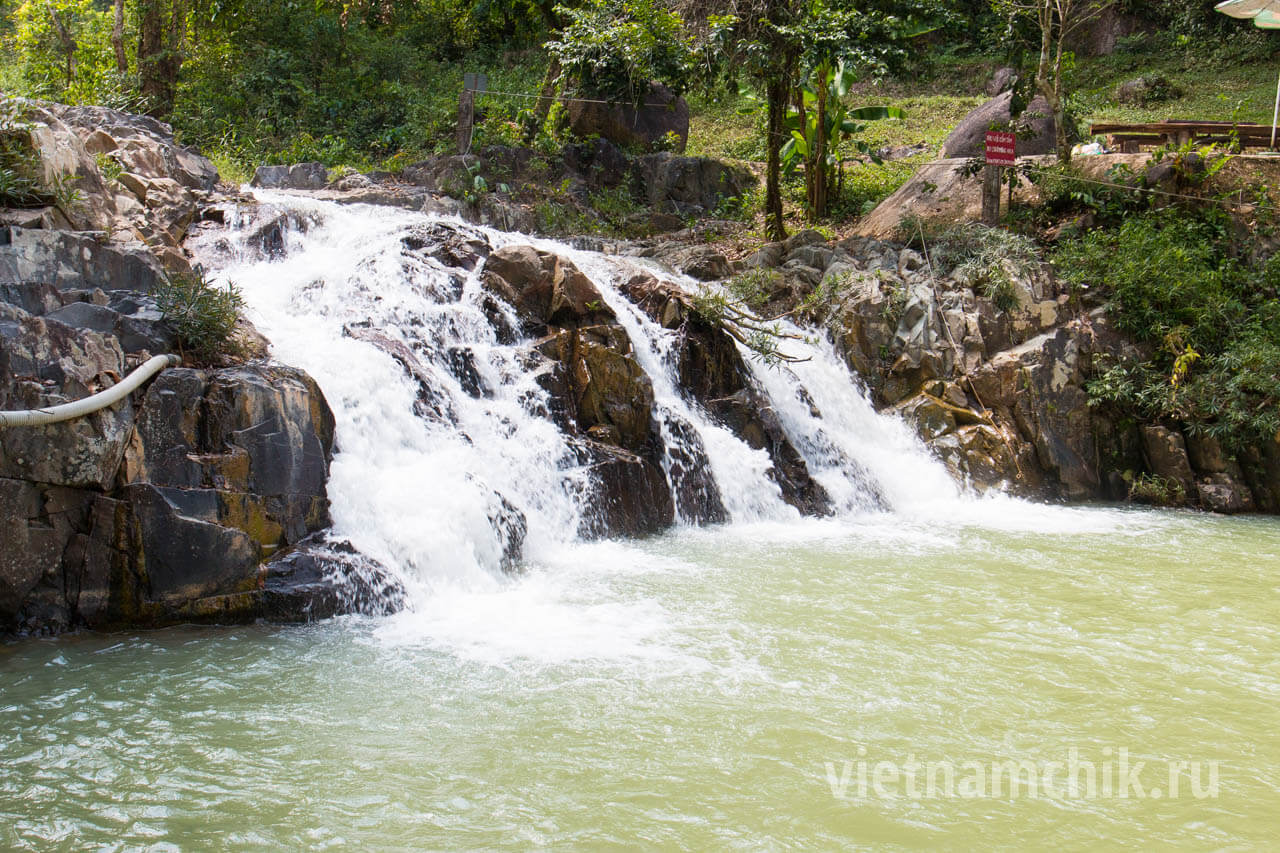 The path to the thermal springs lies along two fragile pendant bridges that hang over the mountain river. More than seven people at the same time this bridge will not survive. After overcoming all obstacles, you can finally get to the picturesque place where the small waterfall Ho Cho is located, as well as several swimming pools. There is a changing room and a toilet for tourists.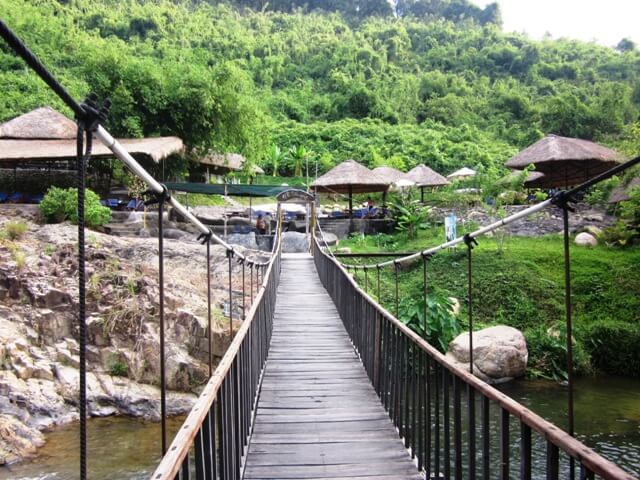 After changing clothes, the excursionists go to the pools, near each of which there is a sign with the temperature. In one of them, a round shape, the water is cool – 19 degrees, in two other warm – 32 degrees. Nearby you can take a shower. All three pools have concrete bowls.
More natural appearance has a natural pool, at the bottom of which lie smooth large stones. They are comfortable to sit and lie on. There is another swimming pool, but it is forbidden to swim in it. It serves as a source from which mineral water goes to all the baths here. Quite interesting are 7 funny statues of tigers installed near the Yang Bay waterfall.
Entertainment
In the park are available different options for pleasant leisure. It's interesting for adults and children alike. In addition to waterfalls and springs, there are many entertainments for tourists, often absent from other Vietnamese parks. You can visit the following events:
cock-fights;
show of the Ragla tribe;
Piggy runs;
feeding crocodiles;
riding on an ostrich;
feeding black bears;
a dinner of crocodile and ostrich meat.
The first stopping point for excursion groups is the Tree of Desire. The guides say that this is a cult tree for both raglais and all Vietnamese. To fulfill your wish, it is necessary to tie a ribbon on a branch. This is a tall enough tree – 25 m, so the Vietnamese shoot from ordinary slingshots with their ribbons to throw them on the branches. As a result, the crown is like a Christmas tree.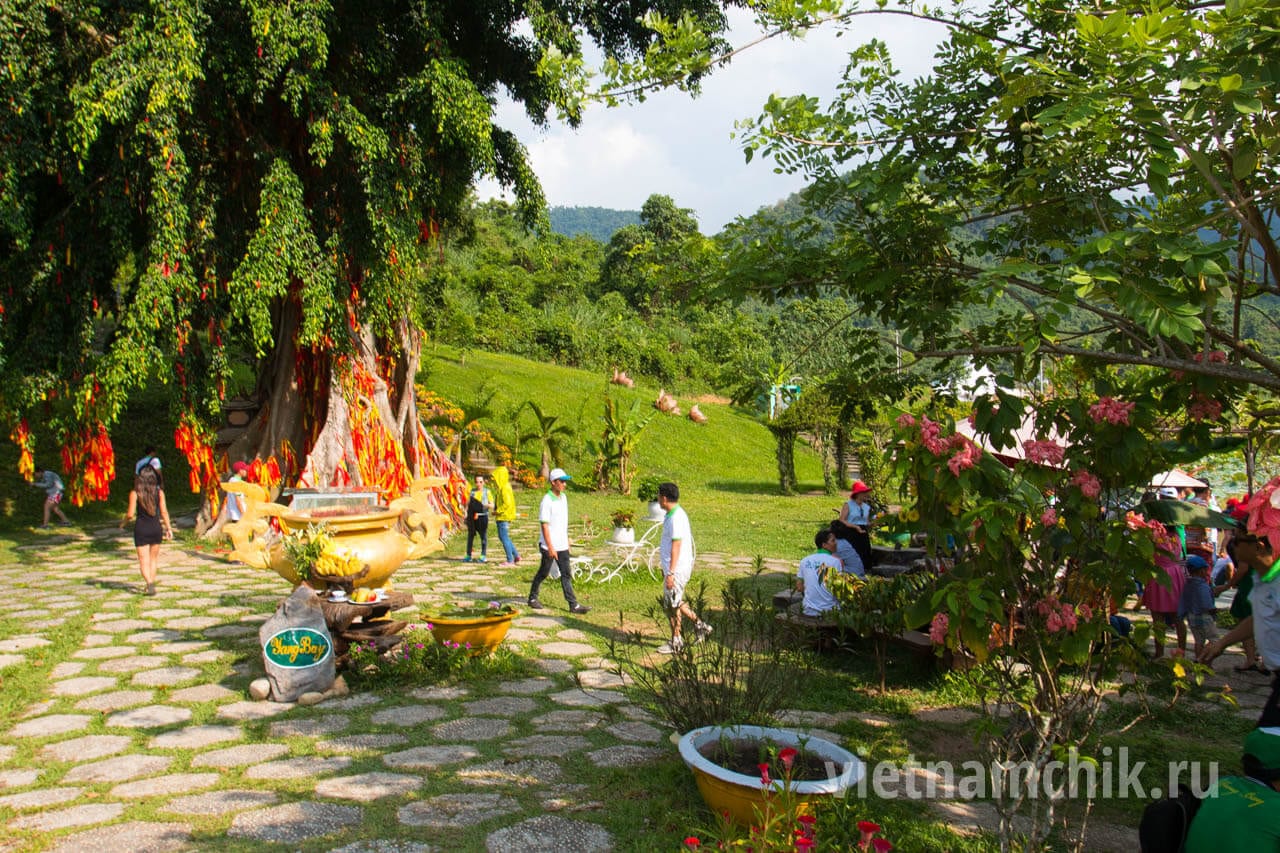 Not far from this tree is a pond with large artificial lotuses. In its waters live large golden fish, waiting for a treat. They are allowed to feed with a special pipette. Most of all this is fun for children. Also on this site there is a souvenir shop and several interesting animal sculptures. After a meal of fish, visiting the Desire Tree and photographing these interesting objects, tourists go to the entrance to the park.
At the entrance to the ecopark of Yang Bay, they see a huge gold sculpture of a snake, whose head is tucked up. Excursion groups usually immediately go to waterfalls and thermal springs, after which they go to an exotic dinner, and then go on to other entertainments. Near the waterfall Yang Bay there is a cafe where you can try crocodile and ostrich meat. All entertainment is not tied to any time, except for the musical performance of Ragla, which takes place at 12.30.
Rawl show
This performance consists of dancing and playing traditional instruments, which are performed both folk Raglay melodies, and specially designed for tourists. For Russians, for example, there are such melodies in the repertoire as "Kalinka", "Katyusha" and "Wind from the sea blew". There is a drive at the show, young performers play and dance, attract spectators to active participation, organize contests.
Ragla in Vietnam live mainly in two provinces. This people has about 120 000 people. The facial features contain the signs of the Australoid race – full lips, dark skin, wide nose. The very name of the people is ra glai, which means "children of the forest". Today, the main activities of raglais are ecological tourism, the production of musical instruments and household items made of bamboo.
In their speeches they use gongs of different kinds, a lithophone made of stone plates, bamboo pipes and flutes. Performing music tunes guys, and the girls are dancing. During the show, spectators are offered to take the stage themselves and learn Rawlay dances.
Black Asian bears
These pretty cute animals live here in spacious enclosures, in which they are quite comfortable. In size, they are about half the size of our brown bears. This species is also called the Himalayan bear, Ussuri and white-chested because of a patch of crescent-shaped white or slightly reddish color. Their natural diet mainly consists of plant products, they also feed on frogs, ants and molluscs.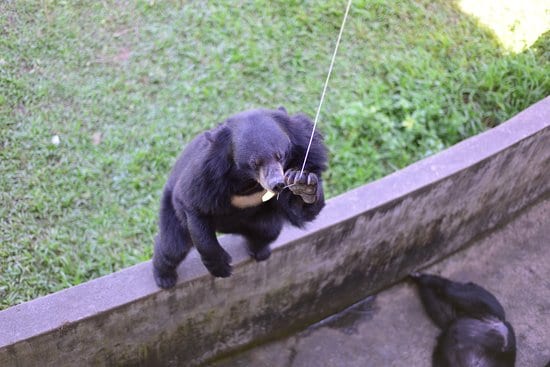 Tourists can feed these lovely animals with pieces of melons and bananas. Dainty at the same time tied to the line, which is strengthened on a long pole. Bears are always happy and eating, and such entertainment. To catch a treat, they stand on their hind legs and climb on the elevations. The most hardworking and active receive a reward. Especially funny look young bears, their behavior resembling children.
Other entertainment in Yang Bay Park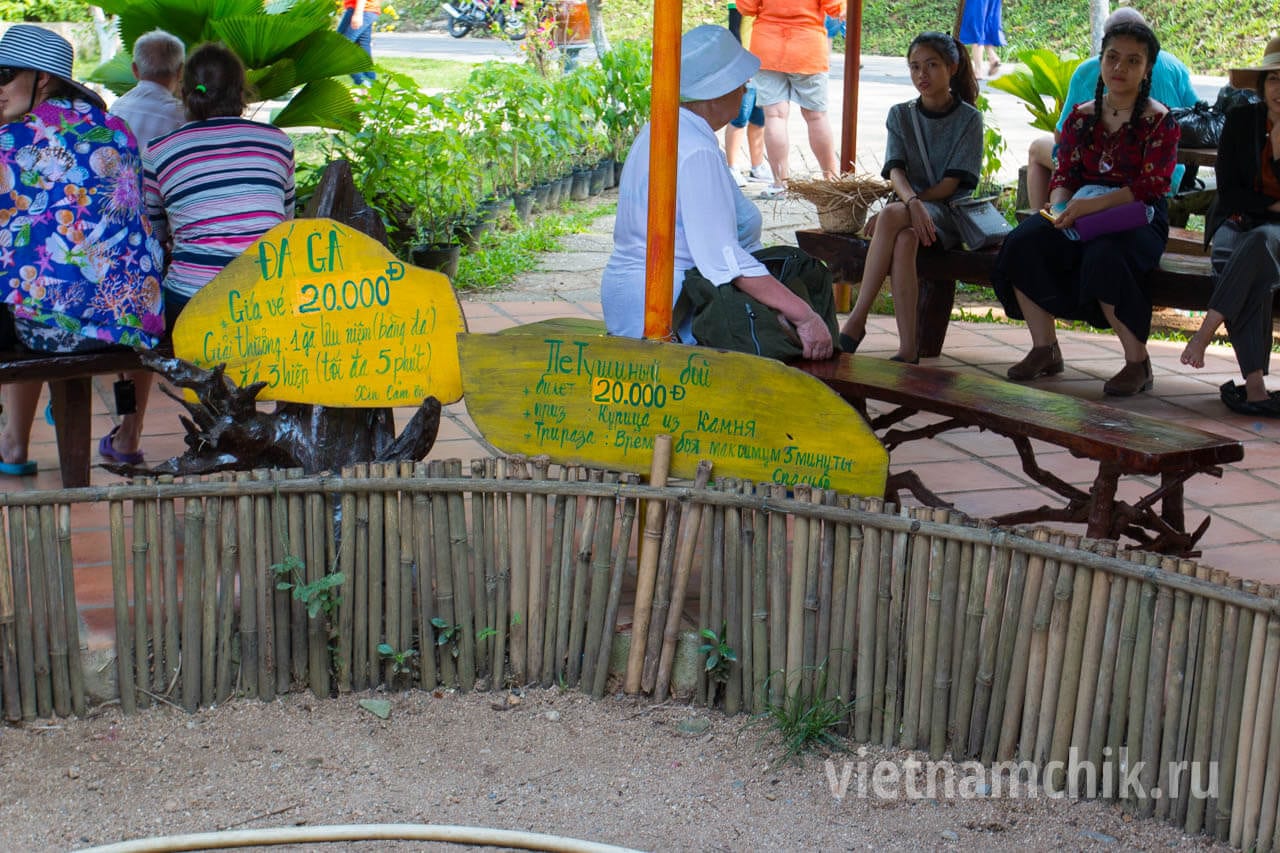 When a more or less large group of people is gathering, "cockfighting" is organized for tourists. Rather, their imitation, because the real in Vietnam are prohibited by law.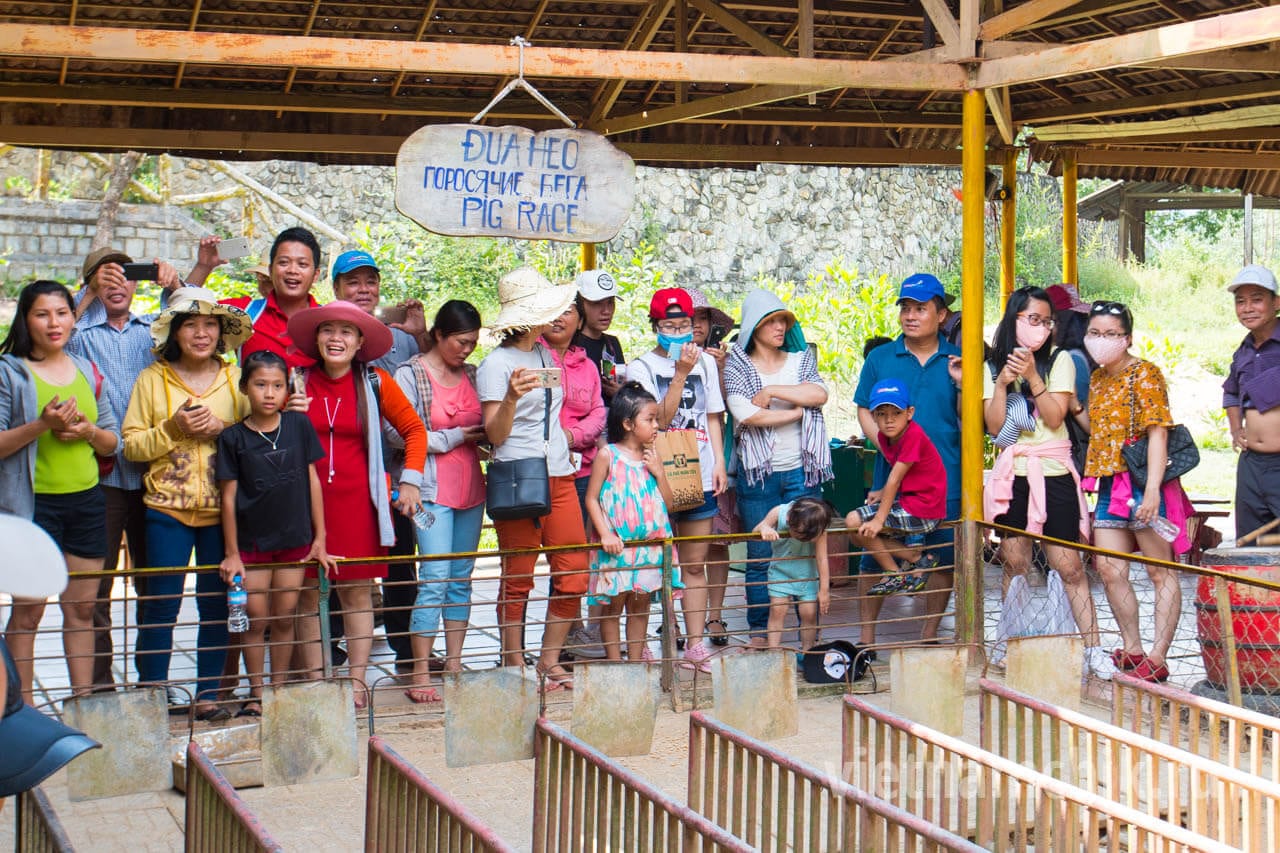 Therefore it is much more interesting to observe the pig runs, during which you can also make bets. At the finish line, the guinea pig expects food, and the winning player receives a prize.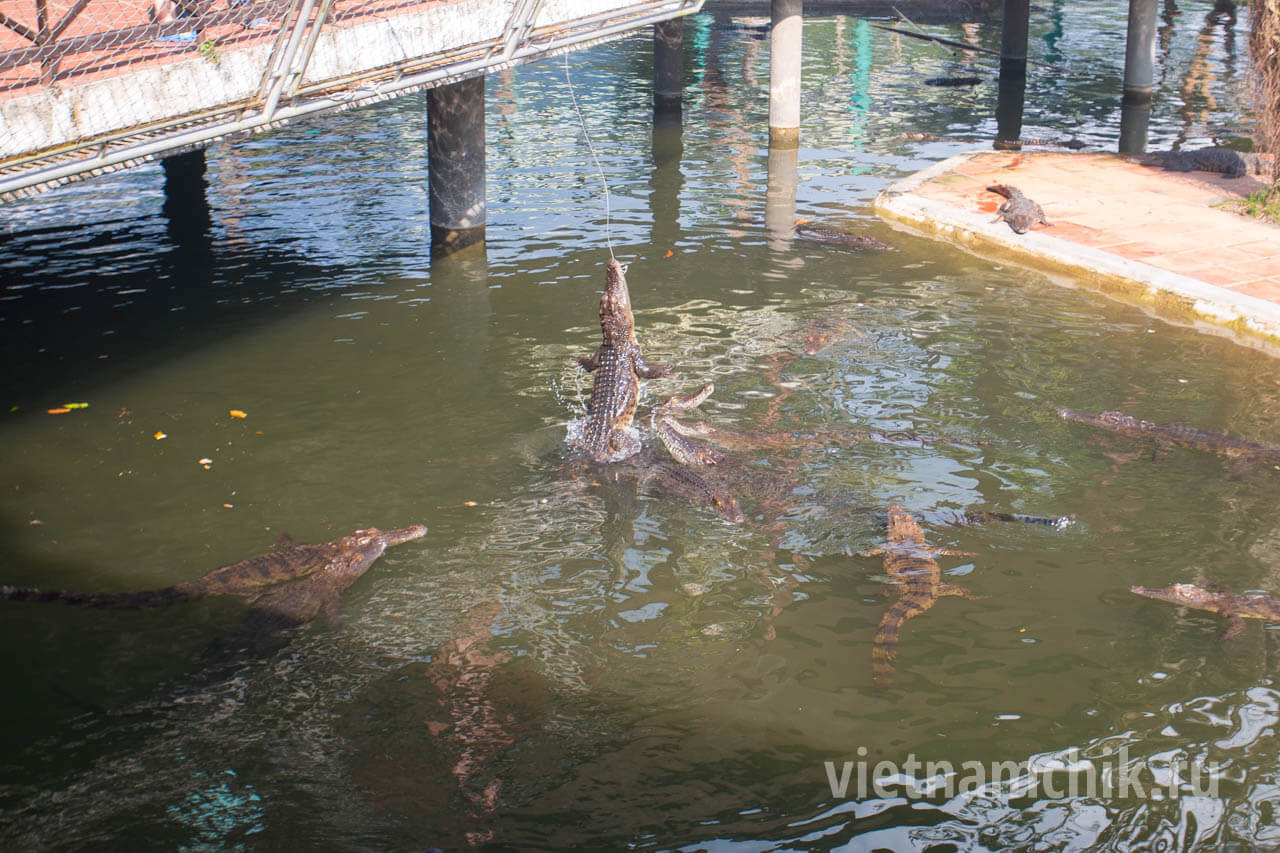 Another interesting entertainment is the feeding of crocodiles on a crocodile farm. Treat them, like bears, served with a long stick. They are fed with pieces of meat.
Conclusion
The experienced tourist attractions of this park are unlikely to surprise, everything is done quite simply and without any special frills. However, spending one day in the ecopark of Yang Bay definitely stands. But it is better to choose for this weekday and not a holiday, as local people also like to come here and at the weekend it becomes very noisy and crowded.
Have a nice holiday!