Sweet adventure in Nha Trang: a trip to a chocolate factory
Resting in Nha Trang with children, you should definitely visit two places that are sweet by smells and tastes: the Museum of Chocolate and the factory producing this delicacy. Both places are connected with each other not only by delicious products and exhibits, but also by the same owners.
[toc]
Vietnam's Chocolate Story
In addition to tea and coffee, Vietnam is famous for its cocoa beans. Cocoa trees (they are also called chocolate) got into these places together with the French colonialists in the XIX century. As it turned out, the Asian climate came to plants like.
For reference! After planting, chocolate trees begin to bear fruit after 5 years. And a few decades, twice a year, harvested from them. In warm conditions, Fukuoka trees bear fruit year round. Each of them brings several dozen berries (according to the botanical definition). These fruits are more like ribbed melons weighing 400-500 grams. Depending on the variety, their color may be red, yellow, brown. Inside, each fruit carries several dozen cocoa beans, the very ones from which they prepare a delicious drink and wonderful sweetness.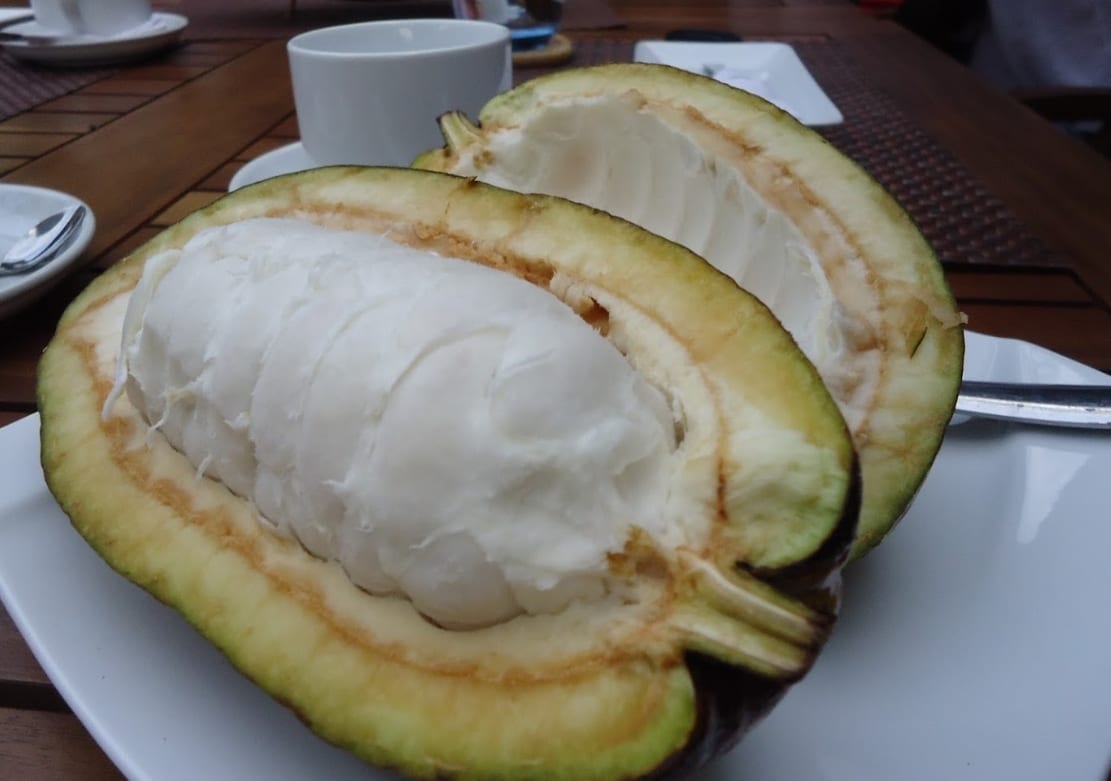 After Vietnam gained independence, the cultivation of plantations almost ceased. The young country, drawn by internal and external conflicts, did not have the strength to restore its chocolate production. Over time, the gardens with cocoa trees grew. But raw materials were mainly exported to Europe.
Little by little, Vietnamese sweets factories began to recover. But even though the local chocolate was cheap, it did not differ in enviable taste.
Today, cocoa trees occupy an area of ​​54 thousand hectares. For comparison, ten years ago it was a modest plantation of 2 thousand hectares. In the new century, private chocolate makers have entered the Vietnam market. These were mostly foreigners who created their small productions.
Chocolate Museum
Do not expect to see dusty stuffed and dried herbariums here. This place is only called a museum. But more like a cross between a cafe, a bar and an exhibition. There are visual aids here in the form of maps with cocoa beans growing places. On the monitor small plots about transformation of these grains into the most tasty delicacy are shown, it is told about local chocolate factory.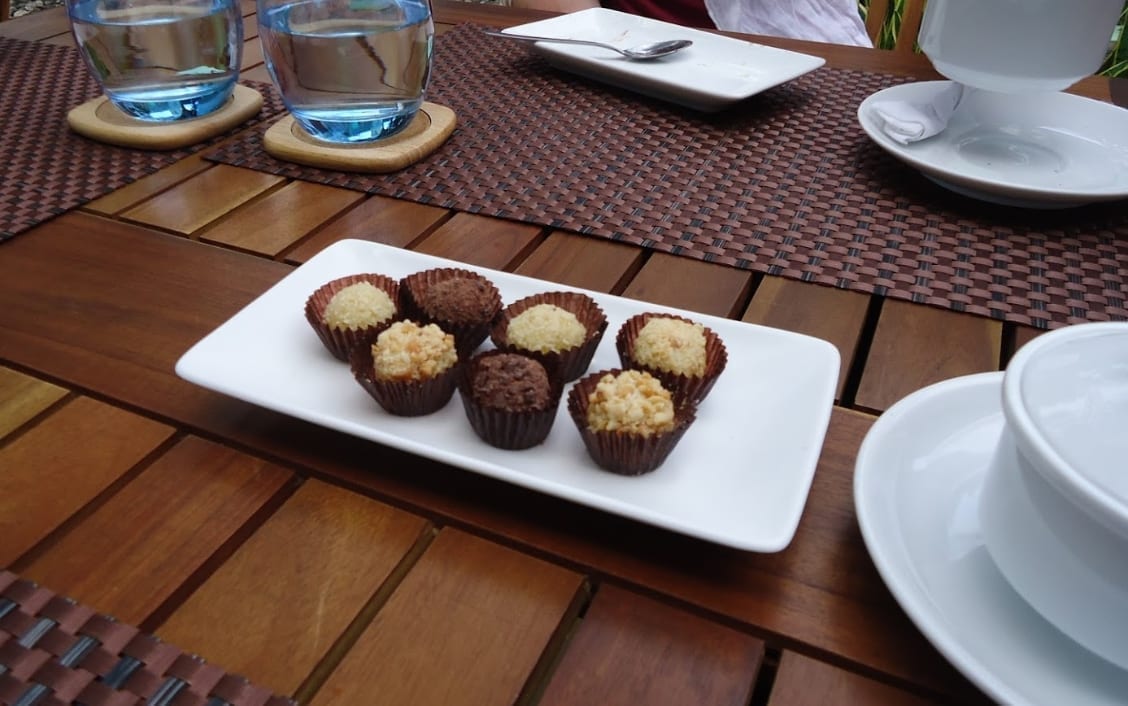 The museum also sells delicious chocolate, and its varieties abound here. Prices are the same as in the factory that produces it. In the cafe-museum presents such exhibits, they are the goods:
milk, white, bitter chocolate;
various sets of chocolates and fruits in chocolate;
several types of cocoa and tea;
cosmetics, based on the same chocolate.
All exhibits are completely purchased. So, a set of 5 small chocolate bars of different tastes will cost 23 thousand Dong (about 65 rubles).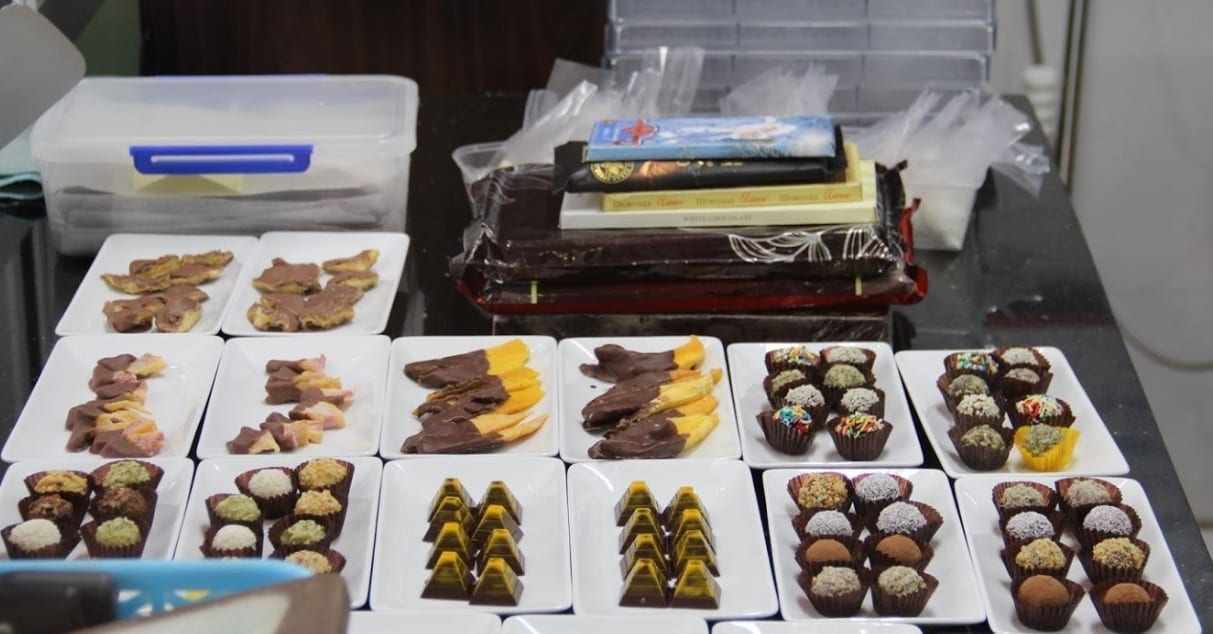 In what other museum can you sit at a table and order a drink with cocoa or hot chocolate? And here – please! Signs, price tags, ads are written in Vietnamese, Russian and English. Even the waiter-consultant will not only bring an order, but also tell about different varieties of chocolate on the great and mighty. Do not be alarmed if at some point you may feel that you are not 8 thousand kilometers from Moscow, but are sitting in a cafe somewhere on the Arbat or Okhotny Ryad.
How to get there
The cafe-museum can be visited independently before the excursion to the sweet factory. The museum is located on the city embankment, in the shopping center "Pyramid" at: Fu Dong Park, Chan Fu, Nha Trang.
Lost here is impossible, there are signs and signs.
On the street at the entrance to the shopping center are usually going to tourists ready to ride on a chocolate factory.
Guided tours are organized, and at the appointed time, a minibus with people wishing to visit Fifty Fresh Farms sets off. For an additional fee you can order a transfer from your hotel.
The chocolate factory is located in the suburb of Nha Trang, in the area of ​​Cam Lam. The path to the right place takes 35-40 minutes. Advice from seasoned tourists: it's worthwhile to book a tour in advance; in the high season, the places are bought quickly. And be sure to take the children with you.
Chocolate Factory
A factory of sweet products was created in 2017 by immigrants from Canada. Having worked at the confectionery factories in Europe, they decided to open their own production in Vietnam. The basis was taken local cocoa beans, characterized by high quality. Fifty Fresh Farms has its own plantation, where trees grow with cocoa and tropical fruits. The factory has developed its own technology and has modern Italian equipment. But many processes take place manually. Perhaps that is why Fifty Fresh Farms premium quality chocolate is so sweet and aromatic.
The area of ​​the factory is small, but, judging by the growing interest in chocolate, the owners plan to expand this place.
During the tour, everyone is shown a tiny mini-plantation where cocoa trees grow. You can take a picture on the background of plants to show and tell the house what makes chocolate.
The next stage of the tour will be acquaintance with the heart of the factory – the shop for the production of chocolate. It shows all the steps, how chocolate is made from cocoa fruit. Russian-speaking guides will explain what should be a delicacy, and what will be superfluous, reducing the quality of the natural product.
The factory produces milk, white and dark chocolate, various candies and even cosmetics based on cocoa beans.
Of particular interest to tourists is the opportunity to participate in a master class on the production of chocolate. Everyone is offered to wash their hands and dress in a special form: aprons and caps. Children especially like this stage: you can create your favorite sweets with your own hands. Any molds are selected, they are poured with melted dark or white chocolate and, if desired, any tasty food is added: nuts, dried fruits, marmalade. These sweets can be taken with you.
Then the participants of the tour will be offered to taste different types of chocolate and cocoa. There is also a shop where you can buy the desired delicacy or cosmetic products. Having bought goods for a certain amount, you will receive additional tasty gifts.
According to reviews of tourists who visited the chocolate factory, the tour is enjoyed by both children and adults. But the only problem remains: how to bring this sweet splendor untouched to home.