Jungle Beach in Nha Trang – quiet place for a better holiday
If you fancy spending terrific time in a paradise, Jungle Beach, which is situated not far away from NhaTrang, is worth visiting.
Actually, Jungle Beach is one of the best ones in this region. This is the real pearl among other numerous coastline beaches. It is the quietest and the most comfortable variant, where you can always escape from the crowds and noise of municipal beaches.
The route
The coordinates of Jungle Beach are: 12.452337, 109.282197
It is not difficult to get there. Even though no public transport is available, you can rent a motorbike or a car and enjoy the convenient motorway AN-1. Jungle Beach is 60 km away from Nha Trang, in the eastern part of Hon Heo peninsula.
The first part of this journey (before the turn to Ninh Van peninsula) may appear to be rather complicated due to a great amount of trucks. Besides, locals are not very cautious while driving. About 38 km away from the centre of Nha Trang (from the "Lotus") you are to turn right. It is pretty simple to recognize the needed turn, as there is a sign before it as well as a big banner of Hyundai Shipyard.
After turning right you are to drive about 20 km more down a curved road.
By the way, driving a little forward you can reach Doc Let Beach, which is lovely, but far more popular and noisy.
In fact, Jungle Beach in Nha Trang is the name of a seaside resort. The beach itself is hidden behind bushes, so you will have to go through them. To find the resort you need to follow the mark.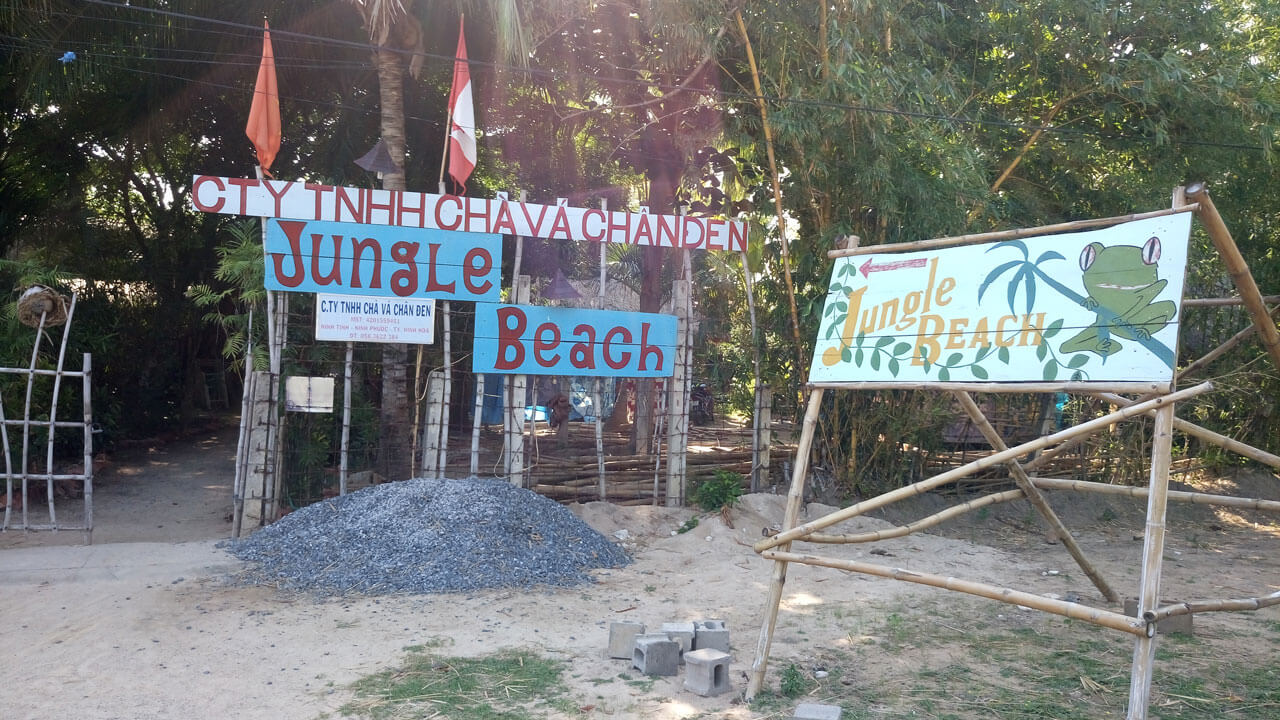 Parking and entering the territory of the resort cost 100 000 VND each.
The beach
The Jungle Beach resort is not that big, occupying only 6 000 km2 and being precisely what its name implies, surrounded with palm trees and covered in exotic greenery. It is not intended for active pastime purposes, visitors are unlikely to find any special entertainments. Jungle Beach is a perfect place for those couples, who want to relax enjoying silence and calmness.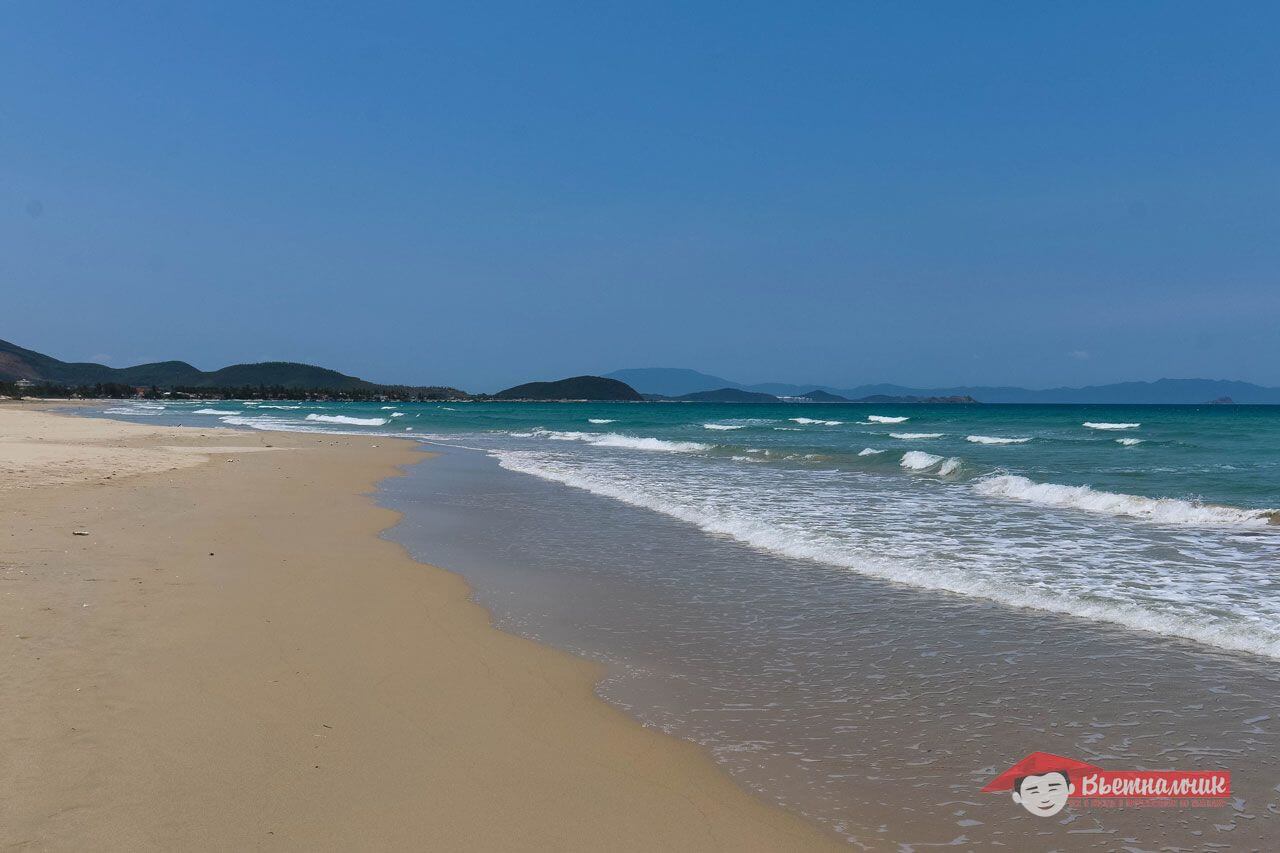 There are even no excursions organized from here. However, you can visit a wonderful market near the hotels, where fruit are quite cheap. It is better to come there at about 6 a.m.to be able to buy some ready exotic Vietnamese meals.
Visitors are provided with sports equipment like badminton and table tennis, chess. There is also a small library with books in English and Vietnamese. Besides, you can observe sea animals on the shore.
A fishing village occupies almost a half of the beach, but tourists and guests won't be interested in anything there. However, the tourist part is really beautiful. You have everything needed for a perfect rest – the sea, mountains, seagulls and perfect clean sand. It is of an unbelievable white and yellow color, fine and warm.
The seawater temperature is rarely lower than 24 degrees in all seasons. At night the sea is shining because of the phosphorescent plankton. Can you imagine swimming in fantastic silver water?
There are some comfortable sunbeds on the shore, but it is far more interesting to take your ease in creeper hammocks. Some places of the beach create special atmosphere of solitary, especially at lunch time, when those few tourists go to their hotels.
It is completely safe to swim there, as high tides or storms never disturb vacationers.
Nevertheless, don't fail using sunscreen, the sun is quite hot.
Hotels
There are two reasonably priced hotels on the territory of Jungle Beach: Нomestay Jungle beach and Wild Beach resort 3*. You are to pay 600 000 VND per day in Нomestay Jungle beach. The cost includes three meals, use of the sunbeds and sports equipment.
[tp_hotel_widget hotel_id=451415 responsive=true subid="" powered_by="true"]
A double in Wild Beach resort 3* would cost 1 200 000 VND per day. But this is only accommodation. Each of the hotels provides their guests with free luggage stores in the main housing.
The structure of these hotels is uncommon for those who are used to multistorey buildings with standard rooms. There you can enjoy cozy bamboo bungalows. Despite being rather modest from the outside, they are comfortable and rational. However, these apartments are not luxurous, so there no refined or just extra facilities.
At heart's ease you can choose special menu not to spoil the holiday with health problems. Hot climate makes owners include unlimited amount of water and lemon juice into the price of accommodation.
The nearby market offers some familiar for tourists not-traditional food.
Wi-Fi in the bungalows is quite good, you can connect to it even sitting on the shore.
At first it might seem that the staff is not communicative . This is not actually true. Locals are sociable and hospitable , but their mentality is a bit different. You just have to become used to it. Most of them speak English, so there won't be any problems with communication.
Jungle Beach and Wild Beach (the further one) are perfect places for those tired of everyday rush. Calm rest on a beautiful shore, plenty of delicious food and no crowds of tourists – what can be better?
If you have already been to Jungle Beach, we are looking forward to getting your reviews. Did you enjoy this experience? Vietnam often disappoints beach holiday lovers, though their opinion is highly likely to be changed by this place.