International Airport Cam Ranh (CXR)
Cam Ranh Airport (CXR) is the main and only civil Nha Trang airport which accepts local aircrafts from Hanoi, Danang, Ho Chi Minh City and international flights from Russia, Thailand, Australia and some other countries on daily basis.
[toc]
In fact, there are two airports in Nha Trang area, the Nha Trang Air Base, which does not accept civilian aircrafts now (it is also called the "old airport"), and Cam Ranh International, these airports are situated far from each other.
Cam Ranh Airport earned its international status in the distant 2007, since then it regularly welcomes tourists from Russia and all over the world. It is located about 30 km far from Nha Trang, in a different town, also called Cam Ranh.
Cam Ranh International Airport
Airport official website – www.nhatrangairport.com, camranhairport.vn
Distance to Nha Trang center (to «Lotus») – 35 km (around 17 miles)
Cam Ranh International Airport located in Khanh Hoa province. It provides services to foreign and local airlines. Vietnamese town Cam Ranh, accommodating the airport, occupies a small peninsula located between the bay and the sea coast. Cam Ranh can be easily found on the map of Vietnam, it is close to Nha Trang city.
Flights to Cam Ranh started only in 2012, when Vietnam Airlines began to perform regular flights to Nha Trang. Unfortunately, there are still no direct scheduled flights to Nha Trang from most of the countries, the best option is to fly through Ho Chi Minh City or Hanoi.
Average price for ticket from New York (JFK) to Cam Ranh is about $400 if you buy it on skyscanner, or it could be 2 times more expensive to get on a regular flight with transfers, purchased at Delta.com.
How to buy regular ticket to Nha Trang?
There are 2 ways to get to Nha Trang:
Flight to big Vietnam city like Ho Chi Minh first and then Ho Chi Minh to Nha Trang flight
Flight to big Vietnam city like Ho Chi Minh first and then travel by bus (trip time around 10 hours)
The optimal way to do it is to get to Hanoi or Ho Chi Minh City on one of the regular direct flights and then get on the low price local direct flight to Cam Ranh (for around $20-$30).
The Airport history
Cam Ranh is a Vietnam town where the Cam Ranh International Airport was built by the US Army during the Vietnam War and served mostly for military purposes as a tactic base. Later the airport was handed over to the South Vietnam Air Force, but then it was invaded by the troops of the North Vietnam. Nha Trang Air Base experienced a very similar fate.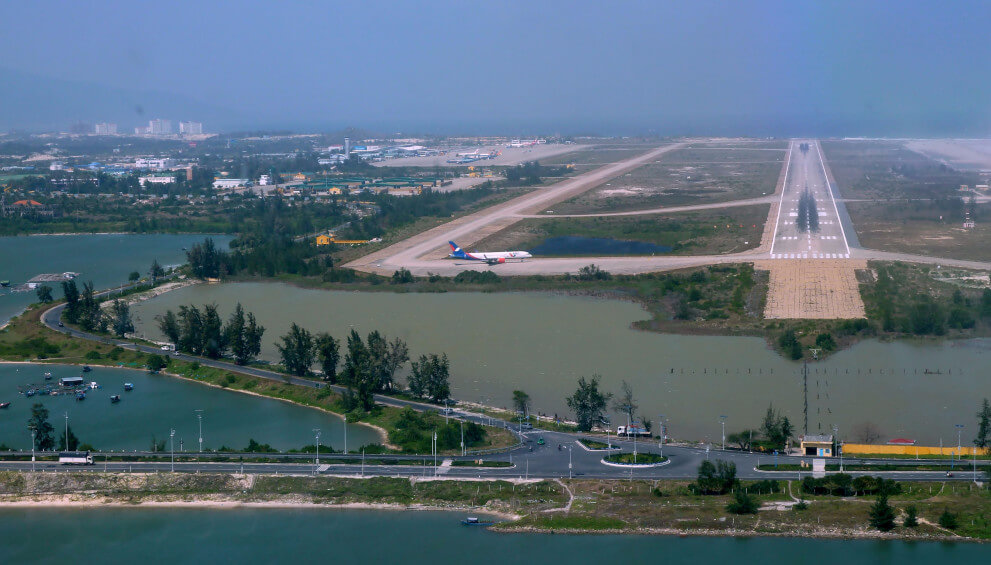 During the period from 1979 until 1991 Cam Ranh Airport had been used by the Soviet Air Force, from 1991 until 2002 by Russian Federation Air Force, after that it was closed for the reconstruction. It started functioning as a civil airport from 2004. In 2007 it has earned the status of an International airport; however, the first foreign aircraft has landed there only in 2009. Nowadays it is the 4th largest airport in Vietnam.
The Airport features
The Airport size is 14 000 square meters and it has a simple layout, so, it is easy to navigate.
Cam Ranh Airport has an infrastructure similar to any other airport, there is the luggage office, ATMs, mall cafeterias, check-in counters, the currency exchange, souvenir shops, etc.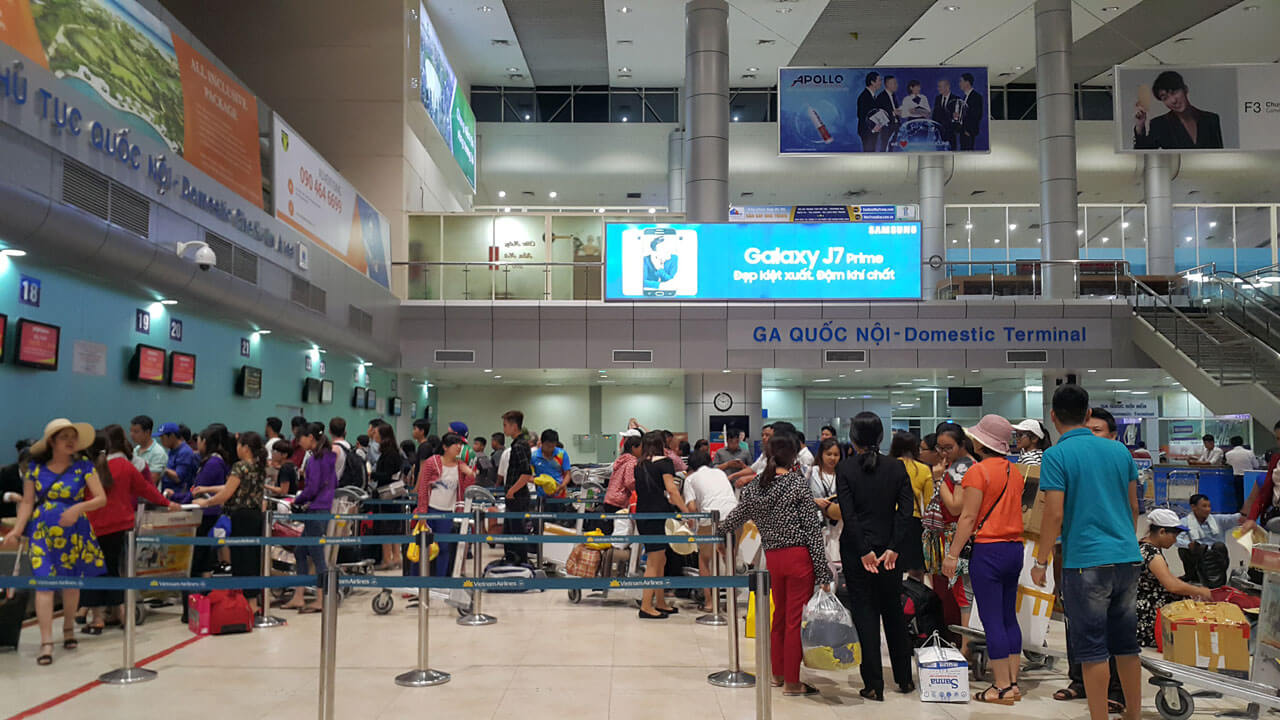 The Airport has the online display overviewing the arrivals and departures of international flights from the number of countries, so, it is possible to track take offs and landings of aircrafts whether waiting for your flight or meeting friends at the airport. Also, during the waiting process there are opportunities to:
visit the airport shops;
pack your luggage;
purchase a gift or a souvenir;
have a snack or a drink in the cafe;
exchange currency;
book a hotel room.
There are no noticeable differences between the passengers' services at Cam Ranh Airport and other airports. Passengers leaving Vietnam or traveling between the local cities going through the check-in procedure before flights. The airport staff is very polite and friendly here, they will readily answer any questions and, if asked, would assist with luggage check-in and airplane seats options.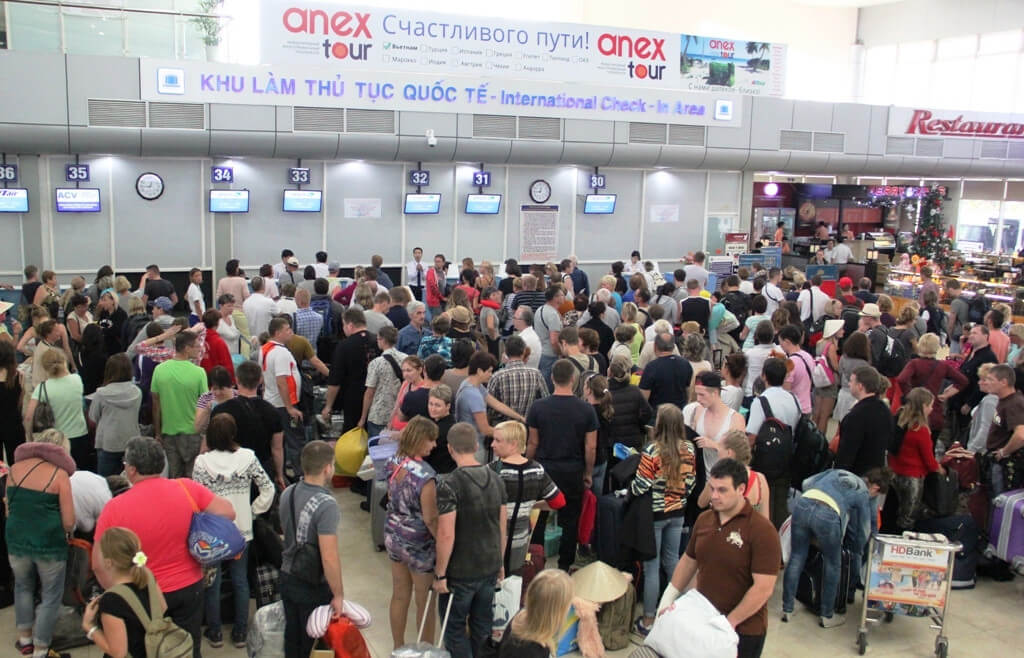 Check-in starts 2 hours before the flight and ends 20 minutes before the aircraft's departure.
It is highly recommended not to be late for checking-in on an international flight because due to high passengers traffic, sometimes check-in ends earlier than 20 minutes before departure. Check the arrival / departure board to see if the check-in on a certain flight has started.
Online board of arrivals and departures
Arrivals online board
Departures online board
Hotels near the Airport
There are a lot of great hotels with excellent service nearby, in Cam Ranh town, if you don't want to miss your morning flight and have decided to spend the night not far from the Airport.
Good Hotels in Nha Trang center
For those who prefer to find a great hotel in the center of the city, we compiled the lists of 10 the most popular, the cheapest and 10 closer to the city center:
How to get to the city from the Airport
You have arrived in Vietnam. Even if you took a charter flight, first thing you will be required to do is to fill in the migration card. All the information about Visas and migration cards filling process we have already given in the post "Vietnam Visa".
After that you, probably, would like to let your relatives know that you made it and you're ok.
You can use free Airport Wi-Fi for that or another option is to buy a sim-card for your cell phone.
However, keep in mind that the sim card price will be twice higher than in the city. More details about cell phone plans and cellular operators can be found in our post: "Cellular connection in Vietnam".
Now let's figure out how to get to the city from the airport.
In different case, you'll have to use one of the following options:
Taxi;
Airport Shuttle;
City bus.
Taxi
Book a Taxi online on the website
KiwiTaxi
.
A Taxi is the easiest and fastest way to get where you want. It is possible to get a Taxi right at the Airport exit, there are always Taxi drivers nearby. Taxi ride prices in Vietnam are not very high, for example, for the trip from the Airport to Nha Trang city the price will be around 300000 VND ($15). Discuss the price and the address with driver before the trip though as the Taxi meter can show 500000 VND at the end of the trip. 300 000 – 350 000 VND is standard price.
The distance from the Airport to Nha Trang city is 35 km (around 17 miles).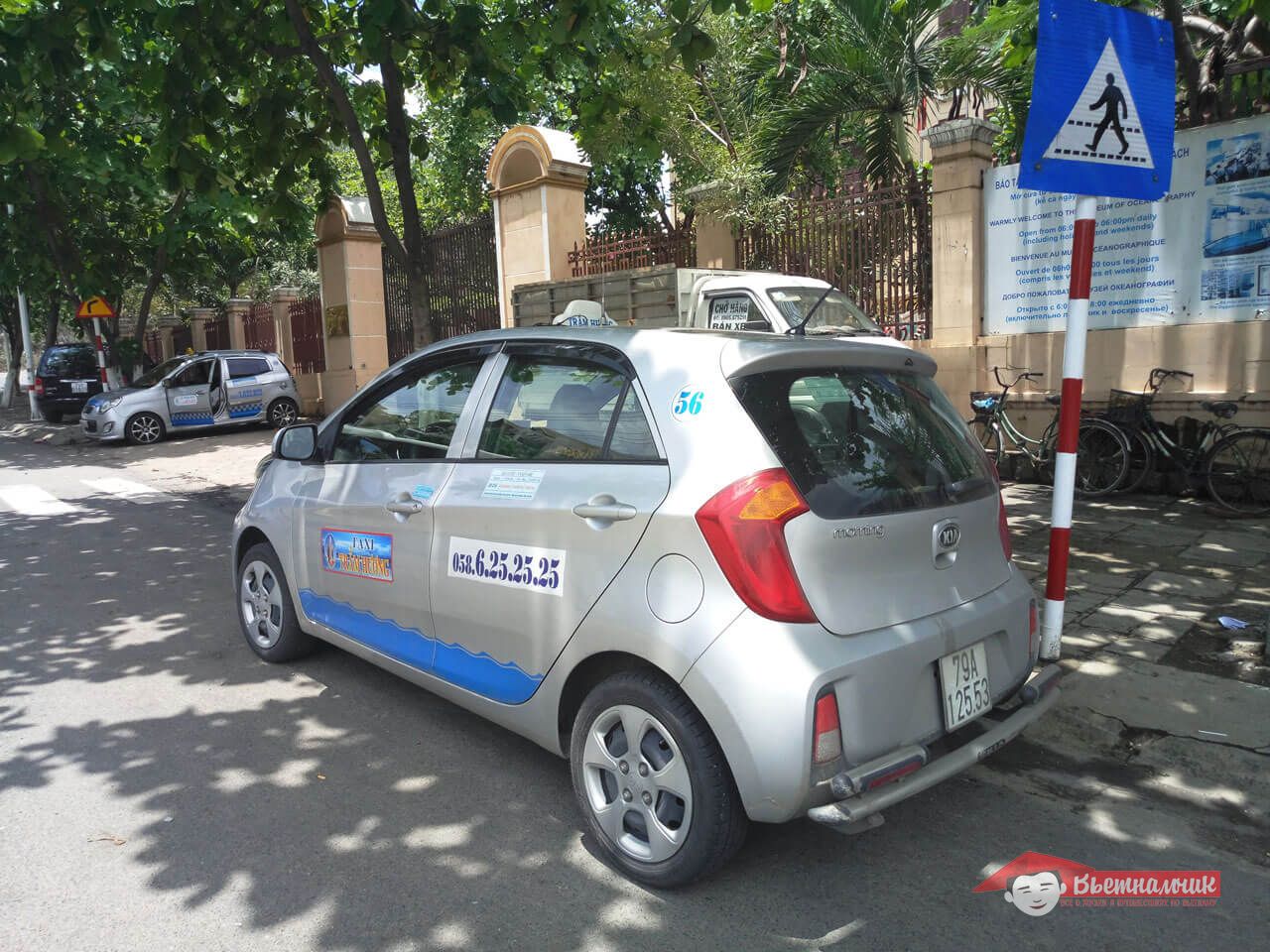 City Bus
We have posted more information about the routes of city buses in the article "Nha Trang buses". There is the bus route number 18 from the Cam Ranh Airport to Nha Trang city center it starts at 7:00 am and finishes its working day at 10:00 pm.
Bus ticket price will be from 30 000 VND to 50 000 VND depending on destination point.
The time interval between Nha Trang city buses is 45 minutes. Time on the road is approximately one hour.
Airport Shuttle
Another option to get to the city is to catch the Airport shuttle – minivan. They can be easily found at the Airport exit.
Shuttle Ticket price – 65 000 VND
Trip time ~ 50 minutes.
The time interval between shuttles' departures ~ 45 minutes.
Shuttle's route end – «Gorky Park».
That's it!
Please watch few videos below – overview of Cam Ranh Airport: