Waterfalls Ba Ho. How to Get, What to Do, What to See
Ba Ho Waterfalls in Nha Trang is one of the most famous places among tourists and locals alike.
People come here to relax in the heart of nature, to spend time with their families and friends, to make barbecue and enjoy a dip in a chilly and rapid river, which slopes down from the mountain.
How you get there on your own
Those who get from Nha Trang to Ba Ho Waterfalls on their own usually rent bikes. It's not only convenient and quick, but also relatively cheap.
The road is quite lazy. At the north pier you should keep to the north direction, driving the main route. After seven kilometers there's a sign that says "suối Ba Hồ". Now you need to turn left, passing through a railway line.
Further way lays through the cemetery located at the foot of the mountain, then – through a small village. After that you'll see a narrow footpath. After walking the path, you'll see the same natural park with Ba Ho Waterfalls. The detailed route to the waterfalls you can see on the map below. The distance from Nha Trang is about 25 km. Travel time is about 40-60 minutes.
What to do
After such a journey and bike driving, you can freshen yourself up in the water. Thanks to the large boulders able to restrain the raging waters, there is almost no movement at the waterfall bottom. Near the water you can hide from the scorching rays of the tropical sun and to tan without any harm to your health.
Price
Such a journey is not free. However, if you travel on your own, the ticket cost will be very cheap – 45.000 vnd ($2). Also you need to include 5.000 vnd for the bike parking.
Waterfalls description
In total there are three waterfalls in the grounds. Notably, they don't have separated names for they constructed to flow from each other. The name "Ba Ho" translates as "a waterfall with three basins". As usual, tourists stop at the first basin, because it's the most secure compared to the rest. To conquer the other two basins you better wear sensible shoes so that you can climb the viewing platform without any difficulties. Let's focus on the most available variant. The trail passes through a little jungle. In the way tourists can meet some barriers which are easy to overcome.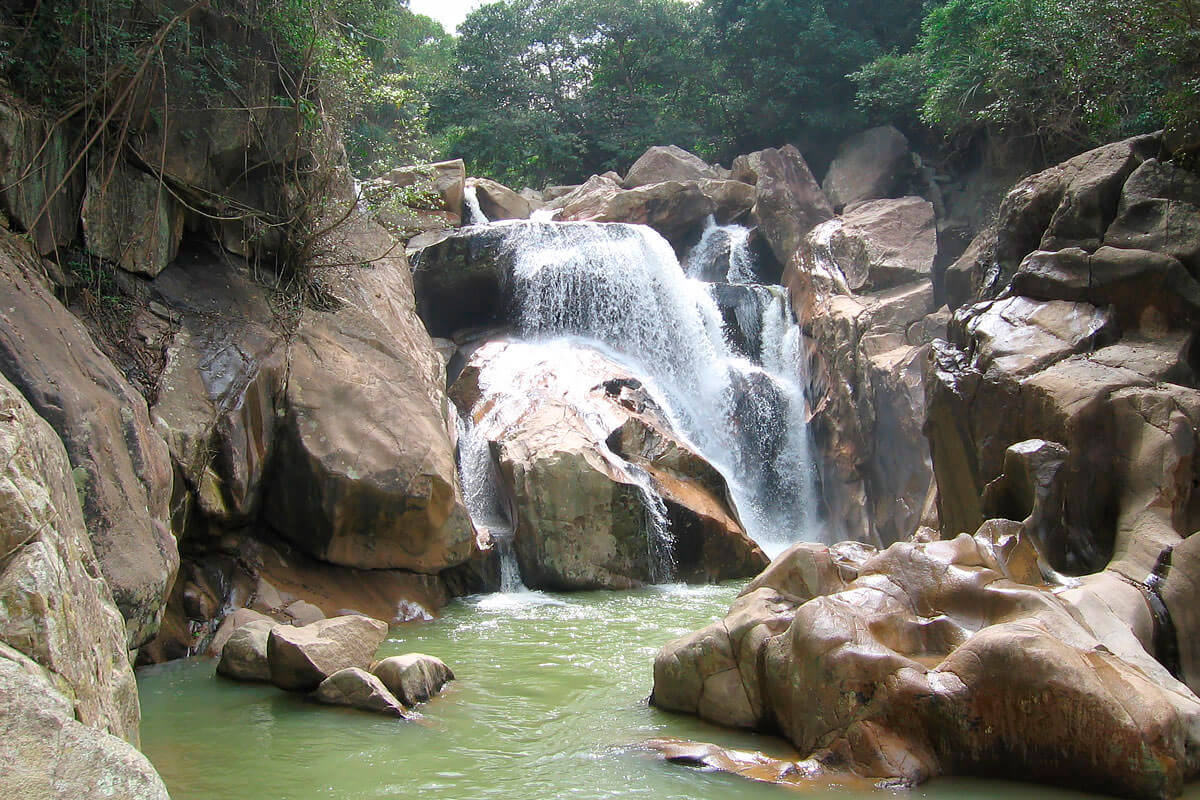 The first waterfall is the largest and the most crowded. It's the most effortless to get so lots of people go no further. There is a cliff some tourists leap off in cold water and then climb to the top again and again. To get to the other two basins you need to go upstream, following the signs on the stones someone kindly drew.
Tips
There are some tips for those who decided to get filled with Ba Ho Waterfalls nature, which can help you to get the brightest impressions and memories of visiting the place:
It's better take a tour early in the morning on a clear day;
don't visit the waterfalls after tropical rain season. It's dangerous because of the washed-out road, so you'll hardly get any positive impressions;
take snacks with you. It's not recommended to buy local food on your way to the waterfalls because there is absolutely zero accountability for its quality;
a duffel bag is must-have for this adventure. Your hands and legs will be unoccupied and free to move;
wear flat sensible shoes only;
don't rush with the excursion. At least three free hours definitely will be nice.
Only then you can not only steer clear from some troubles like an empty stomach and a dull day, but also make your way to the waterfalls easier.
Conclusions
Ba Ho Waterfalls is not only a picturesque nature zone, but also a very available resting place for tourists. Three water basins, jungle and intact nature atmosphere together with glorious view make this place quite attractive for tourists.