Crazy House – Dalat's Madhouse
The most famous and most visited sight in Dalat (and maybe the whole of Vietnam) is a hotel called Crazy House (or in Russian "crazy house"), which will easily give a head start on its unusual buildings of the great Gaudi.

Dang Viet Nga – author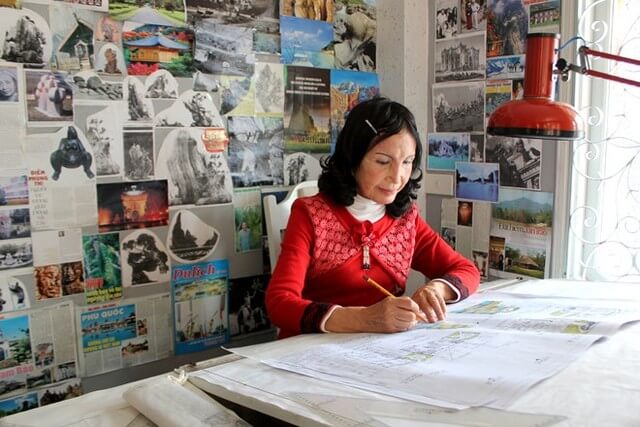 It is there that the incredible structure is located, most of all resembling a giant, blunt stump, covered with moss and covered with cobwebs – Crazy House or Mad House. It was designed by Mrs. Dang Viet Nga, a graduate of the Moscow Architectural Institute. For a long time she lived in the USSR, therefore, in many details, "Crazy House" in Dalat borrows motifs of Russian folk tales.
Her father, Truong Ting, was the successor to Ho Chi Minh, the second president of Vietnam. Perhaps this circumstance allowed the architect to bring his creation to life, because the city authorities were not enthusiastic about the idea. And the residents still dislike this place. Very much it does not correspond to the teachings of Feng Shui. After all, the building was built in the style of surrealism, it is incredibly mysterious and is still in the process of completion. Crazy House is constantly being brought to perfection.
The architect herself says that she conceived this house as a reminder to people of the need to preserve nature, which they mercilessly destroy.
How to get there
Address
: 03 Huynh Thuc Khang Street, Ward 4, Dalat City 67000, Lam Dong, Vietnam
Vietnamese address
: Trần Phú, Phường 4, Tp. Ạà Lạt, Lâm Đồng, Phường 4, Vietnam, Lâm Đồng, Vietnam
Of site
: 
www.crazyhouse.vn
Opening hours
: from 8:30 am to 7:00 pm
Entry fee:
40,000 VND per adult and 20,000 VND per child.
The streets in Dalat are quite tangled, so getting on your own to Crazy House is not as easy as it sounds.
If you rented a bike and get your way, then boldly turn on Google Maps. GPS will bring you to the right place sooner or later. It is useless to ask the locals, as there are very few people who speak English in Vietnam.
The easiest way to get to the gate of the "madhouse" is catch a taxi. Crazy House is one of the most famous sights of Dalat, so any taxi driver will quickly and inexpensively get to the place.
Wonder of light of concrete

Although the Vietnamese themselves do not particularly love this house, it constantly attracts many tourists from different countries. And it is clear why – only one glance at Crazy House is momentarily shocked. And then it gives way to admiring surprise – how could such a strange building be built! And no wonder – this "madhouse" entered the top 10 of the most unusual buildings in the world. Most of all it looks like a giant fantastic tree with intertwined roots and branches, entangled with cobwebs with giant spiders. In short, the house, as if out of a fairy tale. It is also surprising that there are practically no straight lines and no right angles at all.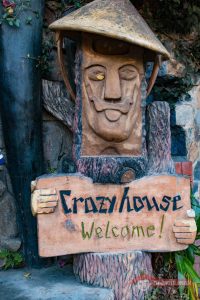 Miracles begin already from the very entrance – you are greeted by a charming Vietnamese figure in a national headdress.
Dang did not have enough money to build, and she decided to let the curious into the building under construction, taking small amounts for it. Interest was surprisingly much. The house continues to be completed under the leadership of Ms. Dang herself. Despite her advanced age, she is full of strength and inspiration and is still working on her brainchild. Now, no excursion to Dalat is complete without a visit to Crazy House.
Dang Viet Nga for a long time resisted such a disrespectful name of his creation. After all, she called him extraordinarily beautiful: Hang Nga – "Moon House". According to the architect, it was supposed to be a place for romantic meetings of lovers. But soon she had to put up with the name given by the visitors, and now the structure has two names.
This house is an art gallery, a museum, and an extraordinary hotel. There are many small shops with souvenirs, cozy cafes.
The greatest impression on visitors is the decoration of the house after the sunset, when it gets dark. According to tourists, at this time comes the feeling of sheer "crazy". Indeed, moonlight streams through the trunks of the trees and leaves into the windows of an unusual, irregular shape, and their shadows fall to the floor. From this it becomes scary.
Hotel
Entrance to the hotel is paid, the owner sometimes sells tickets, she is an architect. It is a number from 25 to 50 dollars per night.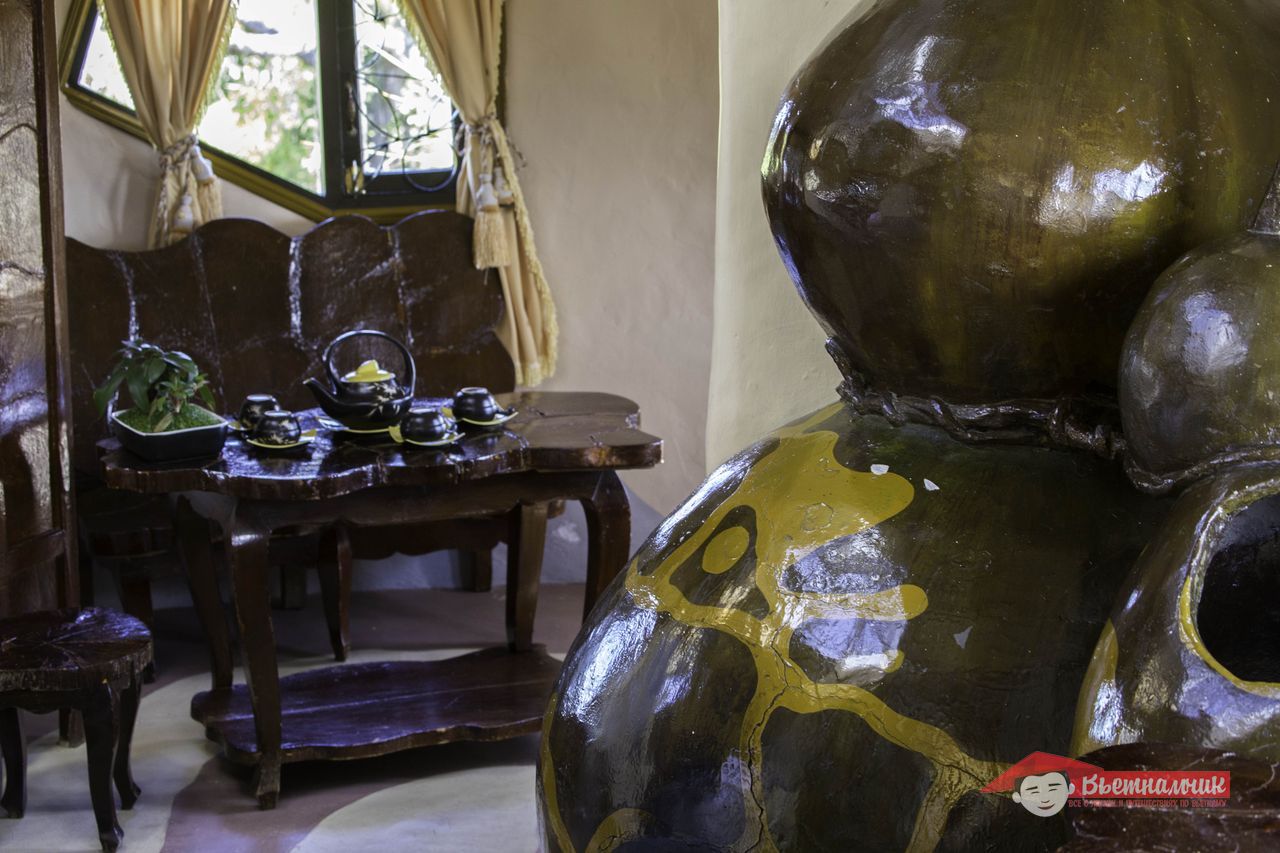 Today it houses a hotel with 10 rooms. They are all different, they are not at all like one another, they are decorated by subject. There is a room of Tiger, Kangaroo, Ant, Bear, etc. And each room is framed to match its name.
For each of the numbers, the named character is the "owner" and "hides" in it sometimes so skillfully and carefully that it can be difficult to find. Sometimes only after the fact, viewing photos, you can find the "main occupant" of a hotel room. It is believed that the characters are also selected in accordance with the countries that they must personify. So, Russia is symbolized by the Bear, and Vietnam – the Ant.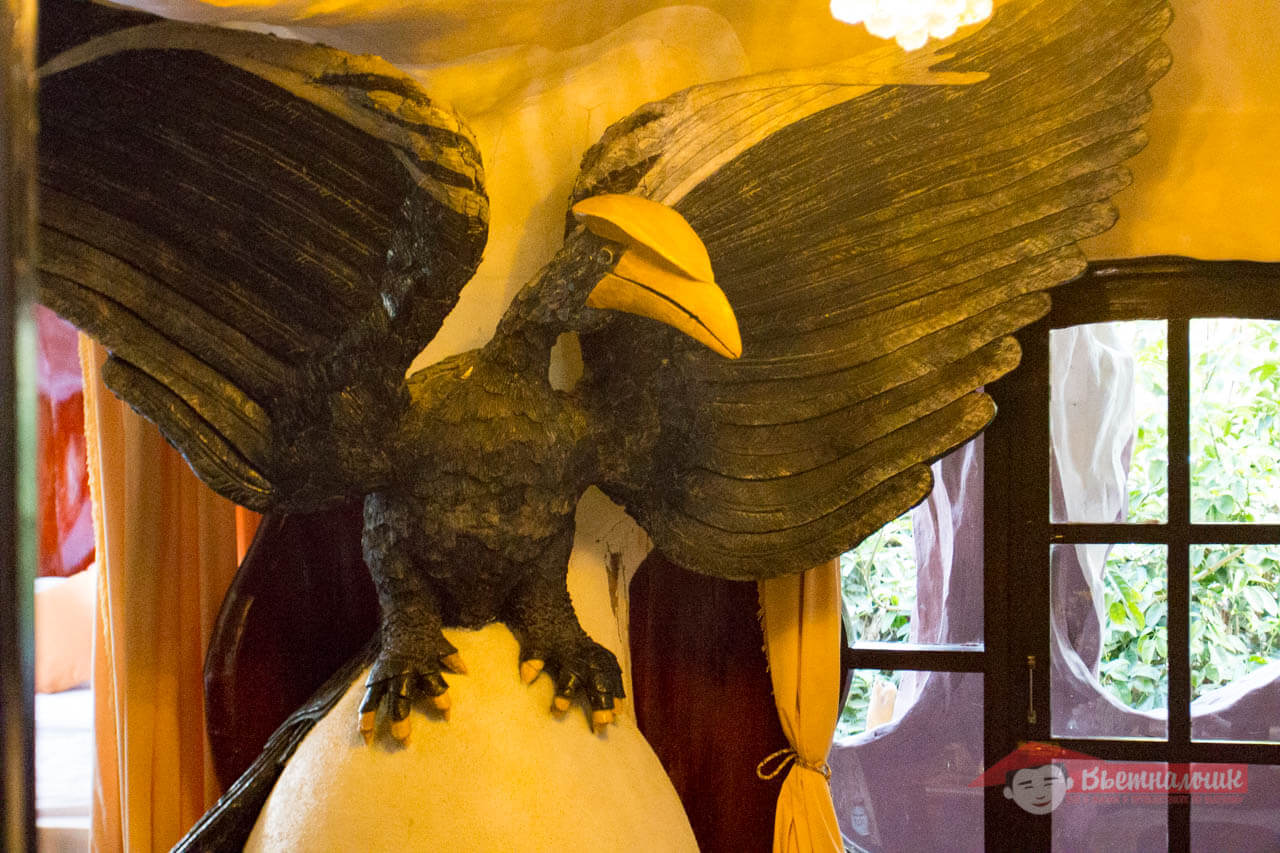 The rooms also have a fireplace, a bathroom and a bathroom with a shower. All of them are made according to unique designs, the entrance to them is disguised as a wasp nest.
There is also the world's smallest duplex room – the Bamboo Room. All its design is stylized bamboo, but in fact it is concrete.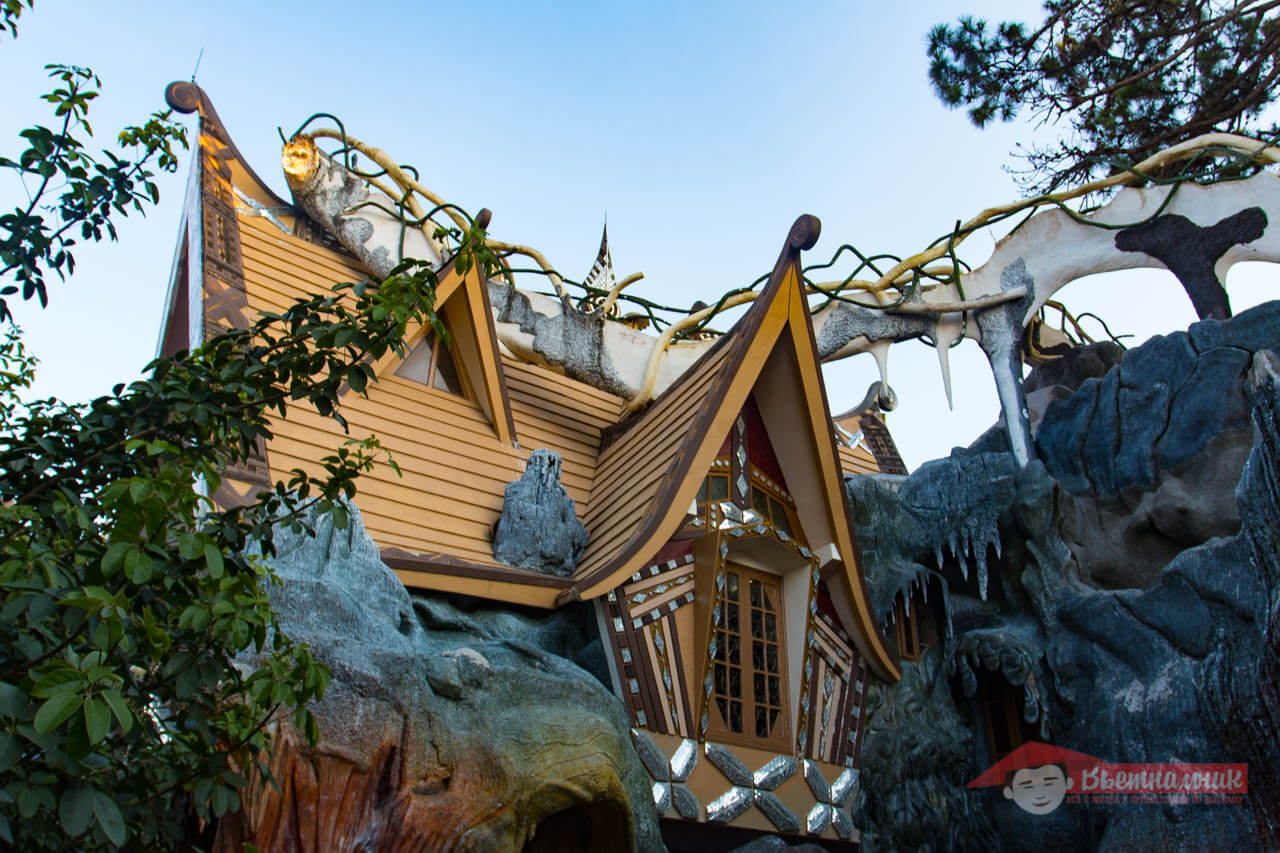 The hotel consists of four houses made in the form of fabulous caves. Fantasy architect created giant spiders, mythical animals, tree branches, vines on the walls. At the same time it is very light here – the sun's rays penetrate through the wide large windows that are everywhere.
Standing apart from the rest, the fourth web-house consists of only one room and is intended for newlyweds. To get into it, you must book a queue a few months before the visit.
The rooms are connected by intricate winding staircases made in the form of penechki, tree roots, stylized "dragon's teeth".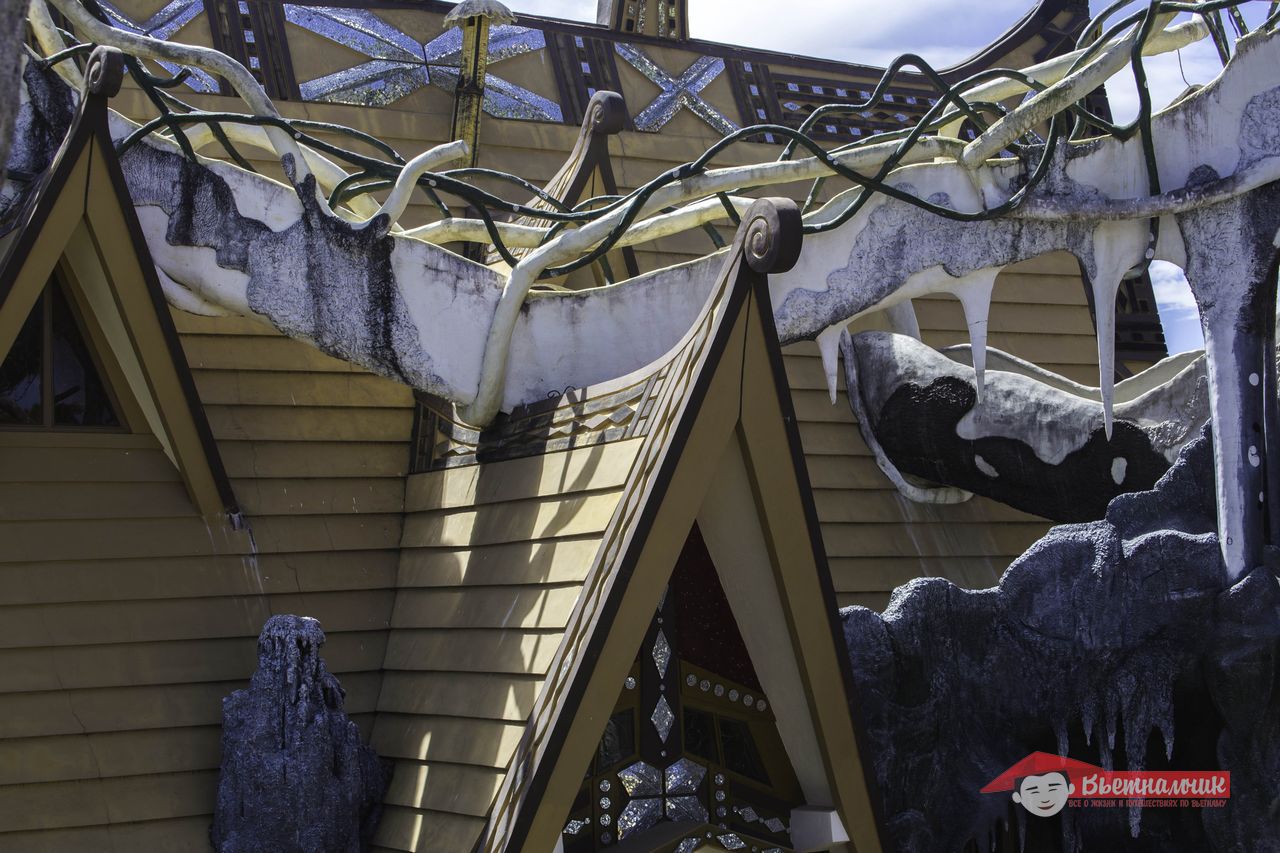 In an amazing hotel and furniture is special. It is designed by designers and all made by hand.
Despite its unusual, it is a very modern hotel with everything you need for a normal rest. There is access to Wi-Fi and a mini-bar.
According to the rules of the hotel, during the daytime guests are obliged to leave the door open so that visitors can appreciate the interior. However, if the room is occupied, it is forbidden to go inside. There are no curtains on the windows, and guests may feel in the room during the day is not particularly comfortable, since tourists drop in there every second.
The doors in the rooms are double. If the room is busy, they are closed, but when there are no guests, their upper part is open. In the free rooms, tourists can enter without restrictions.
Yard
In the yard of Crazy House is no wonder and get lost, despite its relatively small size. This is exactly the case when they say: "in three pines …", only here numerous stairs, passages, labyrinths are hidden instead of them, and an unusually large amount of cobweb is hidden around – of course, concrete. Everywhere huge mushrooms and incredible plants grow. Stairs are so narrow and steep that it is impossible to separate together.

As elsewhere in Vietnam, there are a lot of flowers here, in the middle of the courtyard there is a small pond with fountains. And it is here that most of the tourists are going to wander around the courtyard, wander the stairs and crossings, climb up to the very top, from where a great view of the whole city opens.
The stairs themselves are also unusual – they are made in the form of a giraffe figure, a placer of stones, and woven roots. Knowledgeable people are advised to wear comfortable low-heeled shoes for excursions in the yard.
The museum
The very history of its existence in Dalat Krazy House is so interesting that a small museum was formed in it. There are dozens of photos of its founder. And even inside these rooms everything is "crazy" – as in the whole house, there is not a single flat surface! Through the web you can look at Aunt Dang's personal car, see a small room dedicated to her parents. This place is made with such love and affection that resembles an altar. The inscriptions are made in different languages, including Russian.

Conclusion
It so happened that of all the attractions of Dalat, its beautiful waterfalls and parks, it was the house of Aunt Dan Viet Nga that became the most popular destination of this small mountain town. The most amazing thing is that this is true. It is visiting a lunatic asylum will be one of the most memorable memories.
For those who do not like such walks and get tired quickly after a large number of steps, there is a place nearby where they sell "fresh juice".
Have a nice holiday!