Best Travel Routers. What Is A Travel Router?
A travel router is a device that allows you to get Internet access in a remote location, where you would not have a connection to the Internet otherwise. The devices do that by amplifying existing wireless networks and allowing your computer to connect to an otherwise weak network. How to choose the best travel router? Read our guide!
Some routers have other interesting abilities like the possibility of connecting to a mobile network and creating a mobile hotspot.
What does Travel Router do?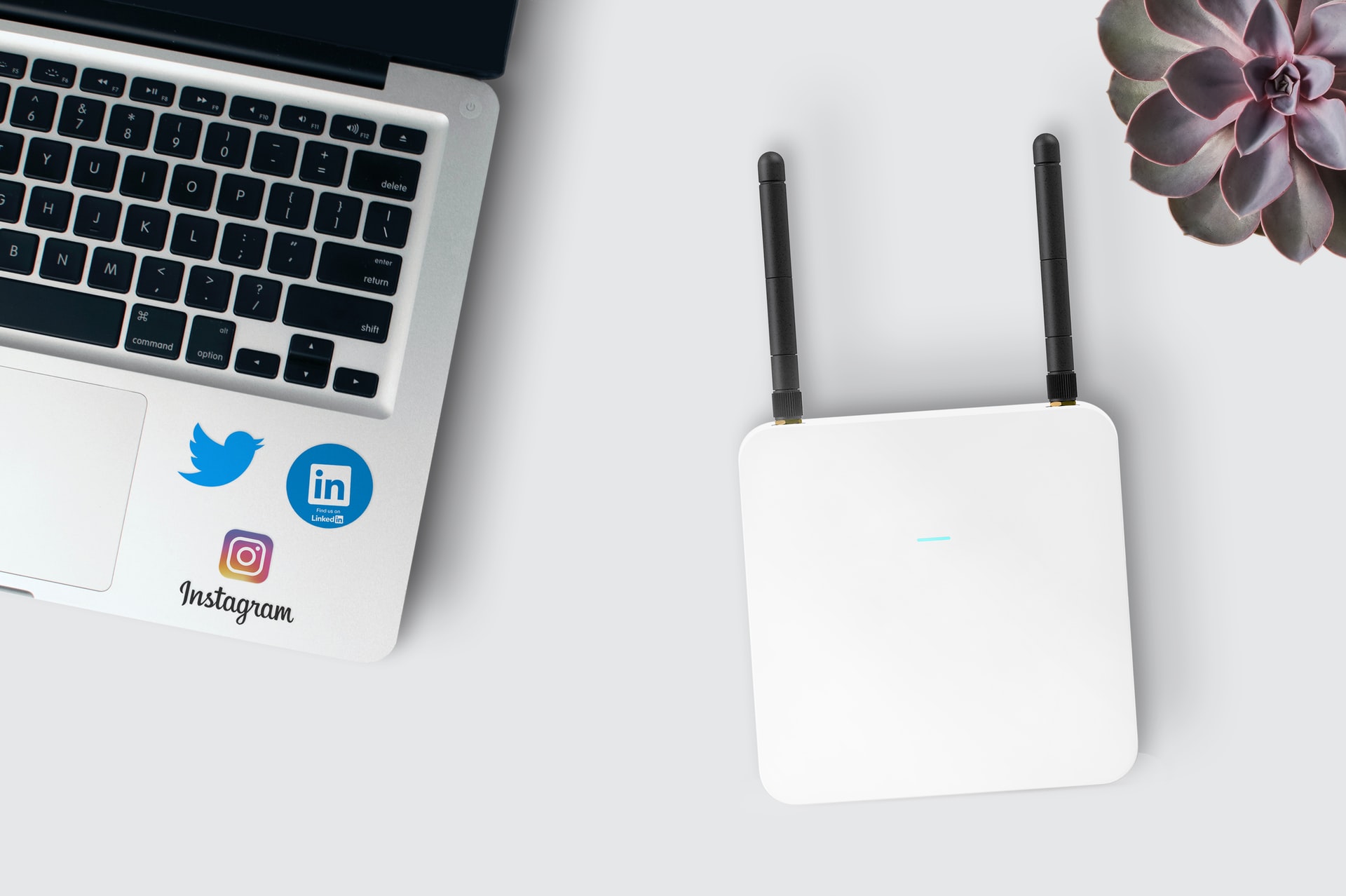 A travel router catches weak wireless signals and amplifies them, translating them to your computer. This grants you access to a wireless network that you would not be able to see without the router. The router also amplifies all the signals from your computer, extending the reach of your wireless radio.
All the signals the router sends out are encrypted, so it will never compromise your safety or anonymity.
Routers may also connect to a wired network and act as a converter, allowing you to use the wired connection as a wireless one.
Do you need a Travel Router?
This depends on the purpose of your trip and the probability of encountering places without regular internet access. If you are a blogger and are going to travel to a place with bad internet service, you will be in need of a router, because you are probably required to post content frequently.
However, a bad internet connection will make it hard or impossible to connect and work, so you will need a router to amplify the signal. Meanwhile, most regular routers are heavy and unwieldy devices, and while they do amplify signals, they are hard to travel with. And that is why you need a travel router, which offers you a powerful connection, even though it weighs very little and easy to travel with.
Why is a Wi-Fi portable router better than a hotspot?
Because it allows you to have access to free public Wi-Fi. This lets you use the internet without paying for it. Also, a router allows you to connect a wired Ethernet network, and make it wireless. Therefore, you can share a wired connection over Wi-Fi among a number of devices.
Will I be able to access the Internet from everywhere?
No, because a router only amplifies an existing signal and makes it more available. The signal has to be present somewhere nearby. If you do not have an access point in the range, the router will not help.
However, some routers have 3G and 4G support, and that will allow you to connect to satellites. This will allow you to have the Internet in remote places.
Nonetheless, you will not be able to have access absolutely everywhere.
How big is a travel router?
This varies widely, and travel routers can be of virtually any size. However, the ideal model should fit in a pocket and be easy to carry. Some models are larger than pocket-size, but they usually have other great features, such as many ports, integrated batteries, or long-range antennas.
Choosing a portable mini travel wifi router
Here you will have to consider many things, and even though your budget will decide most of them, many properties and abilities are your choices. Let's review what qualifiers a good router should have.
Networking Capabilities
The router should be able to connect to all bandwidths of Wi-Fi and amplify the signal to reach your computer. Ideally, it will also be able to give you good internet speed, so you can download and upload quickly. It would also be good to have a wired connection port, so you can connect to a USB or Ethernet connection. Some even have 3G and 4G capabilities, but there are not many of those.
Portability
This is another important quality in a travel router – it should be small, easy to set up, and connect. You should also be able to store it away quickly.
Versatility
One router should be able to do many different things, and therefore, it is best to select models with many capabilities. For example, a router that is able to connect to both wireless and wired connections is preferable.
You also should consider the number of devices that can connect to the router at one time. While some only support 2 or 3, there are models to which you can connect 8 or more computers.
Size and Weight of a Router
A router that is small and light, is more portable, and therefore, easier to travel with. So, when selecting a router, find one with a small weight and volume.
Security Encryption
Most routers can encrypt what you send through them, but some do not have security. A router without security can give your information to criminals, who may be receiving it. To make sure nobody is listening, select a router with encryption.
VPN Support
This is an additional layer of security that many people would like to have. A VPN masks your real IP address, allowing you to remain mostly anonymous on the Internet. It also allows you to go to sites that are blocked in your current country.
Some routers can access VPNs and others actually have VPN software pre-installed, so you have access to private networks from the moment you buy the router.
Speed and Range
A high connection speed allows you to quickly download and upload content, making you able to work quicker. A good range lets you connect to all nearby networks, giving you better internet access. Also, a large range will let you share your wired connection over a larger area.
Limitations
Travel routers are limited by their range, connection speed, and connection type. These are the first three parameters you should look at when buying a router.
Now that we have covered the concepts that make a good router, let us see the best models on the market.
Best Travel Router
1. TP-Link AC750 – Best Choice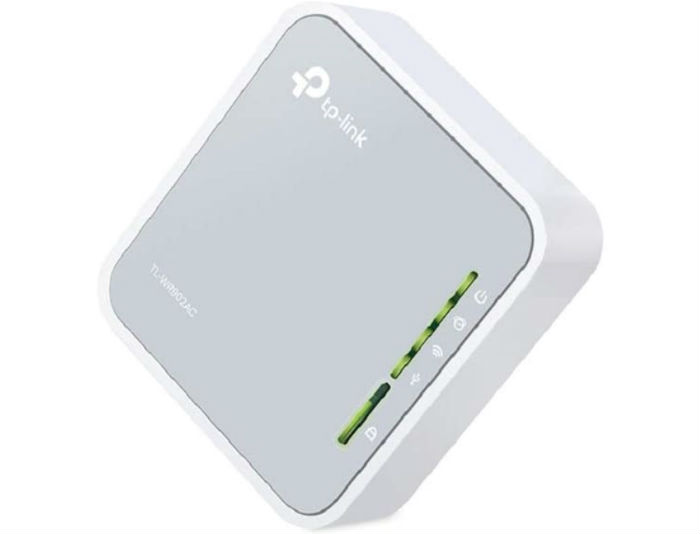 This is a very small and portable router that can create a new wireless network from an Ethernet connection. The model creates a Dual-Band network, allowing superior speed on all devices connected to it.
The router works well for any purpose, so it can be used both during travel and at home. The router is powered through a USB cable that connects to an adapter or charger.
As the entire model is 2.6 by 3 inches, it can fit in a pocket easily. The 0.5-pound weight also makes it more portable.
The router arrives with a 2-year guarantee from the manufacturer.
Arrives with everything necessary for a connection – wires, adapter and instructions
Very small, but nonetheless, fully functional
Has both Ethernet and Wi-Fi capability
The USB and Ethernet ports are on different sides of the model
2. RAVPower FileHub – Best Battery Life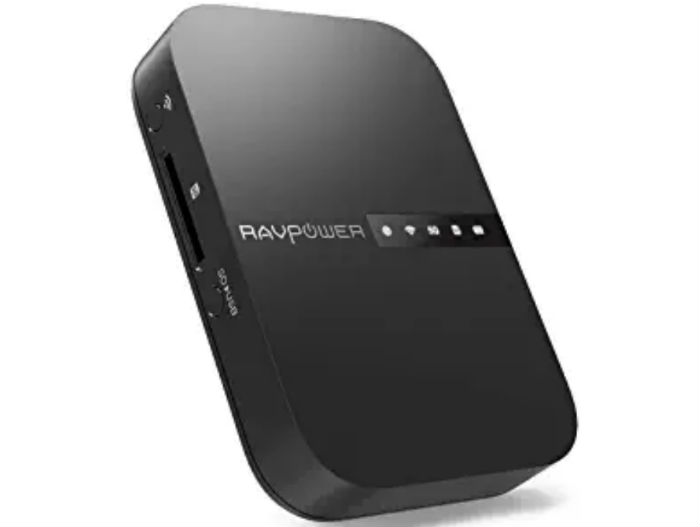 It is possible to stream music and videos through this router, because of the FileHub capability. After the power button is pressed for 5 seconds, the LED lights up, and the FileHub becomes available. Also, the hub can be used to transmit files between your computer and others.
The device has Ethernet capability, and it can convert a wired network into a wireless one. The wireless network has a speed of up to 433 Mbps.
It is possible to use the FileHub for backing up information. It can transfer any stored music or videos to your hard drive or computer.
The device weighs 7 ounces and measures 4.5 by 3 inches. It is equipped with a powerful battery that gives it cordless capability. The battery lasts up to 8 hours, depending on usage.
Uses the FileHub to transfer files
Has a built-in battery for cordless work
Works well, has good transfer speed and is overall a great model
3. HooToo Filehub – Best connectivity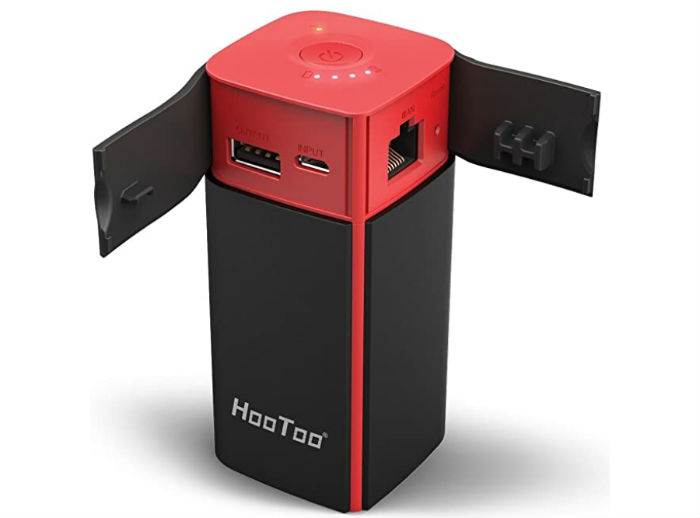 The router can both connect to various networks and transfer files between the attached devices. This allows you to free up space on all your devices. This also allows you to stream videos and music from your router. It can connect to smartphones and TVs.
The router can connect to a wired network and transform it into a wireless one. Also, it is possible to connect to any wireless network and extend its range. This will allow you to share encrypted wireless internet with all connected users.
The device can recognize storage drives in any attached PC or smartphone. This allows you to transfer videos and other files quickly.
Weighing only 0.55 pounds, this model is one of the lightest on the market.
There is an external battery pack shipped with the device that not only allows you to use the device cordlessly but also lets you charge other devices from it.
Can attach many devices via Wi-Fi and transfer information to all of them
The battery lasts a long time and can even charge other devices
Pretty small and light
Has trouble jumping from one channel to the next
4. TP-Link N300 – Smallest dimensions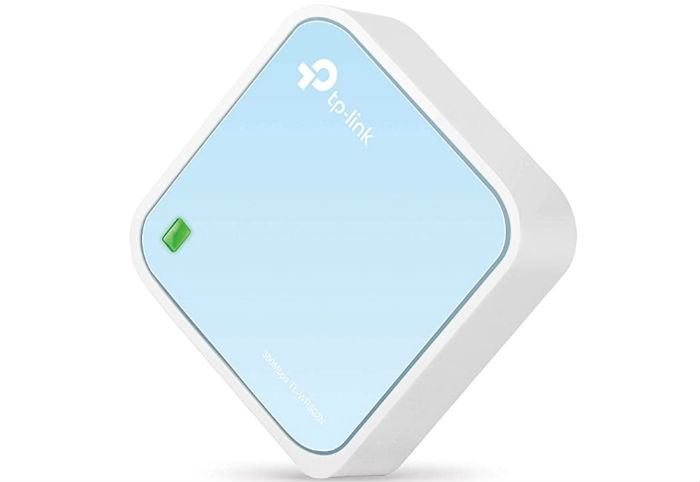 This tiny router has all the capabilities of a full-sized device and is able to achieve 300 Mb per second speeds. This allows the user to work without lags, and will even let you play online video games.
The device measures two by two inches, making it one of the smallest in existence. It is powered through a USB port. Also, a Micro USB port is available for recharging.
It is possible to use the router as an AP or a Wi-Fi repeater. The encryption lets you use the device securely, and nobody will be able to eavesdrop on your wireless connection. The model uses password protection to prevent information theft.
The manufacturer ships the model with a 2-year warranty.
Very compact size and small weight
Has many modes and abilities
Great connection speed for all available modes
Mediocre connection range
5. GL.iNet GL-AR750S-Ext Gigabit Travel – Best security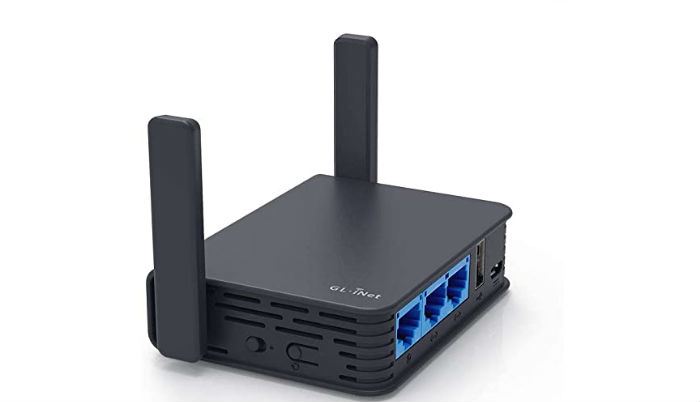 This device is interesting for people concerned about security because it has many pre-installed encryption protocols. Among other things, it has OpenVPN for anonymity and WireGuard for security. The model is compatible with 25 different VPN providers.
The encryption works even if you connect to a public network without a password.
The router excels at everything else too. It has a high 300 Mbps speed at 2.4G and can go as fast as 433 with 5G.
The router has 128 megabytes of RAM and can be equipped with an SD card up to 128 GB in volume. There is also a USB port and three Ethernet ports.
The router ships with Ethernet and USB cables, a one-year warranty, and a power adapter.
Excellent security – encryption and VPN support
Setup is very simple and user-friendly
Compact and lightweight
6. GL.iNET GL-AR300M – The lightest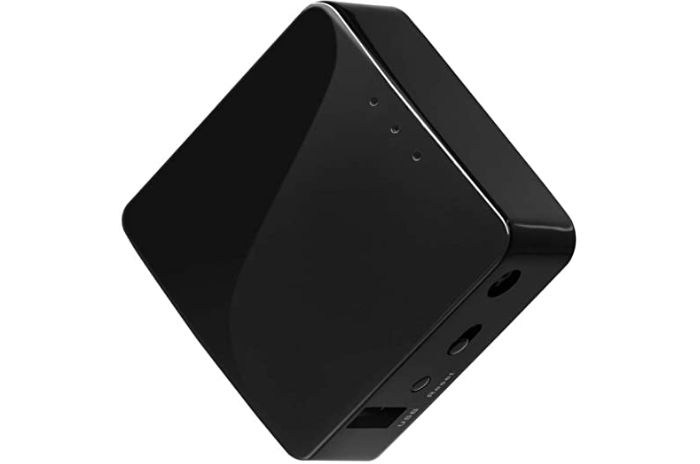 With a weight of only 1.4 ounces, this router is the lightest in this list. It can be powered from any laptop or computer. Any 5-volt power adapter also works for this. The model is compatible with 3G and 4G modems.
The router arrives with good preinstalled security, such as OpenVPN and Open Wrt. The model has immediate access to 20 different VPN servers.
The model has 128 megabytes of RAM and two Ethernet ports. It arrives with a 1-year warranty, a manual, and a USB cable.
Very good speeds and connectivity
Extremely lightweight and small
Good security option out of the box
Arrives without a power adapter – however, you can use any phone power adapter with the right voltage
7. RAVPower Filehub N300 – Most affordable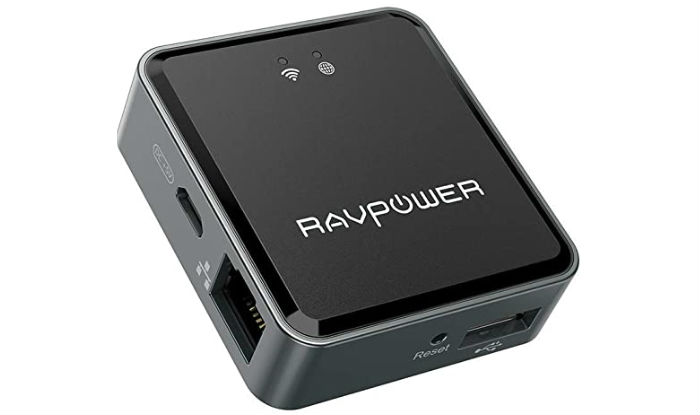 This one is able to work not just as a router, but as a file-sharing hub. This allows it to save space on all your devices, such as connected smartphones and computers. You can manually move files between your smartphone and the FileHub's storage.
The networks this device connects to, immediately become encrypted and private, so only you can see what's being transmitted.
The device transmits at a good speed and is able to convert a wired network into a wireless one. A maximum of 5 devices can be connected to the router.
Very good range and connection speed
Tiny dimensions and weight
Allows very easy and quick file sharing between computers
Two people cannot access the videos in the device's storage at the same time
Conclusion
A travel router will help you a lot if you are going to travel to places with bad internet access. They are also good for making one connection widely available over wireless. A travel router can be just as useful at home because it can make one wired connection available over your whole home.
A travel router is usually an inexpensive and versatile device that will be useful just about everywhere – both in travel and at home. It is usually worth buying one if you intend on traveling.