A toiletry bag allows you to carry all you need for your skin care and cosmetic needs with you at all times. The purpose of such a bag is to help you have your cosmetics in one place and well organized.
This kind of bag is a great thing to have if you are traveling, and in this article we will discuss what makes a good toiletry bag and what the best models to buy are.
What is a toiletry bag?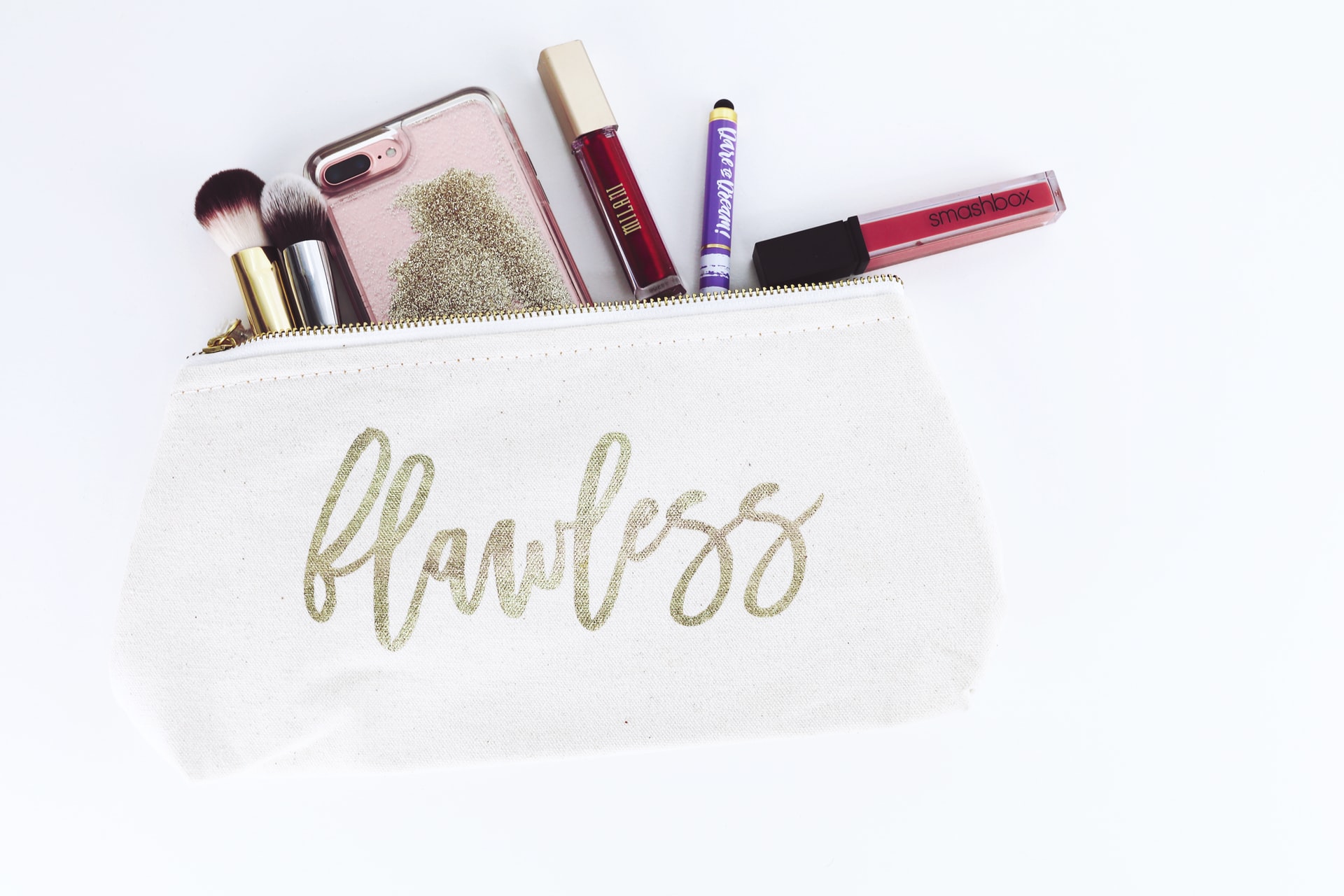 A toiletry bag is a portable purse with many various pockets that help you organize the gear inside the bag. A bag for cosmetics in not supposed to be large, however some models are pretty big, and they are a good idea if you have a lot of cosmetics and are going for a long trip. The most important thing here is the number of pockets and the accessibility of the cosmetics inside.
Why do you need one?
A toiletry bag allows you to carry all your cosmetic gear with you when traveling. For most women and men too, cosmetics are a very important thing, and they are actually one of the first things you need when traveling somewhere. So you need to keep them near you at all times.
These bags are not just for makeup – you also put shampoo and toothpaste in them, and many people also use them to take razors, nail clippers and scissors. So you can expect them to be fairly large sometimes.
If you are going to travel even for less than a week, you will need a bag like this, because it will help you take the very basics with you. However if you are going for more than a week, you will need a bigger nag that will help you keep a lot of your favorite cosmetics near you. And if it is more than a month, you will probably need extra space to take more with you to last you a while, especially if you cannot buy the needed cosmetics in the city you are visiting.
What makes a good toiletry bag?
There are a few important qualities that let you select the best toiletry bag out of all of them. And these qualifiers will be different in every case, so read carefully.
Weight
The bag should have a small weight and be portable, especially if you intend on taking just a few basics with you. However, the lighter it is, the thinner the material it is made of, so try to find one that offers a compromise between weight and toughness.
Material
The bag's weight, toughness and ability to resist water depend on the material. It is not really possible to say there is a particular best material for bags like that, because all materials have their own cons and pros, and while some are good for one application, others are best for another.
While the best waterproof material is leather, nylon turns out to be almost as good at preventing water damage, and is in addition much tougher than most kinds of leather.
Size
While most people would think a toiletry bag should be small, this can be different in some cases. If you are going to travel for a long distance to a country where you cannot get your favorite brand of cosmetics, then you are advised to take a large toiletry bag and pack it full of your favorite cosmetics. After all, you will probably need most if not all of them, especially if your stay turns out to be longer than expected.
Pockets
This is one of the most important qualifiers in a toiletry bag, because its purpose is to organize your gear. The number of pockets determines how long you will be looking for your cosmetics inside the bag.
It is best if your new bag will have a large pocket where you can fit a tube of toothpaste, a shampoo bottle or another large container.
Now that we have covered the requirements for a bag like that, we will see the best models on Amazon.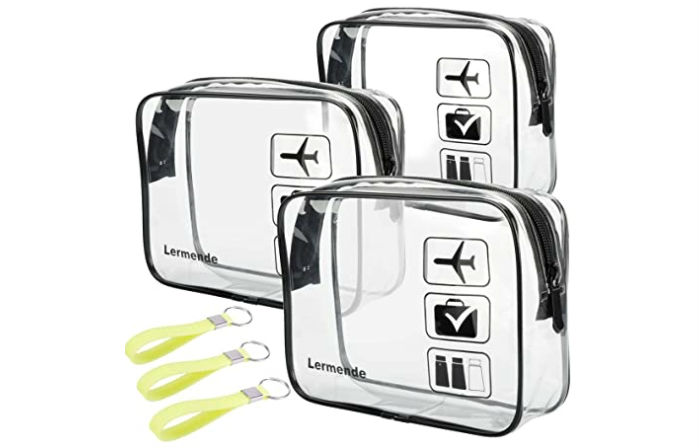 This bag is approved by the TSA, so it will easily pass through airport regulations, and you can quickly take it onboard a plane when you are traveling. It is made of a clear material, so you will be able to always see what is inside the bag.
There is a zipper on the top of the bag, so it is possible to quickly open and close it to get your cosmetics out. The size is 8by 6 inches with a thickness of 2.5, so it is large enough for almost anything. You can take shampoo, toothpaste and other bulky things in it.
The transparent PVC plastic is thick enough to keep your entire luggage safe, and as it is clear, you can see through it and always know what you have with you. The material is also completely waterproof, and the zipper does not let water get through either.
The bag is transparent, so you can always see inside it
The TSA approval allows you to effortlessly take this on board a plane without any restrictions
The bag is waterproof
Pretty bland and colorless design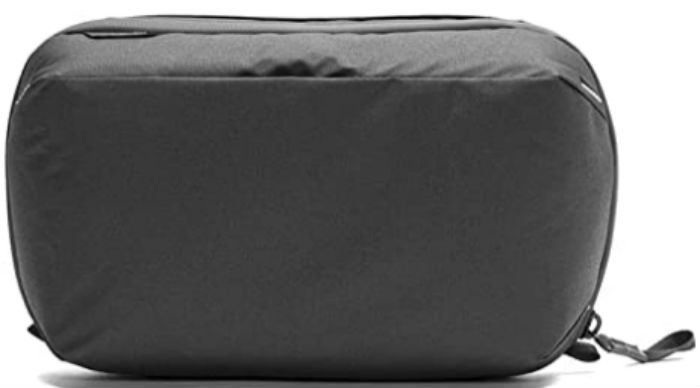 This one is made of a tough nylon cloth, covering a thick shell made of Hypalon. The bag is cushioned with EVA foam that gives it excellent impact protection.
The bag is made of a 400D nylon cloth, and its thick fabric allows it to stand upright when it is set on a table.
The fabric inside is coated with water- resistant material that allows it to be almost fully waterproof. The pockets inside are placed so as to offer great organization ability and help you put everything in its proper place.
The bag has a stowable hook hidden inside it that allows you to quickly hang it up in a shower room or other place where you need it.
Weighing only 250 grams this bag is probably the lightest for its size
The bag is very tough, and also very waterproof
Is great for organizing stuff because of the pocket construction
The price makes this one unaffordable for some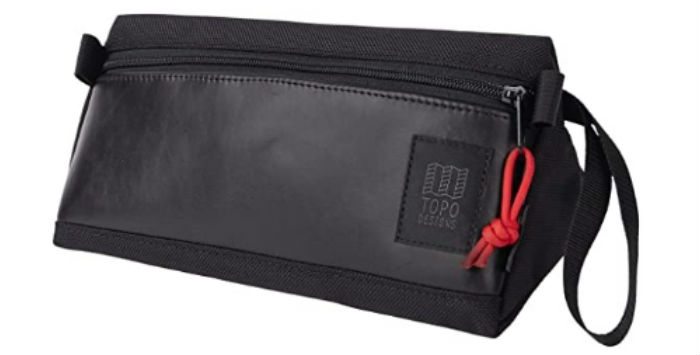 This bag is for people who are going to take a lot of gear with them. The kit is shaped to hold a lot, and its prismatic shape helps it in this. When it is full, it can stand upright.
The main interior of the bag is spacious, and you can put oblong things in it, like toothpaste or shampoo. Even a long hair spray bottle will fit in with ease.
The ballistic weave of the cloth used for the exterior makes this bag very tough.
The nylon cloth is good for preventing water damage – it is almost waterproof, although some water may pour through the large teeth of the zipper.
This bag is made in the USA and goes through many layers of quality control
You can pack a lot into this, because it has a volume of up to three liters
The materials are very strong, and the bag will last for a long while, keeping its stylish look
The bag is not fully waterproof because of the zipper that lets some water get through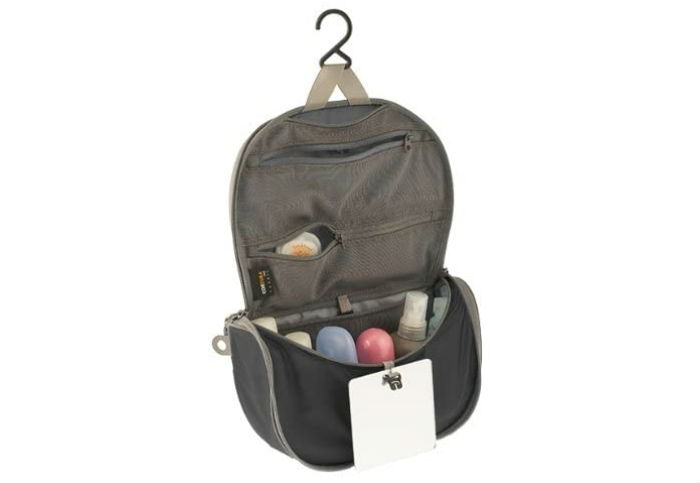 This bag weighs only 3 ounces, which makes it the lightest one. However, it still is pretty durable, and the compartments hold up to 3 liters summarily.
The model has 1 big internal pocket and two small pockets with zippers inside. There is also a quick-access pocket on the outside with a zipper.
The bag is versatile, and it will work for storing any kind of cosmetics. The model also has an interesting innovative feature – an unbreakable mirror that will always allow you to see your face. The bag itself is made of tough nylon cordura, and the pockets are built of stretchable mesh cloth.
There is a hook that allows you to hang this bag up anywhere you like. The hook can be safely stowed away inside the bag.
The bag can be bought in four attractive colors
The weight makes it a great model for travel, as it is the lightest in this list
While being light, it is also fairly tough.
The bag's curvy shape makes it difficult to close a zipper around it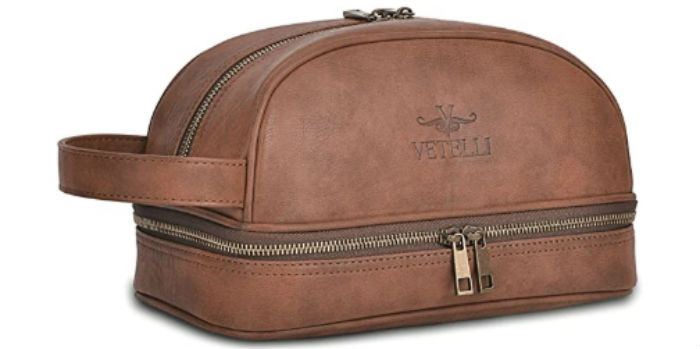 This is a bag made fully of polyurethane leather with an inside lining of waterproof cloth. This makes the toiletry bag not only stylish, but also very practical, and the size also allows you to store a lot inside it.
The bag has two large pockets that will easily fit a full-sized shampoo bottle and other large items, and the to smaller inside pockets are designed for razors, scissors and nail clippers.
The two mesh pockets inside are made to hold bottles. Overall this is a compact and practical organizer with a good volume and sturdy build.
The side handle, also made of strong leather, assists you in carrying the bag with a comfortable grip.
The bag arrives with a long warranty from the manufacturer.
Very stylish look
The bag has a good volume and many organizing pockets
The bag is mostly waterproof, and will not let water through if sprayed with water
This is not real leather, however in this case it is good to have synthetic leather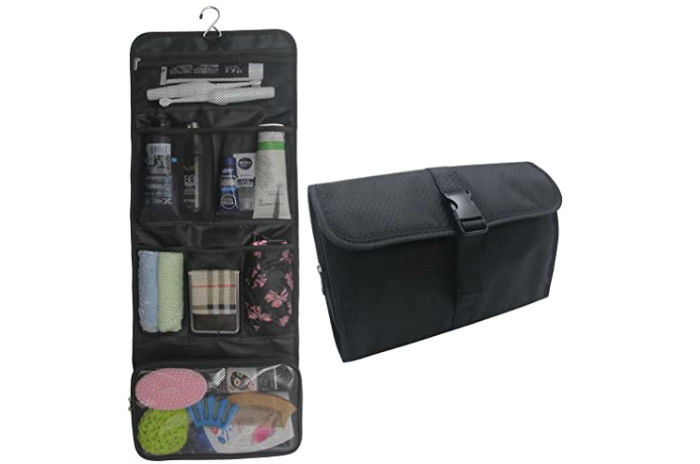 This is a foldable and very mobile bag that has a hook, attached by a swivel. The bag can be carried by a sturdy handle when it is folded up, and is a very good option for traveling. Its low price does not make it any worse – it is a great model , just does not have as many features.
The mag is large enough to carry any of the items you would like to take with you, and will fit deodorant, shampoo and other large bottles with ease.
The bag is actually waterproof and washable – it is made of strong Oxford cloth with a nylon base and a waterproof coating that does not let any water get through. All the stitching is done with great care and is doubled over on points that get the most stress.
The hook on top of the bag is unnoticeable until flipped out and it allows you to hand the bag up when it is not in use.
The bag is amazingly cheap for the level of quality it offers
The bag weighs only 8 ounces, which is pretty low with its size and number of pockets
Adjustable, so you can fit even very large bottles inside it
It is hard to fold up if you stuff a lot of gear inside it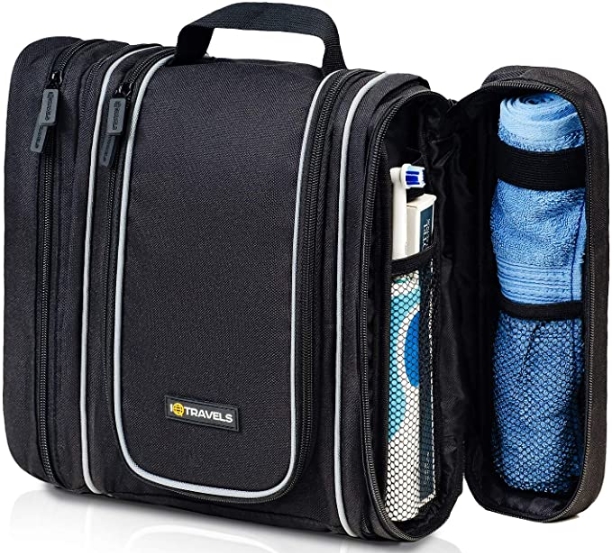 This is a versatile bag with almost all possible functions included. It can hold a lot of variable gear and has a large amount of organization pockets, while maintaining a weight of 11 ounces, which is fairly small for a bag of its size.
The bag has good cushioning, hence the manufacturer offers it as a good bag for people who need to carry medicine ampules.  The larger pockets can carry large shampoo bottles.
The bag is water resistant and it will help you keep your gear dry even if the toiletry bag is left in a shower.
The bag unfolds to show all its contents and can be hung up on a wall hook.
The versatile bag also arrives with a lifetime guarantee from the manufacturer.
Over 90 percent of the customers gave the bag 4-5 stars in reviews
The bag offers great possibilities for organizing with many pockets and dividers
Is waterproofed and will stand up to rain or a shower
The cloth around the zippers feels thin, and some people remarked it may tear after wear
Conclusion
This kind of cosmetics kit is a great idea for any traveler, because it allows you to take the very necessaries with you and keep them close at all times. If you are going for any kind of travel, even if it is just a week, be sure to keep one of these with you.
It is a good investment, and if you buy a reliable one, it will stay with you for a long time and help you out in many situations. So do not hesitate to find a good toiletry bag now – you will probably be traveling sometime soon, and you will be glad you had one.