Best Camera Backpack for Travel
If you are a photographer or journalist, then carrying a camera is one of your responsibilities. And, there are also many amateur photographers that would like to test their skills at photography.
In both cases you will need to take a camera backpack with you, because that is the best way to safely transport a large, bulky camera that is used to make high-resolution photos.
In this article we will discuss camera backpacks and all about them
What is a camera backpack?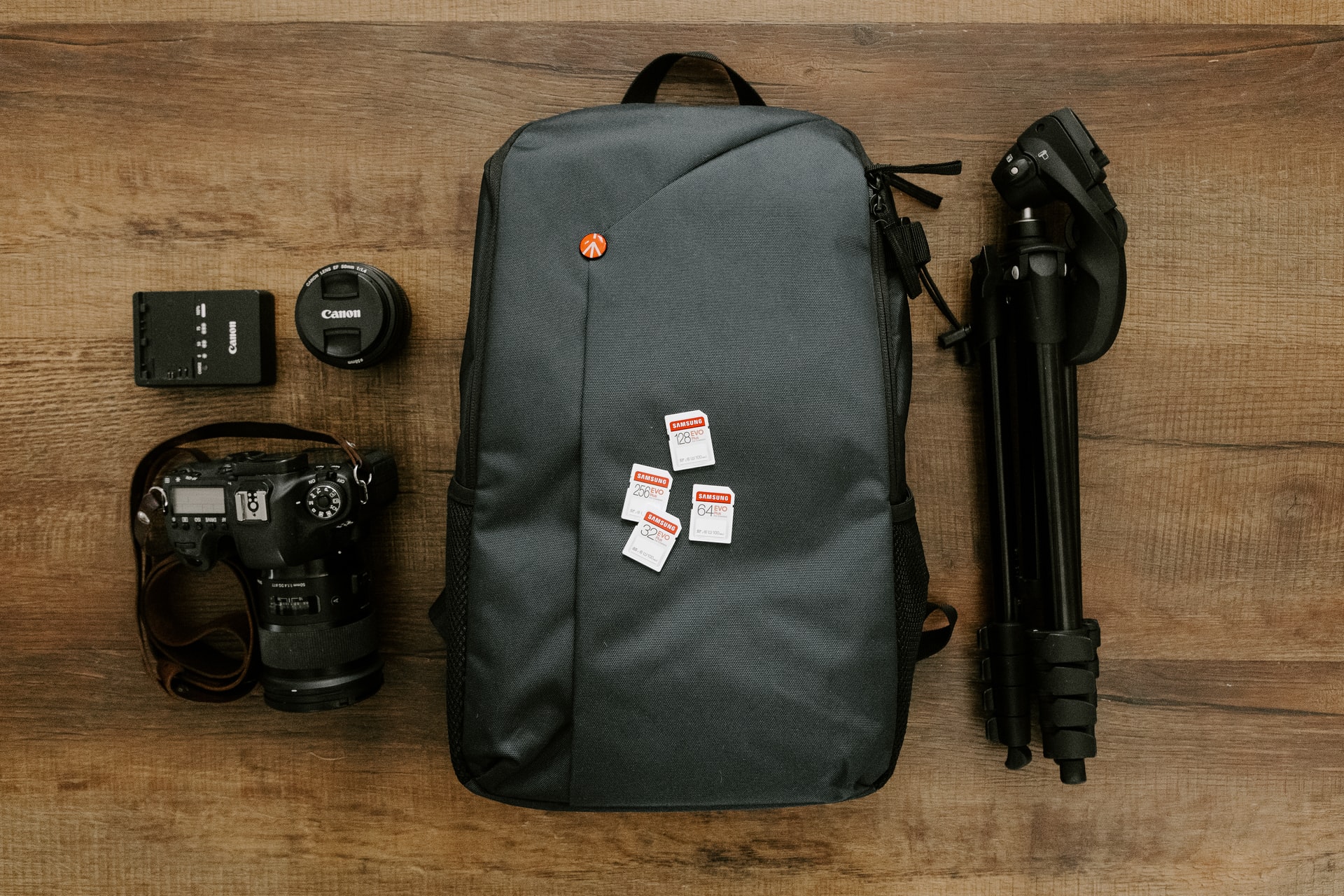 A camera backpack is not really different from a regular backpack, except that it is a lot better cushioned, and has special pockets to fit the camera and lenses for it. Otherwise, a camera backpack is not really different, and can be used as a regular carry pack. Usually these backpacks are a bit smaller than usual ones, because they do not need to be large.
Why do you need one?
You need one if you are going to travel with a camera that is a professional-sized model. These models are usually made with great precision and require careful transportation and cushioning. Therefore a special backpack is required to carry the camera and the lenses for it safely.
A backpack also is one of the most comfortable ways to carry luggage, be it a camera or anything else.
How do you pick a good one?
A good camera backpack has a number of qualifiers that make it worth the money. Let's review the main qualities that make a camera backpack worth buying.
Material
This is the most important parameter, because it defines the durability and weight of the pack you are buying. If the backpack is made of a good material, then it will last a long time and at the same time, weigh little so as not to overburden you.
Nylon and polyester are the best synthetic materials, and actually might be the best materials overall. They are tough and light, and, most importantly offer a good degree of water resistance – water rolls right off them. And if you buy a model with waterproof treatment, then you will be able to carry your camera through a rainstorm and count on it to remain dry.
Size
If you are going to carry some other stuff except the camera, you will need a large backpack, so as to fit all your gear. Sometimes photographers take tripods, extra lenses and batteries with their camera, so they need pretty large backpacks. Sometimes the camera is just one of the bulky things in your backpack.
Pockets
Pockets allow for organizing your entire luggage inside the backpack. Usually a large number of pockets is desirable in a camera backpack, because you have lenses, batteries and other small accessories that you may want to keep with your camera.
Now that we have covered the concepts that make a bag worth buying, we will see the best models on the market.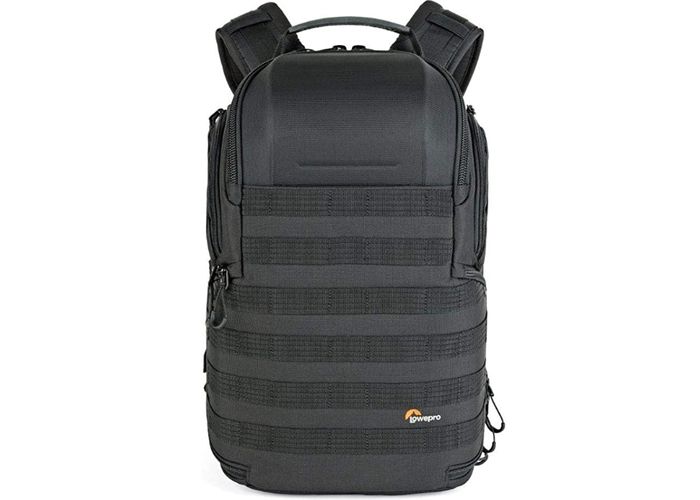 This backpack has an armored construction, reinforced with EVA foam. That makes it particularly resistant to impact, because the foam is well-known for absorbing force.
The dividers inside the bag are flexible, so if you need, you can stuff a lot of equipment into one pocket. All the sides of the bag are protected with foam inserts.
The two straps on the backpack can be removed or added at will. They are there to hold a tripod. The bag is also adapted for carrying a laptop with a screen size of up to 15 inches.
The back of the bag and the padded shoulder straps make it very comfortable to carry, and the padding is good at both softening the bag, and also at making it most breathable.
With dimensions of 30 by 18 by 47, this bag is relatively compact, and will work great for carrying not only a camera, but also an assortment of other gear.
The inside pockets are easy to stretch and adapt to your needs
The bag is large enough for any camera and a variety of other equipment too
This one is very well padded with the best materials, and offers good defense for your camera
Items can slip out of some of the small inside pockets into the main compartment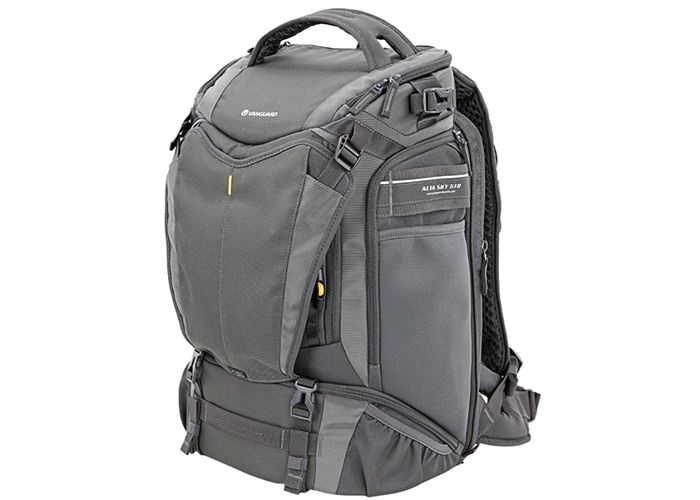 This one has two large compartments inside; both being intended for carrying professional-level DSLR cameras with lenses up to 20 cm long. Also you can fit 3-4 lenses into the small interior pockets.
The main compartment is also adapted for a notebook with a diagonal of up to 15 inches, or a tablet with the same diagonal. And a tripod will fit into the bag as well, with no problem or loss of balance.
The bag itself is pretty heavy – it weighs 3 kg because of all the padding and the thick fabric it is made of.
The bag is made of high-quality nylon cloth with neoprene foam padding. The harness on the back of the backpack can secure a drone and allow you to carry it with you effortlessly.
Both the tripod and the drone attachments work well
All the materials used are sturdy and lasting
The bag is equipped with a lot of pockets that let you organize lenses and cameras.
Heavy because of the reinforced materials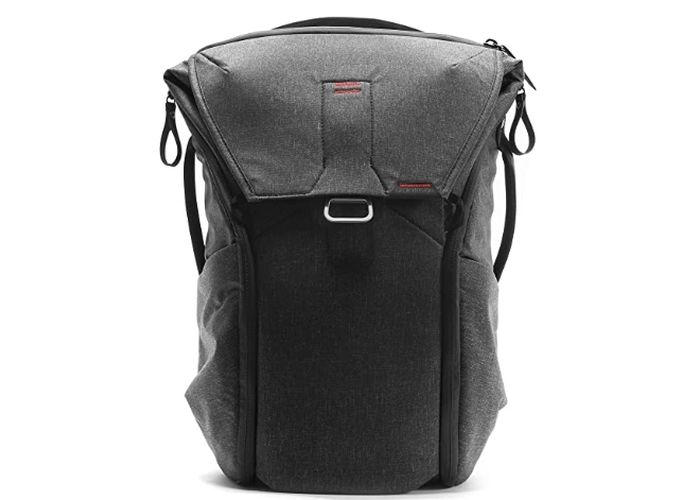 This is an expandable bag that can be stretched from 12 liters to a volume of 20. This allows it to hold a full-sized DSLR camera with 3-4 lenses.
The bag offers places for cameras and lenses, and may also hold a fairly large drone. The interior space is divided with flexfold separators, which offer both support and cushioning.
The shell is made of tough 400D fabric. The nylon cloth does not allow water to get through, and the water-resistant coating, that the bag is covered with on the outside, additionally protects the bag from water. The zippers, when closed, also stop water from getting inside.
The exterior and interior pockets allow for great organizing ability, and fit both large and small items. There is even a dedicated pocket for memory cards and a laptop pocket.
The dividers inside the bag are adjustable and offer great cushioning
Excellent waterproofing on all sides – both the walls and the zippers are waterproof
Side access allows you quick access into the bag's interior
The waist belt offers no padding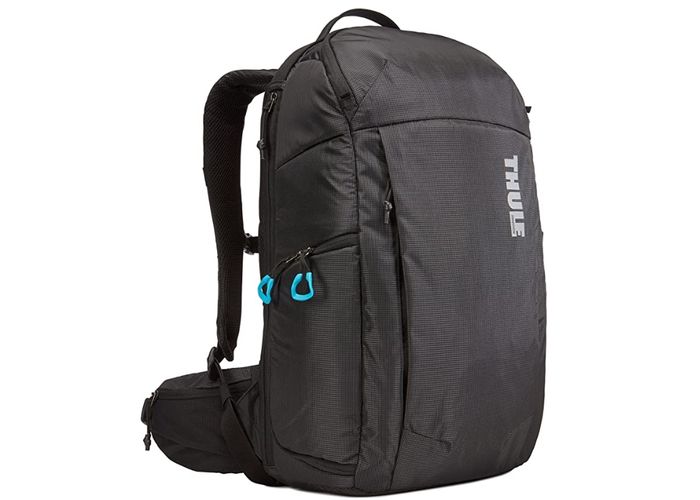 This is a small and adjustable backpack with a compact size, light weight and great padding. The backpack is very versatile, and even though it seems small, it can hold a DSLR, a laptop with a diagonal of up to 15.6 inches and a drone. The drone can be up to 26 cm in length, 24 in width and 13 in height.
The backpack can be worn on shoulder straps, and can be made more wearable with the waist belt.
The back panels and shoulder straps are equipped with breathable meshing that makes the bag more comfortable to carry.
The bag weighs only 500 grams when empty, and is one of the lightest.
Very lightweight and compact, while also having a great volume
Fits a drone, a laptop and a full-sized DSLR camera at the same time
Fits comfortably on the back and does not overheat
The padded compartment dividers move around a lot, and do not secure things well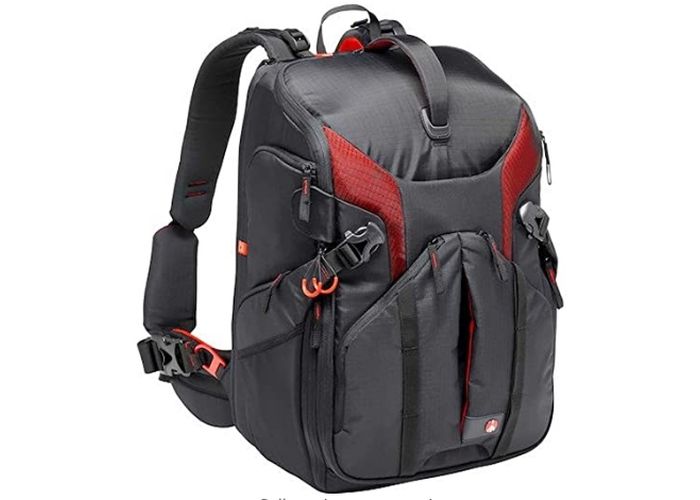 This one has three ways to carry – like a backpack, sling backpack and cross backpack. That means any user can choose the style he likes most. The model fits a DSLR camera of any size and any number of lenses for it.
The bag has openings both on the top and on the side, and this makes it especially easy to quickly take out a camera or the lens you like most.
The bag has connectors for a tripod and can also hold a drone.
The fabric of this backpack is a thick nylon cloth with waterproof solution added to it. This makes it possible for you to walk through a rainstorm without getting the camera wet.
The sling backpack carry mode makes it possible to quickly access the camera in the bag
The waterproofing is very good, and the bag can withstand a rainstorm
All the compartment dividers are cushioned
The Velcro material on the adjustable dividers will deteriorate soon, if adjusted often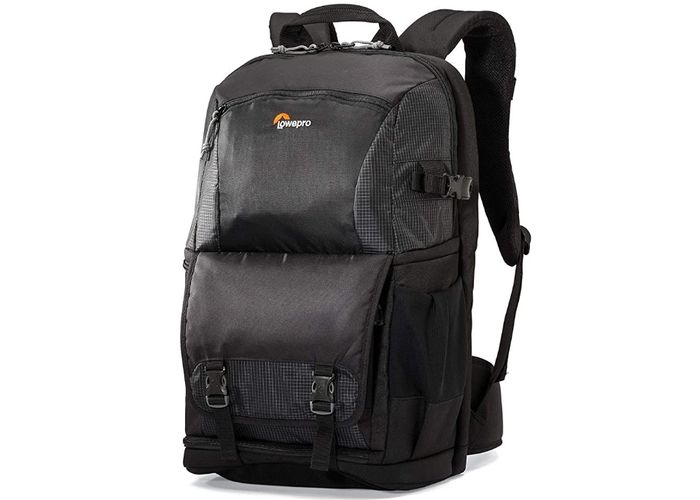 This backpack can be worn in different modes, both as a regular backpack, or as a sling bag for quick access to the camera and lenses inside. The straps can also be formed into an X shape.
The pockets are very complex and have various useful sizes. There is a pocket for a laptop up to 15 inches in diagonal, a section for a full-sized DSLR with lenses attached, separate places for lenses and pockets for smartphones and other accessories. Can also carry a tripod.
The entire interior, including the separators, is padded.
Holds everything you could possibly take with a camera – lenses, flashes and other accessories
Good waterproofing both on the fabric and on the zippers
Easily fits under the seat on all airliners
Does not really look exceptionally stylish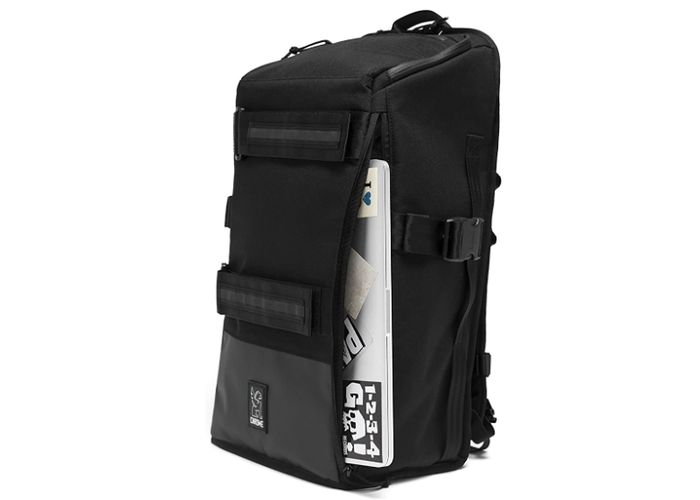 This model is fully made of quality nylon fabric with good waterproofing and reliability. The model is notably adjustable, and it justifies its high price by the amount of interesting features it has.
The backpack is 25 cm wide with a height of 50 cm, so it has a universal size that allows you to carry a lot of gear without overloading yourself. The backpack has a volume of 23 liters, making it fairly large for its weight.
The back panel unzips fully, so you have immediate access to your entire luggage in one second. The bag is made of 1050 D ballistic fiber, so it will resist absolutely any kind of damage. The padding makes it safe to carry any kind of camera inside it.
The exterior straps allow you to fixate a wide variety of gear on the outside – drones, tripods and even skateboards.
All parts of the bag are highly waterproof, especially the zippers
The bag has many compartments, and all are reliably padded
You can get full access to all the interior compartments by opening one zipper
Pretty expensive, but as all components of the bag are premium-quality, that is understandable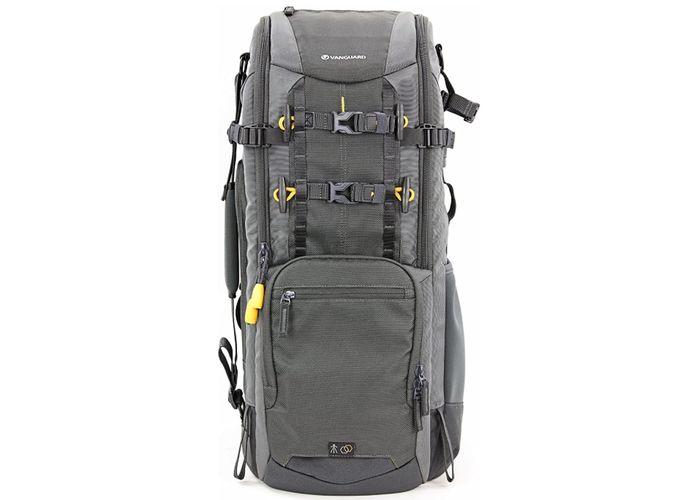 This bag is exceptional in that it allows for lenses up to 60 cm in length. This is great for people who use telephoto cameras.
The back panel of this model is ventilated and does not overheat your back. The model also offers a water-bottle carrier pocket for you to stay hydrated.
The model offers plenty of storage space for the camera and any other equipment, including a tablet with a diagonal of up to 9 inches.
The backpack can also hold a laptop with a diagonal of 17 inches, and there is space enough for 3 cameras in it.
All the materials are tough and lasting – premium quality
The model can hold cameras with very long telephoto lenses, up to 60 cm long
Plenty of storage space for other accessories and gear
Conclusion
A camera backpack is something any professional photographer should invest in. it is also an important purchase for starters and amateurs as well, because it gives you the ability to quickly store your camera in a safe environment and protect it from damage and weather.
All models have different prices, different parameters and different purposes, but we hope that after reading this article, you will be able to make an educated decision about what kind of camera backpack you want to buy.