Best Duffel Bag for Travel
Duffle bags are large luggage bags intended for international travel. They are often taken on board planes or trains, and you can stuff a lot of travel gear into them.
Duffle bags can be purchased in various sizes and styles, and in this article we will discuss how to choose a good bag, what to look for and which models are the best.
What is a duffle bag?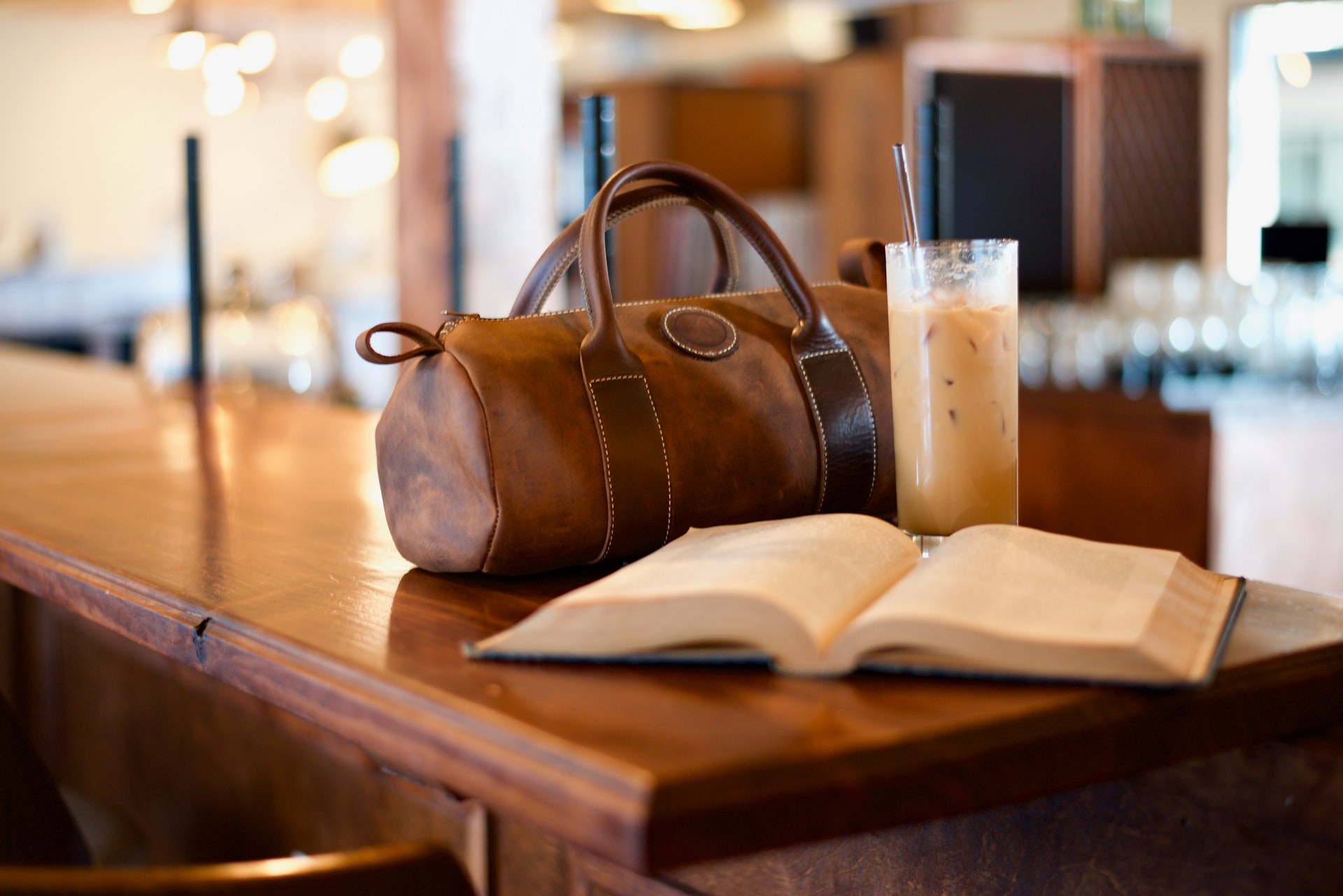 A duffle bag is a large luggage bag that allows you to take a lot of gear with you when you are traveling. These bags are built to last, and are very sturdy – they are made of tough and durable materials that do not fall apart with time and protect your gear inside the bag.
A duffle bag should also conform to the size limit to fit into the airplane baggage. This is a very important qualifier if you are going to travel by air.
The duffle bag may have additional features, like multiple inside and outside pockets, locking zippers and waterproofing. We will discuss all of that in the next section
What makes a good bag?
A good duffle bag is one that helps you get your luggage around in your particular situation. That means its size and weight should conform to the kind of trip you are taking, and it should also hopefully fit your style.
Let's see which qualities are the most important.
Size
This is the most important quality that defines a duffle bag, because it decides how much gear you will be able to store inside it. If you have a large bag, you will be able to pack up for a long international trip. However if you are just doing a short week-long visit to a nearby city, you will just need a small pack for a few basic things.
The size is also important if you will be traveling on a plane, because you have to select a bag that will pass through the size regulations.
Material
There are many materials that work well for this purpose, and the best are synthetic materials like polyester and nylon, that do not deteriorate, do not wear away easily and are resistant to most kinds of damage.
The material also decides how tough the bag is and how long it will last you. Nylon again is best, when it comes to durability. Polyester and nylon are pretty resistant to water, and you can additionally find bags treated with a substance that repels water, making them almost 100% waterproof.
Pockets
Pockets are what allow you to organize all your gear inside your bag, and the more pockets, the better, because they prevent you from losing small objects like lighters, USB drives and pens. Also pockets on the outside of the bag are a great idea, because they are easy to access and add things or remove them.
Zippered pockets are much better that any other kind, because they prevent things from falling out and mixing up with the rest.
Security
This is what determines how safe your luggage is. Some bags feature locking zippers, and it is possible to put a lock on one or more zipper to prevent anyone except you from opening the bag.
Also some bags feature RFID-protected pockets that allow you to defend your credit cards from skimming. That allows you to be sure your money and personal information are safe at all times, when you are traveling.
Now that we have seen the best qualities to look for in a duffle bag, we can continue and see the best models on the market.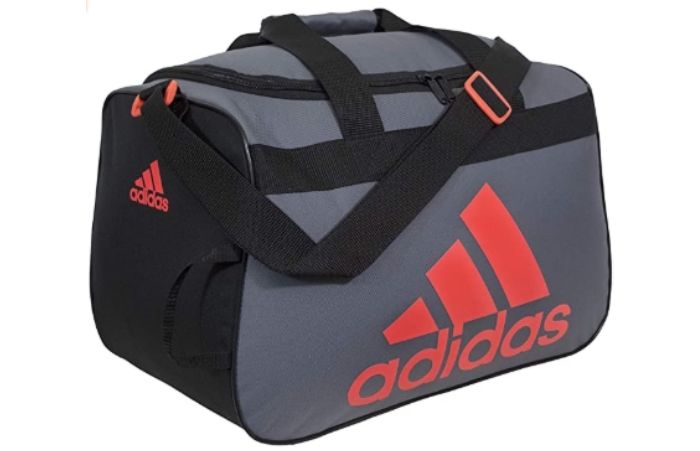 This is a small duffle bag with a large enough size for a 15.6 inch laptop. This allows it to be very useful for travel.
The small size combines well with the case's design, and it is a great model to get if you will be traveling for a week or less. The duffle is 11.5 inches tall with a width 17.5.
There is a shoulder strap on the side allows you to carry this duffle over your shoulder like a purse.
The top of the bag closes with a sturdy lasting zipper that does not let water through.
The main compartment is pretty large, and is equipped with a number of dividers and side pockets. Other that the shoulder straps you have a pair of handles that are shorter and let you carry it in your hand.
The bag has a nice design that features the brand logotype
The shoulder strap is very comfortable and it really helps carry the bag
The sturdy material makes this bag last a very long time
The bottom panel does not keep its shape and the stuff inside pushes it outside and looks ugly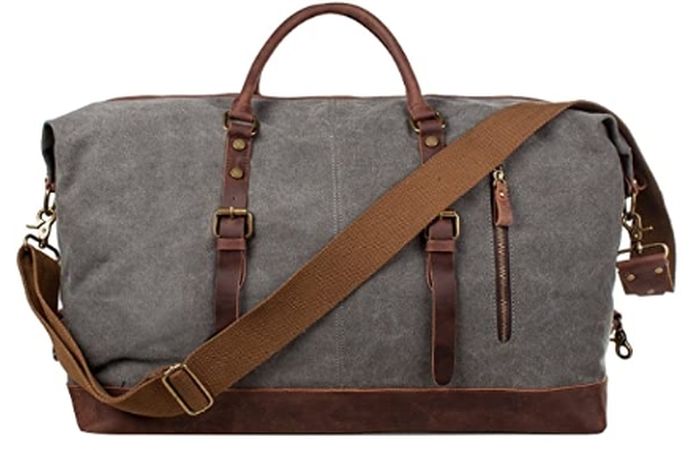 This one is large and at the same time pretty large. It is built of a combination of thick crazy horse leather and soft cotton canvas that makes it fairly breathable and allows it to retain its shape for a long time.
The casual style of the bag allows it to fit any dress code and look appropriate anywhere. The model is roomy enough to be fit for a long traveling trip, as it has room for clothes and many other things.
The leather has many wrinkles in it, so it will not show scratches or damage over time – in fact in adds to the retro look of the bag.
The bag weighs only 4.5 pounds, and with its large dimensions it will fit enough for an international tip. Its size allows you to fit it in the overhead bin on a plane.
Very nice vintage look with the leather and canvas
The bag maintains a small weight while having a fairly large volume
The materials are not just nice-looking, they are also lasting and resilient
Some report the zippers on this bag are easy to break, so treat them carefully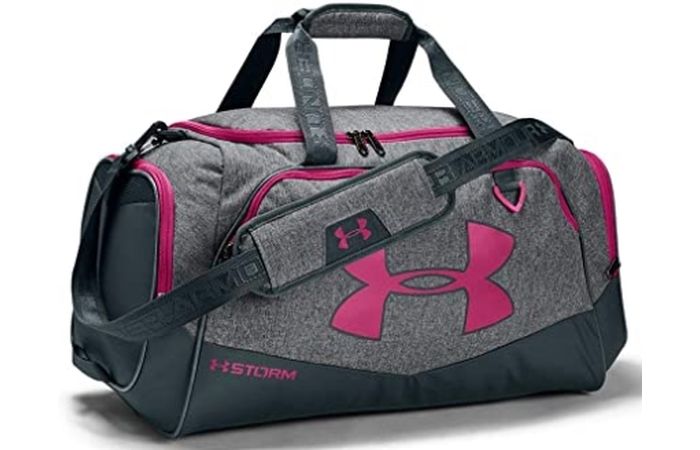 This bag is made of pure polyester cloth that gives it good reliability and allows it to be mostly waterproof.
The model closes with a zipper and thus is almost fully waterproof from all sides. The zipper is pretty sturdy, as well as the whole bag overall.
The shoulder strap has a drop of 24 inches, and the bag itself is 12 inches tall and 17 wide.
The polyester cloth is covered with a layer of waterproofing finish, called UA Storm that wicks the water off the cloth and allows the gear inside to remain dry even in a rainstorm.
The model is equipped with a quick-access front pocket with a zipper that allows you to quickly remove and add stuff to your bag.
The top handle lets you carry the bag as you would a purse, and the thick padding makes it comfortable to hold.
There are overall three exterior pockets and one interior zippered pocket.
A good amount of pockets for people who like organizing
The bag is almost fully waterproof
The shoulder strap is padded and very comfortable to hold
The shoe section is not always large enough for big-sized shoes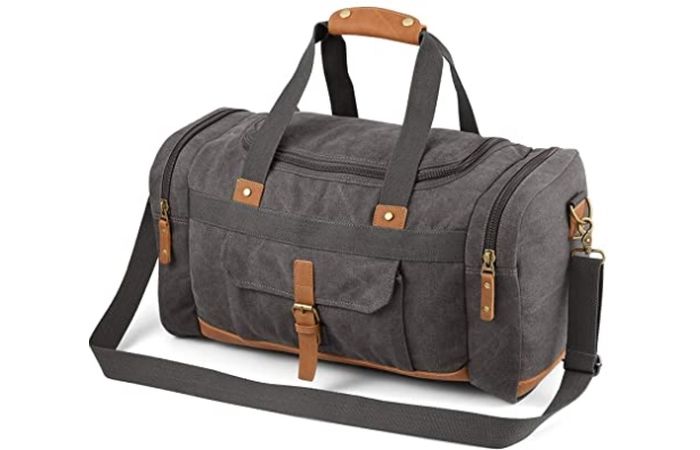 The bag is made of a tough cotton canvas that is very thick and tough. It is also equipped with strong bronze-toned zippers that will also last awhile.
The model has two side pockets equipped with zippers and one large pocket in the front that closes with a magnet lock. The main compartment is fairly large, and it has a wall pocket that closes with a zipper and two open pockets in the walls. The many pockets allow you to organize a lot of small items well.
The bag is conveniently shaped and the handles make it easy to carry. The shoulder strap can be attached and removed easily. All the zippers have leather covers that make them easy to find and pull.
The bag is large enough to hold a lot of gear for a long traveling trip. With a height of 20 inches and a depth of 9.5 it has a height of 11 inches.
The bag is large enough for a long trip
All the materials used are very durable, and the construction is built to last
The model is pretty stylish, especially the leather parts
The shoulder strap is not padded, so it will be sharp on your shoulder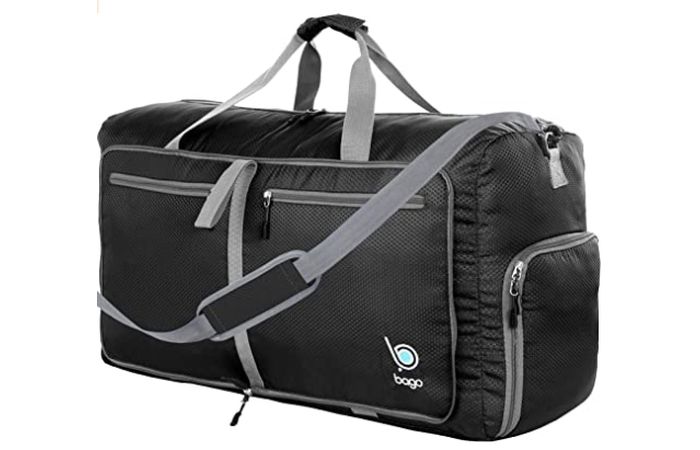 This medium-sized bag has a large volume of 60 liters, even though its dimensions make it look smaller. The weight of this one is only 1.3 pounds, so it will hold a lot and not overburden you with its own weight. The bag can be folded up, and then has dimensions of only 10 by 11 inches.
The bag is built with good attention to quality, and the ripstop cloth is very reliable, while remaining light. It also does not accumulate dirt, and is easy to clean off after it gets dusty.
The bag is just the right size to fit into airplane luggage without having to pay extra fees for transportation.
There is a small bag that fits inside it and can be removed at any time.
All the zippers are built with attention, and they are sure to not fail you anytime soon.
The bag is shipped in multiple nice colors that help it stand out.
Holds a very large volume for its small weight
Comes in an array of various bright colors
The insides offer good padding, and will protect glass bottles and other fragile items
Arrives without a shoulder strap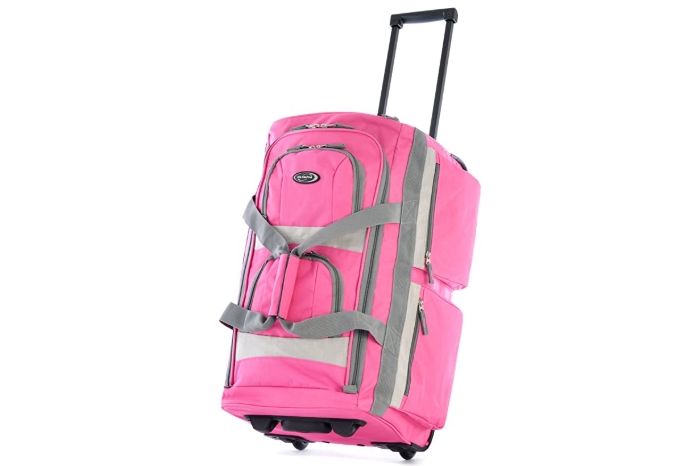 This bag is built of a 100% polyester cloth that is water-resistant and very tough, allowing this bag to endure any kind of damage without tearing. The cloth has a thickness of 1200 D.
The bag is closed with a zipper that is pretty sturdy and will not break on you when pulled hard. The inside of the bag is also polyester, and has a few pockets inside that help you organize things. Overall there are 8 interior pockets. Having dimensions of 6 by 6 inches, these pockets are large enough for most things.
The model has recessed wheels with metal bearings. The telescoping handle can be retracted quickly into the duffle.
The dimensions of 12 by 12 inches with a height of 22 allow it to hold a lot of gear.
Enough pockets to organize many small things
The bag can be bought in many different color schemes
The sturdy wheels last long and allow the bag to move smoothly
The fabric on the inside is pretty thin and has to be treated carefully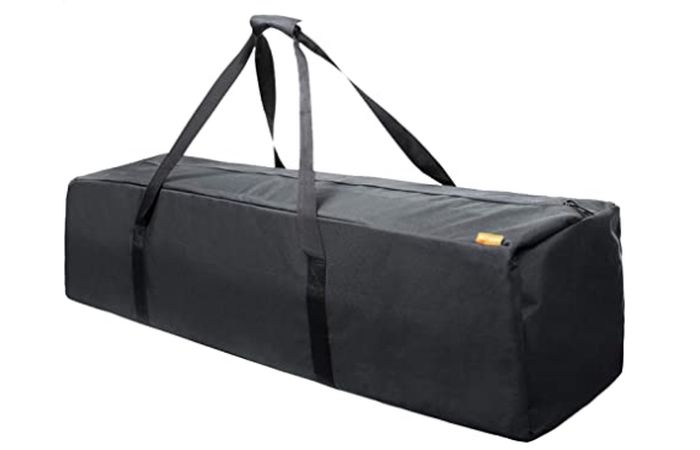 This is a large bag with a length of 45 inches. This is good for carrying sports equipment, and with a height of 12 inches and a width of 12, this model has a pretty good capacity.
The material is a durable nylon fabric with a thickness of 600D. The cloth is covered with a waterproofing material that allows it to resist rain.
The bag is intended for anyone who will be carrying lengthy equipment, and is geared at hunters, sportsmen and fishers.
The bag folds up for convenient storage when not in use. Weighing only 2.3 pounds, it is also fairly light for its volume.
The bag is the right size for passing through airplane security.
The large length makes this bag good for exceptionally long items
The bag is very resistant to water
It is conveniently carried with the shoulder straps
The bag does not offer much padding, so fragile stuff might get hurt inside this bag
Conclusion
A duffle bag is one of the necessaries you need to take when traveling to another city or country, because it allow you to pack up all the valuables you need to take and go quickly. Thus, a duffle bag is one of the first things you need to invest in when preparing to travel.
Simply use the parameters stated in the article to find the one bag that fits you the best, and preferably, pick one of the bags presented in this list, and you will be sure to get one that will last you a long while and help you a lot in your travels.