A travel daypack is a bag you can carry with you when you need to travel, but do not wish to take too much with you. Usually a daypack holds up to 25 liters, and more commonly not more than 10. A daypack is intended for people who want to travel light.
Daypacks come in different sizes and types. Let's review the different types of daypacks.
Traditional daypacks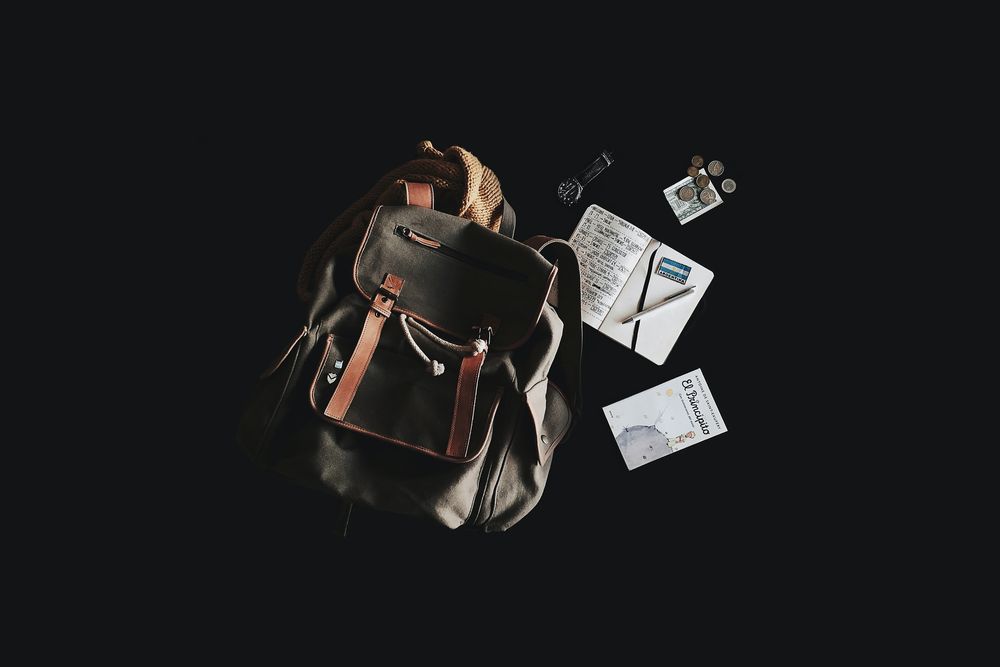 A traditional daypack is a bag that contains your everyday carry and is just large enough to hold all you need and no more. Nonetheless, they are better for carrying heavy stuff than lightened daypacks. This is the most versatile and common kind of daypack.
Packable daypacks
These kind of daypacks are very slim and take up minimal space in your luggage. While this makes them extra light and portable, it also means they will have less interesting features and compartments.
Expandable and compressible backpacks
This is for people who want to have both a daypack and a backpack in one model. These are usually bigger than regular daypacks, and they hold more than traditional and light models. However, that also means they are heavier and not as portable. They stretch to accommodate all of your luggage, but they can then be compressed back into their regular size.
Detachable and attachable daypacks
These can be attached to each other and removed afterwards. This makes this kind of daypack more voluminous and able to carry more, but the large size makes it sometimes hard to take into an airport, so here you have to check airport customs to make sure.
Things to Consider When Buying a Daypack
Function
Travelling
Daypacks help you take all you need for a trip – notebook, EDC, money and a variety of other useful things. It was designed to carry all you need with you, and you can count on a daypack to be sufficient for all your necessities. If you are traveling in a forest or wilderness, you may want to select a large model to carry a supply of food and water with you.
Hiking
Daypacks can be used to carry all your food and water with you, while you are having a walk in the woods. Also all your everyday carry will fit into the daypack, so you will be prepared for anything
City Exploring
Just as with hiking city exploration is another activity that makes use of a daypack. Here you can, again, carry some food and water, and also take all other necessary carry with you.
Size/Compressibility
This is another important qualifier, because you may or may not want to take a large amount of luggage with you. If you want to carry a lot of stuff, then you do need a large daypack. However, if you are traveling light, there is no need for one – take a smaller one that will be much lighter.
Weight
A daypack should weigh as little as possible. After all it should make your luggage more portable, not add to the weight. Therefore, you should consider the weight of the daypack as well, and try to choose those that weigh the least.
Lightweight Daypacks
These are best for mountaineering and hiking, when you cannot afford to carry much with you. These daypacks are smaller in volume and in weight, and while you cannot take a lot, they are just the right size for carrying all of your necessities.
Ultralight Daypacks
These are usually made of different material than regular daypacks, so they can have a lighter weight than is possible with traditional fabrics. They are also very small compared to regular daypacks, and only contain the bare necessities. This makes them good for traveling up hills or mountains, where every pound counts.
Brand
This is also an important point to consider, because different brands take different approaches to quality, and while some are going to make very high-quality products, others will try to save on materials and time, resulting in inferior quality. Therefore, try to find models from well-known brands with good customer reviews. Usually price goes up with brand quality, so be prepared to invest a lot in a daypack with a trusted brand.
Style and Comfort
Also important. You will not really enjoy your travel or road trip if your luggage is causing you significant discomfort. This can happen if your daypack is too small or too big. However, some ill-made daypacks are uncomfortable independent of size, and will cause you abrasion and muscle strain. And the best rucksacks have soft foam inserts on the back and handles. This makes it possible to wear one for a long time.
Also you may not like a daypack that spoils your stylish look or does not conform to your style.
Security
Certain models come with a lock. This is done to prevent theft. To that end also daypacks may have RFID protection, which allows you to place credit cards inside the daypack and prevent the information from being stolen by skimmers.
Another level of protection is a pole lock, which allows you to place a chain or strap around your backpack and prevent it from being stolen.
As we have covered the requirements for choosing a good daypack, we will now go on to review the best model on the market.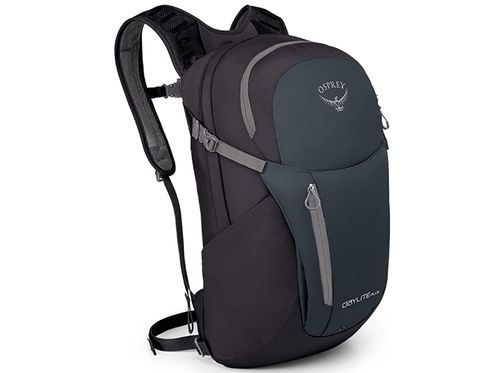 This one is made of polyester and it consists of a large compartment and several smaller mesh pockets. The multifunctional inside sleeve is used as a holder for a water reservoir. The fabric used to make this daypack is ripstop nylon, that can resist both abrasion and cuts.
The front panel has a shove-it pocket where you can put a rain shell and many other things. The die-cut foam panel gives both comfort and breathability.
The total volume of this daypack is 20 liters, and it can be attached to other Osprey packs.
Universal volume for a daypack
Made of very tough and durable material
Great water bottle holder
The inside is made of less durable material than the outside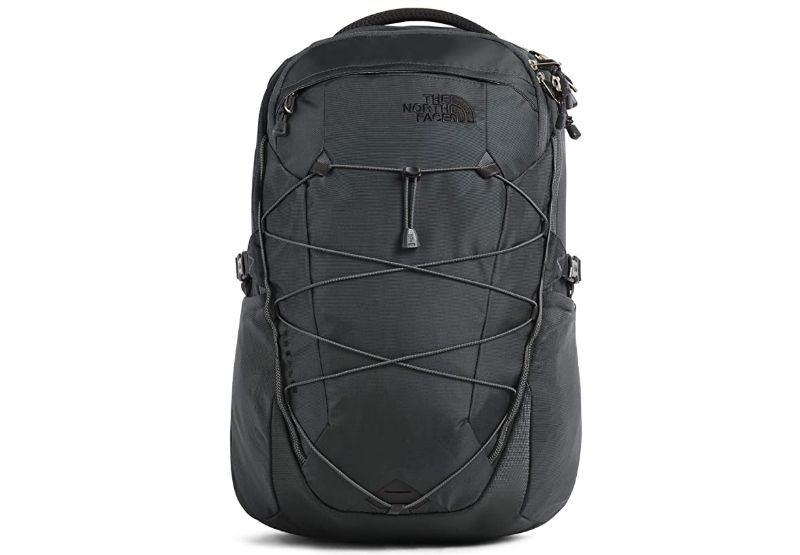 This backpack fits 28 liters and has easily-accessible pockets. The model also has a voluminous main compartment, where you can put a notebook. The notebook compartment is up to 15 inches in diagonal and is padded from all sides.
This model also has padded shoulder straps that make carrying much more comfortable. The back is also well ventilated and is comfortable to wear.
The daypack has two pockets for water bottles that can also be used for storing anything else. An additional small pocket for miscellaneous items is lined with fleece.
The backpack has a lot of reflective details that help you stand out in the dark.
The backpack has a length of 50 cm with a width of 33 and a height of 25.
Ergonomic, never puts stress on muscles
Solidly built, with good attention to quality
Many extra pockets with zippers
The large weight makes it a little hard to carry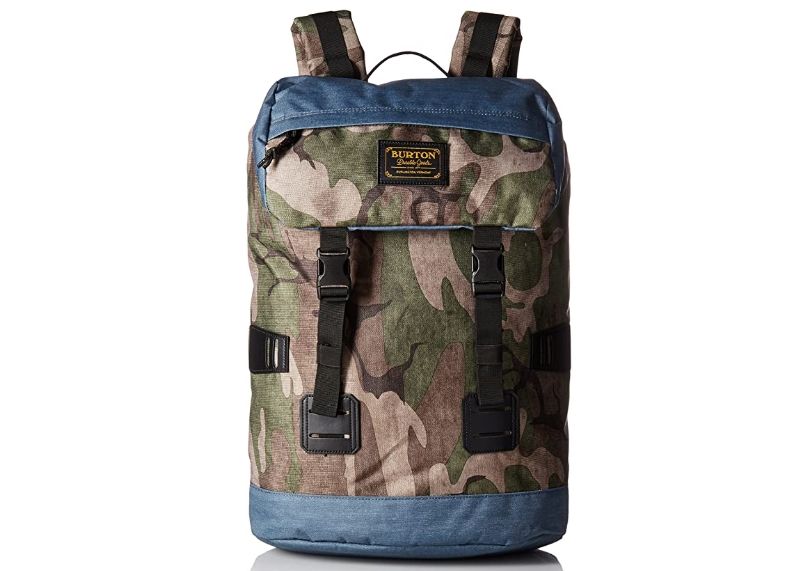 This backpack holds 25 liters and is protected by a lifetime warranty, as all Burton backpacks are. The main compartment of this pack is large enough to accommodate all the needful things for a day's travel.
The bag is made in a rucksack style and all pockets are zippered. The inside pockets are also all zippered and present great options for storing small miscellaneous items and phones.
The entire rucksack is made of 600D vintage colored polyester. The Oxford weave cloth is very sturdy and durable. The model has a padded compartment, intended for a laptop.
The entire thing weighs only 1 pound, 10 oz. This makes it one of the lighter ones.
Available in a multitude of diverse colors
Very tough and durable
Has many zippered pockets
No bottle holder on the outside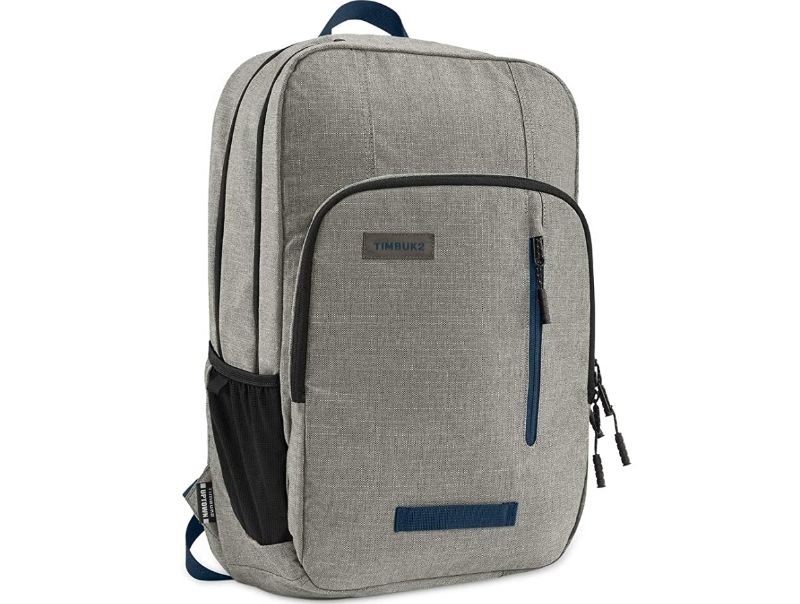 This one is extra-sturdy, because it is made from ballistic fiber, and can resist almost any kind of damage. That is the reason it also has a lifetime guarantee. The 900D cloth is very strong, and is resistant to cuts and abrasion.
The front zipping pocket is intended for holding small things. The largest main compartment can hold most clothes, including jackets and other bulky items. There is a large, stretchy pocket on the side, where you can put a water bottle. And the small floating pockets are line with soft cloth, and are made to hold eyeglasses or a phone.
The rucksack has some other interesting additions, such as attachment for bike lights and a 15-inch laptop compartment.
Very tough and durable
Has enough pockets for everything
Stylish looks
Not enough padding to keep most laptops safe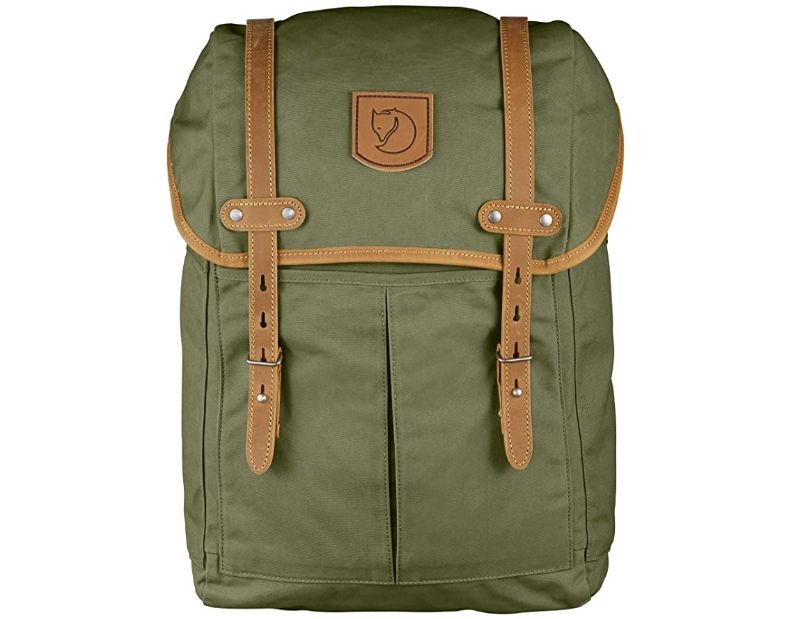 This one is made of a classic canvas material, and is perfect both for town wear and city use. The padded pocket is designed for storing a 15 inch laptop, and the main compartment is pretty large. The side is equipped with a bottle pocket and there are multiple smaller pockets for keys and other small items.
The pad on the back is soft and compressible, and it makes travel with the backpack much more comfortable. It protects your back from hard or sharp items in the backpack.
The material is sturdier than ever – G-1000 Heavy Duty cloth, which is tougher than its original analogue – G-1000.
The pack offers 20 liters of storage and that is plenty enough to carry all that is needed for a day's travel.
The pack weighs 2.1 pounds.
Very good materials, including high-quality leather
Just the right amount of pockets
Excellent vintage design
Overpriced, but totally worth the money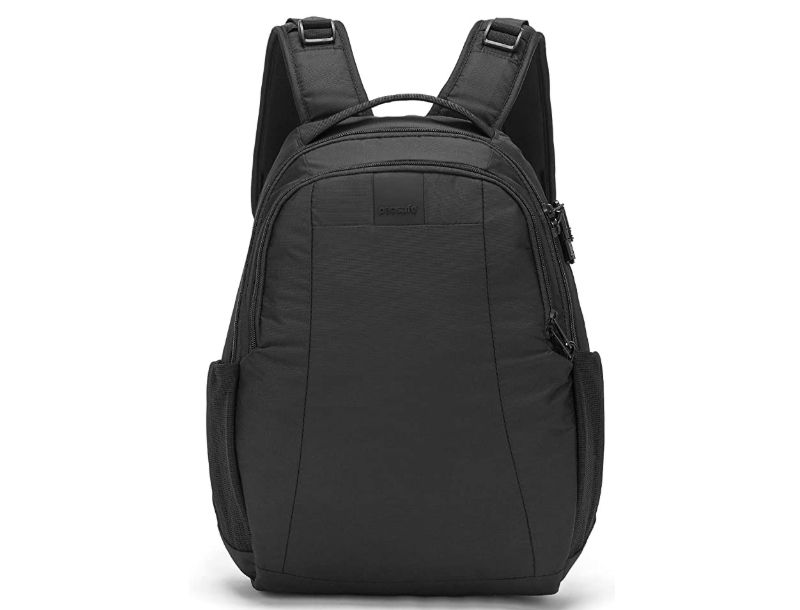 The main material for this small 15-liter backpack is 210D Nylon, and it is interesting for having the best thief protection. The pack has two pockets with lockable zippers on the outside and one padded inside sleeve, where you can safely store a laptop. Two side pockets are intended for water bottles, and two small inside pockets are RFID-protected. There is also a clip for keys or a wallet.
The material is waterproof and cleans easily. It is nylon with polyester inserts.
The bag has adjustable straps, that can be stretched from 24 inches to 32. The bag's backside is padded to improve comfort, so it is possible to wear this pack for a long time without getting tired.
The pack is large enough for a 13-inch laptop. The rucksack itself weighs 1.46 pounds, making it one of the lightest.
Pacsafe gives a 5-year warranty.
Great for protecting from theft
Small and light – just right for urban traveling
Made with tough and resilient materials and also has a 5-year warranty
Not large enough for carrying a lot of gear
Do you really need a daypack?
Yes, if you are going to travel and intend on taking your necessities with you. Usually a daypack in necessary for hikers and outdoorsmen, but it can be just as useful in the city, especially if you are traveling from one city to another.
The size and specs of your daypack depend on what kind of travel you will be doing, and usually people try to take smaller daypacks for mountain travel, where it is important to take less. However for camping and long distance walks people try to select larger rucksacks, where they can put backup clothes, food, water, and possibly even a roll-up tent.