What is a Swiss Army knife? Swiss army knives are small, universal foldable knives with many attached tools. They were invented in order to have a universal tool that is small, mobile and utilitarian. Swiss army knives are made to be light and portable, and, depending on the model, they have a differing amount of unfoldable tools.
Today these knives are made by many brands, come in all shapes and sizes and are able to replace vast amounts of tools.
Why do you need one?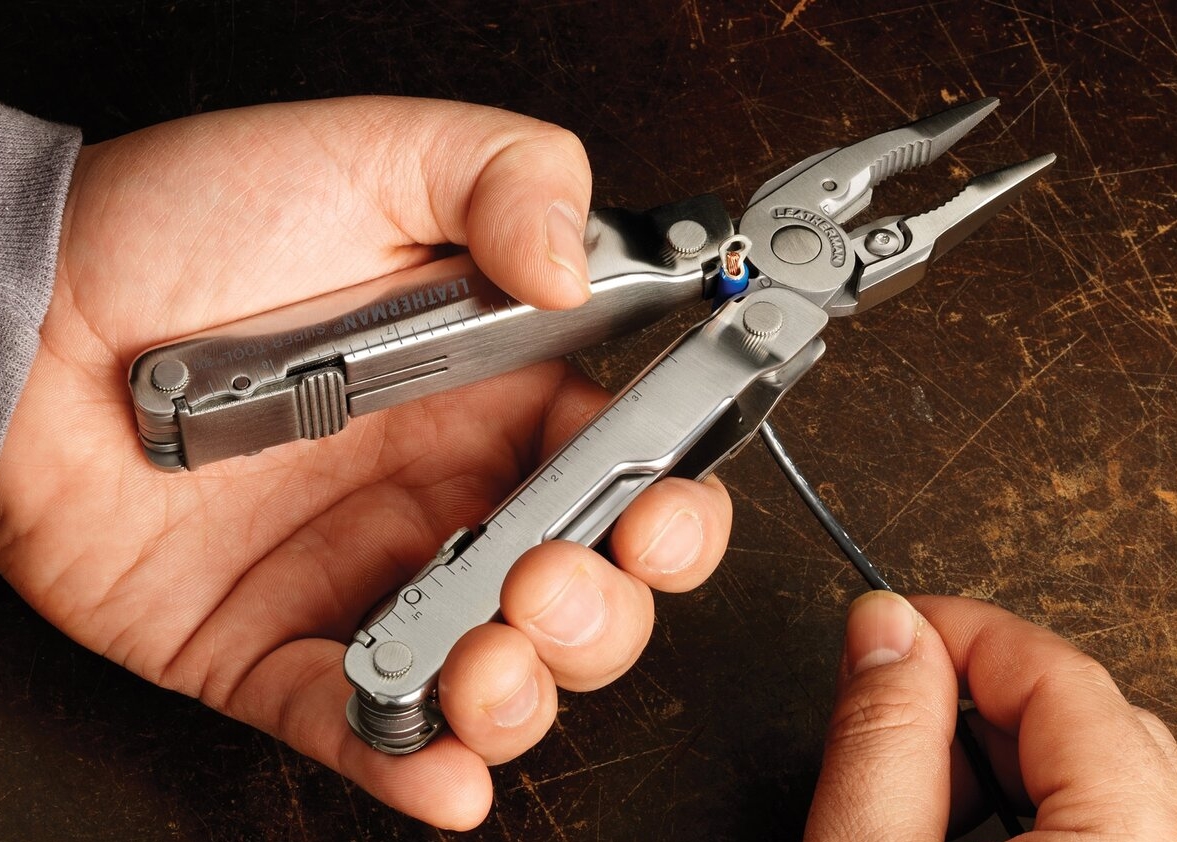 If you are traveling often, then you have a real need for a small tool that can do many jobs, but that will not weigh a lot and take up much space in your traveling luggage.
Many people buy one just to have it in case it becomes necessary. A Swiss army knife is usually so light and small, that it is almost unnoticeable, when you carry it with your gear. Some lighter models weigh under one ounce.
How to choose the best knife?
Number of tools
This is probably the most important qualifier for a Swiss army knife, because it is the reason it is carried to have immediate access to many different tools. A knife should have, except its blade, a number of other tools. Usually scissors, a screwdriver, a cork remover, a nail file and a beer can opener are always included. A small flashlight is also a common tool on Swiss army knives.
The number of tools is only good up to a certain limit. If a knife includes more than probably 25 different tools, it is no longer a benefit, because they start getting in each other's way and significantly hindering useful work. Also it is hard to use a tool with so many attachments. However, if they are wisely placed, they work in tandem and make the knife better.
Also the weight depends on the number of tools. Some knives are literally able to replace an entire toolbox, and they weigh over a pound. They are pretty hard to carry because of this, and are obviously made for craftsmen, not casual travelers. If you are simply looking for a utilitarian knife to carry with you, take one with 7-15 tools, and that will be plenty enough.
Blade length
The blade is the most important part of the knife, and it is what will be used more often than all the other tools. Therefore, its length is an important qualifier. A blade length of 3 inches is good enough for most jobs. If it gets up to 5, the knife is already pretty bulky, and it mostly defeats its initial purpose as a small utility tool.
Color
This is also an important qualifier, because even though red is the classic color for a Swiss army knife, there are other colors that the knives are available in. There are black, silver and many other color themes that you can choose to correspond to your style.
Brand
Victorinox is the original creator of this idea, and they are probably the best brand to buy from. However they make pretty expensive models, and if you are simply not able to afford it, or are going to buy a second backup knife, then you might consider some other brand.
You also should remember that some other brands now make knives no worse than Victorinox, and they even offer their products at a lower price. So there are some good knives that are nor Victorinox – you just should know how to choose them wisely.
Those are probably all the important qualifiers for a Swiss army knife. Now we will name and describe the best options on the market.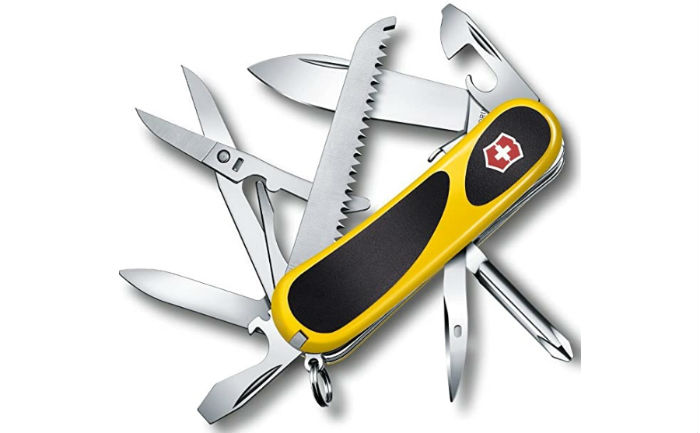 This model has 15 different functions. The blade is 3.3 inches long, and there is also a small folding saw of the same length. The grip is rubberized to make it more ergonomic and maneuverable.
The tool is made of stainless steel and the handle is made of hard ABS plastic. This makes it both hard and light. The durable handle is improved with rubber insets that improve the grip and make the knife easier to use and work with.
The knife, with a length of 3.3 inches and a thickness of 0.9, is very compact, and can be carried without making your luggage heavier. It weighs only 3.3 ounces.
The blade locks, which is a rare thing on Swiss army knives, and a very good thing to have
With 15 functions this is one of the more useful knives available
Not large or especially heavy
The tools are hard to pull out with your fingernails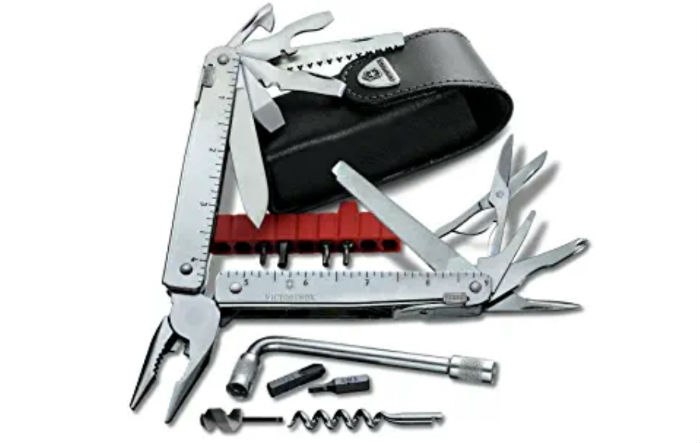 This model has 37 different functions, all of which it can do without a problem. There are pliers, a screwdriver and a very sharp blade. All fold up into a compact space, and the knife stores away in a compact leather pouch that is shipped with the model.
The stainless steel is both tough and durable. There are four screwdrivers with different head sizes – 2,3, 5 and 6.5. Next is a can and bottle opener, a saw and a wood chisel. There is also a metal file and a wrench with interchangeable bits. There are six bits included.
The knife arrives with a lifetime warranty.
Durable, made of thick and high-quality steel
Even though there are many tools, they never get in each other's' way and open individually
The steel is protected from rust
The springs used in the knife degrade over time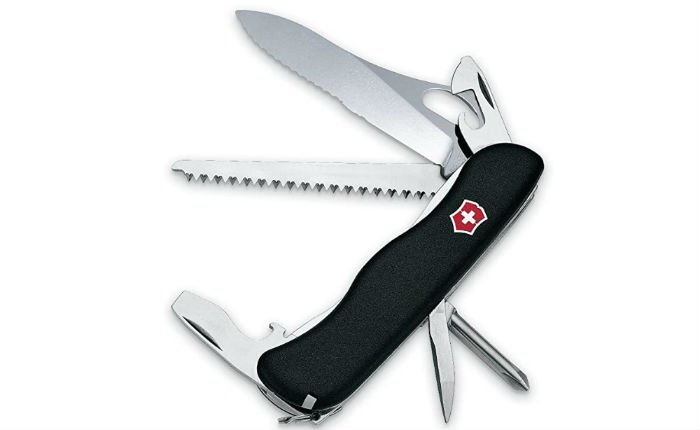 This knife has 12 functions, which fulfill all you could ask from a knife. The accent is on the 3.06 inch blade. The blade and all tools are made of stainless steel and are covered by a hard polyamide plastic.
The blade is serrated, and can be used both to slice and saw things. There are also a screwdriver, a bottle opener and a saw included.
The ergonomic handle allows you to have a reliable grip on the knife, and the locking mechanism keeps the knife stable during work.
The length of the folded-up knife is 4.37 inches, and with a weight of 4.6 ounces it is pretty lightweight.
As with all Victorinox knives, you receive a lifetime warranty for this tool.
Very sturdy and reliable construction
Ergonomic handle, just the right shape for your hand
Has only the necessary tools, so it is compact and light
The tools are stiff, and you can break fingernails when pulling them out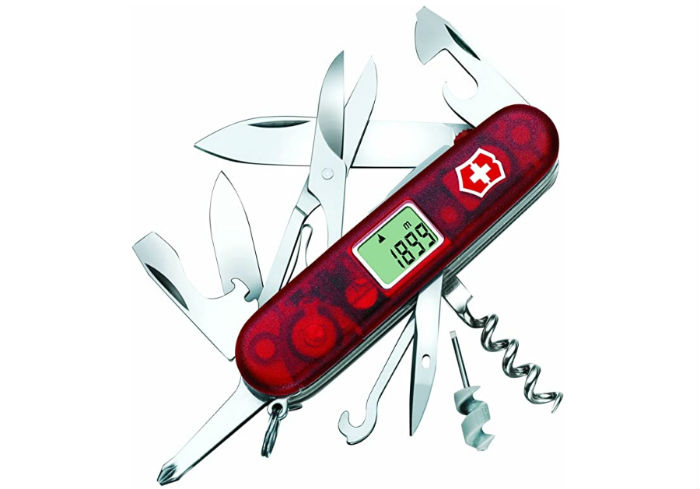 With a weight of only 3.52 ounces this knife is one of the smallest by this brand. The model is interesting in having an electronic thermometer and barometer inside. They are powered by two small lithium batteries and display information on a small LCD screen.
The ruby-colored transparent casing looks nice and provides a good-enough grip for most jobs.
The model itself measures only 3.5 inches long. It has two blades, and while one is a fairly long one, the other is miniature. The knife has a white LED flashlight, that too is powered from the lithium batteries.
The can opener is combined with a small screwdriver.
As all knives from this brand, the model is shipped with a lifetime warranty.
Very bright flashlight
Light and small, almost unnoticeable
Just the right tools for a perfect EDC knife
Water will damage the knife's electronics, so take care not to drop it into water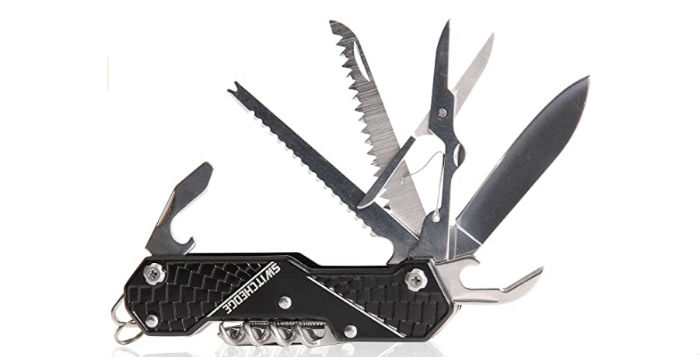 This model has 14 different tools, among which you will find all you could ask from an EDC knife. Even though it is not Victorinox, it is nonetheless, very reliable, and available at a much lower price.
The steel tools are made from heavy, thick steel and are covered with a textured aluminum case. The knife can be purchased in black or red coloring. The casing offers a solid grip and a unique, stylish look.
This one is only 3.5 inches long when folded up.
The quality of the steel and manufacturing is no worse than the best, and it is not a bad option to purchase, if you want a simple, universal knife.
The knife comes with a 30 day guarantee and money-back agreement.
Very affordable price
Has 14 different tools, all of which will come in useful
Comes razor sharp
Screws have to be tightened once in a while, because they might go loose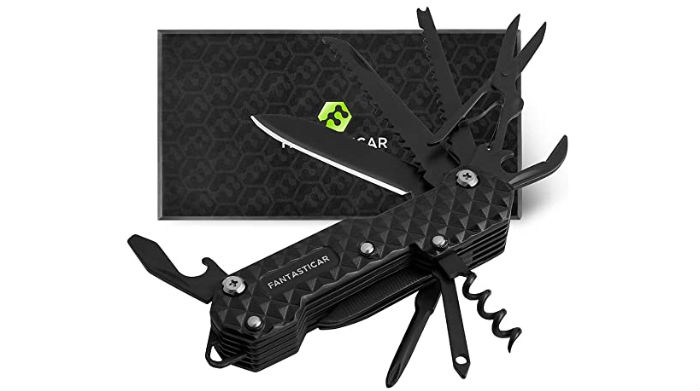 This stainless steel knife is very small and mobile, and even though it has 15 diverse functions, it is only 2.5 inches in length when folded, and weighs only 7 ounces.
The knife is designed to be good for any odd job and can literally do everything you expect from a utility pocket knife.
The model is available in a white and black color scheme.
The knife has a large blade, a nail file, corkscrew and can opener and a screwdriver among other things.
The knife company provides a one-year guarantee.
Very cheap, compared to brands like Victorinox
Has all the necessary tools a folding utility knife needs
Very good portability – even though it is pretty heavy, it is very short and compact
Even though it is very compact, it is pretty heavy, and you will definitely feel the weight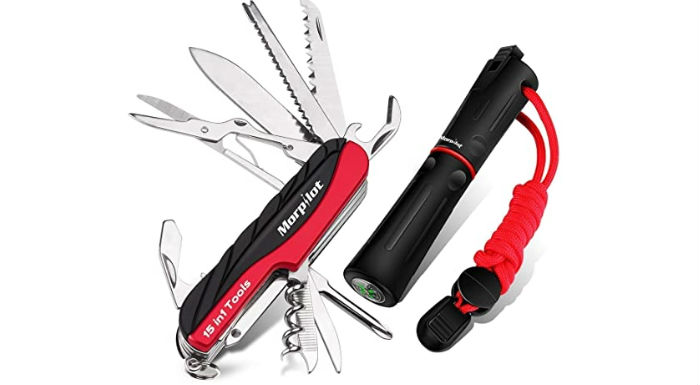 The Morpilot knife is made of very hard stainless steel, and it has been tested with various military grade tests. The model has been built to resist stress and damage, and can stand falls, impact and submersion in water. No parts will fail or rust.
The knife has 15 different tools, among which you will find a saw, a screwdriver, leather punches, a can opener and other useful things. There is also another very useful thing – a fire starter, which is well protected from corrosion and is stored in a waterproof casing.
The knife also has a compass and a loud whistle, which are combined with the fire starter. The fire starter works independently of weather, and it makes this knife by far the best model for survival situation.
Perfect for survival situation – will be a good knife to take on a hike or hunting trip
The tools are all made of very hard stainless steel and all have passed military grade tests
Not overpriced – surprisingly cheap.
Does not have tweezers or a toothpick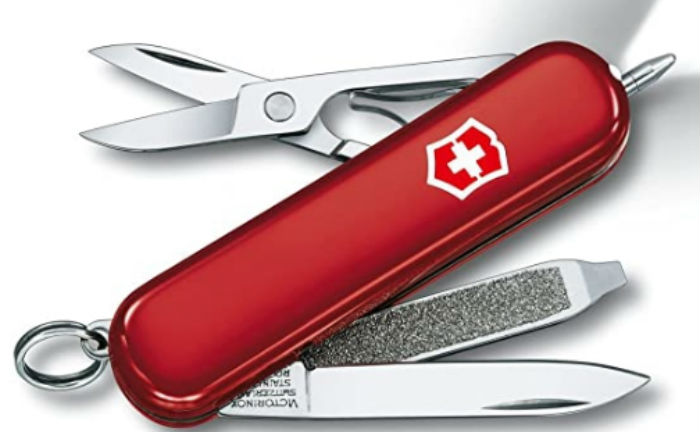 This knife has only 7 functions, but in most cases that is all you need. It is also very light, and with a weight of only 0.85 ounces, it is literally feather light. The blade is 1.25 inches long, and that is plenty enough for opening bags and cutting most materials. The overall length is 2.2 inches.
The outside is made of durable red polished ABS plastic that will hold up to abrasion, weather and most kinds of damage.
The steel that the tools are made of is very tough and will hold an edge even after long use.
There is also a very bright white LED that is good for aligning keys in the dark or seeing in a constrained space.
Is very light, and is almost unnoticeably light
Has a very bright LED that makes a great flashlight
The steel is very resilient and will hold an edge for a long time even with heavy use
Provides only a few basic functions
Conclusion
A Swiss army knife is a good example of an EDC product. It combines many different indispensable tools in one compact, lightweight body.
Do you need one? Yes, very probably you will encounter a situation in your life, when you will need to cut something, open a bottle or extract a screw, and will have nothing to do that with. However, if you have a Swiss army knife with you, you will be able to do that right away.
Some other, more specialized models, also have an included pair of pliers, or a fire starter, or a saw. These tools are also useful, and if you are going on a forest trip or are going to travel somewhere taking little with you, you might consider bringing one of these heavier knives, with a lot of different tools.
Overall you can say that everyone should have an army knife like this. It is totally worth the money and will come in useful in life.