The Best Men's Travel Pants for Every Trip
Traveling is not usually comfortable, but you can make it so. There are many things that will help you make travel more easy and comfortable, and one of these things is a pair of travel pants. These pants are meant to suit the many needs a traveler has, like being tough and having pockets for all the necessary things. So, let's talk about the best travel pants on the market.
[toc]
What are travel pants?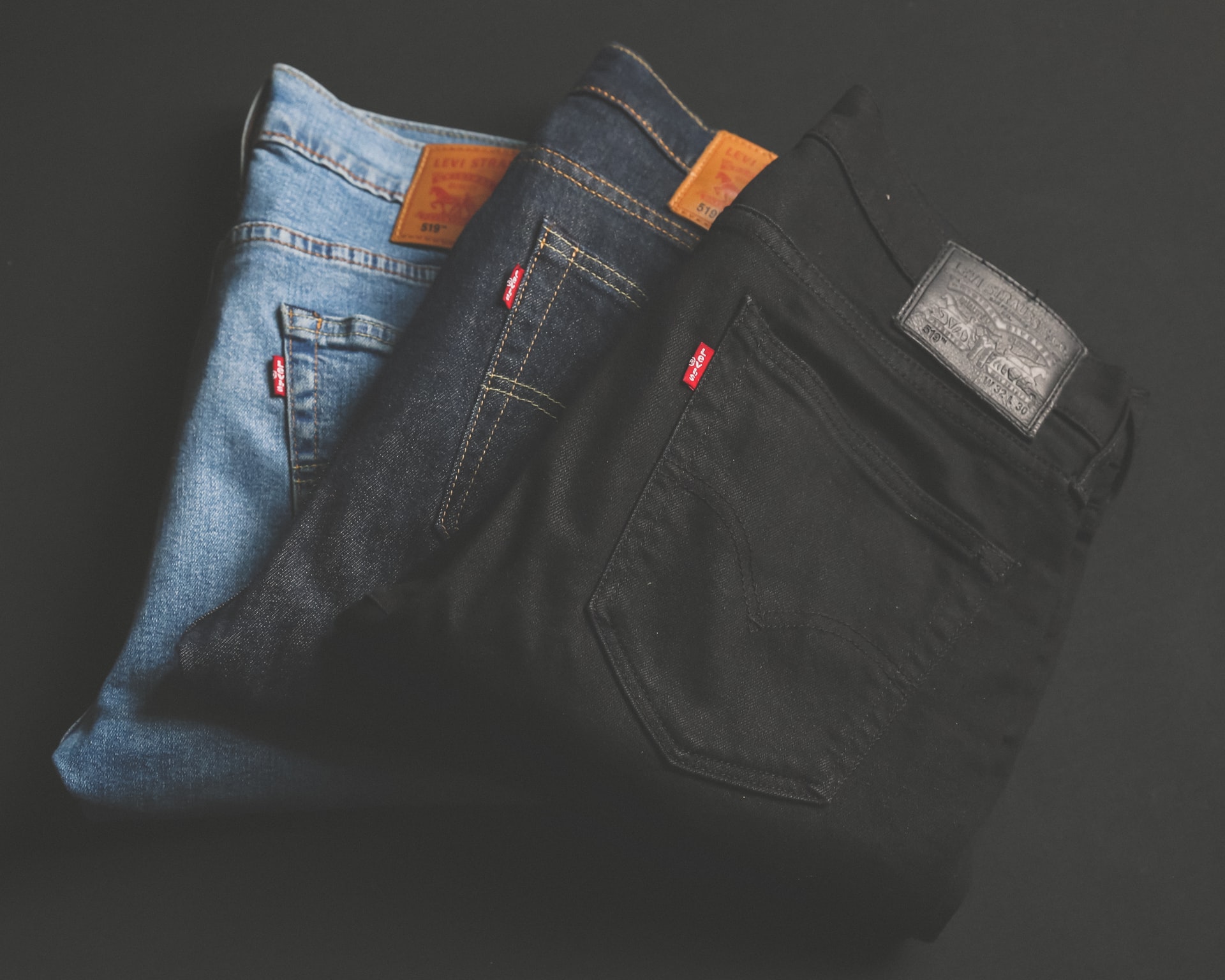 Travel pants are pants that are supposed to make travel safer and easier. They are made to be durable, comfortable, and resilient. Travel pants protect their use by being tough and having many pockets for all necessary things
Travel pants are bought when a person needs a pair of pants that will last a long while and keep all his necessities nearby. As a less important qualifier, they should also look presentable and not spoil their user's looks.
What makes good travel pants?
Travel pants should, first of all, be comfortable and protective. Many models are waterproof and virtually all of them are very tough. Good travel pants are signified by having a lot of pockets, being overall sturdy and reliable, and looking good enough for general wear. Good travel pants are usually made by well-known brands and have good customer reviews.
How to choose the best travel pants?
There are a number of things to consider when selecting such pants. The budget determines everything, but if you have the money, you can select more expensive models and have many more choices. So, let's see what choices you will have to make to find the best pants.
Waterproof
Good pants have to be waterproof or at least wick away water. They should also stay warm even when they get wet. Usually most travel pants have this ability, and you will not have to look for anything specific. Nonetheless, there are different degrees of waterproofness, and this is something you will have to check.
Windbreaking
This is also something travel pants should do. They should be breathable, yes, but that should not cause them to lose wind resistance. For that reason, many travel pants are made of thick material or have a shell material in their composition, such as nylon, to break the wind.
Weight
When traveling, it is a good idea to bring as little as possible. This is why jeans are a bad idea for traveling. Sure, jeans are rather universal, but they are too heavy and bulky to wear for a long time. And travel pants are usually lighter than jeans. They are still pretty tough, but they are much lighter and much more breathable than the average pair of jeans.
Pockets
Travel pants, by default, should have many pockets, to store all the necessities nearby. Even though you may carry a backpack with you, some things need to be accessed often, and it would be stupid to take off your backpack each time you need to get your knife of lighter. So, keep everything you need in your pants, and life will become much easier. It is also interesting to point out, that some pants even have hidden pockets where one can store their cash or passport. Also, look for pants with pockets for phones – that is something you will be carrying with you all the time.
Comfort
Here we can again compare to the example of jeans. Jeans are comfortable too, but only for a limited time. Walking for a long time will not be easy in jeans, because they are not very flexible. Travel pants fix this problem because they are usually made with separate stitched parts that allow the pants to bend easily. Also many include flexible or even stretchy materials that make the pants even more suitable for extended wear. Jeans are also notably uncomfortable to run in, and travel pants are made with mobility in mind, so they will make all movement easier, and running too.
Look for breathable fabric if you expect on traveling to a country with a warm climate. You will need to cool yourself off then, and if you have hot pants on, you will have a hard time.
Material
Generally, the best material is cotton – it provides breathability, sturdiness, and flexibility. However, usually other kinds of fabric are added, usually for stretchiness and increased flexibility. One of the most popular is elastane, which makes the pants better for running and walking. Spandex is also a good material for improving flexibility. And Nylon is one of the most durable and tough materials.
Now that we have covered the qualifiers that make good travel pants, we will review the 6 best pairs on the market.
1. DU/ER L2X Performance Denim – Best Travel Jeans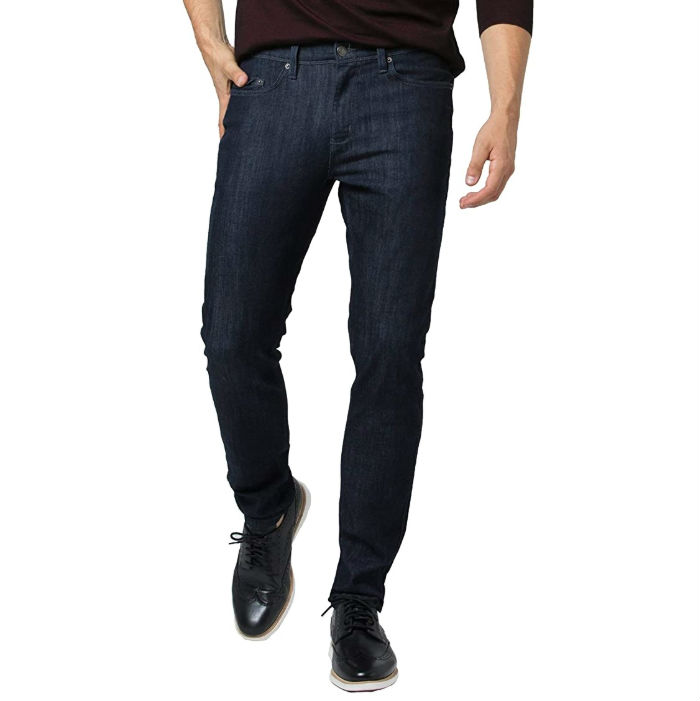 Even though this looks like a pair of jeans, it is not just regular jeans. They are much more suited for travel because they are stretchy, light, and much more comfortable for sitting and walking.
Even though the legs look straight and do not have extra space for knees, they are very stretchy, so you will not feel tightness or discomfort when walking. The material is 5 times as stretchy and flexible as denim, so you will be able to sit down without pulling on the legs.
The pants also help with temperature control – they are pretty light and breathable.
The stretchiness gives the pants a slimmer look
Very flexible and conforming, so you will have no trouble sitting down or running
Do not get too hot in summer, but keep you fairly warm when it's cold
Pretty tight around the waist
2. Rhone Apparel Commuter Pant – Best Performing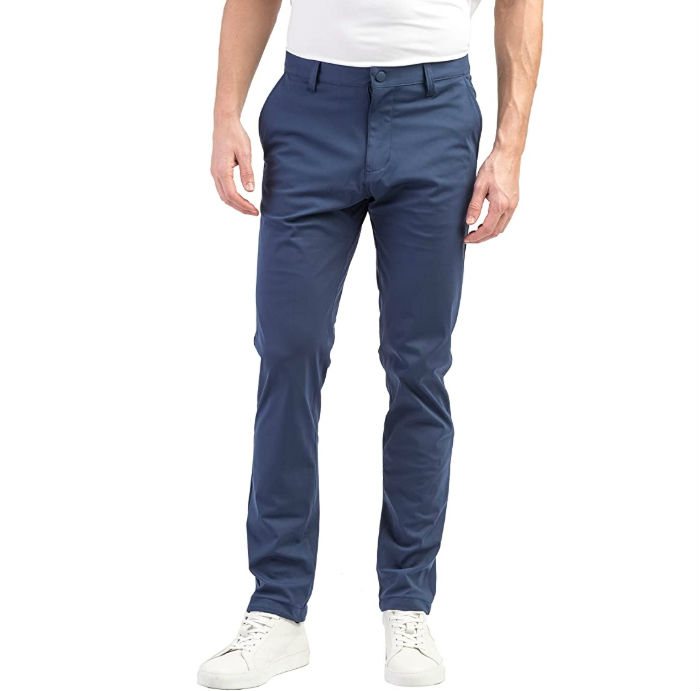 This pair of pants has just about everything you need – it is tough, has enough pockets, and is comfortable to wear.
The fabric is probably the ultimate material for travel pants. It is stretchy and can be stretched in 4 directions. This allows you to sit down easily, walk, run, and never experience tightness or constriction.
The cloth is also pretty breathable, and it will not feel hot and stuffy on a warm day. However, it is also waterproof and moisture-wicking.
The pants are equipped with many pockets, large and small, and there is even a small security pocket hidden inside a larger one. It closes with a zipper and can be used to store your cash or passport.
Excellent material – breaks the wind, breathes and keeps you warm
Has a lot of pockets, including a hidden compartment
Flexible – will not hinder you from walking and sitting naturally
Pretty expensive, but it is totally worth the price
3. Carhartt Men's Ripstop Cargo Work Pant – Best Cargo Pants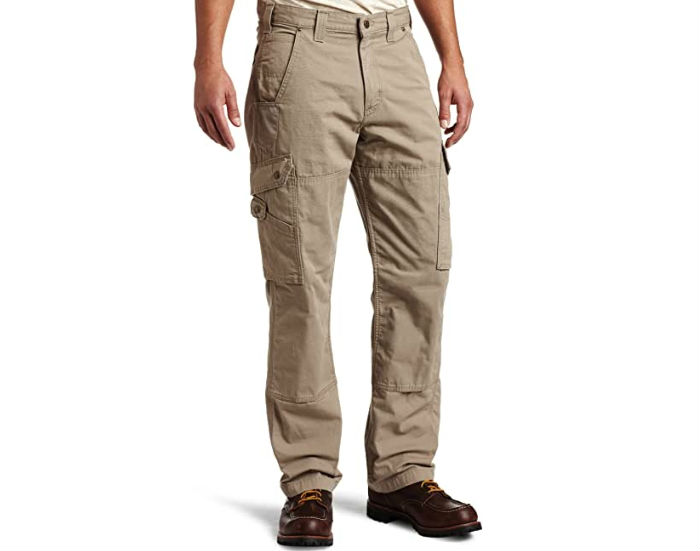 These are made from very tough materials and can resist any amount of damage. The ripstop fabric is made of pure cotton, woven in a special way to resist tearing. The pants also have many reinforced places, where thicker material is used.
The back pockets are lined with corduroy, so you can count on them never tearing or losing integrity. The pants have a large number of small utility pockets and two larger pockets where you can store large things. The large pockets close with snaps.
The crotch part of the pants is gusseted, so it makes sitting and walking much more comfortable.
Comfortable because of the gusseted crotch and flexible legs
Has many useful pockets
Made from very robust materials
The sizing is sometimes off
4. Columbia Men's Silver Ridge Convertible Pant – Best Convertible Pants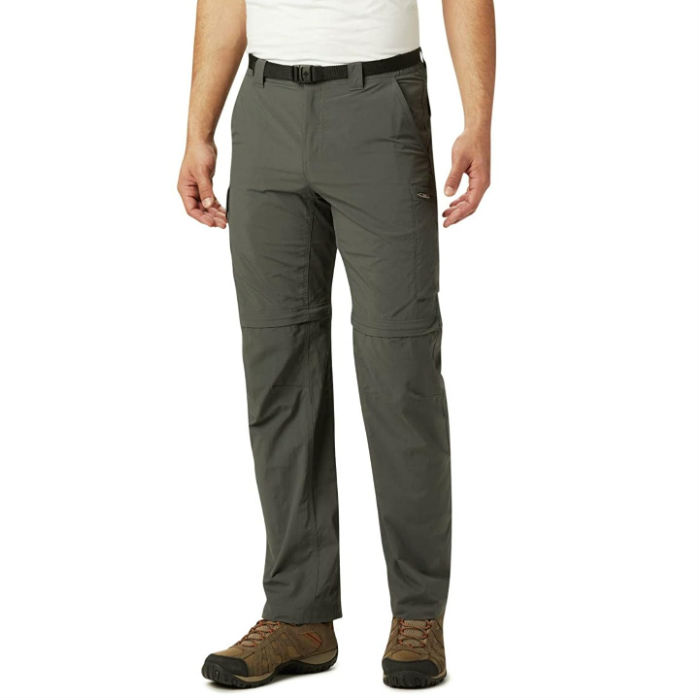 These pants offer great protection against both water and sunlight, so they keep you both cool and dry. The model has a zipping pocket for passport or money, a pair of side pockets that close with a hook and loop.
The pants are pretty adjustable – they have an elastic waist, gusseted crotch, and removable legs that attach with zippers.
The overall shape of the pants makes them optimal for extended wear, and you can spend a lot of time in them without experiencing discomfort.
Columbia guarantees good quality
Can be converted into short pants by unzipping the legs
Comfortable fit because of the flexible material and gusseted crotch
5. OLIVERS Commuter Passage Pant – Best For Business Travelers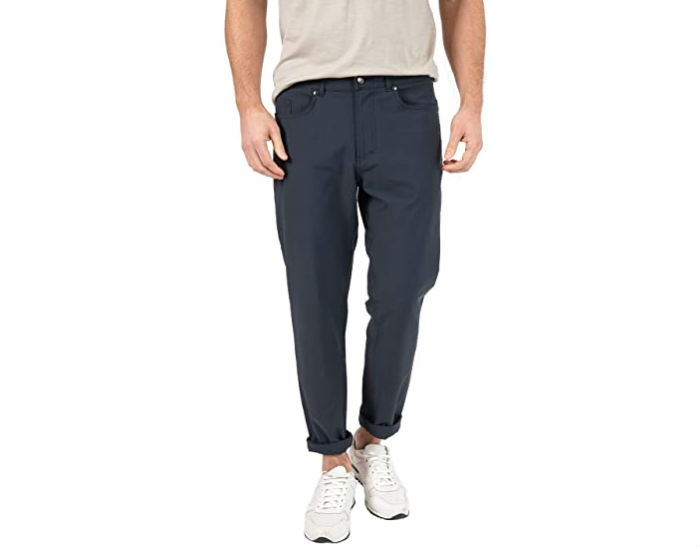 This one is made predominantly of nylon and spandex – 91 and 9 percent respectively. The pants have a gusseted crotch and the spandex makes them much more flexible and comfortable to wear for an extended time.
The buttons and rivets are all made of hardened stainless steel, so they can be expected to last awhile. The cloth stretches in all 4 directions, but it is pretty sturdy and durable too. The pants have 5 pockets of which one is a hidden pocket. Sadly, it has no zipper.
The pants are made in the USA and go through a lot of quality control.
The slim shape of the pants makes them more athletic-looking, however, the black and tan color varieties conform much better to the business style.
Very versatile style – good for a business traveler, but also great for most other uses
Flexible and comfortable to wear
Fit snugly, breathe well and are comfortable for extended wearing time
No secured zipper pockets
6. prAna – Men's Stretch Zion Pants – Most Durable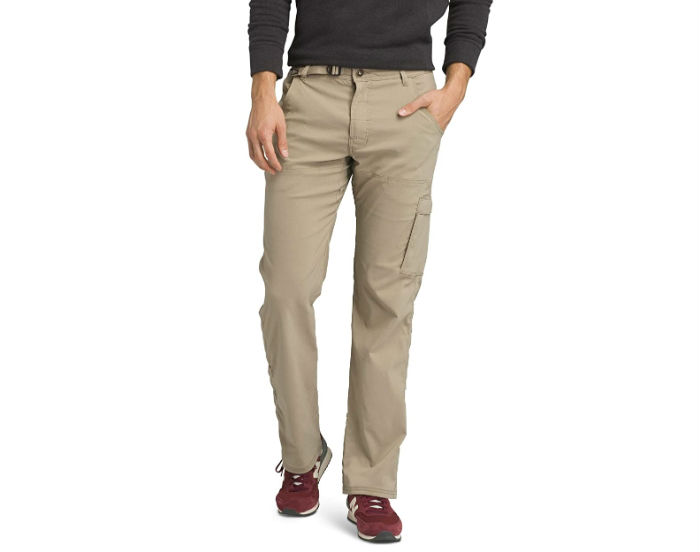 These were built to withstand damage, and the material used is 97 percent nylon with a 3% part of spandex for flexibility.
The model has been tested in multiple stress tests and can withstand abrasion, cuts, and most other forms of damage. The fabric is also improved with the trademark Zion water repellent, which makes the water roll of the fabric without sticking.
The cloth is not only sturdy but also very breathable. Many users remarked that these pants helped them stay cool when it was very hot outside. The pants' toughness does not make them too heavy, and they are good for hiking and running because they are so light and flexible.
Great for hiking in the summer – they breathe well and do not weigh too much
Has a number of large pockets, where you can fit just about anything.
Very robust and resilient cloth – can resist rubbing, extended wear and puncturing damage
They are not very warm, and wind blows right through them
7. Unionbay Men's Travel Tech Chino Pants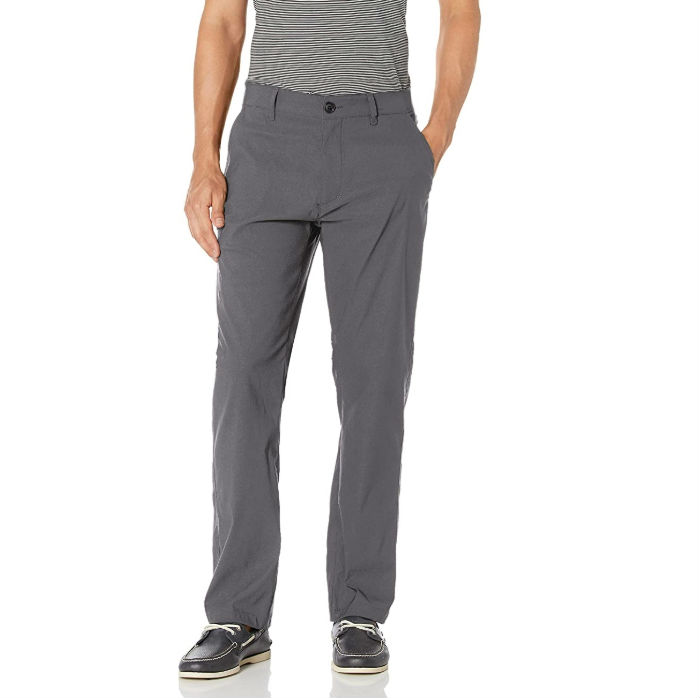 These pants are made of 94 percent Nylon and 6 percent spandex. The pants are therefore sturdy and flexible at the same time. The fabric also is not too heavy, and it allows you to move freely. It is resistant to water and wicks away moisture. However, it is applicable to machine washing and dries soon after being washed.
The model has a hidden security pocket with a zipper, and has 4 large pockets, with two at the front and two at the back.
With a stretchy, water-resistant, and sturdy cloth, these pants make a very universal and versatile pair.
The front pockets are very deep, so nothing will fall out even if you are running or jumping
Water beads up and slides right off these pants
These pants actually look very presentable and stylish
The pockets are pretty large, but they do not bulge like they should, so not really cargo pants
8. Aviator USA's "Best Travel Jeans in the World" – Considered The Very Best

These jeans boast being the best at everything, and while that seems a bold thing to say, they live up to the expectations.
These pants are for people who want to look stylish on the road, and while they are optimized for travel, the accent is on style. To that end, they are very elegant and fashionable. The cloth used is much more flexible than the regular denim used in jeans, and it makes walking and sitting down more comfortable and effortless.
There are 5 pockets here, and two are on the front with two on the back. One of the front pockets has a secure zippered compartment, which is exactly the right dimensions for a passport. The passport can be stored safely without the risk of bending it.
The fabric is 73 percent cotton with admixtures of 14% rayon, 11% polyester, and 2 percent spandex.
Great soft and breathable fabric, which is also pretty tough
Secure zippered passport pocket
Looks very stylish and versatile
Will not work as cargo pants because the pockets are not very deep
Conclusion
Travel pants are one of the first things to get if you plan on traveling. Aside from being a necessary part of your apparel, they will also help you keep your necessities close by, in your pockets.
Probably the first thing to go wrong on a long trip will be your clothes. This is the first thing you will notice because it is the closest to your body. So take care to equip yourself with a pair of quality travel pants. They will make life much easier, save you a lot of trouble, and most importantly make your trip comfortable and easy. And hopefully, if you got the right pants, you will even manage to look stylish on your trip.