Best Travel Bags For Women
Travel bags for women are stylish purses that will allow you to carry all you need with you at all times without losing your style. These are made by many brands and are a popular thing to buy for any woman who travels a lot.
This is a good thing to invest in, and a travel bag will save you a lot of time and help you a lot in your traveling, be it an international trip or just a walk to the store.
What is a travel bag?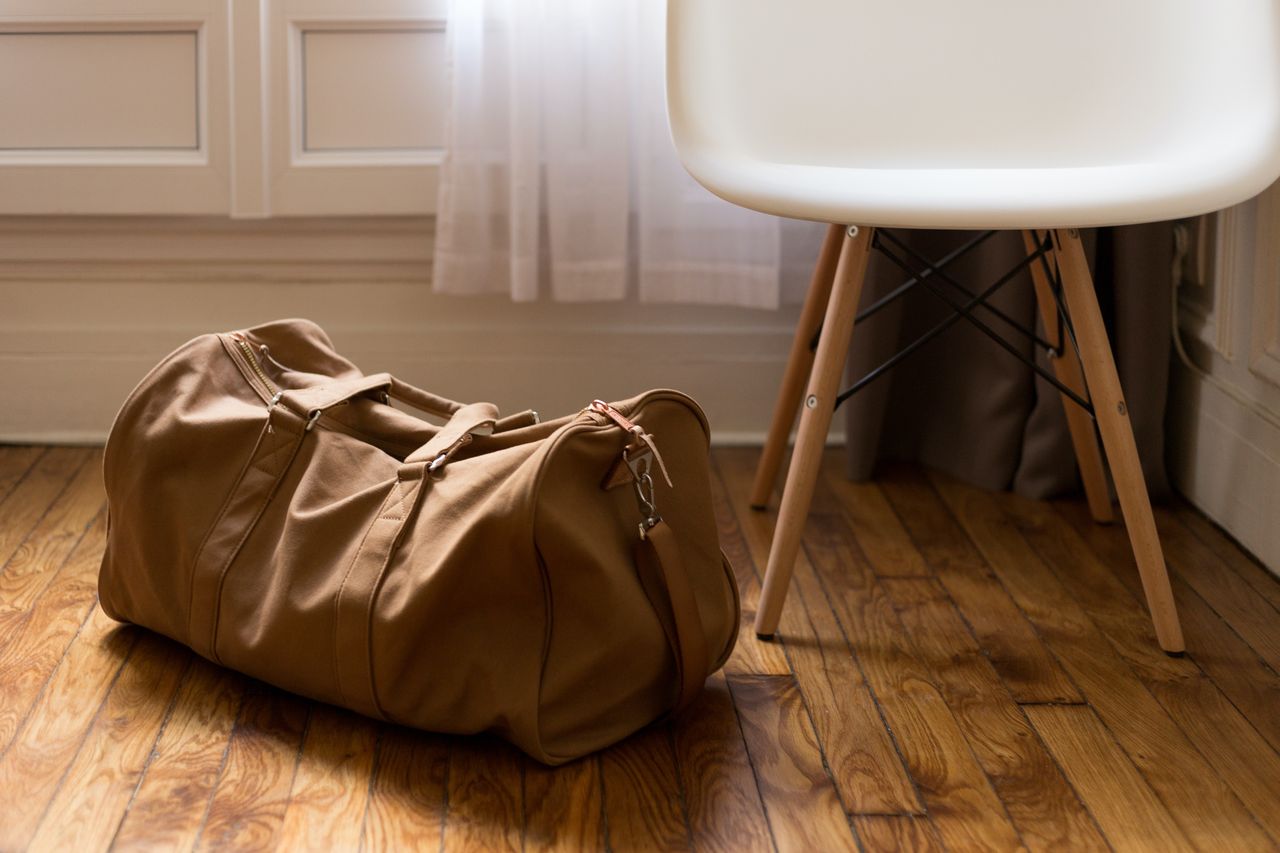 A travel bag is any kind of luggage intended to be easily portable, light and good-looking. A travel bag should help you take your belongings with you wherever you go.
Why do you need one?
It is a good idea for anyone to have a bag like this, because it allows you to quickly pack up and go anywhere, taking all you need with you. A travel bag, if you select the right one, will also serve you a long time and not wear over time. Many of them also look pretty nice and will actually improve your style.
What to know before buying?
Before buying a bag you should know what purpose you are buying it for. Be realistic – if you expect to simply go to the store once in a while, you do not need a large bag – a small purse will work. However if you intend on a long trip to a different city and you travel often, then you need a bigger bag that will help you take all you need with you.
How to choose a good one?
There are many properties that make a bag worth taking with you, and we will cover the most important, the ones that make the difference between buying and not buying.
Let's see what qualifiers make a travel bag worth buying in your particular case.
Weight
A bag should have a small weight. It should help you carry your luggage, not get in the way. In order for a bag to be light and easy to carry, it should be made of the right materials and have a wisely-built construction.
A very low weight is also not a good thing to have – in some cases that means the bag is built of very thin material and will break easily.
Material
This determines the weight and sturdiness of the bag you are buying. A good material that you can rely on is Nylon. It has a wide range of pluses – it is tough and at the same time fairly light. The material is also fairly resistant to water, and will last a long while in any conditions.
Some materials are waterproof, and particular models are coated with a water-resistant coating that prevents moisture from harming the contents of the bag.
There are also many other materials that work just as well, and provide many unique benefits. Some are also beautiful, like leather, and they will look much better.
Volume
The volume is also very important – it determines how much weight you can carry and how much gear you will be able to fit inside the bag. The volume is determined not just vu the size, but also by the shape of the bag and the amount of pockets.
Pockets
The amount of pockets determines how well you can organize stuff. If a bag had no pockets at all, you would not be able to organize the gear you took with you, and everything would be mixed together. This would make it hard for you to find what you put in the bag, especially the small items.
Some bags have dedicated pockets for credit cards that are RFID protected. This allows you to be sure nobody steals your data with skimming attacks.
And other models are optimized for carrying laptops, having a special padded compartment for a computer to be stored safely.
Construction
This determines how the bag is carried. While many bags have a shoulder strap, some others have two and can be carried as a backpack. While others have a handle for carrying them like a suitcase.
See to it that the straps are wide enough to be comfortable and not cause muscle strain or abrasion.
Now that we have seen the qualifiers that make a bag good for this purpose, we will now read about the best models on the market.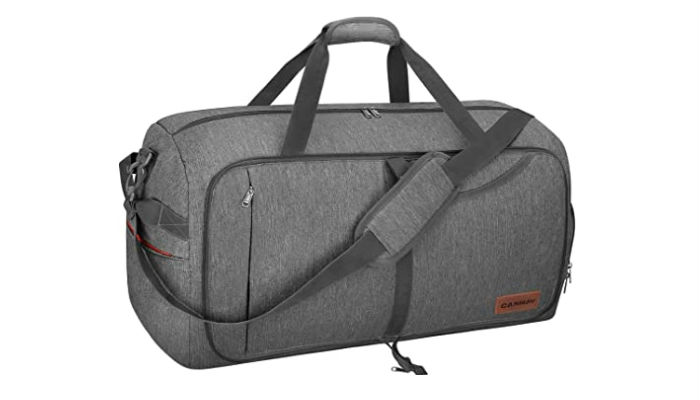 This bag has a volume of 65 liters, allowing it to carry a lot of gear. The bag itself weighs only 1.74 pounds and is easy to store and fold up. The model is also praised by users as a very sturdy one, and it is made of 600D polyester cloth that will not tear easily and that wicks off water.
The bag also has 6 pockets on the inside that help you keep all your small items on their place.
The straps are versatile, and if you find it problematic to hold the bag on your own, then two people can carry it together, making it much easier to transport. The bag can also be carried over your shoulder.
The bag also has a mesh ventilated shoe pocket that keeps off water and allows the shoes to air out. The rounded handles are padded and allow you to have extra comfort when carrying your bag.
The model has a two-year guarantee.
The model is made of a very robust material that will last a long time
The bag arrives with a two year warranty
The handles and straps are all very comfortable and easy to carry with
The zippers could be stronger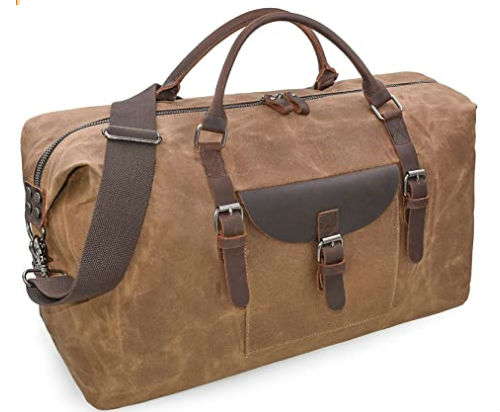 The bag is made of premium-quality leather, put together in two layers, and this makes it both very tough and waterproof. The bag is therefore, very reliable and sturdy. The large size allows you to pack it full of clothes and use it a flight bag on a plane.
The metal parts are all made of a very rust-resistant alloy that will last just about forever.
The travel bag is very large inside, and there are many pockets that allow you to hide small items inside the bag. The large compartment is meant for a lot of clothes, so this is a great model to take for a long trip to another city.
The length of 23 inches with a width of 12 and a height of 12 make this bag a very convenient one because of its large size.
Some of the pockets on the side close with zippers, and some with magnet buttons.
The bag is unisex, and it will look good with both women and men.
Very nice look with the quality leather and good stitching
The bag is very large, and will fit all you need for a trip to another country.
The crazy horse leather is very tough
It is not as big as it looks on the manufacturer's site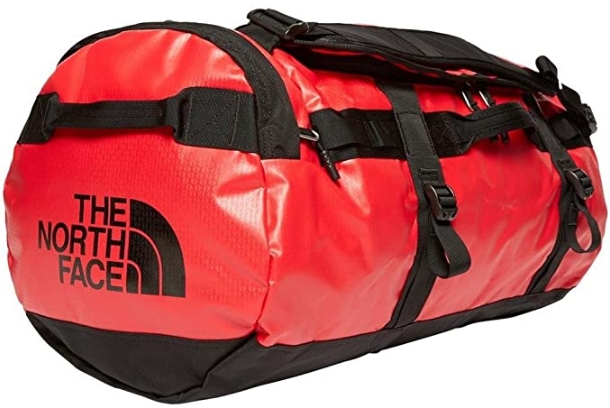 This is a legendary bag from a well-known manufacturer. This one is made of a very tough nylon cloth that will resist any kind of damage and is also resistant to rain. The bag closes with a zipper and can be carried by the tough detachable shoulder straps.
The duffle bag can expand and is adjustable. The zipper is weather-resistant and is made to last.
There is a mesh pocket inside the main compartment that separates the stuff inside.
The duffle bag is made of laminated nylon, and this tough material makes it possible to use the bag for any purpose, including travel through difficult terrain.
The volume is 71 liters, so the bag will fit a huge amount of gear. The straps are very comfortable, and do not hurt your muscles if you carry the bag for a long time.
All the gear inside the bag stays fry even through a heavy rain
Fits a lot of gear with its 71-liter volume
Can fit on a plane as luggage, because it is small enough
No reviewers have yet left a negative review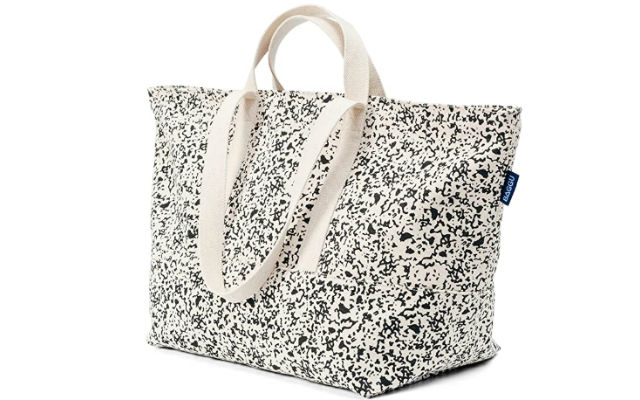 This is a large and tough bag that will help you carry everything you need for everyday travel. The bag is simple, yet it is all you need, and its construction makes it very reliable and lasting.
The purse has a good volume – 15.5 by 26 by 10.5 inches, making it a fairly large model. The bag is made of a thick fabric with 100% natural cotton content.
The bag closes at the top with a strong, heavy-duty zipper.
The model also has an easily accessible pocket on the outside.
The bag can be carried both in the hand with the two small handles, or over your shoulder with the long straps.
The material is sturdy, breathable and ecologically safe
This bag is available in a variety of different colors and patterns
Is light and voluminous at the same time
The bag is not waterproof, so it will not stand up to a rain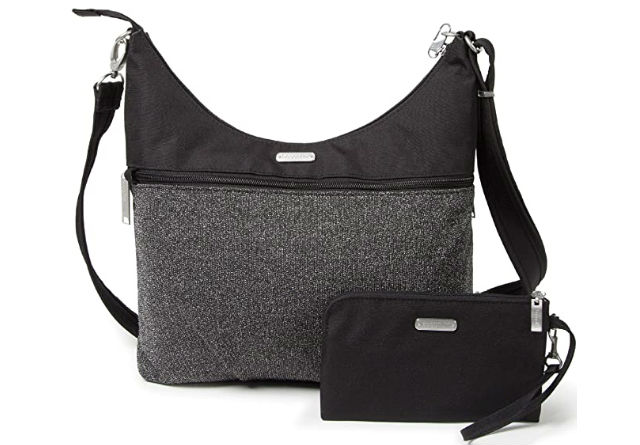 This bag is made fully of very sturdy and lasting polyester cloth that can resist any damage and is almost fully waterproof.
The lining is also polyester, and there are multiple pockets on the inside that will help you store small items. The bag is 14 inches wide, while being 10 inches high. That makes it fairly large. The main compartment closes with a heavy-duty zipper.
The bag looks practical, yet it is also stylish, and fits any style well. There are many ways this bag makes your travel safer. It has a grommeted entrance for your earphones, so you can listen to music while your phone stays in the safety of the bag.
The zippers are also equipped with locking mechanisms, preventing anyone from opening them except you.
There is also a RFID-defended pocket, where you can store any credit cards to prevent data skimming.
The fabric is additionally slash-proof and therefore, this bag is the safest.
Very tough and resilient fabric, combined with heavy zippers
Has both locks on the zippers and RFID protection, making it very safe
Has enough pockets inside to sort and organize everything you need
Is sometimes too small for a lot of gear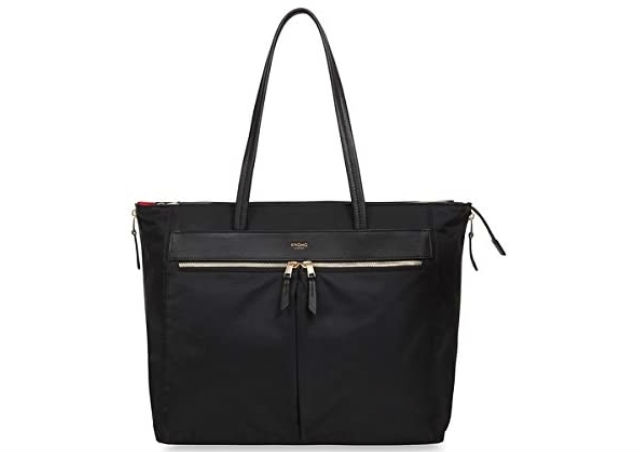 This bag conveniently fits a standard 15 inch laptop, along with a lot of other gear. The interesting design has expandable zippers that allow you to fit additional items into the bag. The fabric is water-resistant, because it is thick and robust nylon cloth. The zippers that run down the side of the bag are built in such a way that it will stretch, when you add more gear inside it.
With all that the laptop bag weighs only 1 kilogram. The thickness of 5 inches lets it hold much more than one laptop, and you also have a RFID-protected pocket inside, that lets you store credit cards or phones inside it.
There are two easily-accessible pockets on the outside of the bag, letting you quickly fit anything inside, like a pen, credit card or passport.
The main compartment can also be used to store a lot of clothes and a pair of shoes, so it will work well for traveling.
Great for carrying a laptop with you
Very attractive, and actually helps your style a lot
Sturdy, robust and lasting, fully justifies its price
It is not large enough for some reviewers' needs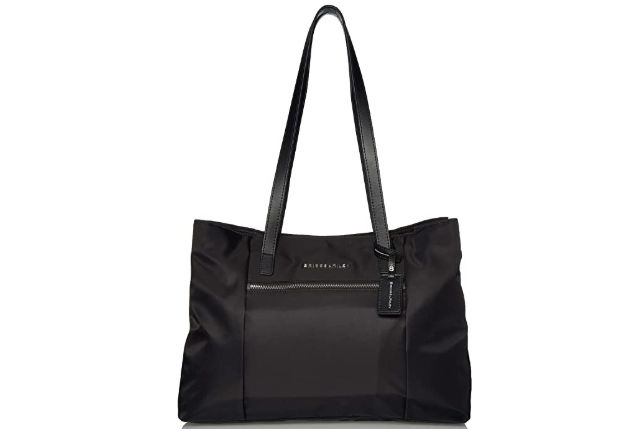 This is a purse made of waterproof nylon material, and its shape allows it to carry a large laptop, because it has a width of 16 inches.
The nylon cloth is also pleasurable to touch, it is soft and at the same time tough and durable. Some of the places that get rubbed a lot are made tougher by strong leather inserts. The leather parts also make this one look much more stylish.
The shoulder straps with a drop of 12 inches are also made of leather, and are comfortable to carry.
The interior is patterned with contrasting colors, so it is much easier to find small items inside the pockets.
Weighing 1.5 kilograms, this bag is one of the lightest with such a large volume
Roomy interior with a lot of pockets for organizing
The tough nylon material is also waterproof
Pretty high price, even though this bag is totally worth it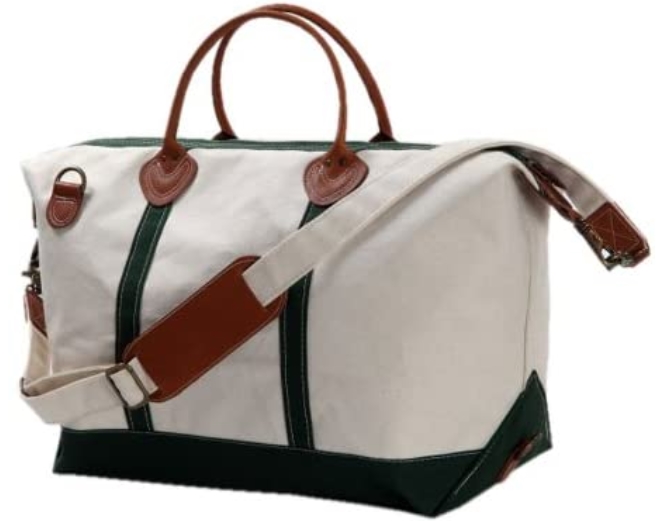 This is a universal bag for women that manages to hold a lot, last a long time and look very cute at the same time. This accommodating bag gas a weight of only 3 pounds, while it has width of 28 inches with a height of and a depth of 10.
The style of the bag fits office work, parties and international travel, and is unpretentious – fits every style.
The bag is made of ecologically clean cotton cloth that will hold up for a long time and resist any kind of damage.
There are two small internal pockets and one large one with a zipper closure.
The model is presented with a one-year warranty.
Very good price – inexpensive for such a useful model
The universal style fits any kind of activity
The pockets and the zipper closure make it possible to organize small items well
The bag has only two pockets, and that might not be enough for some.
Conclusion
A travel bag is a great investment for any woman, because nowadays people have to travel, and there will be many cases where you will need to pack up all your gear in one bag and go. This can be a trip to the nearby city, or an international airplane trip for a month or longer. In either case you need to have a large bag that will fit all your gear for the coming trip.
An ideal travel bag holds all you need, weighs little on its own, is made of a tough and lasting material, has enough pockets for organizing your gear and is comfortable to carry around. It should also conform to your style. If you are able to find a bag like that, buy it – it will be a great use of your money, and will help you many times in life.