Best Travel Backpack For Men. What is a travel backpack?
What is a travel backpack? This is usually a large backpack meant to hold all you need for a long road trip or travel. They are also great for taking hikes in the wilderness. A backpack like this will be necessary for anyone who wants to travel and carry his gear with him. So, let's find the best travel backpack for men. Read our guide to know more.
Why do you need one?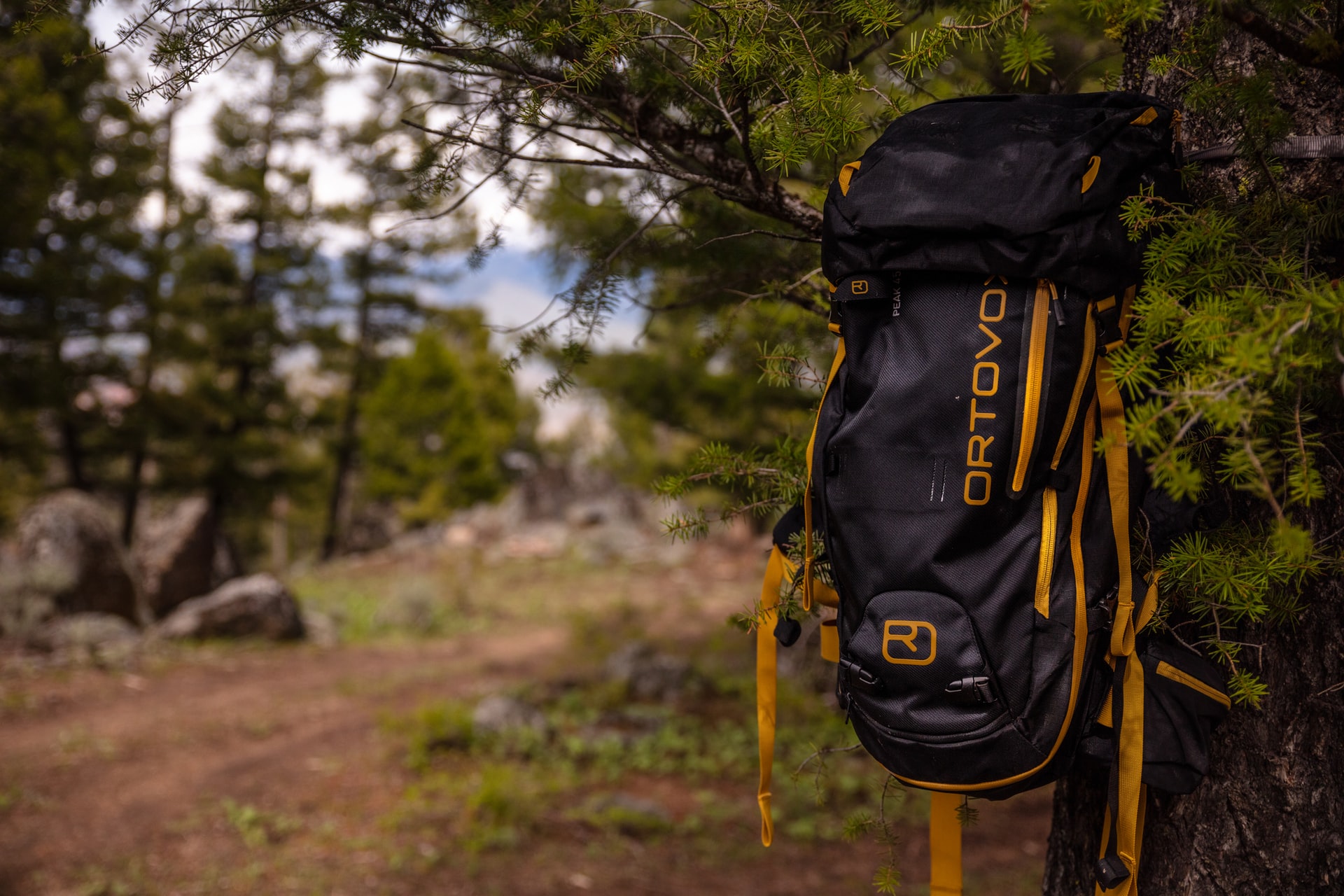 You need a backpack if you are going to travel for a long time and want to take all your necessary gear with you. A backpack is good for people who intend to go on a hike or walk in the woods, but it also has a use in urban travel. A backpack can even help you take groceries back from the store.
What do you need to know?
There are many things to consider, but the first, and most important one is the reason you are buying one. Are you going to travel in the city or country? Do you intend on taking a lot with you or just the bare necessities? Do you need a ruggedized, toughened backpack for extreme travel, or will your trip be comfortable and not include harsh weather and rugged conditions?
Before you buy: 7 Things to consider when purchasing a travel backpack
Comfort
This is the most important qualifier for a backpack because that is its first purpose – to make your travel comfortable and carefree. An ideal backpack will not add to your luggage's weight, will provide places for all your inventory, and will generally make your life much easier. A backpack should also be comfortable to wear – ideal backpack does not cause abrasion, muscle stress, or another discomfort.
Design
The backpack should not ruin your image and style. It should conform to the style you are trying to wear, or at least not make it worse. Therefore, color and overall looks are also important – even a comfortable backpack is made worse if it looks unpresentable.
Material
This is another important point because the backpack's durability and usefulness are determined by its material. If it is made of a weak and fragile cloth, it will probably fail soon, especially if you subject it to stress, like overloading it or dragging it through the wilderness on a forest hike. Material for good backpacks is usually nylon or another synthetic cloth – these are good at resisting abuse, are resistant to water damage, and do not deteriorate over time.
Volume/Frame/Weight
Volume determines how much gear and equipment you can load into the backpack. The amount of gear you wish to carry directly depends on what kind of trip you have in mind. If you intend to go on a hunting trip, you may want to take a lot of food and water, a rolled-up tent, and much equipment. This requires a large volume and wide frame.
However, for urban travel, where you do not expect to carry a lot and just want to take a few basic things, you will want a small backpack. One with a small frame, small volume, and less weight. This kind of small backpack is actually quite popular and useful.
Trip Length
This too is related to the backpack's size. If you are just going to go for a one-day stay in another city, you will obviously not need to take a lot of gear, because you simply do not need it. However, if you intend to go for a long trip to a remote village or even a hunting trip, you need to take a lot of heavy gear, which you will definitely need. This necessitates a large, heavy backpack.
So you can say that trip length affects backpack size.
Storage
Here you have to consider how many large and small things you want to carry. If you are going to take simple food and water for a long road trip, you do not really need a lot of small compartments – they will actually get in the way. But if you are a business traveler, your backpack may hold a laptop, credit cards, documents, phones, and many other important things that relate to your work. And you will need many compartments to orient easily.
Brand
This is another important qualifier because the brand directly refers to quality. Good brands use only proven, reliable materials, do not save on labor, and do not compensate quality with quantity. Brands with many customer reviews and famous names do not make bad or ill-fitting backpacks, and they actually go the extra mile to make a great product and uphold their name. They cannot afford to ruin their reputation, and even though their products seem overpriced, they are usually worth their money.
Shape
The shape is related to size and volume. The shape usually means the depth of the backpack – how much it sticks out. Large backpacks with big volume have a wide and deep shape, and therefore, they stick out and may get in your way. Smaller backpacks, with a smaller volume, will not take up as much space and will have a subtler shape.
Ventilation
A backpack with bad ventilation will cause you back to overheat, especially on a warm day. This will lead to sweating, discomfort, and overall will make your travel more tiresome and not as pleasurable as it could be. So try to find a backpack with well-made back padding and shoulder straps.
Elements of a Good Travel Backpack
Main Compartment
By default, the largest compartment. It should fit a lot of gear, and ideally, should be able to hold a large laptop as well. The main compartment may also be padded to protect what is inside and also to prevent the luggage inside from pushing on your back and creating discomfort.
Hip Belt
A hip belt makes your backpack easier to carry, improves your stature, spreads the weight evenly, and sometimes even provides a pair of easily accessible pockets. A hip belt should not be narrower than 2 inches, because it should provide a lot of area for spreading the weight. The hip belt takes more than half the weight off your shoulders, allowing the leg muscles to do most of the heavy work.
Shoulder Straps
The shoulder straps, like the hip belt, must be wide and soft, because they must provide support. Also, they must have good ventilation ability and be soft. Wide straps are best because narrow ones cause stress and abrasion.
Water Bottle Holders and Hydration Ports
If you are going hiking, you may want to take some water with you, and also to have it quickly accessible without removing the backpack.
Waterproof / Water-resistance
This is a very good thing to have as well because if you are carrying electronics or other things that are afraid of water, you will want to have a waterproof backpack. Some backpacks are not waterproof, but they have one or two compartments that are waterproofed.
Cushioned Back
This is a necessary thing to have because if you sit down, your luggage will press against your back. Chances are, something hard will be there, and you will be very uncomfortable unless your backpack has to cushion.
Best Travel Backpacks for Men
Now that we have covered the qualifiers of a good backpack and discussed selecting a good one for your purpose, let's review the best models on the market.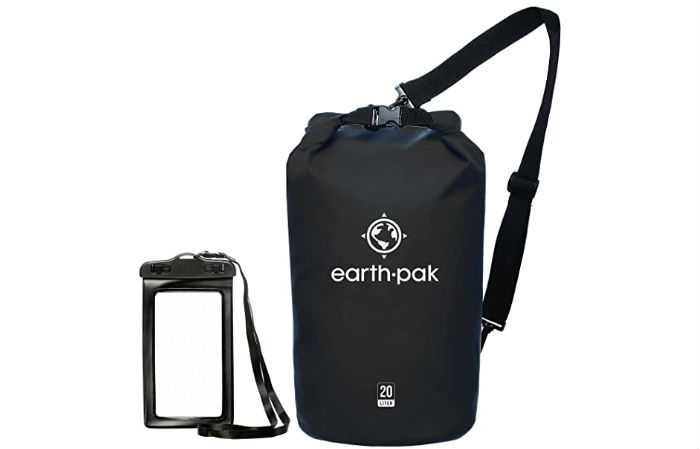 This bag is good at keeping your luggage safe – it is made of very tough and reliable material. The model is available in many different sizes, ranging from the smallest 10 liters to the huge 55-liter pack.
The single shoulder strap is present on the 10 and 20-liter model, and the 30,40 and 55 have double straps. The largest variant also is equipped with a hip belt, with which you can significantly lower the pressure on your shoulders.
The waterproof case that comes with the backpack, is intended for a phone with a diagonal under 6.5 inches in diagonal, and the case is also transparent on both sides. This allows the phone to photograph, even if the phone is inside the case.
The bag itself is waterproof as well and will keep everything stored inside it totally dry.
The waterproof phone case is indeed, very waterproof, and it will keep your phone dry, even if the bag falls into the water.
Available in many different sizes
The bag itself is mostly waterproof too and will keep the rain off what is inside
The straps are pretty small, and they may feel tight if you are large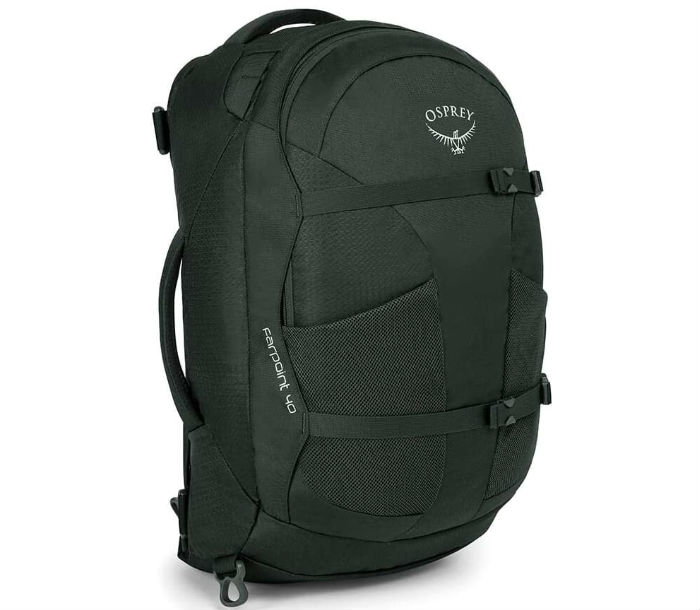 This large backpack fits up to 40 liters but weighs only 3 pounds. The large inner compartment closes with a zipper and can hold a lot of gear. The main compartment has a slot for a laptop, which is equipped with a lock. Another sleeve is intended for tablets.
The light frame is made of wire and it moves part of the weight to the hip belt, which helps you carry the bag efficiently.
The backpack has two mesh pockets for quick access. You can store small items there.
There are also a few zippered pockets on the side of the backpack, which also help with the storage of small objects.
Available in three different colors
Has a wide, conforming hip belt with good body support
With a volume of 40 liters this is one of the roomiest bags on the market
Hard-to-reach pockets for water bottles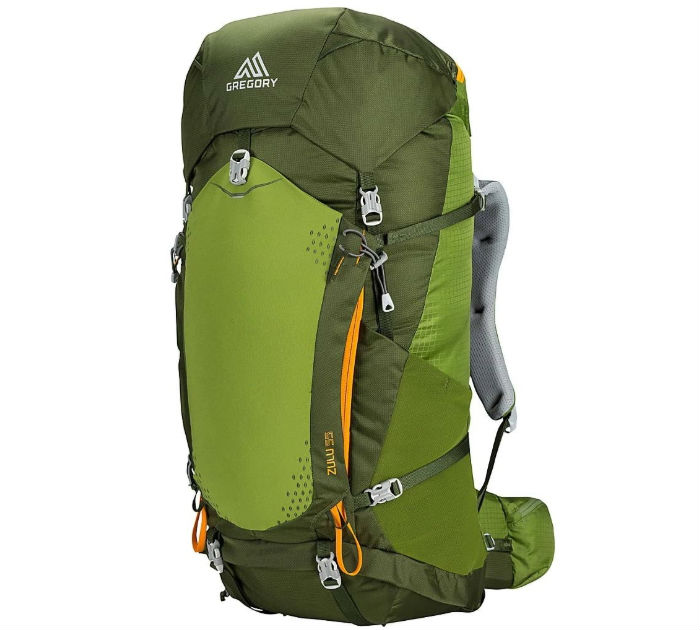 This model is made of tough 210D cloth with a tough polyester hip-belt. The belt and harness are filled with a soft foam that allows you to hold the backpack for a long time without stress to your back or waist.
All the places, where the backpack touches your body, are perfectly ventilated, and you will not find yourself sweating.
The supports are made of 4 mm thick steel wire, and they are very tough and reliable, so they will help you transfer the pressure from your shoulders to your waist.
There are many smaller pockets on the model's outside, and they allow you to organize and store many small items.
Easy to access most of the outside pockets
Weighs only 3 pounds with such a huge volume
Very sturdily built, especially the high-quality zippers
A bit overpriced, but if you consider the quality, then the price is justified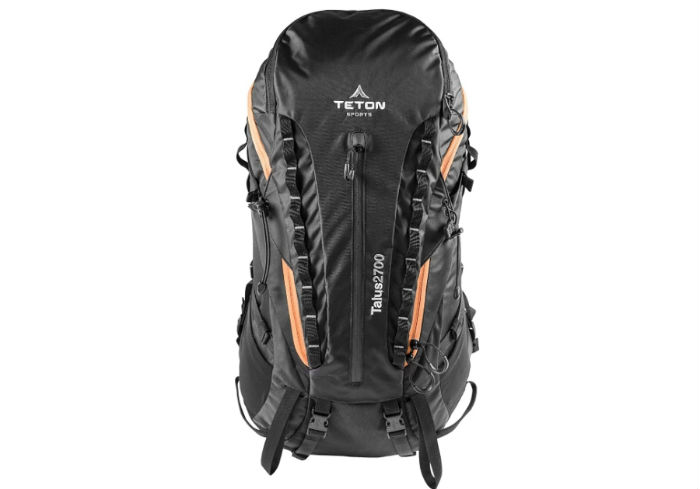 With a weight of only 1.4 kilograms, this model can be considered the lightest for its volume. This was designed for traveling outdoors for long distances, so you can take it with you, even if you go mountaineering – it will not hold you back.
A tarp is shipped with it, that rolls up easily and can be used as a tent or rain cover. The hip belt and shoulder straps can be easily adjusted and made to fit almost anybody. Even though the pack may seem overpriced, the amount of customization makes it very user-friendly and totally worth the price.
The pack is made from tough Oxford cloth, which can stand almost any kind of damage, and it is guaranteed to last a long time. The zippers are very high-end too, and they are so tight, that water cannot get through them.
The frame is very tough, but it is made of a light aluminum alloy, so it does not add to the weight.
Very lightweight – all the materials are made to be light
Tough and durable – even though it is light, it will be very hard to damage
Holds 44 liters
The price is very high, but it is deserved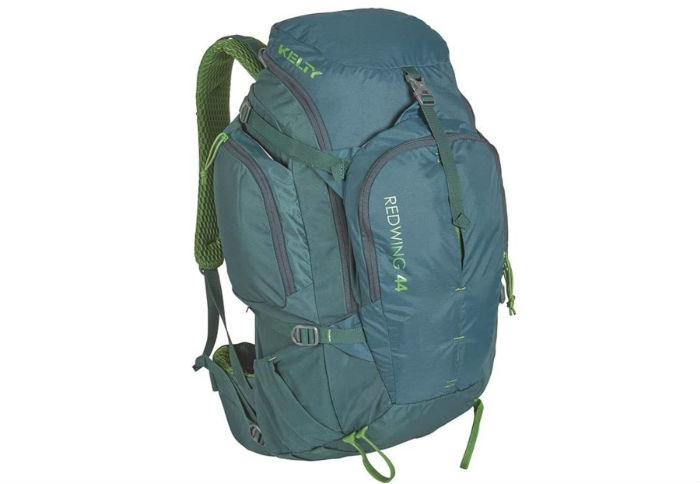 This backpack is made of tough polyester cloth and is very universal and utilitarian. Its simple shape makes it good for anything, and with a weight of only 2 pounds and 10 ounces, it is also pretty light.
The backpack's skeleton is made of light aluminum wire, and the back panels are made with breathable materials. This makes the backpack light and comfortable to wear.
The inside has a lot of space and many slots for organizing, such as separate pockets for maps and a place to put a laptop, where it will be protected by the padding.
Very good, wide and supportive hip belt
A lot of pockets for people who like to organize their gear
Tough, durable, yet pretty light
Many of the interior pockets are too small to be useful
Conclusion
A travel backpack is a necessary thing if you are going to go on a wilderness trip or exploration hike. It will also help you if you are going to stay in another city for a while and need to temporarily relocate. A backpack, if you choose wisely, will be a comfortable way to take your gear with you wherever you go. It will save you time and energy, and will hopefully not ruin your style.
Backpacks are a good idea, and if you do not yet have one, it is a good idea to buy it, because it is definitely worth the money.