Thing You Will Never Do Without When You Are Traveling the World — This Is a Travel Plug Adapter!
When you are traveling abroad, you will hardly feel completely comfortable with electronic appliances, because about 12 types of power sockets are available for common use in various countries. If left unaddressed, this moment may result in a nasty surprise and severe challenge. There is a solution! You just need to take the best travel adapter with you.
Personally I am sure that if you are an international traveler, you just must have a travel adapter. I'm glad to inform you that manufacturers of this device deliver a wide range of products with additional options. You will be able to charge iPhones or laptops wherever you are and even more than this. Keep in mind that they are not made equal. Now I'm going to tell you a few things which must be taken into account before buying an adapter for an overseas trip.
[toc]
What exactly does a travel adapter mean?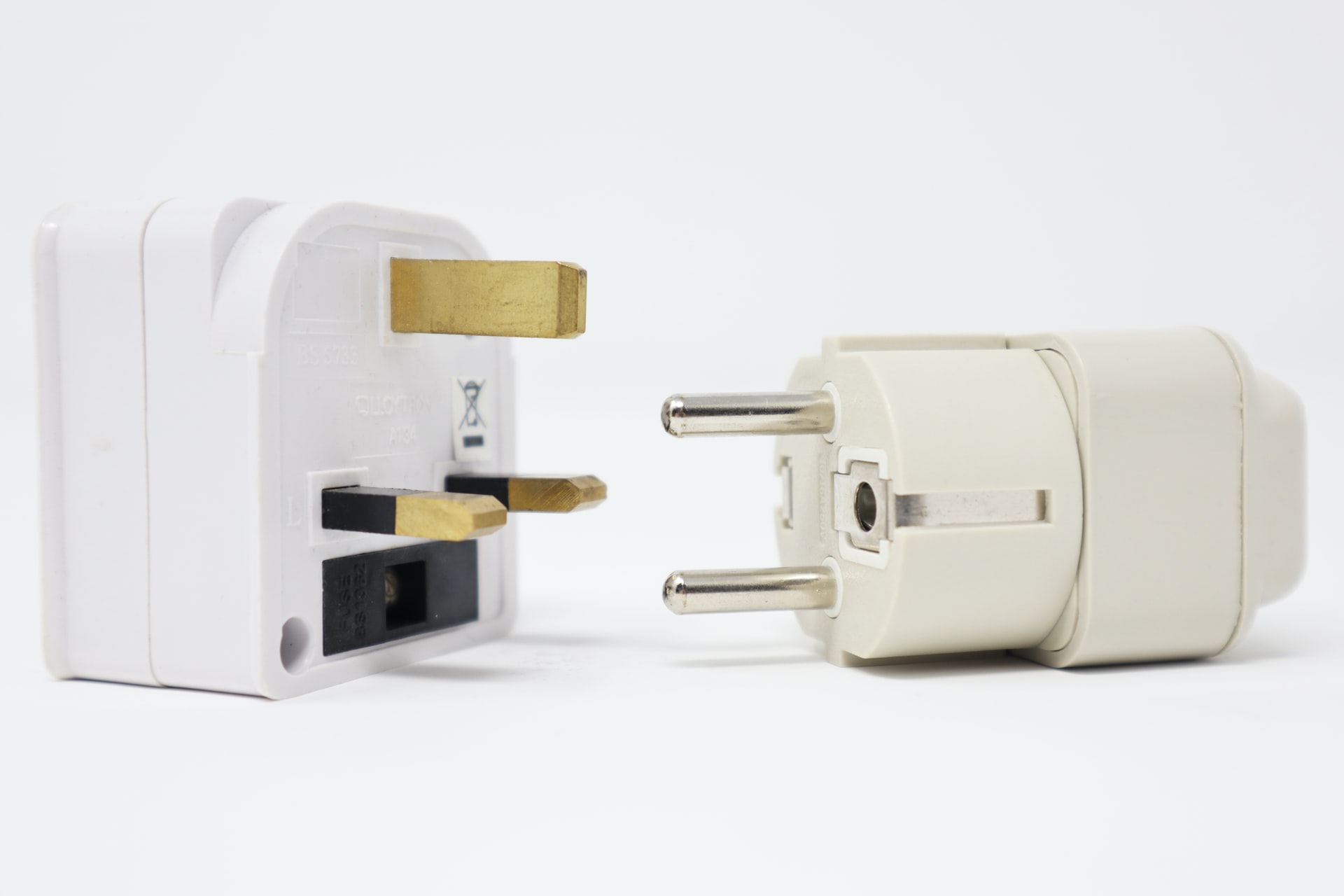 Let's start with the definition. When we speak about a travel adapter as it is, we mean that this appliance allows your devices with any shape of a plug to fit in holes of any wall socket.
But there is another problem — dual voltage differing in various countries. For instance, in Canada, you will have 120V electricity and in Europe — 220V electricity. If you do not use an appropriate plug, the devices will not work or what is more important they can go out of order. Thus, you need a converter that changes the electric power.
If you want to avoid any problem connected with the usage of your private electronics abroad, you should think of both items set out on a journey.
Please, note that these are two different appliances: a travel adapter and converter.
Why Do You Need One?
Once again, a travel adapter is made to provide a correct plugging of electronics into a socket when a plug and a socket do not match each other. If you have ever visited the US, you know that they use plugs with a couple of flat vertical prongs. And in Great Britain, for example, there are plugs with a top vertical prong or an alternative — two bottom horizontal prongs. Being a frequent guest of these two countries, you have to buy two travel adapters made in accordance with these standards. Or, there is an international one working for major countries in the world.
If you do not have to change the voltage, you should not pay more buying a converter, which will step up or down the voltage in accordance with the needs of your electric products like shavers, hairdryers, toothbrushes, smartphones, and other things. But if you have to, please, mind that converters should be used for a short period (up to a couple of hours). So, do not forget to unplug a converter from the wall after each usage.
What To Look For In A Travel Adapter?
If you decide that you need a travel adapter only, then still you will have to make a choice as far as it comes in various sizes and types. There are some things to pay attention to before you buy one.
Number Of Power Outlets
First, you should think of the electronics you are going to take with you. Perhaps, some of them can be bought on the ground, or they can be available in the hotel like a hairdryer. Think twice to limit the number of power outlets you may need. When you see your needs, you can find an optimal power solution. I recommend deciding in favor of a three-pin model.
Plug types
Now you should understand the plug types you need. Bear in mind that a single-region one is tiny and will not take a lot of space in your suitcase, while an adapter covering several countries is much larger and not as convenient to use as a small one because of a heavy plug pack. Thus, sometimes it makes sense to take a set of adapters for various destinations, if should the circumstances allow. I hate to say it but portability does matter.
Here I want to specify a list of countries where various plug types are applied, which is not complete but still will be of help:
| | |
| --- | --- |
| United Kingdom | G |
| France, Morocco | C, E |
| Germany, Spain, and the Netherlands | C, F |
| Italy | C, F, L |
| China | A, C, I |
| India | C, D, M |
| Australia | I |
| Japan, Mexico, Cuba, Dominican Republic, and Taiwan | A, B |
USB ports
You can feel much better if your devices can charge through USB. Just find a USB travel adapter for several sockets and use it for all your gadgets at a time. Moreover, there are the multi-adapters with common connectors and USB ports which can be used regardless of location. I love such an alternative and feel much more confident when I have it. It is a good idea especially if you need converters which add weight more. And you hardly want to make your luggage bulk even if you prefer versatility.
In addition, there are the following things to consider:
Safety
As you know, the adapters can burn out, that is why if you do not want to stay without an adapter at an awkward moment, you'd better find it with an incorporated fuse. It will prevent a failure, when a spike in the voltage happens, interrupting the electrical feeding, and keep your device safe. Also, the surge protection would be a good practice. It is nice if the producer delivers a warranty. And, I'd pay attention to safety certification proving the high quality of the facility.
Top-10 Products In This Category
Now, I suggest you consider 10 adapters which are probably the best ones for traveling (on my opinion) but still have their peculiarities. As far as they are different, there is no sense to compare their prices. But I'll mention the rating of consumer preferences for a better understanding of their value.
1. EPICKA Universal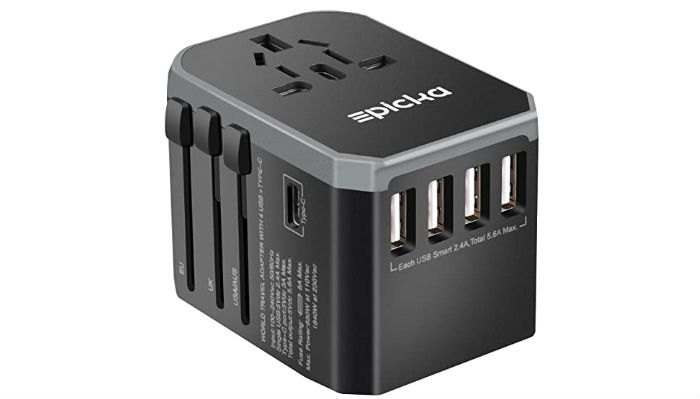 EPICKA Universal is an international plug adapter supporting A, B, C, E, F, G, I, J, L plug types. It has 5.6A smart power, 3.0A USB, and fast charging. Being compact, it delivers lots of functions covering over 150 countries using the correspondent plugs. This is a perfect thing to have when you travel abroad as far as it can be used with almost all gadgets equipped with USB ports. It is safe due to the certification, fuse, safety shutters, and other guarantees. It is clear that it does not work as a converter. You can count on the money-back for 30 days if the facility goes out of order. There are a lot of positive experiences of users over the Internet, so you can trust it if you are not traveling across Israel or India.
Fast charging.
Portable.
Highly versatile.
It might not be compatible with all phones.
Taking into account a wide number of plug types and high quality, this adapter is one of the best for traveling.
2. Ceptics International Worldwide Travel Plug Adapter 5 Piece Set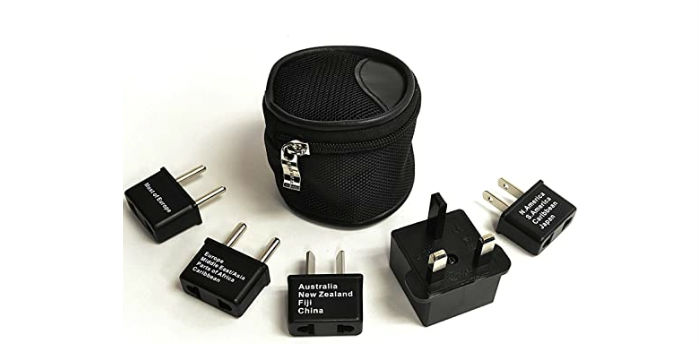 Ceptics is a world-known producer of adapters from the US. This set includes five international pieces that can be used for laptops and smartphones almost in all countries across the globe. They are of high quality being polarized and marked with the sign showing the region they are suitable to. Any adapter of this set does not convert voltage, meaning that if there is a need, you are expected to buy a converter in addition. They are marketed in a travel bag. Being completely safe, they accept US polarized or the standard US plugs with two prongs. I can prove that these facilities are reliable and durable. The brand really connects the world and does it at a rather affordable price.
Highly versatile.
Safe.
Fitting perfectly into sockets.
Easy and small to pack.
It misses USB connectors.
This is a set of various adaptors that is why the users like it because of versatility.
3. Ceptics 12Pcs International Travel Worldwide Grounded Universal Plug Adapter Set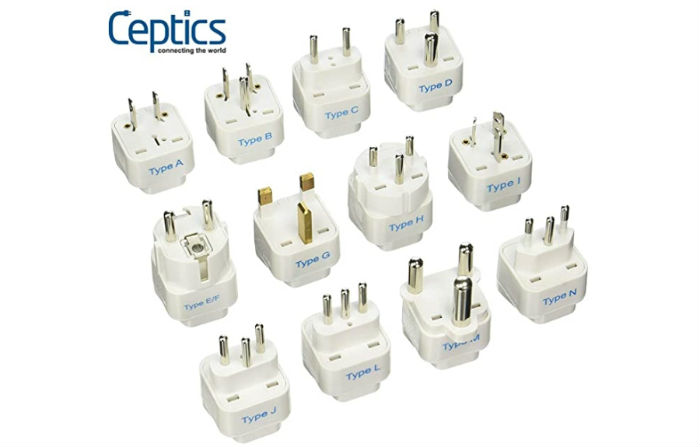 Once again Ceptics takes center stage! This is a set consisting of twelve pieces. All the plug adapters here are international ones satisfying your needs during your worldwide trip. They are grounded and able to be useful anywhere across the globe. It provides universal input. There are USA "polarized" and grounded adapters with two and three prongs. The plugs are designed in accordance with almost all countries, but if your business trip is in South America, you should look for something else but not this set. The reliability is proved with a lifetime warranty. These units are really the highest standard adapters. The producer says that he is ready to replace his adapter for free if it stops working. Can you believe this?
High versatility.
Inexpensive.
Solid construction.
Durable.
They take some space if brought as a set.
Even though this is a set of 12 units, the key virtue of this offering is its convenience. Here you have almost anything you need for traveling.
4. Ceptics Adapter Plug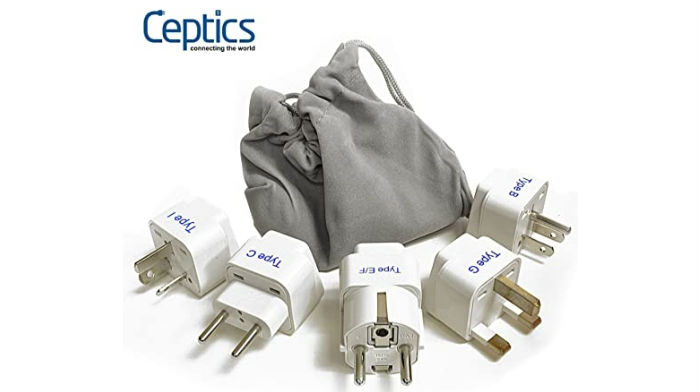 To continue with Ceptics, I want to pay your attention to this adapter plug set which is also designed for international travel usage. Feel free to apply it together with a wide range of appliances. Here you get a plug of E, G, C, I, and F types and European "Schuko" one. All of them are grounded and that means you can relax and be sure that electrical shock will never reach you. There are 2- and 3-prong plugs for various types. They are really great for world travel because they are reliable, simple to use, and affordable. Definitely, you will have the perfect traveling experience without any problems but with charging regardless of different countries' sockets. There is another pleasant bonus — they do not have weight almost. Your luggage will be carried without effort.
Easy to use.
Safe.
There is a ground.
Materials are not too good, but the price is rather low.
The users prove reliability and durability of this set which is also a perfect choice for traveling due to a very wide offering of types.
5. Bonaker
Bonaker universal travel adapter is an all-in-one model. Enjoy its compact size. It is designed to charge in a fast and reliable manner providing several plugs and four USB ports (4.5A) which will match over 150 countries worldwide. You can use it for your grounded or ungrounded devices at the same time and be sure of safety due to the proper protection. Another virtue is its ability to increase the charging speed twice. Also, it matches the current you have but it will not convert a voltage. It accepts mobile phones, cameras, laptops, MP3, and much more. There are a built-in fuse and surge protections, allowing to prevent the consequences of over-current, overload, and short-circuit. Your appliances will not get hot. Also, it has a children's safety protection.
Compact.
Versatile.
There is a ground.
The reliable adapter with several plugs — these features are considered by the users as the most revealed.
6. ElecLead World Travel Adapter and Converter COMBO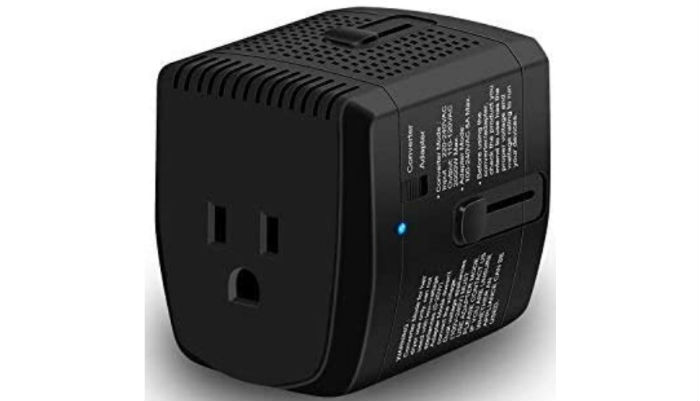 Now let me say a couple of words about a step-down voltage converter which takes the voltage down making a device with 220V be adjusted to an electrical outlet with 110V. It can be used as a plug adapter for various facilities including a hairdryer, iron, laptop, kettle, mobile. You can use it in more than 150 countries and be sure of its functionality. This unit is rather popular, so you can have the delay of delivery — just consider this when you plan your traveling. It guarantees the safe operation of the gadgets. Two modes are easy to apply but still, you'd better read the instructions before you start using it. The producer provides you with a responsive and helpful customer service, which will answer all your questions and solve the problems.
It converts and charges at a time.
Easy to use.
Durable.
Nice packing.
For high wattage appliances mostly.
This is another winner of the list as to its convenience if we can rely on the users' opinions.
7. BONAZZA travel adapter and converter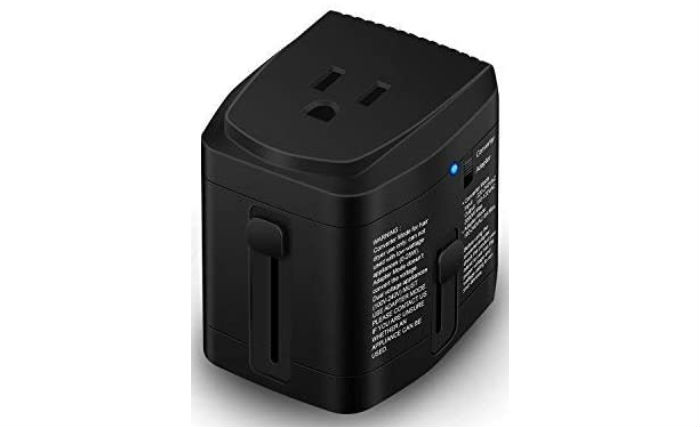 To keep options open you can regard another plug adapter with a converter stepping down 220V to 110V. It can be used in more than 150 countries for using your hairdryer, notebook, or iron without difficulties. This is a BONAZZA travel adapter converter combo! It is very compact and light and will not take a lot of space in your suitcase. The adapter can be used both with the devices supporting 110-220V and appliances operating with 100-240V. Being safe, it can protect from a short circuit. You will appreciate its simplicity of use and reliability. Still, I recommend you to read the instruction before using.
It converts and charges at a time.
Perfect size and light weight.
Durable.
It cannot work for some appliances like a hair straightener.
Though users say it is very durable, I'd emphasize that this is a combo combining an adapter and converter. As to me, I prefer these units apart, but if the weight of the luggage does matter, consider the variant.
8. Syncwire adapter
And here I'll talk about Syncwire — a superior brand famous for its reliability. It produces cables, protections for the devices, and chargers. This 34W wall charger has four USB ports and interchangeable UK/EU plugs for a wide range of devices. The 1A ports are used in common cases, but if you want to get the fast charging, you should use the 2.4A ports. Here Smart IC technology is applied to detect and to deliver the needed current for a device you plug in. It guarantees a speedy and efficient charge. There is a LED indicator light, certified safety system preventing overheat of your devices. This adapter has a nice design and lightweight of 6, 7 oz. If you have some difficulties with it, you can turn to the premium support lasting for 36 months. During this period, you will not pay a penny for help.
Versatile.
Durable.
Portable size.
It can make a little bit of a buzzing sound.
his is a perfect light and well-done adapter for EU countries mostly.
9. Orei adapter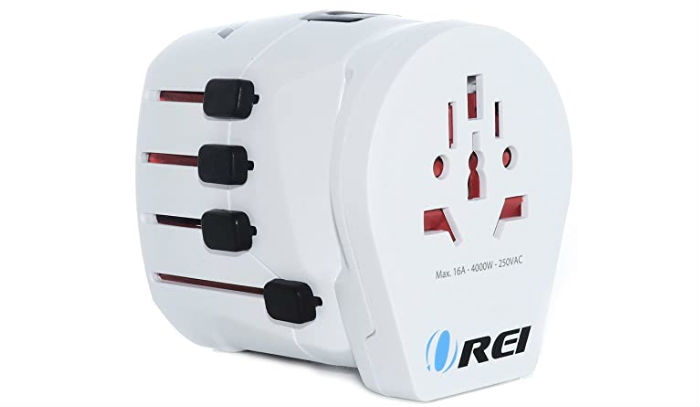 Orei adapter is considered to be extremely safe but it does not suit high-watt devices like irons and hair dryers. Orei mate M8+ plug adapter is grounded and has 3 prongs. You can use this plug for chargers and any other compatible devices. You can use it with dual voltage gadgets and with the following sockets: type I, E, F, L, J, G, B. There is a single USB Port and USB Max. The plug adapter is very small that is why you can take it with you. It is clear that it will be a useful thing to have in your suitcase. Its purpose is to charge various appliances in over 150 countries. The power plugs are slide-out that is why they will not be broken while you are traveling. In addition, there is a release button and fuse. As you understand it does not convert electrical voltage but can be used in almost any voltage.
Versatile.
Safe.
Portable due to light weight.
It sometimes makes a high-pitch sound when plugged.
Rather pricy and bulky.
A large range of plug types make it for lots of purposes that is why the users think it to be one of the best for traveling.
10. FLIGHT 001 adapter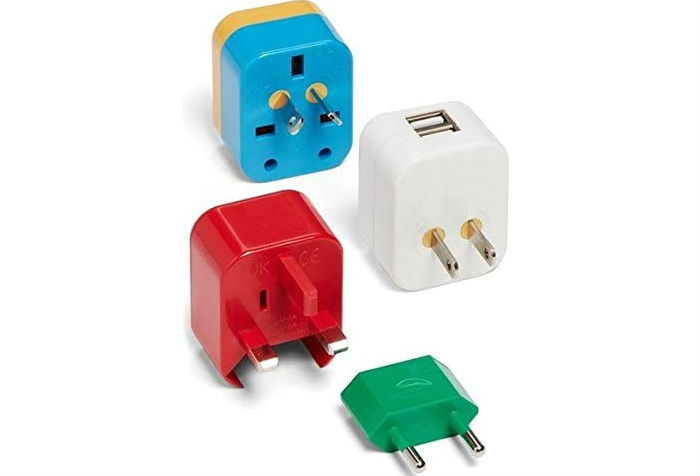 FLIGHT 001 adapter includes several solutions for electronics rated 100-125 or 220-250 volts. Buying it, you get four adapters in one with various performances and two USB ports. The color is used to code an adapter suitable to a particular country. You will easily find the needed unit looking for a correspondent hue. The adapter will really become irreplaceable during your trip abroad.  Enjoy JA/C READY design but remember it does not convert power.
Versatile.
Easy to use.
Perfectly designed.
Additional USB charger is less reliable.
You can buy it for all occasions almost. It goes without saying that the design is cool. It is compact being made of various colored parts, each of which corresponds its plug type. I'll second that! This is the easiest compact adapter to use.
FAQ
Conclusion
Sometimes, you need only a simple option without any special features. But there are cases, you want a multi-purpose adapter. The choice depends on you! I'd support the idea that a safety-focused, a tiny, and reliable adapter is the right unit you need. But if you have a lot of devices with various capabilities, then you should look for the additional functions considering voltage and safety.