It would be hard to believe how dirty phones really are. However, if you think of it, it will sound true. A phone's surface, on average, holds 18 times more fungi, bacteria and viruses than the wall of a public toilet. The bacteria get there from your hands, and accumulate over time. Next time you touch the phone, the bacteria will contaminate your hands, and may later cause sickness, if they get in your mouth.
Therefore, you have to find a way to remove bacteria and other contaminants from your phone. Washing it will not really help. For one thing you may damage the phone with the water or soap. And second – washing will not remove all bacteria. You need to find a way to directly kill them.
And here the UV sanitizer can help you – because it effectively cleans your phone without water.
How does it work?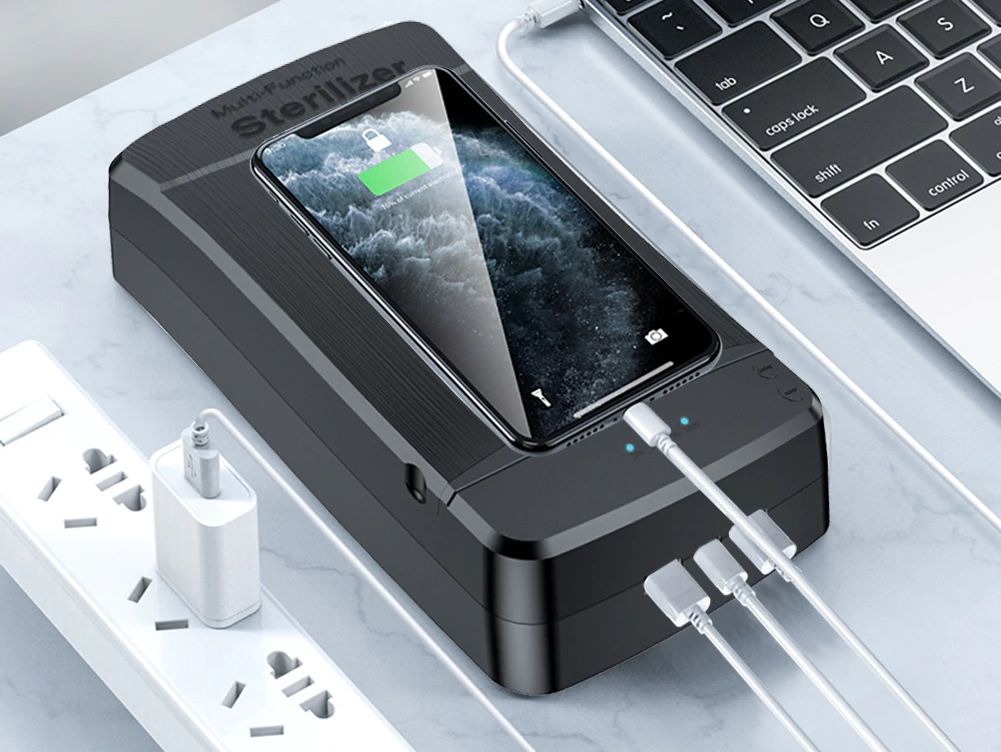 A UV sanitizer emits ultraviolet light inside itself. It is closed with a zipper, and is about the same size as a phone. The phone is placed inside the sanitizer, and the ultraviolet waves kill the viruses and bacteria on the phone's surface. Ultraviolet is the only guaranteed way to get rid of disease-causing organisms without causing any damage to your phone. However, there are at least three other ways of sanitizing – heating to 65 degrees, ultrasound waves and ozone. However, UVC emitters are the most studied and reliable way to sanitize anything.
What to know before purchasing?
Diagonal
The phone's size is the most important qualifies. It is good, if the sanitizer is exactly the same size as the phone, so the phone will not move around inside the sanitizer. Try to choose models with a diagonal of over 6 inches.
Some sanitizers are not box-shaped, and for them you have to look at the other dimensions.
Number and size of emitters
The number of ultraviolet LEDs is important, because the device's effectiveness depends directly on the number and shape of the emitters. Some have spot LEDs, while others are equipped with long rod-like lamps. The more lights you have – the better. Also consider the power of the emitters – the more power, the quicker your phone will be clean.
Some very powerful models will sanitize an entire phone in only 30 seconds. Meanwhile, smaller LEDs take over 5 minutes to complete a cycle.
Cleaning methods
While most cleaners use UV emitters to kill the germs, there are many other methods to get rid of harmful bacteria and kill viruses. The cleaner may emit ozone, which is able to get down into crevices on the phone's surface and kill germs hidden there. Some others use ultrasound at very high frequencies to kill bacteria.
Try to select models that say UVC, because UVA or UVB emissions kill bacteria less efficiently. UVC is also absolutely harmless for humans, while the other two wavelengths will penetrate skin and cause damage.
Shape and working principle
While most of them are boxes that the phone is left inside, there are some other models that use a different principle. Some models look like handheld wands that are marketed for travelers, since they are foldable. Others are larger, and you can sanitize larger things in them, like dentures and other large things.
Brand
Brands give different attention to quality, and while some brands cost a lot and seem to be overpriced, they give a lot of attention to quality and try to make durable devices. They also run and fund tests to make sure their devices really kill germs and viruses.
Meanwhile some other brands do not have stringent quality control, and sometimes may even sell fake devices that do not really kill germs but simply create the impression that they are working. Sadly, that does happen often enough. Therefore, try to buy from trusted brands, even if the price seems high.
Now that we have covered the qualifiers for a good machine and seen what to consider when choosing one, let's review the best models on the market. We will show ones with good price to quality ratio and effective work.
MOST UNIVERSAL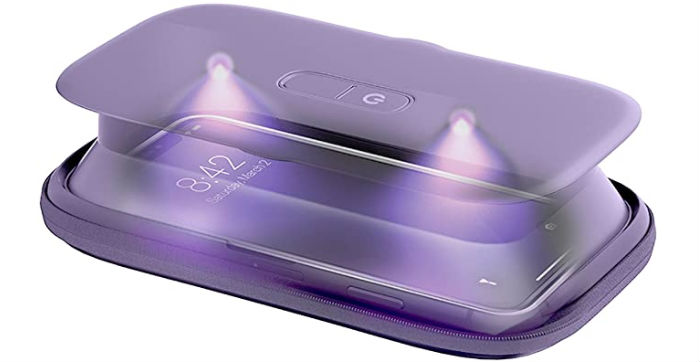 This one can clean all of the phone' surface in 6 minutes. The ultraviolet light has a wavelength of 254 nm, and this is the best for killing bacteria. The model has a rating of 99.99% – that means it removes almost all bacteria. The wavelength is also safe for the phone's screen and will never cause any damage to the phone.
The disinfector can be used not only on phones, but also on many other small things that will fit inside, like toothbrushes or earphones.
The model is powered from a USB cord. The whole thing measures 20 by 12 cm with a thickness of 4 cm. It weighs 500 grams.
The device makes no sound at all and turns on with one simple button.
The thickness allows to disinfect many other things, and many reviewers took note of this
Large linear UV emitter
Solidly built
Sometimes arrives dead – make sure to check immediately
ADDITIONAL AROMATHERAPY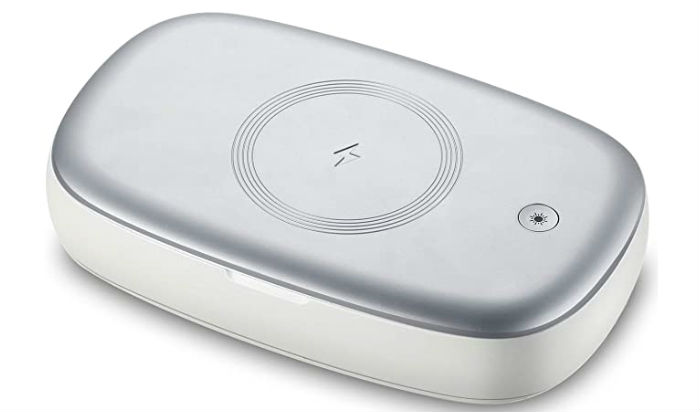 This model for sanitizing phones also doubles as an aromatherapy unit, emitting scented fumes while working.
With a diagonal of 6.2 inches it fits all but the biggest phones. Also many other devices and small objects can be put inside for sterilization. The model fits iPhone 11, Samsung S9+ and other large phones.
The essential oil is added into an inlet, after which the device is turned on. Then it both sterilizes the phone's surface and makes it smell nice. After the phone is removed, it is both clean and also smells like the oil you added.
The device is able to do wireless charging. It charges your phone when it is laid on top of the device.
The aromatherapy unit is a very good addition to an already good device
The wireless charger works well, even though you have to put the phone in exactly the right place
Solidly built, durable and reliable
The manual is pretty much useless
BEST LARGE MODEL
This model is fairly large – being 8.6 x 4.9 it has a diagonal of 6.9 inches, so it will take any phone size, even the largest. The large size also allows you to put a variety of other objects inside the disinfector. It is also two inches tall, so it will fit almost anything, from earphones to a fork or toothbrush.
The model has an extra function for aromatherapy, and you can add any desired aromatic oil to your unit, in order to impart the scent on the disinfected phone.
The device is praised for its size and the power of the LED emitters, and it can disinfect many larger objects.
The model's powerful LEDs are able to disinfect the whole phone in only 2 minutes, making it one of the fastest models.
The loud voice prompts when the model is finished cleaning make it more helpful
Large size allows you to use it with any phone you want
Is able to do aromatherapy
4. WellUp Light Ozone Aromatherapy Sterilizer
USES OZONE
This is interesting in that it uses both UV and ozone to disinfect the phone or whatever you put inside it. This double mechanism allows you to effectively kill almost any kind of contamination. The ozone is more effective than UV in getting into cracks on the phone's surface. It gets rid of germs in crevices, while the UV takes care of the smooth surfaces. Both mechanisms do not hurt your phone's surface.
The model can also charge phones stored on it – it can use quick charging at 10 watts. This allows to use it with iPhone quick charging.
The device starts disinfecting the moment the lid is closed. The magnets on the lid pull it closed and keep it sealed while the device works.
The device can also disinfect many other things, because of its 4 by 7 inch size.
Can use both UV and ozone to clean your phone
Fairly large, so it will disinfect many other things except a phone
Can wirelessly charge your smartphone
So far no reviewer has left a negative comment about this
LARGEST MODEL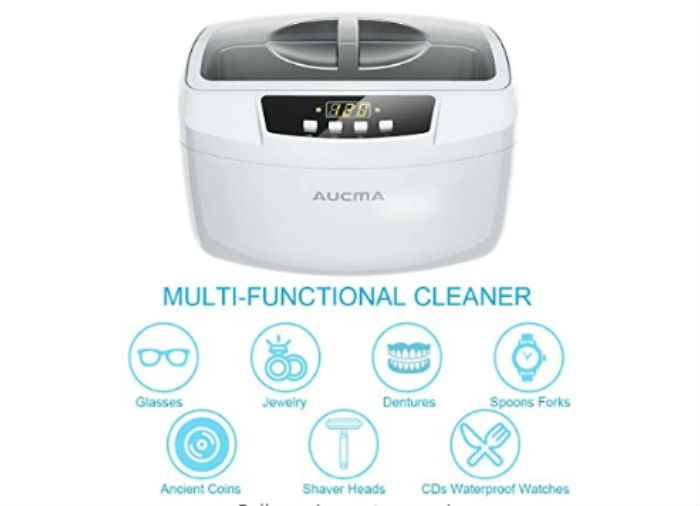 This device can be used to clean almost any small object, because of its much larger size. This has been used by some reviewers to clean lab equipment, glasses and watches.
The device uses a combination of high temperature and ultrasonic vibration to destroy virus and bacteria particles. The model can heat up to 65 degrees in order to destroy most bacteria, and the high-speed vibration will break up virus particles.
The large 2.5-liter volume of the inside steel tank can hold many large items, be it a phone or anything else.
The device has 5 preset functions and all of its cleaning modes are totally silent.
Can clean both by raising the temperature and by using ultrasonic waves to destroy bacteria
Large enough to fit any phone and many other things
Stainless steel inside tank is very durable, as well as the entire device itself
Big and unwieldy – hard to take with oneself if you are travelling
BEST HANDHELD VERSION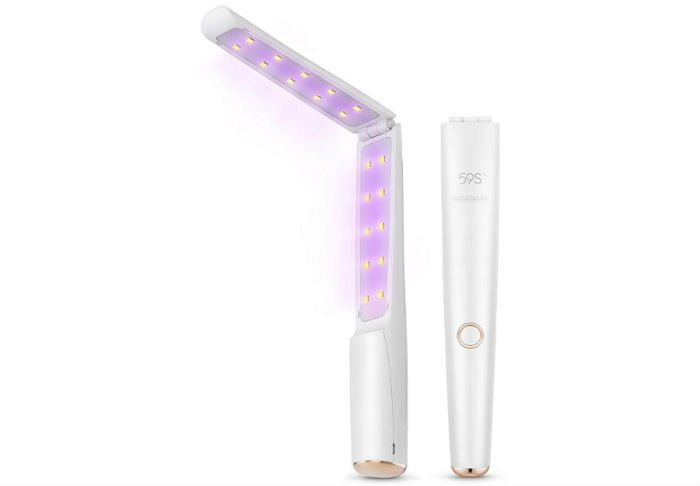 This one is handheld, and it can be used to disinfect absolutely anything. This makes it much more useful than the average phone sanitizer. It uses an array of powerful LEDs for disinfection. When not in use, it can be folded up and put away into a purse or backpack.
The device kills 99.99% of all bacteria it irradiates. There are 20 powerful LEDs that work from an inbuilt accumulator.
When the button is pressed, the UV LEDs light up and start working.
The model will shut off immediately if the sensor detects it is not in use. The device is built with precision and is very durable and sturdy.
Powerful LEDs – quickly remove bacteria over a large space in just a minute
Handheld design makes it very portable and especially useful during travel
Uses UVC light, which is not damaging to the skin
BEST BRAND MODEL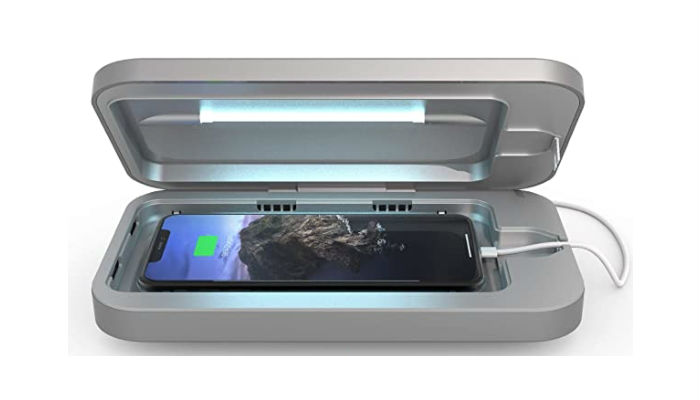 This is the most well-known brand for phone sanitizers. It uses two UVC bulbs to safely destroy germs. The emitters use only UVC light, and that kind is totally safe and will not hurt you or anything else. It is also safe for your phone's screen and surface. This specific wavelength has been extensively tested and proven effective at killing bacteria.
The way this device is different from many others is that it has been tested to see if it really kills germs, and the tests show it really does do its job.
The model is equipped with two USB ports that are used for charging the phone when it is being cleaned.
The model can destroy 99.99 percent of all bacteria in just a few minutes, and when it is finished cleaning, a LED indicator will light up to tell you it is done.
The model uses universal voltage, so it can charge any model of phone, and its size lets it accommodate even large models.
Anything else that fits is welcome inside – the device can be used to disinfect earphones, watches and many other things.
The model is available in 8 diverse colors for any style.
The device has actually gone through many different tests to see if it is effective, and it is guaranteed to work
Not harmful for either your skin, the phone, or anything else for that matter
The device charges any phone placed inside it
Expensive, but totally worth its price
Conclusion
A phone sanitizer is an important thing to buy, because people today rely on their phones for just about everything. Therefore, the phone is like a third hand, that they usually never wash. Obviously it accumulates extreme amounts of germs that never get cleaned off it.
Today a phone sanitizer is even more important, since everyone is so afraid of COVID-19. It will both clean your phone and help you psychologically, since you will now know your device is not harboring any germs, viruses or bacteria.
Is it worth the money? Some models cost over 100 dollars. Is that price justified? Yes, it is. Because in the case of an expensive brand model you will be 100% sure your phone is clean when the sanitizer is finished working.