If you are going for any kind of travel, you will have to find a way to comfortably bring along all your necessaries that you will need for that period of time. And to that end many people take a backpack – a great way to bring along all you need for a road trip.
Best Sling Backpack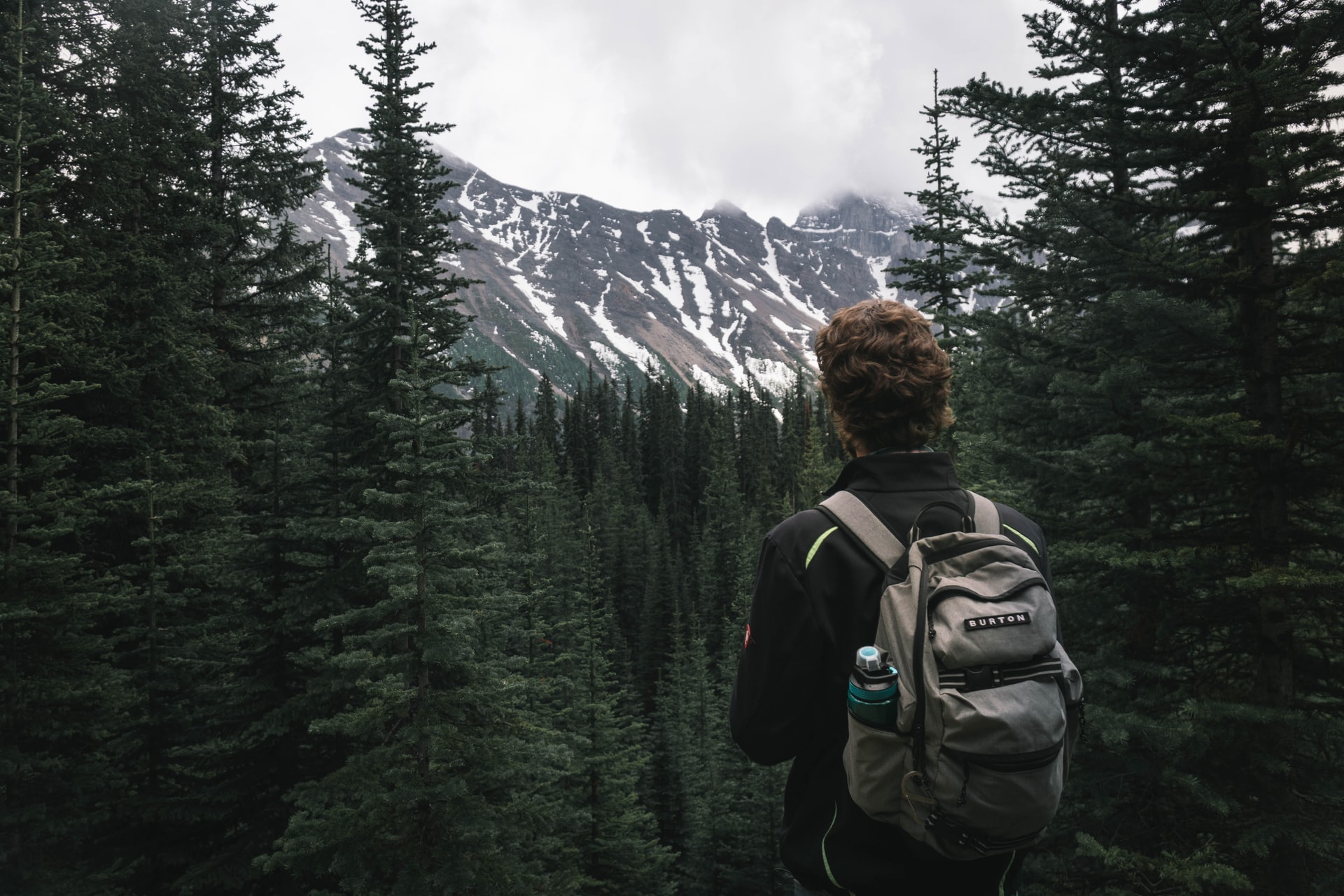 A sling backpack is a bit different from a regular backpack in that it has only one strap instead of two. That makes them lighter than regular backpacks. Therefore, sling backpacks are usually much smaller and are meant for less weight than regular backpacks.
That means the sling backpack is more popular for traveling light, and these backpacks are usually purchased with a size of 10-20 liters, while some get as small as 8 liters.
Backpacks are made by different manufacturers, and have different qualifiers. That means you will have a lot to consider when buying one, so let's see what makes a good sling backpack.
Volume
This depends on how much gear you intend on taking with you. If you are going on a long camping trip and are going to take tools, food and water with you, you may want to have a backpack with a large volume, like 15-20 liters.
However sometimes you want to travel light, and this is true for mountaineering, for example. Then you want to have a small backpack, holding only the basics.
Weight
The backpack should be made of light materials that will not overload you. However, if you are trying to buy a robust, tough model that is built to tolerate weather and damage, you may want to get a heavier model. This is because it will be made of tough, thick cloth. Also a heavy model acts as better protection, because it will have a lot of padding and thus will protect your luggage. Many heavy models turn out to be the most protective and tough.
Material
The weight and durability of the bag depends directly on the material it is made of. Therefore, try to pick a bag made of a reliable material with a good thickness. For example, polyester – this material is both sturdy and light. Also nylon and other varieties of synthetic cloth offer good toughness to weight ratios.
Some other materials make your luggage more stylish and add to the image value, while also being practical and tough. One such material is leather, and you may often find brandy and designer bags using leather parts.
Style
A backpack should conform to your overall style or at least look neutral enough to be presentable and not spoil your looks. If you want a stylish model, you should buy a brandy backpack that has leather inserts and buckles. Those pursuing a military style, though, have a wide variety to choose from, because many brands make military-like packs, and offer them at a good price.
Waterproof
While most bags are permeable for water, some models are water-resistant. Even though they are not 100% waterproof, they will stand up to a rain and shed off the water that falls on them. To this end they are coated with water-resistant materials, such as polyurethane, which wick off the water.
And there are also fully waterproof bags that can be dropped into the water and their contents will not get wet. However, these are quite rare.
Brand
More well-known brands can't afford to lose their reputation, so they try not to compromise quality by using cheap materials and saving on labor. However, models from quality brands will always cost more, but the superior quality is almost always worth the extra money.
Pockets and Compartments
A backpack never has just one compartment. There are always a few other pockets and dividers that help you organize the stuff inside. This is a good idea, because finding a small item like a lighter or compass will be very frustrating, if you just have one compartment. Therefore, try to find a model with enough pockets.
On the other hand, some models have too many pockets, that will probably be useless for a normal person. Someone obsessed with organizing may find a backpack like that useful, but that is an exception. Try to find a model that fits you best – 3-4 interior pockets is probably enough.
Carry Mode
While a sling backpack is supposed to be carried by the shoulder strap, some models have additional handles. It is not uncommon to fund a bag with a handle on the top or side. This makes it possible to carry it in your hand like a suitcase, which, for some people is more convenient.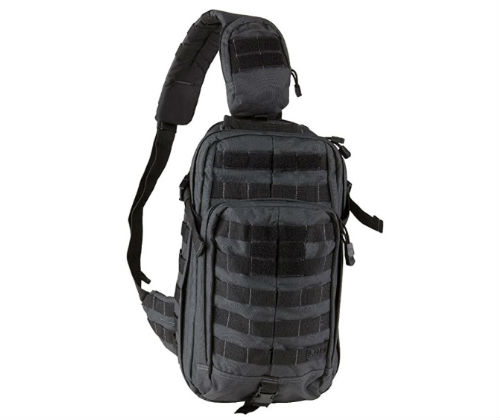 This bag is made of 100 percent nylon, which makes it very tough and durable. This is a tactical bag, and the military actually uses this model.
The nylon is 1050D, which makes it very tough and thick. However, it weighs only 2.6 pounds – this is not much, especially for a bag of its size. It holds up to 18 liters, which puts it among the biggest models.
The bag also has a few pockets on the outside, a few of which have zippers and are meant for holding small things you need to access often.
The inside has a few pockets too, in addition to a hydration port.
The backpack has two carry modes – a handle and a shoulder strap that is padded. The padding is soft and will alleviate muscle strain from carrying the bag.
More than 90 percent of reviewers say this bag fits them and generally works well for them
The multiple pockets are very convenient, and some even have zippers
The bag is very ergonomic and easy to carry – it works as an excellent EDC bag
The bag is pretty heavy, because it is so thick and sturdy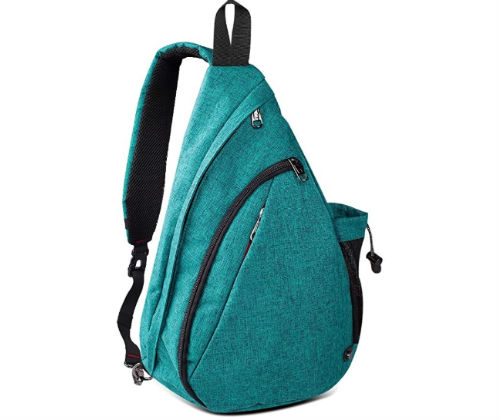 This bag with a 12-inch shoulder drop is a good option for any setting and season. It works equally well for traveling, urban exploration and hiking. The bag has room for a notebook with a screen diagonal up to 12 inches, and a camera. The entire bag weighs only one pound, and that makes it one of the lightest.
The nylon material, of which this bag is made, is both sturdy and light. The bag has a number of pockets for organizing small items, as well as a hidden one that helps prevent theft. You can put money or important papers in this pocket.
The shoulder strap is reversible, and if you are left-handed this bag will work no worse for you.
The model is provided with a 6-month guarantee.
The anti-theft compartment works well for protecting your valuables and keeping your money safe
The shoulder strap can be moved over to the other side, for left-handed people
Very versatile design that fits any style
The interior compartments are shallow, so things could fall out of them and get mixed up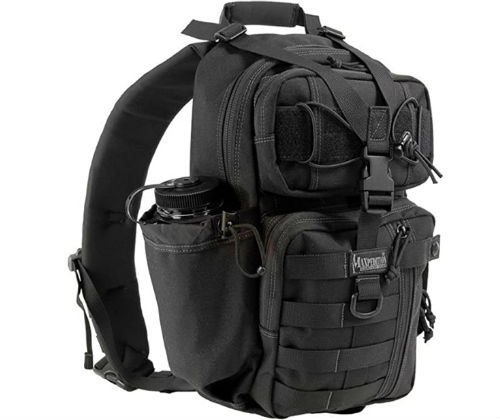 This is a nearly indestructible bag with a volume of 10.1 liters. The Gearslinger bag can be quickly swung to the front of your chest to make it easier to carry.
The bag has a comfortable strap for the shoulder, a top handle and a side handle. The water bottle pocket on the side of the bag is meant to hold a 32-ounce bottle.
The nylon fabric, of which this bag is made, is resistant to abrasion and complies to military standards for ballistic cloth. The 1000D cloth is also water-resistant – it is covered with a polyurethane solution that helps shed off water.
The zipper pulls are made of paracord and are easy to find and grip.
All the points that receive a lot of stress are double stitched and reinforced by additional layers of fabric.
Will shed off water and keep all of your belongings dry, even under a heavy rain
Very tough and durable materials – will stand up to any kind of damage or weather
Will hold a large water bottle, and thus will be very useful in hiking
Many of the inside pockets are almost flat, and so will not work for bulky stuff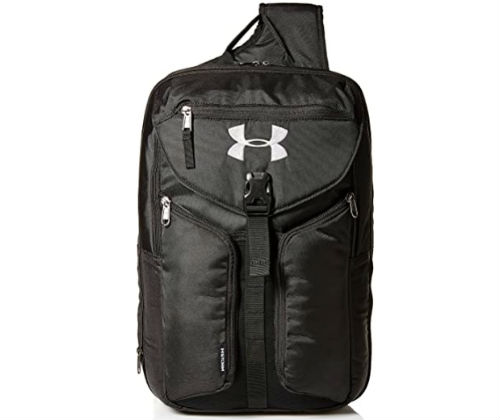 The bag is made of 100% cotton fabric. The main compartment is closed by a zipper. The height is 18 inches and the width is 12 with a shoulder drop of 18 inches.
The model holds a laptop with a 15-inch diagonal. The padded interior will help you protect the notebook inside.
The front pocket is zippered and it helps with organization.
The bag is very waterproof, and it offers a good protection against rain and humidity. It will stand up to a heavy rain without a drop of water getting through.
The padding on the back is pretty thick and soft, and it is, nonetheless, very breathable. You will not feel overheated or sweaty, even on a warm day.
Very good waterproofing, the stuff inside will remain dry even after a heavy rainstorm
The bag is great for carrying a notebook, and the padding and waterproofing help a lot
The bag is very comfortable and ergonomic
The massive brand logotype looks too showy and unusual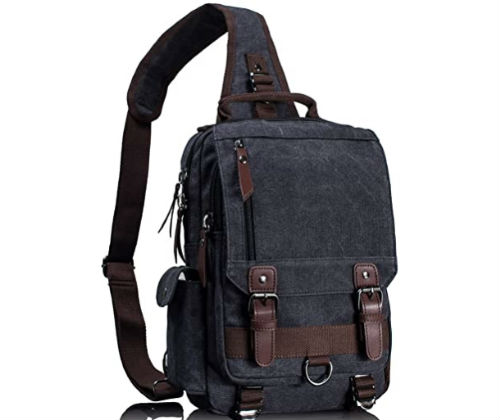 This backpack closes with buckles and is only 14 inches wide. This makes it a very compact and portable model. The backpack fits a laptop with a diagonal of up to 13 inches.
The bag itself is made of a tough canvas, while the inside is padded and is made of a softer and flexible material.
The backpack has decorative leather inserts and looks very stylish. The weight is only 810 grams.
The bag can be carried with the shoulder strap or with the top handle that allows you to hold it like a purse.
The bag is rated as a unisex model, good for any age and fitting almost any style.
There is a mesh for a water bottle on the side of the bag.
Fits a small notebook and will also hold a smartphone and many other things
Very durable materials – both the leather and the canvas parts are tough and light too
Available in a wide variety of colors, both classic and vivid
The water bottle mesh is pretty light and may tear if you push on it too hard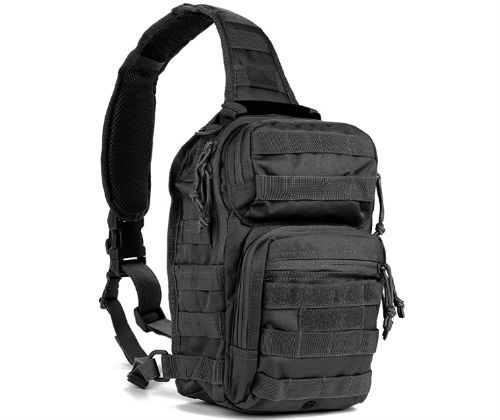 This bag is made of 100 percent polyester – a versatile material that will hold up before weather and damage.
The pack weighs only one pound, so it is one of the lightest. Even though it is pretty cheap, it is robust and will last you a very long time.
The pack will fit a tablet with a screen up to 10 inches in diagonal.
The ambidextrous strap helps you carry the bag, because it is padded. The adjustable length also lets you fit the bag to people with different body size.
The back panel is equipped with a hidden pocket. The bag is available in a wide variety of military colors – desert, camo, coyote and navy, among many others.
Overall the bag is very tough, and it is made of 600D polyester with PVC coating that makes it water resistant.
The bag is very robust and the stitching will hold up even if you overload it and stretch it
The weight of this backpack is extremely small, and it just weighs a pound
The price is very low, and the bag is great for the price
The coating material inside has a tendency to flake off after long use
Conclusion
A sling backpack is a good investment, because it is a small and portable way to carry all of your necessities with you. Being not as bulky as a regular backpack, it is better for trips on which you expect to take little.
Now that you know of the qualifiers for a good backpack, you can be sure you will buy a good model with the right specs.