Top-5 Sleep Masks Demanded Worldwide. Ultimate Buyer's Guide
Tried lots of eye masks but none of them made your sleep good? This Top-5 best sleep mask review will encourage you to get the one you need.
[toc]
Best Rated Eye Masks For Sleeping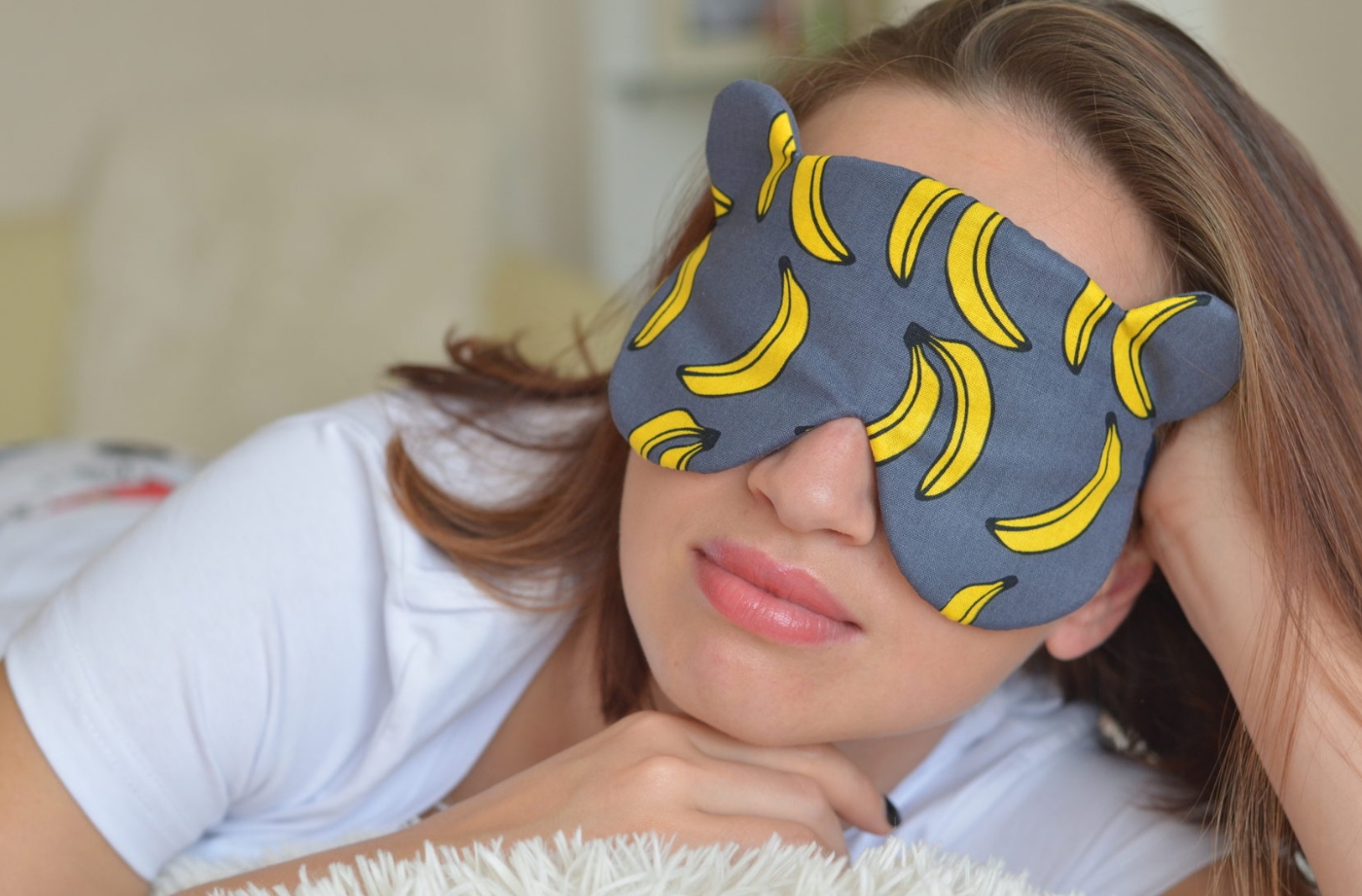 Whenever I see tons of articles about the benefits of a sleep mask, I have only one question: why the problem with sleep is still not resolved? We got thousands of internet offers with detailed recommendations on how to use the mask for better sleeping, how to choose the best sleep masks. So it's not about the mask at all, it's about how effective it is. I began to be more interested in this topic and found out that sometimes, the reason for poor sleep is the mask itself. After a meticulous study of this product, I have come to some important conclusions concerning this topic. My desire to share experience in mask selection is so great that I have made important recommendations in my review.
What we should know
Why do we ever need sleep masks? Scientists actively advise us to sleep in full darkness, but if sleep isn't going on, darkness has to be strengthened: like hanging tight curtains or turning off all gadgets. Why? The fact is that at night our body produces melatonin. It is essential for regulating daily rhythms and good immunity. The more darkness you have in your room, the more melatonin you receive. Even with closed eyelids, the retina still distinguishes light, so it is very important to sleep in utter dark. The deficiency of melatonin accelerates the aging process and the immune system becomes weaker. That's why we need a sleep mask.
What is a sleep mask? It is a kind of eye dressing, providing limited access of light to the eyes. Perfect blackout can be difficult to achieve. For example, when you have to sleep during the day or in transport. Or when a bright lantern peeps off the street into your windows that don't have curtains… If you can't turn off the lights, why not close your eyes with a blindfold?
What benefit do we have from a sleep mask?
restricting light access to your eyes, which could wake you up in the middle of the night or affect sleep cycles.
helps you sleep in an unusual environment like train, hotel, hospital, waiting room, where sharp changes in lighting are not excluded.
supports in adjusting biological rhythms — for example, while flying to another time zone or when switching to summer/winter time.
removes fatigue from your eyes — you do not need to strain to keep your eyelids closed. And you quickly get used to the mask so even stop noticing it. (When the alarm goes off, don't be surprised why it's so dark around.)
allows you to choose your own sleeping time — for instance, if you sleep during the day or don't want to wake up with the first rays of the morning sun.
Tips for selecting a sleep mask
If my arguments upon the necessity of sleep mask were convincing enough, we can move on. So, you want to purchase a mask and you need advice on which one is better, and what types of masks could be. What you have to do first is to get rid of the mask given on the plane or in a hotel. Oftentimes, those appendages are produced of substandard materials, 'cause they're designed for disposable use. Now let's check out the main criteria, on which your right choice depends.
Material
It's recommended to prefer only pure organic fabrics. Cotton is an absolutely organic textile, performs efficient air-permeability and hypoallergic properties. A silken sleeping mask is good for touch with a tender face surface, brings pleasant chill when it's hot. The Colour doesn't matter.
Shape
The way it looks is obviously a prerequisite, particularly if you traverse a lot, it comes to be your compulsory appliance. However, beware of handcrafted suggestions. Handicrafters mostly concentrate on expressive design, forgetting about its actual intention. While acquiring sleep masks, you should utterly refer to verified stores specializing in this item.
Filler
Quite significant that materiel is non-chemical and air-permeable, it must be thick enough to keep illumination out. The bamboo filament would be great. There're masks stuffed with special gel inserts for additional relaxation effect. Such insert meant to be put into the freezer before use.
Fastening
One of the exceedingly crucial constituents in selecting a sleep mask — straps. Each fabricator presents his own option: ribbons, rubber bands, and so on. Bands hardly perform comfortability to ladies with lengthy hair, during the night it's fraught with hair-twisting. Best way to drow attention to vast rubber bands with retainers, permitting to regulate measurement. It'll make the mask match in size and prolong its life by slight tightening, in case of rubber stretching.
Picking up a mask for sleep ain't always easy and in most cases, you have to overrun a bunch of offers before you encounter your desirable one. And if standard masks offer permanent dimensions of fabric surfaces with usual rubber band adjustment, there are some that'll surely astonish you with an extensive variety of methods to fit your face contours.
That's what you should take into account while choosing a mask for sleep:
minimal decorative style;
only additive-free materiels: floss, cotton, batiste;
Select the item with the possibility to regulate the rubber band — strapless type or velcro;
neoprene shouldn't be too tight;
These guidelines will help you choose proper eye mask. Health-giving sleep certainly come back to you and morning rise won't be agonizing.
Top-5 Sleep Mask Reviews
1. DREAM SLEEPER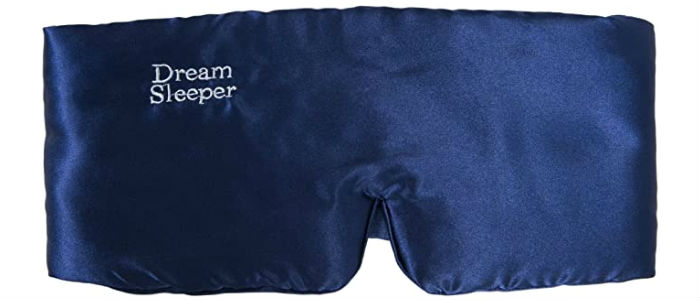 Pros
This mask performs excellently for its purpose. It might be even called the best in terms of quality and cost. Price is quite affordable, standard design, stitched smoothly of good materials, soft and dense, blocks out even the brightest sunlight. It's not a bad option for trippers and those who like sleeping too long. So if you need a simple, but the convenient option, it is worth considering this mask. Dream Sleeper Mask is made of silk satin, which in turn is an elite material. Characterized by such properties as brilliance, softness, and smoothness, very pleasant for touch. This mask has no indication of the owner's gender, suitable for any head size, and endures washing well.
Cons
I've analyzed shortcomings: not intended for use in a warm room. In summer, when air conditioning was on I had no experience of discomfort. But in a well-heated room, my face used to get covered with sweat afterward, which disturbed eyes pretty much. As a result, had to wash it after each time of use.
2. JERSEY SLUMBER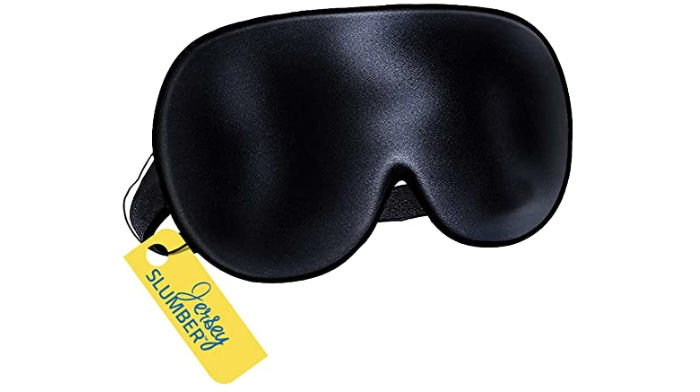 Pros
The mask hitched by an elastic band, tightly adjacent to face and comfortable in any position of the body. Suitable for sleep, relaxation, meditation, and yoga. Ergonomic shape model fits perfectly on the head, protects eyes from the light, but at the same time, does not press anywhere — it is almost weightless, thus your sleep will be especially fast. Manufactured of soft fabric, velvety for touch, however, dense enough to prevent light penetration. Handy clasp helps you regulate the fitting levels, adjusting the mask to any size of the head. Made a hundred percent of silk. A peculiar feature of Jersey Slumber is that it lets you nap with a minimum amount of friction on countenance, eyelids, eyelashes. Ideal to use both day and night, because it totally darkens shimmering light.
Cons
My personal conviction states that the product meets all the requirements for good sleep. It is difficult to say that this mask will satisfy everyone, perhaps there will be those who express dissatisfaction about the size. Each one has an individual head size, so all of the above can be useless. Anyways, an objective assessment will be possible after try-on.
3. ESCAPE sleep mask by Dream Essentials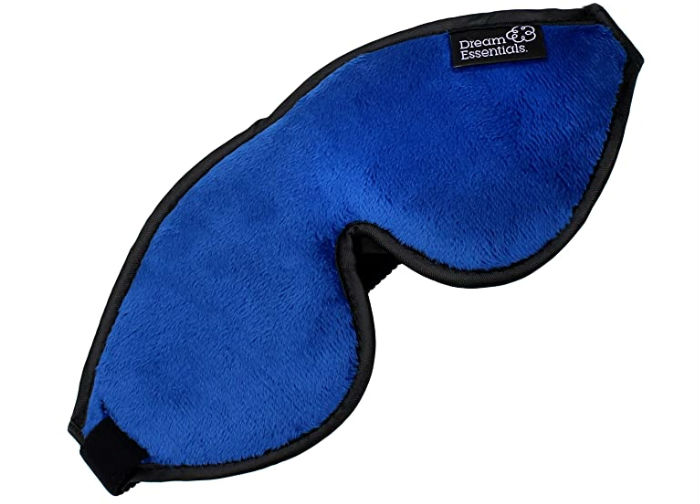 Pros
In other words, the Escape mask is called the "Secret of Healthy Sleep." Dream Essentials has presented a unique version of an eye mask for men and women. It is soft and compact, and therefore ideal for globetrotting. Equipped with a rather delicate fastening that does not compress head and squeeze the hair. The inner side is fabricated of cotton, whereas the outer side is produced of plush. There are additionally special recesses for the eyes so that no pressure on them is expected. Manufactured in such a way that eyes themselves do not touch the inner surface of the accessory. Therefore, it's very comfortable during dormancy, regardless of day time.
Cons
Despite all the positive points, this option remains unfit for wear and tear. It would never be called long-lasting. You generally have to wash it manually and dry it without using technical accessories. Only proper care can allow it to be used for a longer time.
4. FOMI's Gel Bead Eye Mask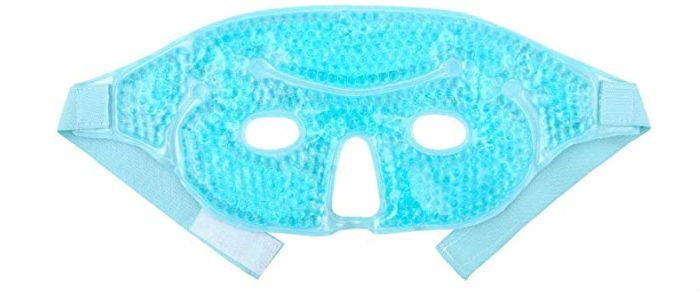 Pros
FOMI eye covering can be called a combination of innovative technologies with health care. This kind of blindfold relieves eye fatigue and guarantees relaxing sleep. Key quality, of course, is the cooling effect caused by special gel beads inside the product. Hold on! It's able to heat as well, the same beads are universal, their application depends on what purpose we are going to use them for. If air temperature gets low, then for eyes preferably a warming effect. In this case, you need to put a mask under hot water for 15-20 minutes and thermo effect provided. If you suffer from heat, the right solution is to put an accessory into a freezer before going to bed. Relieves stress and anxiety.
Cons
It should be remembered that gel-substance has its expiration date, not recommended to use it after that period. If gel gets clouded, the mask becomes too firm — it's time to replace it. There are also counter-indications. Because of heating effects, it's not advised to be used by those who have skin diseases. People with epidermis ailments should see a dermatologist for a consultation. Perhaps its effect will be approved by doctors, otherwise, it's better to refuse.
5. ALASKA BEAR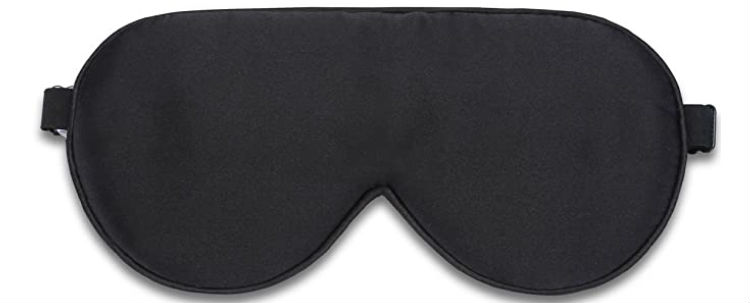 Pros
Natural Silk Sleep Mask produced of 100% mulberry on both sides and has an easily convertible band that lies right on the back of the head. The company says it can help with problems such as insomnolence, hemicrania, and dry eyes, thanks to breathing hypoallergic silk. The mask is a bestseller, which means it's rather impractical to doubt its feasibility. On the one hand, it costs only ten bucks, but checking out never-ending users' reviews, I've realized that sometimes low price demonstrates higher quality. In addition, it is versatile, suitable to sleep at home, on a plane or train with the lights fully turned on. Undoubtedly, Alaska Bear belongs to Best Sleep Masks.
Cons
Due to my personal sensations, I can definitely state that the absence of clear contours creates little pressure on somebody's eyes. Lashes are too tightly pressed against the mask, and if you loosen clasp, it shifts from the face during sleep.
FAQ
Being immersed in research on sleep masks benefits, I heard a few negative statements towards these products. No one doubts about the usefulness of this accessory, but having once bought poor quality products of an unknown brand, people often stigmatized all other masks. That is not right. One must rely on common sense and listen to those who were luckier in mask purchase. Disadvantages can be attributed to a common factor — slides, and rubs. Such inconvenience can affect the decision to stop wearing it. If you twist frequently in bed, you can wake up without a mask.
Perhaps the problem will be solved by selecting another size or shape. Since the mask periodically touches the face, skin fat accumulates on its surface. This is can cause acne and other skin problems, so it must be washed with other things once a month or more often. In special sheath or without it. Sheath preserves mask decorations, fresh look, and soft frame. I'll try to answer the most frequent questions.