Sandals are a kind of universal footwear for warm climates. They breathe well, preventing your feet from sweating, and offer some basic protection.
Sandals are also stylish, if you select them correctly, and can be worn almost anytime, except when it is cold outside. In this article we will talk about what makes a good pair of travel sandals and review the best models on the market.
What are travel sandals?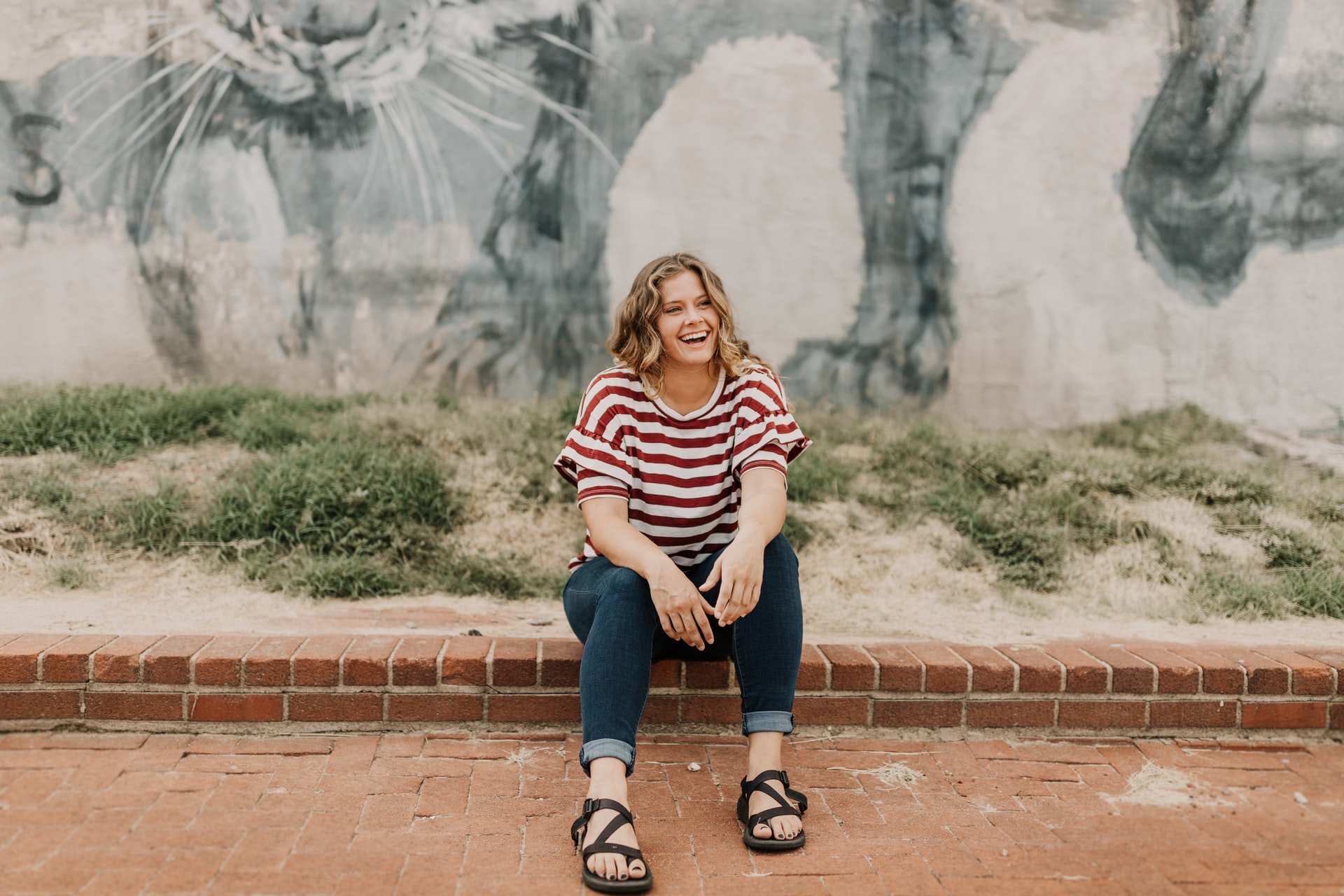 Travel sandals are sandals that are built to last a long time and resist most kinds of damage. They always have a thick sole that will stop puncturing and cutting. Travel sandals should also be light enough to not overburden you when you walk for a long time.
Why do you need them?
You need these kinds of shoes if you are going to travel for a long time in a warm climate. Such sandals will be also good if you are traveling for leisure – they will not be a good kind of footwear for a business trip.
So, if you are planning to go on a trip to a resort, to a warm country or are traveling for pleasure, then travel sandals are a definite thing you need.
What makes a good pair?
There are a number of qualities that make a pair of travel sandals good for buying. We will discuss the main qualifiers.
Material
This determines how long they will last, how they will feel on your feet and how much they will weigh. For sandals there is a wide range of possible materials, both synthetic and natural. All have their pros and cons, so it is hard to pick a particular material that is the best.
Try to find a material that will be water resistant and that will not accumulate odors and humidity. EVA is good for this, and in addition it is light, which makes it a material most large manufacturers use a lot.
Weight
Weight is also important, because you do not want to have heavy shoes when you are walking a long distance. Also you will not want a pair of heavy shoes in your travel luggage. So a small weight is best. Nonetheless, if your shoes are too light, they might be made of a weak material.
Design
This is also an important qualifier, because sandals are bought for leisure, and you must always look good then. See to it that they conform to your overall style.
Comfort
This is no less important than the other qualifiers, because it decides how long you can walk around in these shoes without experiencing discomfort or abrasion. This is a qualifier you find in user reviews, because only they can tell you the truth.
Purpose
Some people may want to take the sandals with them to travel in – to walk on the streets of a city they are visiting or on a beach. Others may wear some other kind of shoe and take the flip-flops with them to put on later.
Depending on what you will use the sandals for, you may choose different models for different purposes.
Now that we have seen the qualifiers for a good pair of sandals, we will review the best models on Amazon.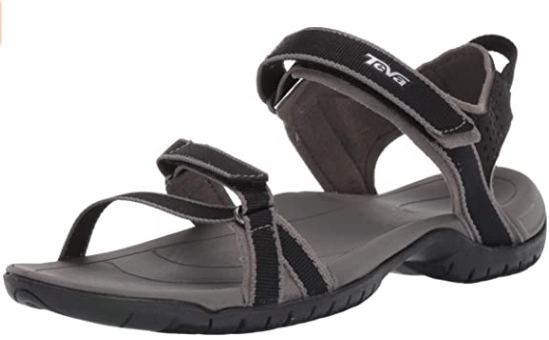 These sandals with a thick rubber sole offer great protection for the foot and can resist any kind of abrasion. The soles also give excellent traction and you can even run in them without difficulty.
The polymer top of the sandal is resistant to water damage and will dry quickly if it gets wet.
The inside of the sandal is covered with a soft and comfortable fabric lining that is both breathable and tough. It will last a long time and all the while will keep your foot dry and aired.
The inside lining is also treated with a zinc-containing antibacterial solution that keeps your shoe from growing bacteria. It also helps prevent sweating.
The lining is very comfortable and makes this shoe very well ventilated
Fit very well, offer good support and, as a few reviewers remarked, help you overcome sprains
Dries quickly if you get it wet
In many cases the shoe turns out to be just a little too long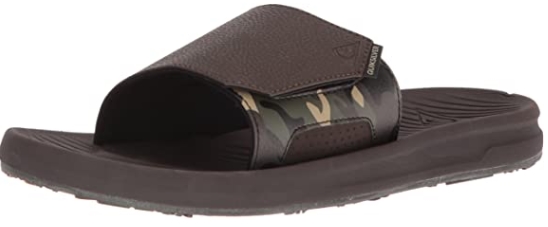 These men's sandals have a tough rubber sole and are built with a simple, but very usable shape. The travel loop on the heel of the shoes allows you to quickly attach them to a carry device and take them with you wherever you want.
The outside is made of gum rubber, which is both tough and reliable, and also offers great traction.
The textile lining is both soft and robust, it gives your feet adequate ventilation and keeps you from sweating.
The toe post is made of memory foam, so it takes the shape of your toes in order to remain comfortable forever.
The shape of the footbed is built with great detail to be anatomically correct. The top of the shoe is water-resistant, so the entire thing will last you a very long while.
Simple construction that allows it to fit almost any kind of foot
Every reviewer noted the excellent traction the sole offers on any surface
The clip on the back is very convenient
They are pretty expensive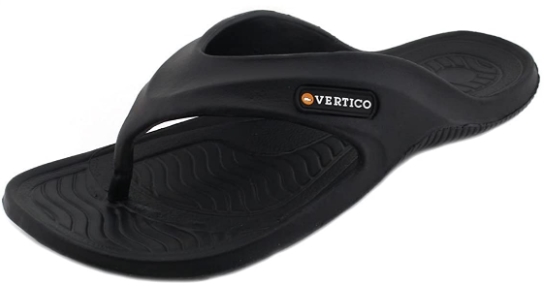 This is a cheap and universal model that is good for walking around in a wet place. It is not optimized for walking long distances, but is just the thing to take to a shower, beach or pool.
The model is built for travel – it is a small and portable sandal that weighs almost nothing, dries quickly and slides on easily.
The composition of the shoe is pore-free EVA rubber that absorbs no water and thus does not allow germs or fungi to grow on the material. This also prevents any kind of irritation on your feet like ringworm.
The bottom of the sandals is built to prevent slippage, so you are much less likely to slip and fall in a locker room.
Fit just perfectly almost every time
The texture is pore-free, so the shoes do not accumulate water or fungi
They do not shift around on your feet when you walk
The shoes do not work for walking a long time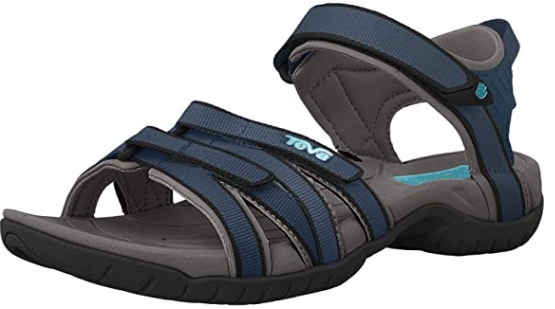 This sandal is made of 100% synthetic cloth and has a rubber sole that offers great traction and allows you to walk and run even on wet surfaces.
The polyester top of the sandals dries quickly and does not retain water or dirt. This prevents fungi from growing in it.
The sole has a nylon shank going through it, and this stabilizes your foot if you are walking on a rough or uneven surface.
The rubber sole is sturdy and long-lasting, while the outside of it is resistant to abrasion.
The footbed allows you to keep your arch in a natural position at all times.
The closure loop with the hook closure is convenient and easy to adjust. The inside surface is treated with antibacterial solutions that also help reduce odor.
Very good customer reviews, with over 90% satisfied customers
Stylish look that fits any dress
Fits well every time and holds on to your foot
Require a breaking in period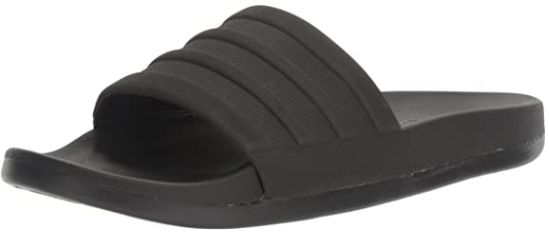 This is a wildly popular model with a recognizable design, and it is popular both with women and men. The fully synthetic shoes are resistant to water and do not accumulate humidity. The footbed has a lot of work put into it, and is constructed in a fully anatomic form, so this shoe will be very comfortable to wear.
The outsole is made of injected EVA rubber that is very resistant to any kind of wear.
The footbed is soft and at the same time it keeps its shape when you are walking. Users report that this is a very comfortable feeling that reduces stress on feet. This is because there is soft synthetic foam between the bottom and top layers of the sole.
The shoes are available in multiple colors and patterns, and look stylish with any outfit.
Soft and very kind to your feet
The material does not accumulate water and keeps fungus from growing
Almost always fits your foot
Some reviewers say it flops around when you walk – this is if you get too big a size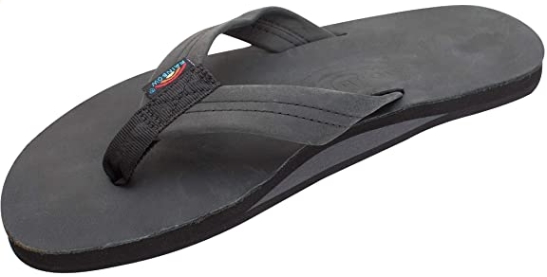 These sandals have a top made of quality natural leather, so that makes them both very lasting and also stylish. The leather is premium class nubuck leather that is harmless for the skin and pleasurable to wear. All parts of the shoe are double-stitched, so that it will last a long time and resist damage well.
The toe part of the shoe is made of nylon, which is good at resisting abrasion and also helps the shoes keep up for a long time.
The model can be purchased in a variety of color schemes, and all of them are stylish. Just pick the one that fits the color of your clothes.
The soles are made of a double layer with a soft pad of foam between them.
The brand gives you a lifetime warranty on these sandals
The model is stylish, and the embroidered logotype makes it even better and more recognizable
These fit very well and are pleasurable to wear
The model is pricey, just as you would expect a premium model to be

This model has a simple universal style that makes it fit for both men and women.
The unique composition with the patented foam layer inside the sole allows these sandals to be very soft on your feet, absorbing up to 37 percent of all the impulse your feet receive when they hit the ground.
The shape of the footbed allows your arches to get rest as well, and all of the joints in your feet will get a lot of stress taken off them. Even your knees will feel the difference.
The model is also interesting for being machine washable.
The material of the inside is resistant to both bacteria and moisture, making it a good shoe to wear to a beach or pool.
Does not retain water and prevents fungus from proliferating
Reduces impact and stress on all joints in your foot and leg
The unisex style lets both men and women use the same model
The shoes are comfortable, but they look too simple and some people even call them ugly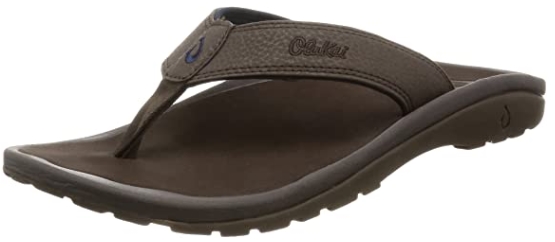 These shoes, made of quality EVA plastic, have a top built of neoprene and nylon, while some separate parts of the sole are made of sturdy rubber.
The lining is Jersey-knit, and that makes it breathable and lasting. The outer part of the sole is made of gum rubber that does not rub off and leave marks on the floor. The sandal weighs only 8 ounces, making it great for travel. The liner dries quickly if submerged in water, so it will be fit for swimming or beach walking.
The neoprene synthetic leather is very resistant to water damage and is decorated with the brand logo.
The high-end neoprene leather is both sturdy and water-resistant
Very comfortable fit – you will not even notice you are wearing them
The materials are all very sturdy and will last you very long
Conclusion
Travel sandals are a great thing to have if you are traveling to a resort country. Even though they may not be much use on a business or work trip, they are good for any other kind of travel, because you will encounter situations where you would rather have them.
If you expect on going to a beach, taking a slow walk in a warm climate or going swimming, then travel sandals are one of the things you should buy right now, because you will definitely need them.
So, if you are putting together a list of things to buy for your next trip to Thailand or the Carribean islands, then travel sandals should be on that list. And you could also invest in a pair if you are just looking for a pair of light and comfortable shoes to wear when you go to the pool.