Travel With Comfort: How I Choose A Crossbody Bag
Whether I take a short trip to the nearest town or a two-week journey abroad, it's always good to have necessities at hand. Backpacks and totes can be useful, but what I like best – crossbody bags for travel.
I see them as a more practical and secure way to carry things. Personally, I prefer a crossbody bag that doesn't look like tourist stuff, while you can choose anything you like from multiple options offered by market.
What is a crossbody bag for?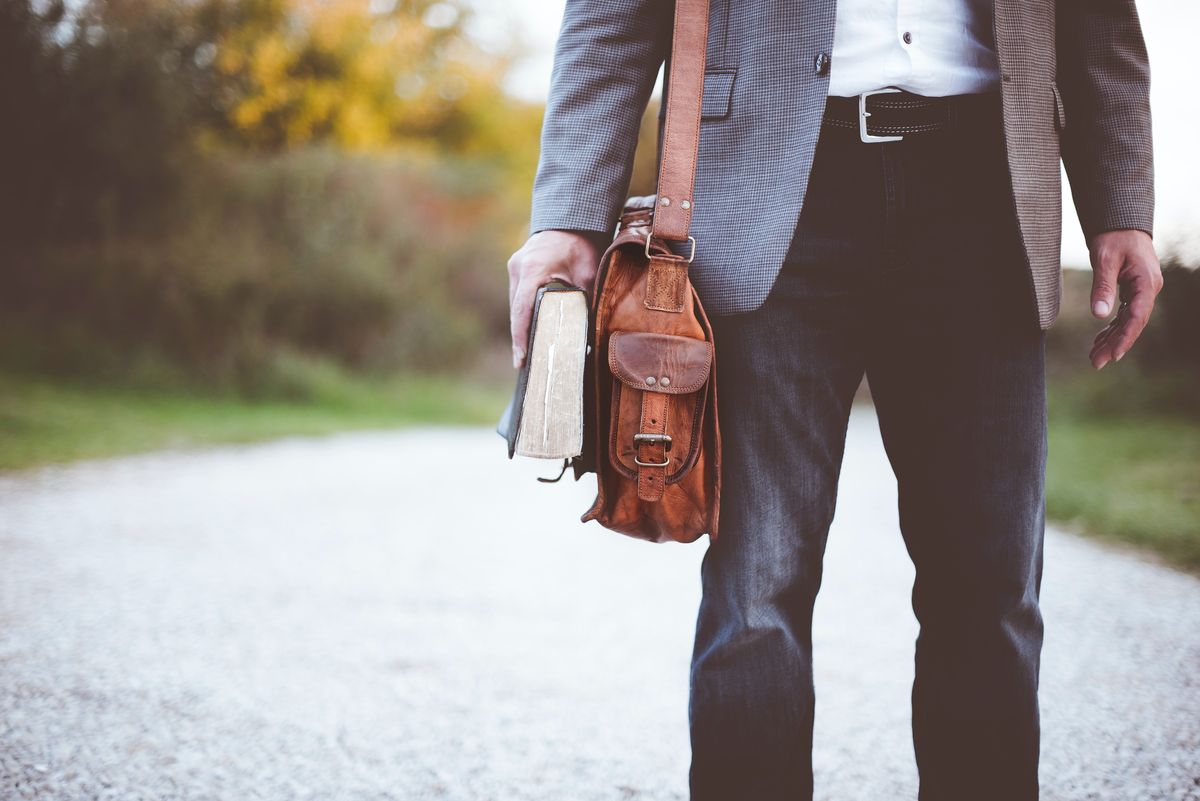 First handbags date back over 5000 years: they were made of leather and used for carrying coins. [1] As to crossbody bags, they became popular with ancient Greeks and Romans, and then with 17th century Europeans. Modern bags can be made of all types of materials, natural or synthetic.
Reasons to have a crossbody bag for travel
I really enjoy buying a new bag when I head off to a new adventure. If I want to explore places I've never been before I need to feel stylish and organized. Let me offer you a little help in justifying your choice of a crossbody bag for travel.
Comfort
A crossbody bag is easily swung around without removing but it could never slip from my shoulder while I'm searching for a passport or money. It provides comfort if I carry bulky things.
Secure
I suppose you get more worried in unfamiliar environments as much as I do. And it becomes really important to protect your money, passport and other necessities. Anti-theft models ensure all the security.
Versatile
Choose a new crossbody bag carefully and you may have it with you everywhere in your travels. Some models are easily changed into backpacks.
Handsfree
And what is most important, my hands are free and nothing restrains me while I'm exploring new places and looking at maps. Plus, I just love taking photos of almost everything I see. Choose a crossbody bag and forget about distractions.
Types of crossbody bags
I will make your choice easier and tell you about different types of crossbody bags available in the market so you could buy a model most fitting your travel needs.
Sling
Sling is a type of bag originally designed for postal workers. In the 19th century it was called a 'messenger bag'. [2] These days we effectively use sling bags in travels: they are compact, fashionable, versatile and comfortable.
Clutch
Clutch is a perfect bag for walks in the city. It's compact and well-designed. You can find different types of clutches within the market, from tourist and sport models to elegant and glamorous ones.
Hobo
Hobo is a shoulder type bag of a crescent shape. It provides comfort and allows to carry a lot of things. You can find a wide range of fashionable models made of leather, cloth and other types of materials.
How to choose a crossbody bag: some tips
Practical fabric
Make sure it does not get dirty easily and can always be cleaned with a wet wipe or anything else handy. You also don't want any weak straps and zippers – so choose carefully and check everything. Best travel bags are made of water-resistant materials. Leather and nylon are most practical and also look good.
Space inside
Consider the size carefully: a crossbody bag should be spacious enough to fit all your important items and comfortable enough for you to carry. I choose from the options that have space for my wallet, passport, phone, laptop, daily essentials, a water bottle and other small things.
Security
A safe crossbody bag should protect you from pickpockets as well as from losing things by accident. You can choose from a plenty of stylish options made of slash-resistant materials.
Comfortable weight and size
You need to make sure your new crossbody bag is easy to carry and doesn't weight a ton. The best option is light fabric and accessories. If you travel by plane and use your crossbody bag as a personal item, please keep in mind that some airlines have strict baggage weight instructions.
Adjustable strap
The length should be enough to provide comfortable moving. Also think about how a strap would feel if you are wearing a thin jacket or a thick coat. Adjustable strap is an important feature if it comes to best crossbody bags for travel.
Useful compartments
Having your belongings organized inside the bag is the best way to have quick access to them any time you need to. You may use smaller and bigger compartments to keep important items safe. It also prevents you from fumbling around in search of things.
Top-14 crossbody bags i recommend
I don't feel like putting them in positions 'from best to worst', I just want to bring a number of stylish and practical models to your attention.
Best versatile bags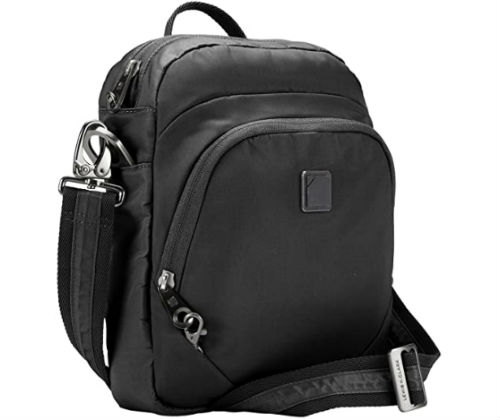 If you can't decide whether you need a backpack or a crossbody bag for an upcoming journey, you just can have both! The strap is creatively designed and provides you three different ways to wear:  crossbody bag, shoulder bag, or backpack. Internal pockets hold everything you may need in any travel. All zippers are easy and secure. There is a little pocket to hide each clip so nobody can open this bag when you're wearing it. Slash-proof elements are also very good. The bag is made of water-resistant nylon.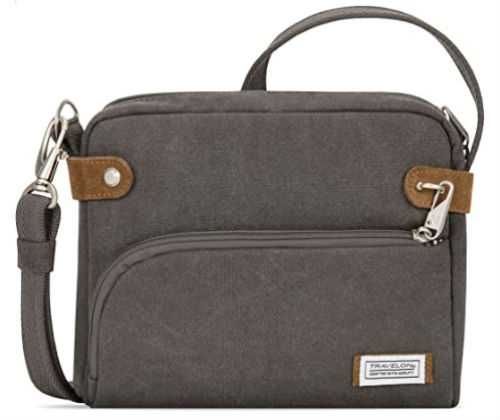 This bag is a perfect combination on style and safety. The fabric is cotton and canvas with suede trim. A number of different compartments are helpful in organizing your things. The bag is totally secure, it would be impossible for someone to open without you noticing. Anti-slash panels will protect you from pickpockets, and cable straps are designed to prevent grab-and-go situations. Two removable straps allow you to wear this model both ways: as a crossbody or a handbag. If you're looking for something small and mighty this model is your best choice.
Best crossbody bags for travel security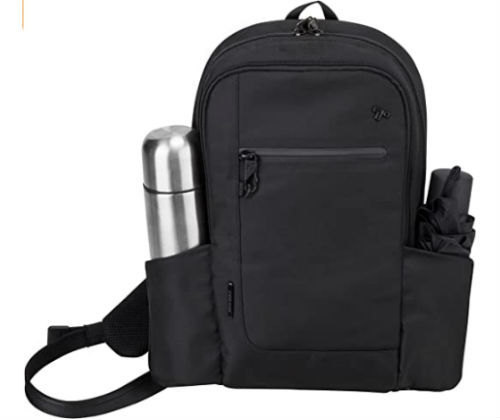 Are you the one to spend the whole day exploring new places? This bag was made just for you. It's not bulky and comfortable to wear, the sling strap is reversable to both shoulders. The bag has much room for your iPad, camera and everything you might need for a day. Lots of useful zippered compartments inside and outside will provide comfort and security. Two external pockets can easily fit a skinny water bottle and an average umbrella.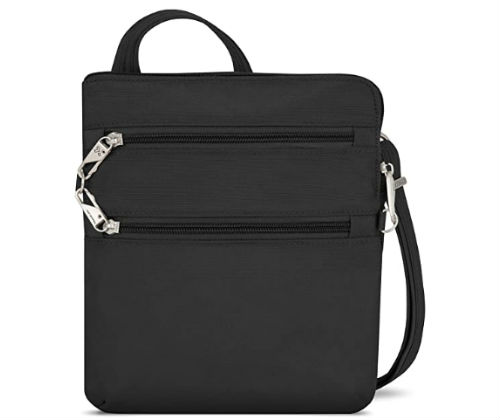 The bag is spacy without looking bulky, it can fit my smartphone, battery, passport, cards and other necessities. Compartments and slots make all things well-organized. I like two zipped pockets at the back. An adjustable strap is just long enough and comfortable to wear. Security aspects are really good. It's a stylish crossbody bag I would have not only for travel but also for a day-by-day use.
Best crossbody bag for business travel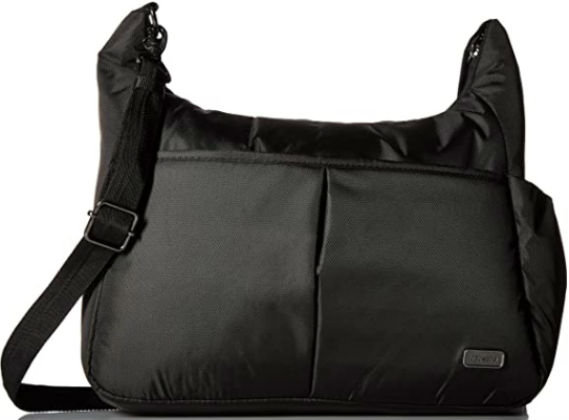 This crossbody bag is made for comfortable and protected use. Fabric is high density polyester which I find really practical for travel. The material has an advanced RFID system for extra protection from data stealing criminals. Zipper pullers are made in a way to be hidden or secured so nobody could unzip your bag too easily. One single strap can also be used for protection: just unclip it, wrap around a steady object and clip again.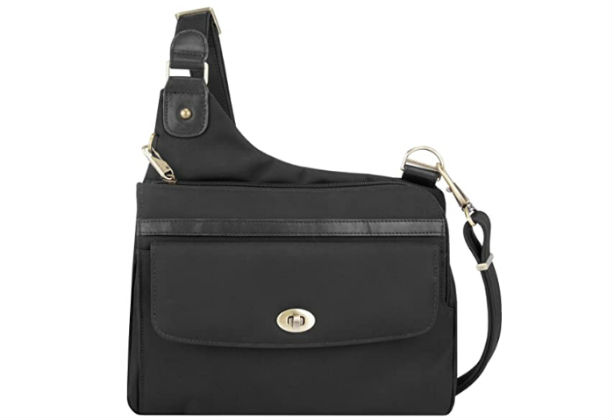 Fashionable and compact bag with slash-resistant features. It has a slash-resistant locking strap with strong metal hardware. Inside you will find a well-organized system of compartments and slots that helps get easily access to anything. Maybe you won't even need a wallet! Each compartment is perfectly safe with an additional zip locking. This is a kind of bag you can take with you to a restaurant or attend any other formal event.
Best designer crossbody travel bags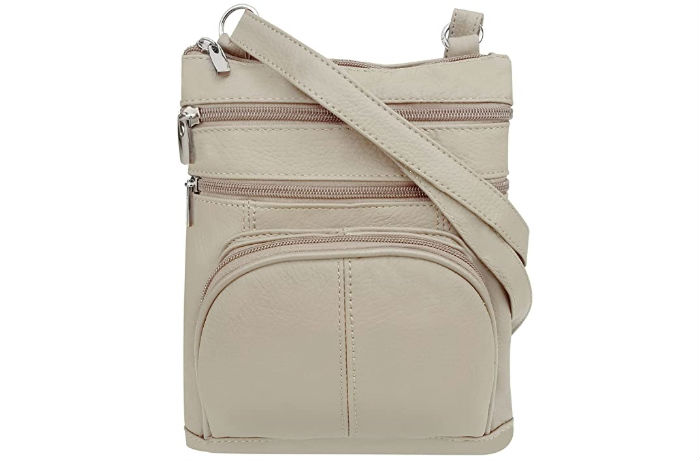 The model is made of genuine leather which makes it waterproof and solid. The bag comes in five different colors that is enough to go with your personal style. Inside and outside the bag you'll find several compartments of different size that provide comfortable and secure organization of your belongings. If you've been searching for something small, stylish and protected, I strongly recommend you to take a closer look at this one.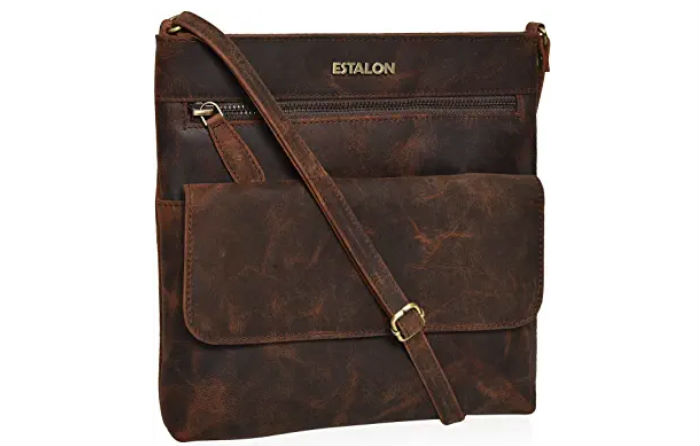 Do you like vintage things? I love them! And this is why this leather crossbody bag with smooth surface has drawn my attention. I like a big pocket at the back, it's spacious and secure. Inside this bag you'll find enough room to fit your iPad. Other pockets can be used for money, tickets, map, phone, daily necessities and other small objects. I can say this model is much suitable for short walks and sightseeing.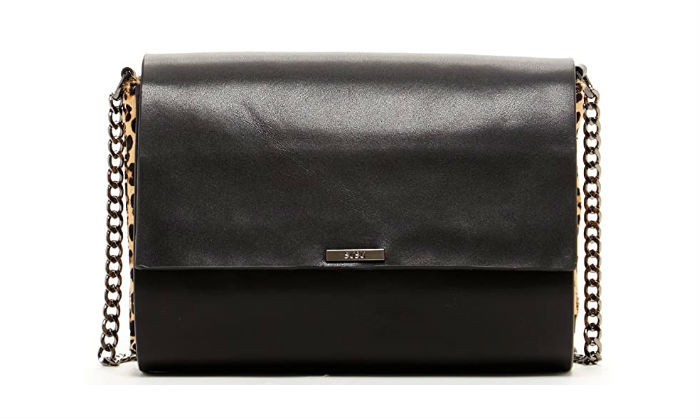 This clutch is a stylish traveling companion for a lady. It is made of leather, and I like the animal print accenting the black smooth surface. Classical design meets here functional details. Inside you will find two zipper compartments and a phone slot to organize all of your little things. The only disadvantage may be the lack of space for a camera and other larger things.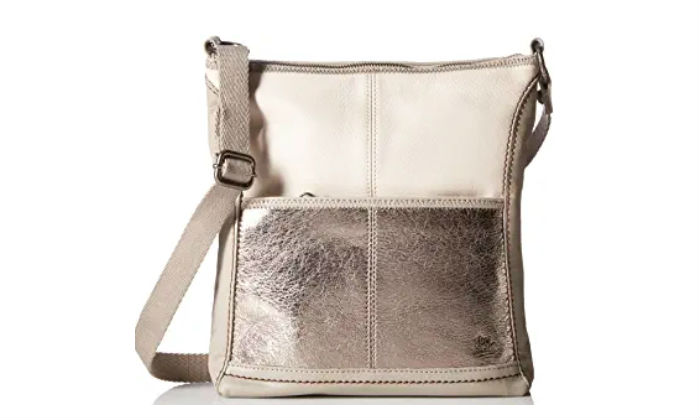 This stylish square bag is made of leather and polyester. It's good to have it when you go out. Space inside is large enough to fit phone, sunglasses, some daily necessities and even more. Two outside pockets are also useful.  The bag is well-made, zippers and other metal hardware is solid and secure. The strap is long enough and comfortable to wear.
Best lightweight crossbody bags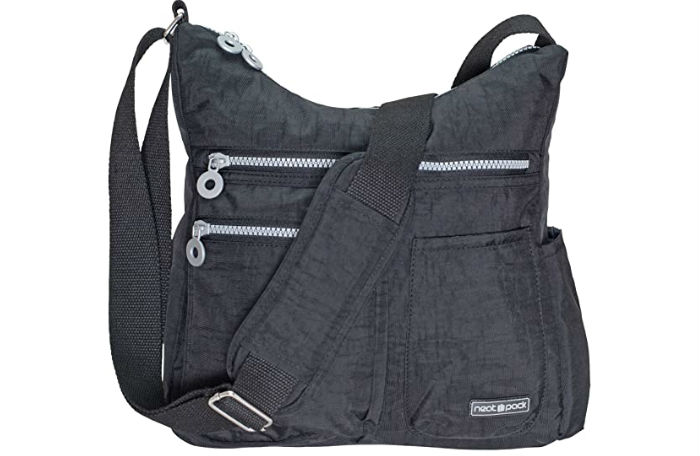 Are in search of most practical option? Do you want to make the best of your new bag? This model from NeatPack is made of strong nylon resistant to moisture and dirt. Adjustable padded shoulder strap is comfortable to wear. The bag is roomy inside and compact at the same time. A side pocket is large enough for iPad or Kindle. Zipper locking is safe and comfy to use. This canvas crossbody bag comes in three colors – 'Blue' is my personal favorite, stylish and universal.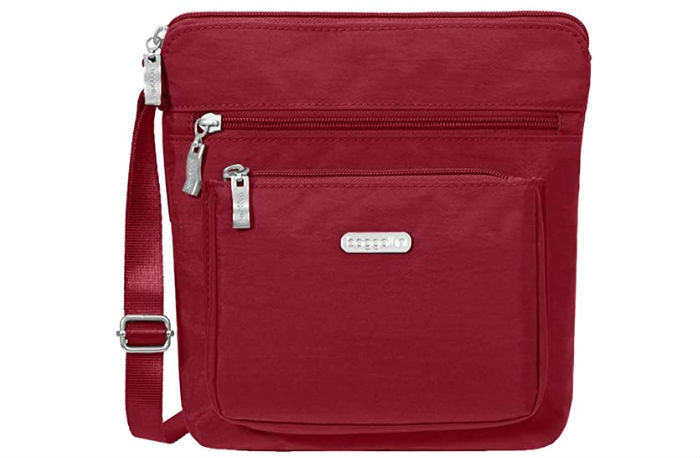 If you are in need of something practical and stylish, check out this model. It's made of nylon and comes in a wide range of colors. The bag is machine washable which is really important for me as I don't like my travel bags look dusty and worn-out after each trip. There is enough space on the inside for most needed things. You can also put them in three zipper compartments on the outside. I like a matching wristlet that comes with.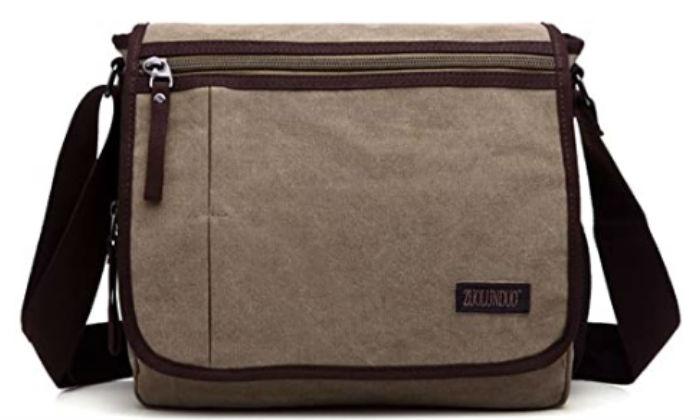 It's a canvas crossbody bag made of 100% cotton which makes it soft and comfy. Inside you can find enough space for your iPad or Kindle, as well as for wallet, phone, tissues, sunglasses and some other small belongings. It has good zippers and metal magnet locking. The model is compact and comfortable to wear – nobody would get hit while you're wearing it in the crowd. The bag comes in five great colors, each of them going well with casual and sporty casual outfits.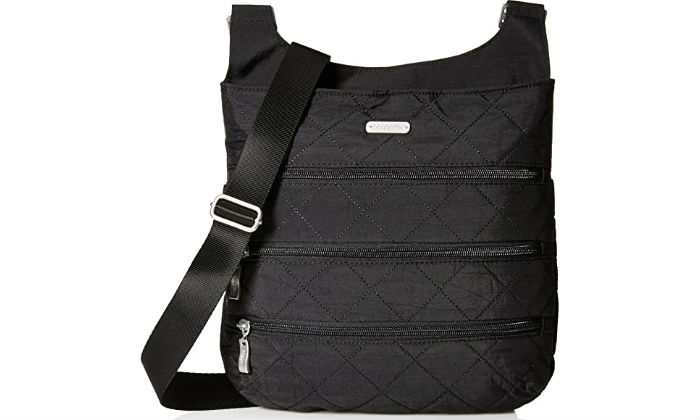 This bag is a lightweight and stylish option. Main zipper opens easily to show a variety of slots and compartments. This model may look thin and small but it has much storage inside. It's made of nylon that makes it feel soft and comfy. Your phone or tablet are safe inside and won't get much pressure. A strap is long enough so you can easily swing the bag from side to side. The bag has a RFID-protected wristlet that can be easily removed if you want.
FAQs about crossbody bags for travel