How to get Guangzhou from Hong Kong
Hong Kong Airport is one of the biggest asian airport and a lot of people who wants to visit China (especially Guangzhou) come to Hong Kong first. Since we came to China we have to leave the country every 3 month because of visa's rules, so we've made GZ — HK trip many times.
In this article I will tell how to get Guangzhou from Hong Kong.
First of all I'd like to tell you that you can get Guangzhou any time, doesn't matter what time of the day.
There are several options how to get Guangzhou from Hong Kong:
by plane;
by bus;
by train;
by ferry/boat;
through Shengzhen.
By plane
Easy as pie. You just need buy ticket from Hong Kong directly to Guangzhou. Price for plane ticket will be around 800 — 1500 yuan (rmb) depends on discounts, time and etc. ~ $200 — $250.
By direct bus (coach bus)
You can buy tickets in one of two terminals of book here: link.
Ticket windows are very easy to find: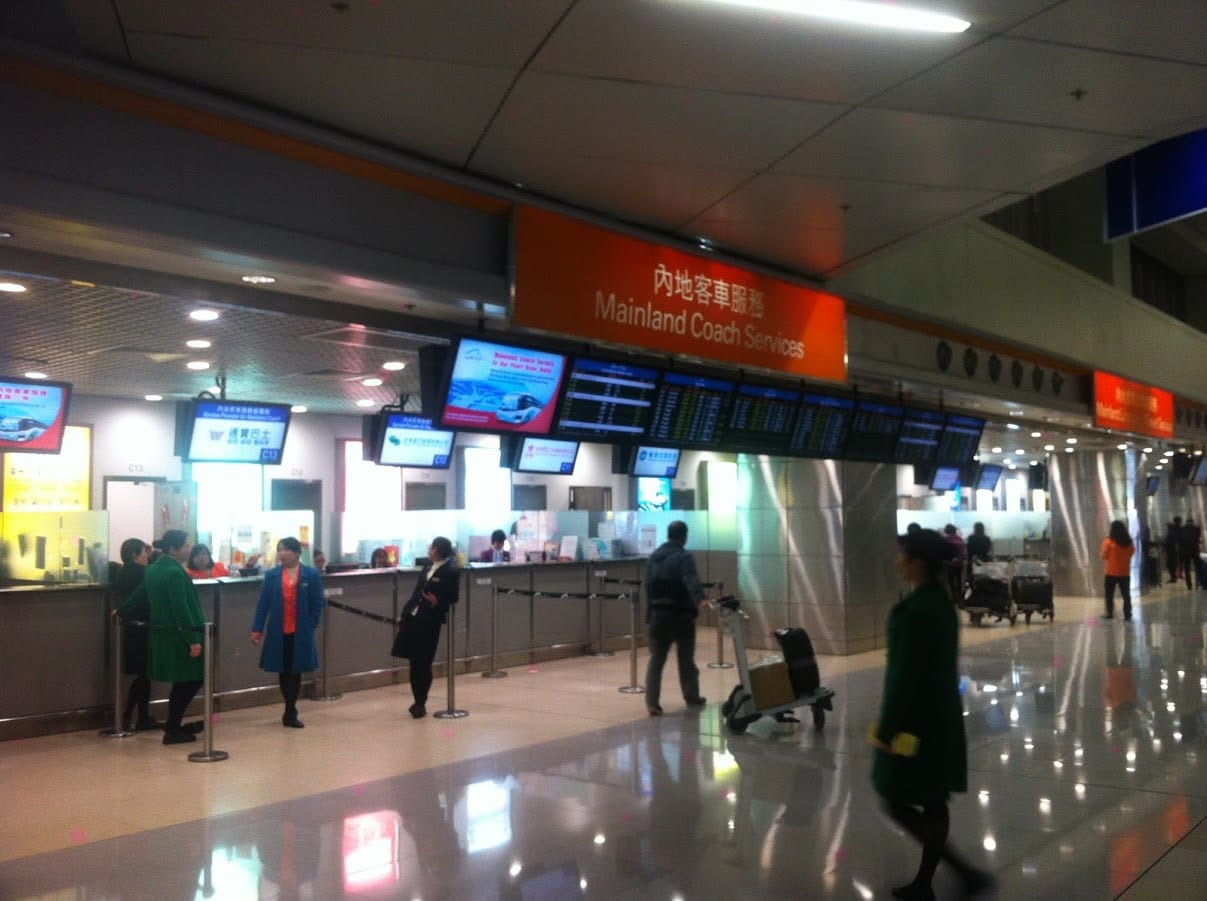 There are several companies who works on this route.
Go Go Bus
Departure time
: 07:35 / 08:05 / 08:35 / 10:45 / 12:45 / 13:45 / 14:45 / 15:45 / 16:45 / 17:45 / 18:45 / 19:25 / 20:45 / 22:45
Arrival points
: China Hotel, Guangzhou Hotel, Rosedale Hotel Guangzhou, Garden Hotel
More information here
: 
link
.
Through Lok Ma Chau/Huanggang
Bus's color: pink-yellow-white.
Ticket price for adult: 220HK$, for people who older than 65 and child from 2 to 12 years old – 170HK$
Eternal East Cross-Border Coach
Bus's color — green
China Travel Tours Transportation (CTS)
Departure time: 07:05 / 08:05 / 09:05 / 10:05 / 11:05 / 11:55 / #12:30 / 12:55 / 13:55 / #14:30 / 14:55 / 15:30 / 15:55 / #16:30 / 16:55 / 17:55 / 18:55 / 19:30 / 20:05 / 21:05 / 22:05
Arrival points: Jinan University(Tian He), China Hotel, Hotel Landmak Canton, Garden Hotel, Dong Shan Hotel
Bus's color: white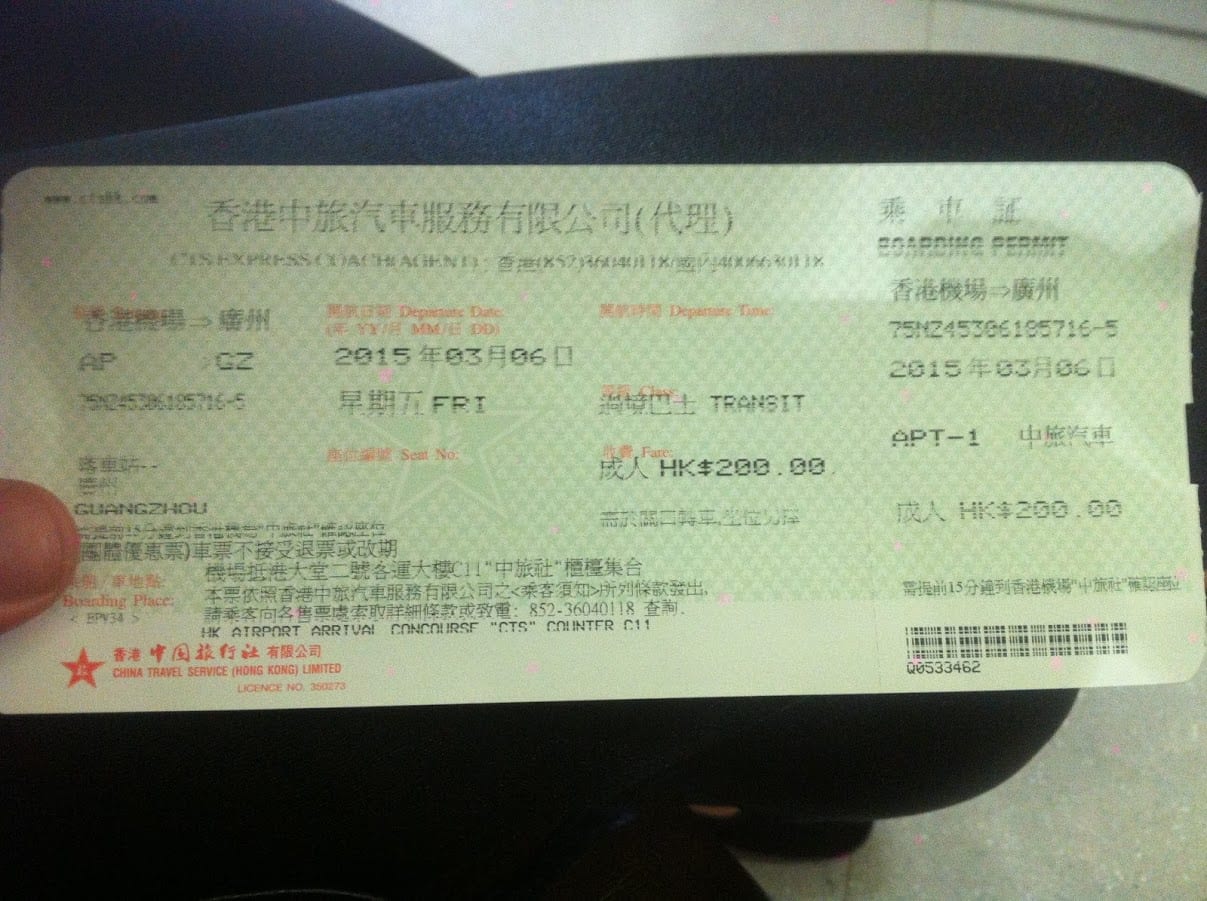 Attention! If you travel by this company, you have to cross the border by your own. It means a bus will stop near the border, all passengers should leave the bus with their laggage and go through passport control (leaving Hong Kong). After you finish you will come back to the bus. Bus will drive for 2-3 minutes and then you have to leave it again to cross the border with China and then you will continue your journey.
Another option — to choose company, which has vans (ask cashier). In this case, you don't need to cross the border by yourself and lift your heavy laggage. You will sit in van, from time to time showing your face to the custom officer. In the same van you will get blanks which you must fill to cross the border.
Although you still have to sit in a bus, but when you cross the border and your van will arrive to Shenzhen. There is no difference about the price, but I think this option is more comfortable.
Important! Keep your ticket closer, because there are a lot of busses and it's quite easy to lose which one is yours. Before you sit in a bus show your ticket to the driver and be sure that this is your route.
One more thing: check your destination point in advance, maybe it's close to one of the bus's stops. We didn't know that bus can stop in our district and found out about it accidentally. We were lucky, because in other way we will have to get taxi or metro and spend one more our getting our appartment.
By train
There is no direct train from Hong Kong airport to Guagzhou, so you have to get to city center. You can do it by bus A21 (~ 1 hour) or using Airport Express, which is faster (~ 20 min). You will get Kowloon station (not Kowloon West or Kowloon Tong).
Then from Kowloon station you can take direct train to Guangzhou.
Time: 2 hours by train from HK to GZ; 30-40 minutes — cross the border HK — China and China — HK; Total time ~ 3 hours.
Price: 190 HKD (150 RMB or $25) for train ticket per person.
This way, probably, one of the most expensive, but also comfortable. You'll leave Kowloon and arrive to East Railway Station (Orange line Guangzhou Metro — Line 3) – Guangzhou metro map, откуда можно добраться до любой части города.
By ferry
We didn't try this way, but I know there is only one ferry, which leave at 11:15 every Tuesday and Saturday. Sailing Time: Approx. 60 mins.
Price: RMB 310 / HKD 356 / 50 USD for adults and RMB 235 / HKD 270 / 30 USD for child (2 to below 12 yrs old)
More information you can find here: link.
Through Shenzhen
The border crossing of Hong Kong — China (Shenzhen) is located at Lok Ma Chau station (blue subway line, terminal station).
To get to Lok Ma Chau, you need to take the subway. See the map for more details: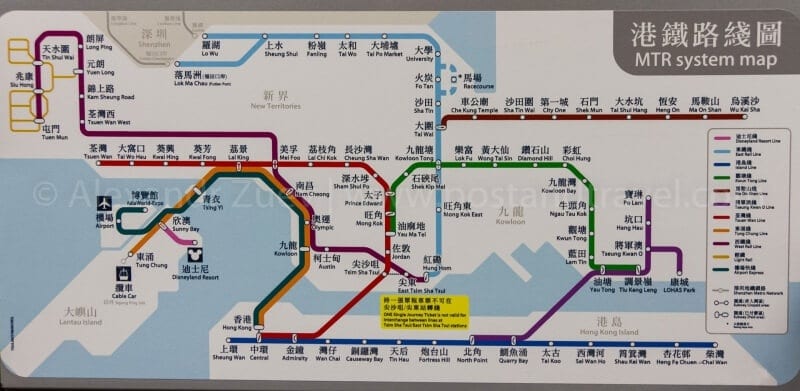 Hong Kong Metro is open until 12:20 am. More information about the metro can be read on the official website.
The price for the trip from Hung Hom station to Lok Ma Chau will be 37 HK$.
Crossing the border and finding yourself in Shenzhen, you can get to Guangzhou by high-speed train or by bus. Let me tell you more about both these options.
From Shenzhen to Guangzhou by train
Time: the train from Shenzhen to Guangzhou goes around 1h 30m.
Price: 79 RMB (economy) or 99 RMB (business) — ~ 11 dollars per person for an economy and 14 dollars For business class.
After 1.5 hours you will be in Guangzhou, at the East Railway Station, the orange metro line (Line 3).
Important! Taxi drivers in this area can cheat you very easy, so keep in mind that a taxi for a distance of 7-10 kilometers does not cost 100 yuan, and most likely will cost you 20-30. In this case, it is better to use official taxi stops and always make sure that the taxi driver includes a counter(!).
From Shenzhen to Guangzhou by bus
Time: 3 hours.
Price: 70 RMB per person ($10).
This method is even cheaper than the previous one and it is suitable in case you suddenly missed the last train. It happened with us once.
We've arrived to Shenzhen, crossed the border, but the last train left at 22 hours, and even earlier. As a result, we are in unfamiliar city, the ticket offices are closed…
We started to look for different options and we found out that we can get to Guangzhou by bus. Honestly, the procedure is not very pleasant, because it 2 times longer. The high-speed train from Shenzhen goes at a speed of 150 km/h, but the bus — 80-90.
I think that's all for now. We hope that our tips will help you to reach your destination with maximum comfort and with a lowest price. We have already felt on ourselves how important to get a little comfort after exhausting flights.
Good luck!
If you have any questions, feel free to ask in comments.