Bai Rush Wem is a picturesque beach on Phu Quoc Island. People come here to see numerous sea stars.
[toc]
Beach description
Starfish beach is located in the northern part of the island. White sand and clear water are its advantages. Many people call this place a paradise. It's hard to get here, not many are solved, so there are few people on the beach.
The sea is shallow and warm. There are no stones and sharp shells in it.
And, of course, the most important thing is starfish. Take a mask and snorkel for a scuba diving trip: this way you will better study the marine fauna and be able to take interesting photos.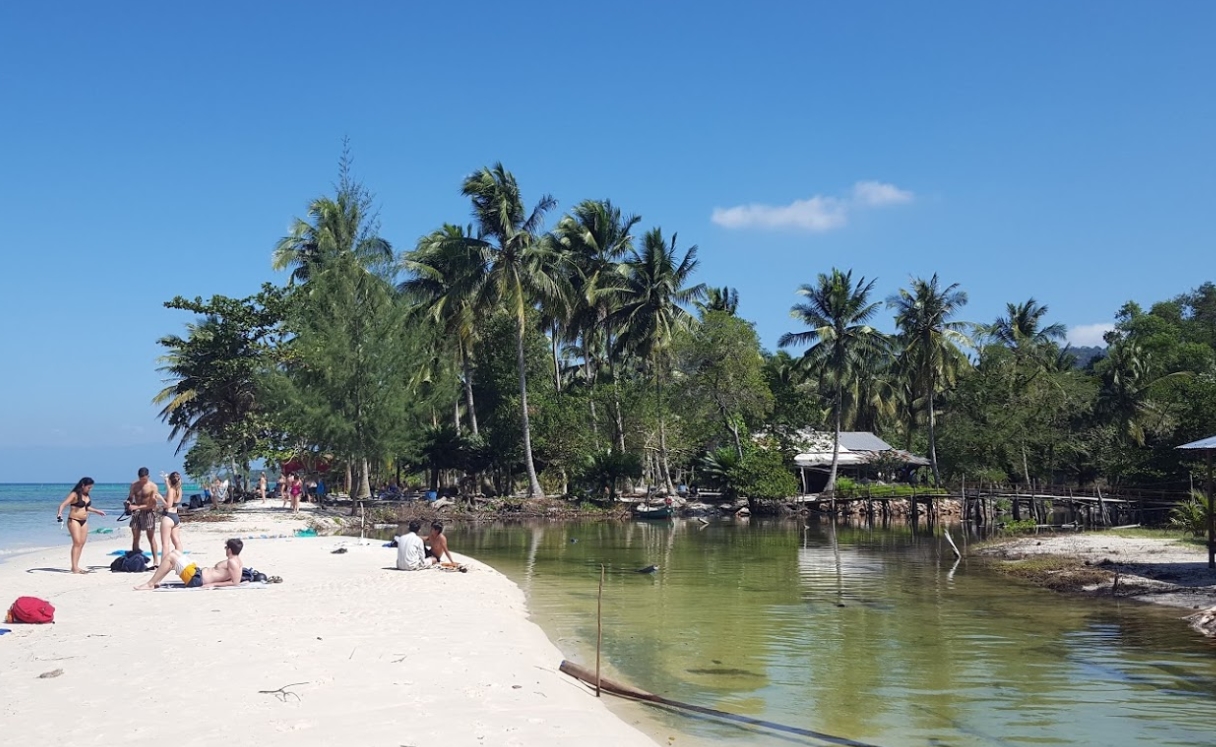 Visitors need to follow the rules:
Do not pick up sea stars. Some unscrupulous people take them away as a souvenir. But if so done, the beach may lose its uniqueness.
Do not get them out of the water for more than 5 seconds. Otherwise they dry out and die.
Do not throw them into the water, and gently put in place.
How to get there
We recommend to arrive before 10.00 or after 15.00, when there is no crowd of domestic tourists.
By car
Driving without Vietnamese driving license is not allowed. But you can find a private chauffeur for one day. The price is approximately $ 70 per day.
On bike
This option will be cheaper, but the bike ride longer than a taxi. It can be rented directly at your hotel. The cost is about $ 10 per day.
It is worth taking a bandage with you for the face, because a very large amount of dust flies right into your eyes.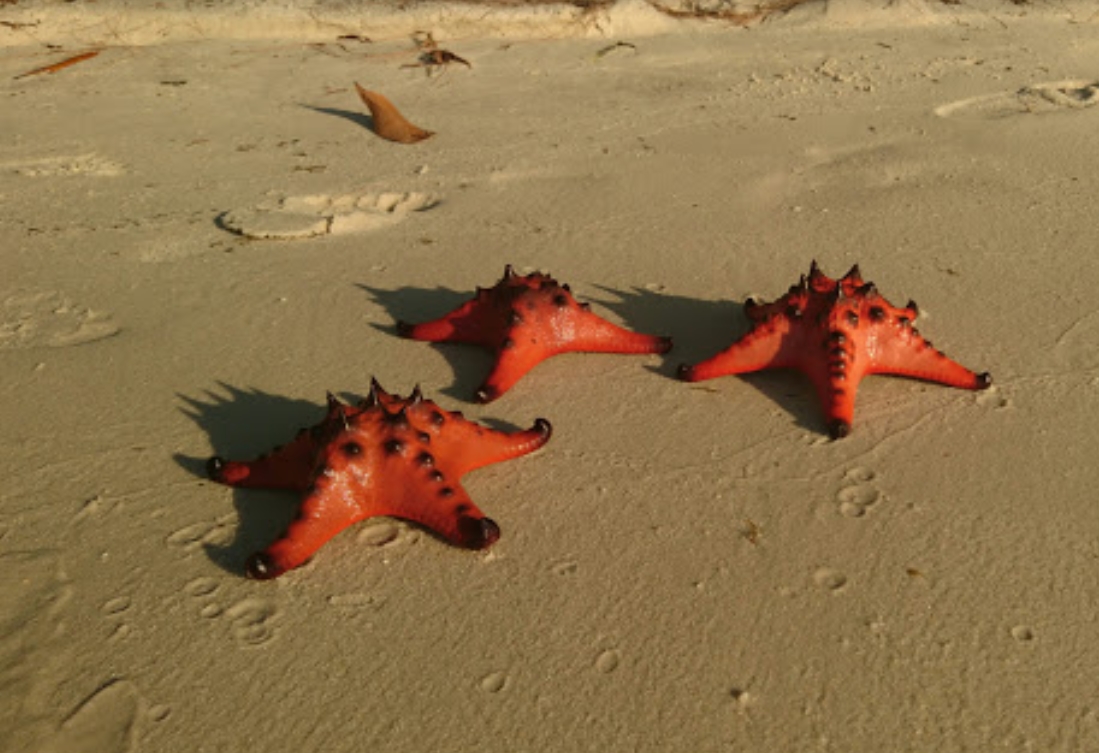 Will have to go on a bad road. You need to wear a helmet so that the trip does not end with injuries.
By minibus
It can be rented if you collect 10 people. The price will be $ 40 dollars.
With tour companies
Some companies include a trip to Starfish beach. For example, the popular tour "Sunset Photo Tour of Fukuoka."
What to see?
Safari Park
In 2015 was opened Safari Park. Here you will see about 100 species of animals in their natural habitat. Transported through the park on buses with air conditioning. The trip is free.
Plan your trip to get to the animal show by 10 am Rhinos, hawks, eagles, parrots and snakes take part in it. Children will be delighted with the visit.
Floating Restaurant
The restaurant is built in the water on stilts. There is a lot of seafood, you can also order some national dishes.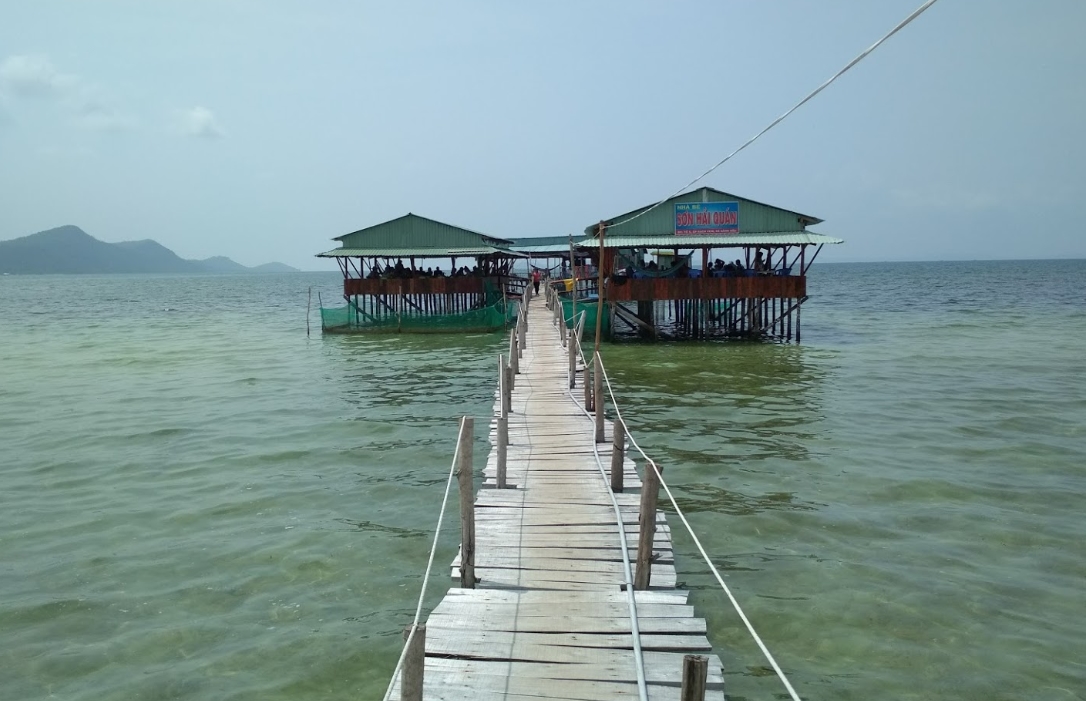 Floating village
Here you will see classic examples of Vietnamese houses on the water. Having visited the village, you will be penetrated by local color, and also you will communicate with inhabitants.
Black pepper plantation
On the way to the beach, you can visit the planting of Fukuoka pepper. It is obtained from slightly unripe brown fruits, which are dried in the sun for 8–10 days. Be sure to try a delicious coffee with local pepper. The tour costs $ 6–10 per person.
Hotels
Phu Quoc Countryside is a small farm with rooms and a small cafe. For a short stay is a very good option. Price – 500 rubles per night.
Pepper Farm Phu Quoc Bungalow is a small hotel with a kitchen, a garden, and a barbecue area. The rooms have a bathroom, a fan. On the territory there is Wi-Fi. Price – 700 rubles per night.
Bai Rush Wem beach is a beautiful and secluded place that is suitable for family holidays.