Mud bath I-resort: excellent rest and strength of healing mud
The I-resort mud-bath in Nha Trang is a favorite place for relaxation, recreation and general sanitation among tourists and local residents. Mineral and mud sources in Vietnam, more precisely, in Nha Trang, are known all over the world!
Healing mud of natural origin is very popular. They are used for preventive purposes, for improving well-being, in combating complex diseases. Among people who have tried the mud treatment procedure and evaluated its result, it is unlikely that there will be those who refuse to repeat. So, let's take a closer look at the place where "Ai Resort" is located, and the options for recreation offered to visitors.
Favorite vacation spots in Nha Trang
In the vicinity of Nha Trang, visitors appreciate the three places in which you can soak up in mineral baths and have plenty to lie around in mud: this is Thap Ba, I-resort located in the northern part, and the 100-egg treatment and entertainment complex in the southern part of Nha Trang. Near the city, 40 kilometers away, there is a park "Young Bay" with mineral pools. Thap Ba is called "old", and I-resort – "new sources" for their relatively recent discovery – in 2012.
The distance of 7.5 kilometers from the building of "Lotus", a kind of tourist center Nyachanga, refers to the clear advantages of mud baths.
I-resort. How to get there
The most popular are three options:
a taxi – about 150 thousand dong;
transfer from the "Ay Resort" – 20 thousand dong in one direction per person;
rent a bike. The path is full of directional signs to the I-resort, so the possibility of getting lost is unlikely.
You can use the transfer daily four times
| | | | | |
| --- | --- | --- | --- | --- |
| Direction | Time 1 | Time 2 | Time 3 | Time 4 |
| towards the hospital | 8:30 – 9:30 | 10:30 – 11:30 | 13:00 – 14:00 | 15:00 – 16:00 |
| towards the city center | 1:00 pm | 14:00 | 3pm | 4pm |
Cost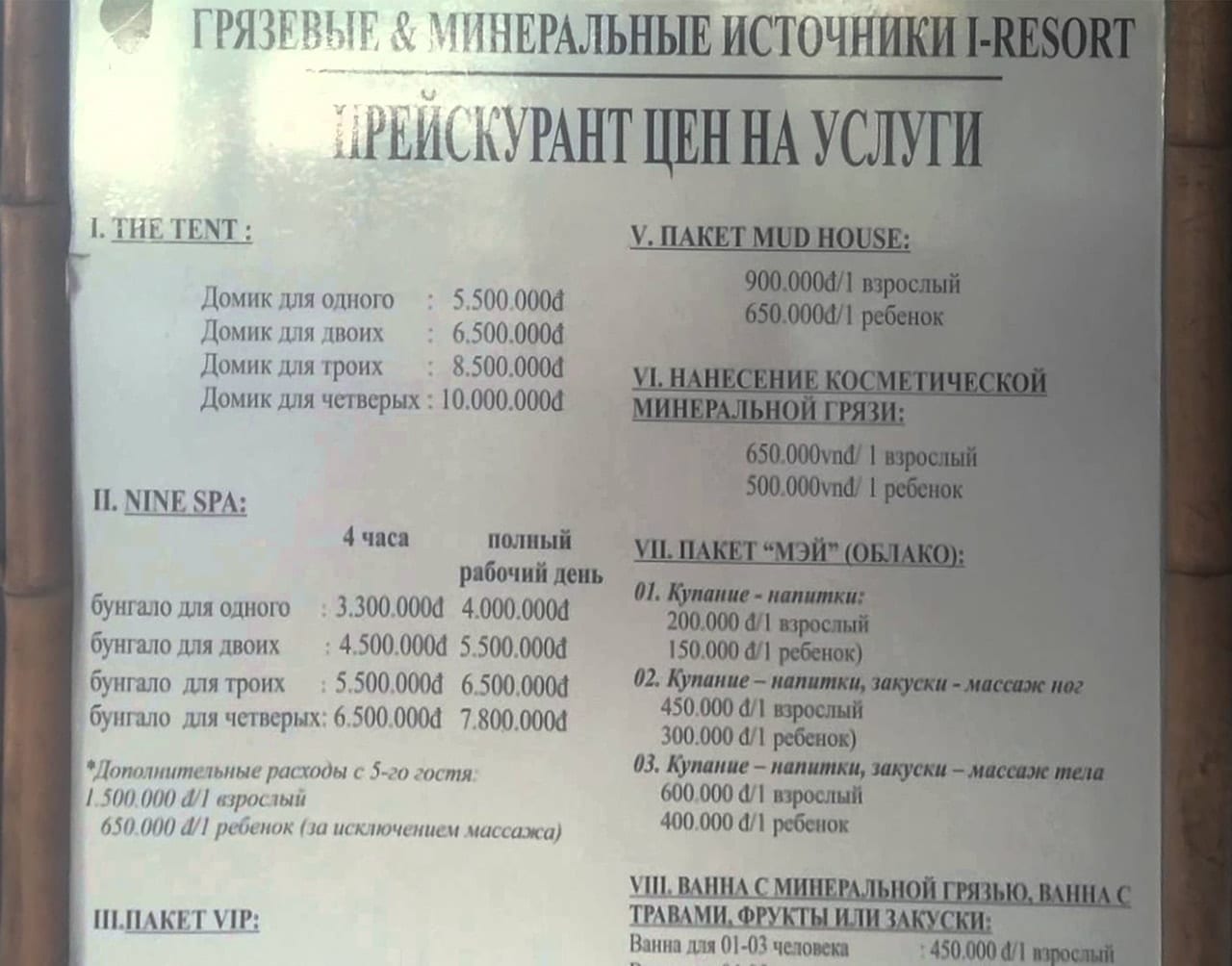 Rest conditions in the mud baths I-resort in Nha Trang
What to do in the I-resort:
mud baths
mineral baths
hot pools
massage and SPA procedures
sauna
The territory of I-resort in Nha Trang is perfectly planned and divided into two zones: a water park and a place where hot pools with mineral water and mud baths are located. For the purpose of detailed study, be sure to visit the official site of the clinic.
Near the pools with mineral water are vases, water from which they wash their feet from the sand in special tanks.
Thermal influence of mud in the form of a bath at a temperature of 40-48 ° C is easier and more pleasant to the body than similar water procedures. The curative effect is a significant increase in body temperature and increased blood flow, so useful substances quickly reach and saturate tissues and organs. There is an intensification of lymph drainage, which contributes to high-quality and full-fledged treatment of the body, getting rid of toxins. The use of dirt speeds up the metabolism. Do not be afraid of a slight unpleasant smell – the presence of sulfuric acid salts in the mud increases its quality and enhances the positive effect on the human body.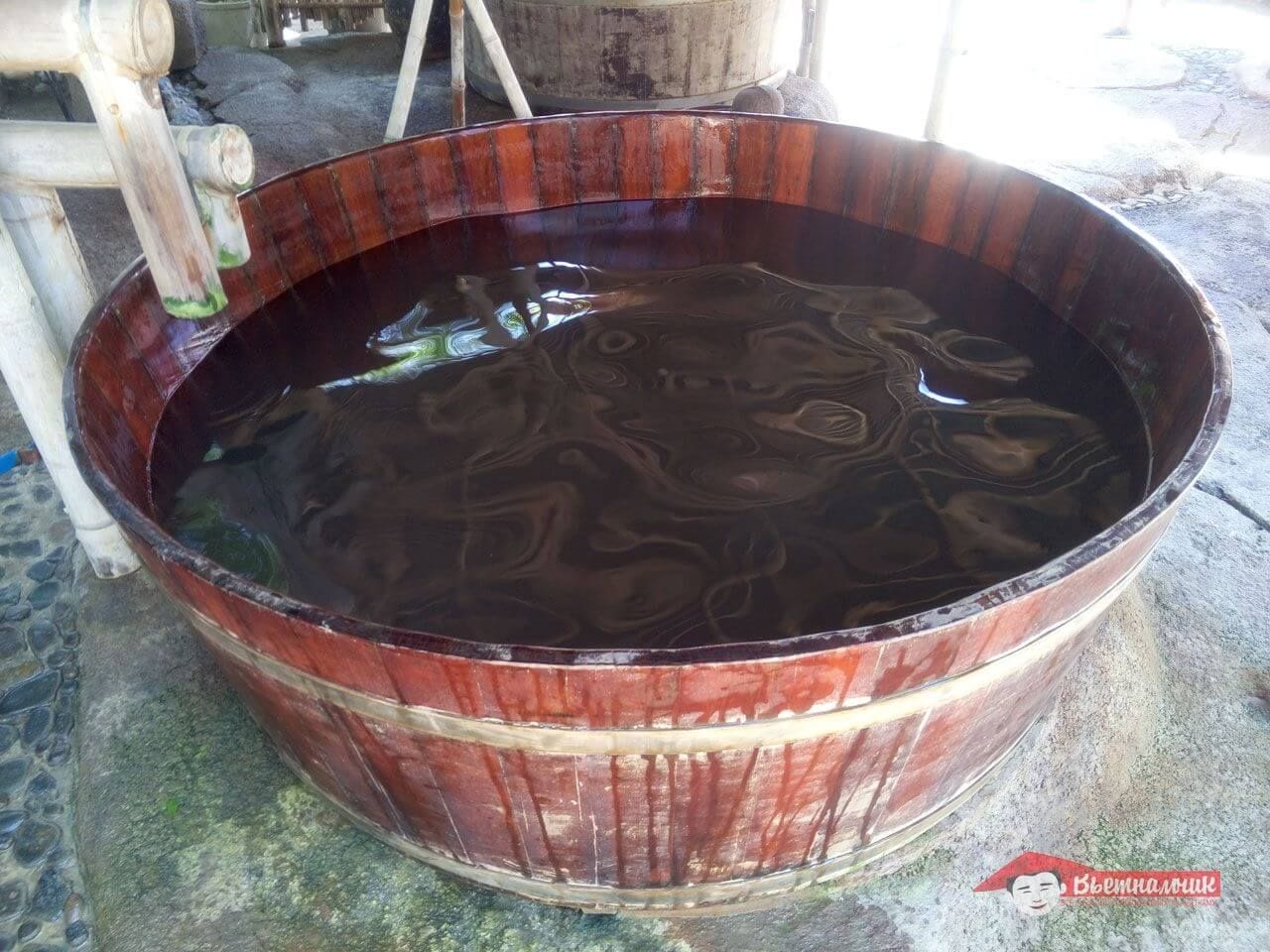 In the hottest source of "Ay Resort" you can cook eggs – it's a popular entertainment among tourists and locals.
A vivid impression leaves the Infiniti pool. The view from it to the railway bridge and the river Kai is amazing. Here you need to take a picture.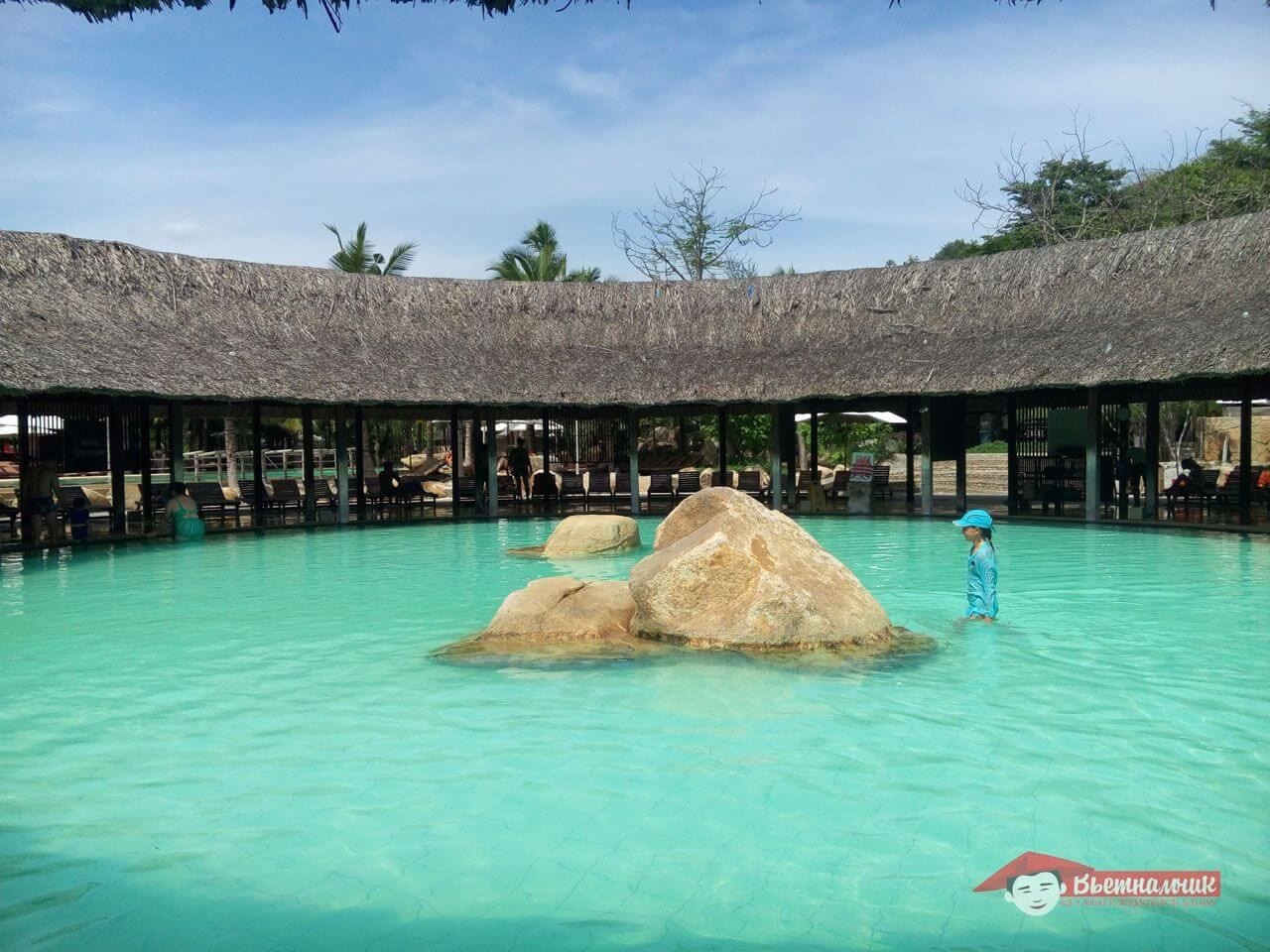 In negative reviews about the I-resort, often a significant concentration of visitors on weekends, so couples choosing a secluded vacation, not very comfortable. However, a large number of clients say that the opportunities for recreation and the pricing policy of the SPA resort I-resort are diverse, reasonable and attractive for everyone, without exception!