How to get visa to Vietnam
Many travelers who plan the trip to Nha Trang, ask, whether they will require a visa for entering Vietnam. Let's take a look at the requirements.
A visa to Vietnam for British for up to 15 days is not required.
For citizens of US, Australia, New Zeland and Canada – is made on arrival.
[toc]
General information
Vietnamese visas can be issued for one month or three months. There are ways to get one, two or three-year visa (see further down the article).
In addition, there is a difference in number of entries – there are one-entry visas and multiple entries visas.
Vietnamese entry policies are quite flexible in general. Vietnam makes profit on a large tourist flow – people choose this country because the prices are low and the entertainment sector is good. Such popularity is common for the most South-Eastern Asian countries.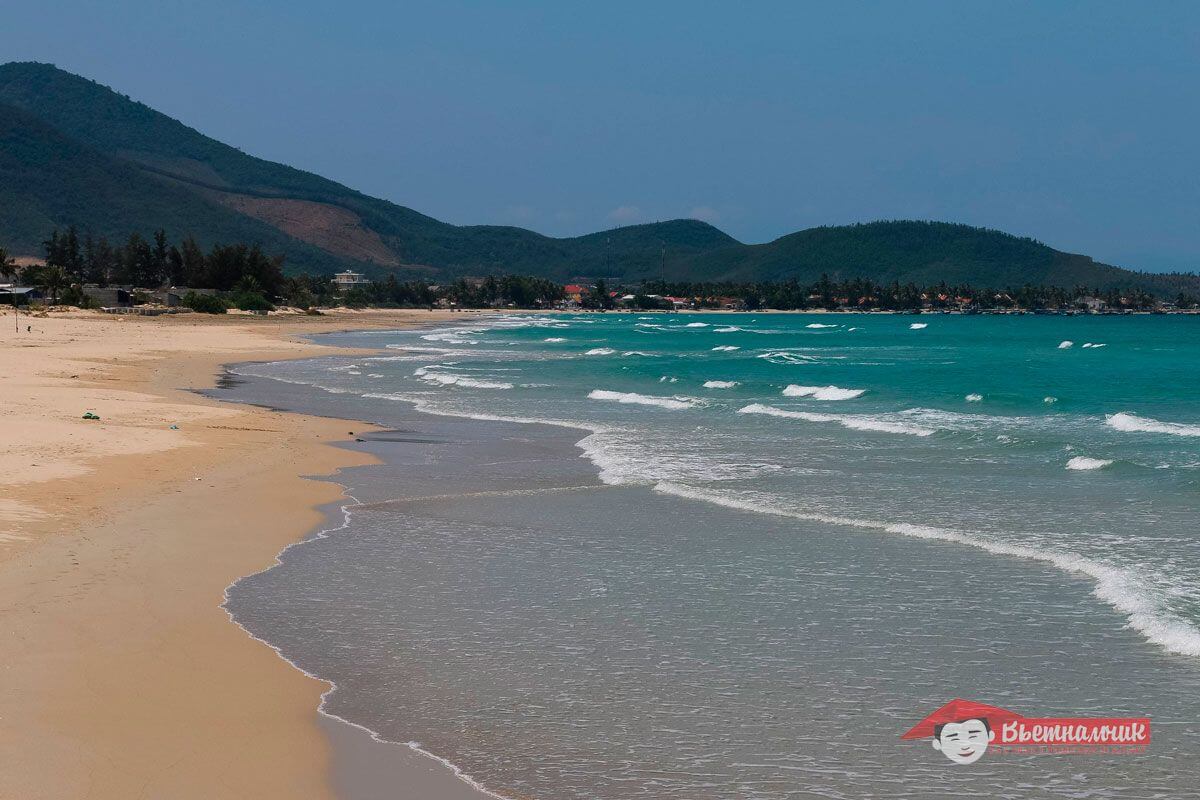 Such cities as Nha Trang and Da Nang are famous for their resorts with beautiful beaches and sources for mud baths, and the city of Da Lat is considered a jewel in itself. Not to mention quite reach and breathtaking culture and tradition of Vietnamese people.
It is interesting: Vietnam is the most popular tourist destination among Chinese. They consider such travels cheap and not as distant as other countries. In addition, they praise food, warm weather and the possibility to relax by the sea. That is why there are many Chinese in Nha Trang, not only Russians.
No-visa entry for the 15 days or less stay
Citizens of most of the countries are permitted to enter Vietnam without any visas, but they must fit two requirements:
Be tourists only – not visiting for work or residence.
Stay for 15 or less days.
Tourist visa does not allow visitors to work or study in Vietnam.
To enter the country without visa you need:
To have travelling passport, that does not expire in the next 6 month after the date you need to leave Vietnam.
To have your return ticket.
To not been entering Vietnam in the past 30 days.
To not have your name in the blacklist.
It is possible to enter Vietnam without visa for 15 days in each 30-day period only.
It is also worth mentioning that you do not necessarily need the return ticket – the booking confirmation is enough. You can also depart to another country, not only to the country of your previous stay.
No-visa entry to Phu Quok
In addition, we should mention Phu Quok island policy of no-visa entry. In comparison with mainland policies, Phu Quok rules allow visitors to stay not 15, but 30 days without any visas. These rules apply, if the tourist arrives directly at International Airport, located on the island. However, you may not be allowed to leave the island for visiting other parts of Vietnam.
More than 15-days stay (1 or 3 months): visa application
Visa for citizens of United Kingdom for up to 15 days is not required. You need to register it only if you decide to stay for a longer period.
There are several ways to submit an application:
Visiting the Consulate of Vietnam in your country.
Visiting Consulate General in other countries.
Via intermediary tour agencies or companies.
Applying via Consulate
You can apply for Vietnamese visa beforehand in the Consulate of Vietnam in your country.
If you choose this option, you should submit the following documents:
Travelling passport, that does not expire in the next 6 month after the date you need to leave Vietnam.
Application form, completed in English (2 copies).
1 photo, 4×6 cm in size.
Invitation form from the inviting party (usually made via the tour agent).
After that you must pay your visa fee – usually not less than $25 (depends on your visa expiration date).
Getting visa upon arrival at the airport (entering the country)
This is by far the easiest way to get Vietnamese entry visa. It doesn't require much time or money.
Let's follow the process step by step.
Step 1. Before your flight (2-3 weeks before the trip).
Before your flight you must get Approval (or Invitation) Letter. This is a legal invitation to Vietnam – you cannot get your visa without it. You should order it beforehand, usually 2-3 weeks before your trip. This letter must be printed and carried around with you for your visa application process at the airport.
How to get it – read below.
Step 2. Upon arrival
When you arrive at Vietnamese International Airport, you must find the booth with "Landing Visa" on it. It is located in front of the passport control booths.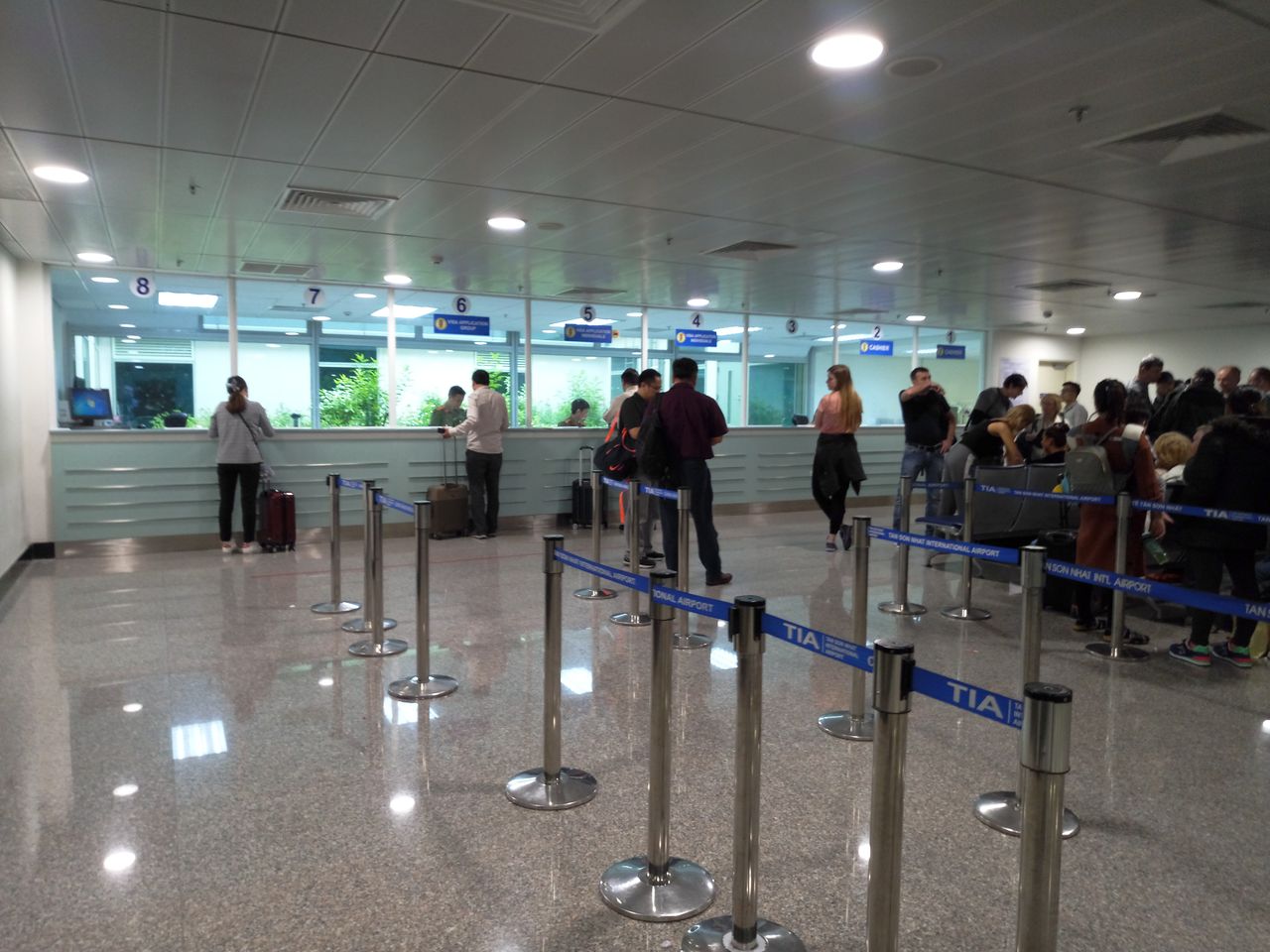 Step 3. Complete Visa Application Form
Here at the Landing Visa booths you can get blank Visa Application Forms to complete them.
Useful tip: you can print and complete it at home without any rush. It will allow you to pass through the airport quicker. You should complete it in a certain way – see the example in English. Application form has its completion rules, which you should follow to avoid any troubles at the airport.
Download visa application form
Step 4. Submitting all documents for your visa
After completing the form, give it to the migration officer along with other documents – Invitation Letter, 2 photos (4×6 cm in size) and your passport. Then you will have to wait to be called to the migration officer.
Step 5. Getting your passport with entry visa
The document check is quick (5-10 minutes). After that, your visa is ready and you will be called to get it from the officer.
The application procedure is no different for any tourist visa (3, 6 or 9 month long). If you plan to stay longer, the procedure is also the same, but you must submit more documents (see below).
Where to get the invitation?
Approval Letter (or the Invitation) can be requested from your tour agent in your home city or from other companies of your inviting party (by choice).
You can request it on the Internet beforehand.
We have been working with Anpy Ho (
Facebook
) for several years on that matter. It is our stable contact, which provides us with invitations every three months.
Approximate prices for the Invitation Letter:
1 months stay, single entry visa – $8;
1 months stay, multiple entry visa – $13;
3 months stay, single entry visa – $20;
3 months stay, multiple entry visa – $30.
Document check usually takes from 2 to 5 days (if it is urgent, you can get your invitation in 2-4 hours or 1 day). All details are available directly from your invitation party.
Updated info. Payment can be made via Online Western Union (online private page) and also PayPal (new method of payment).
Your Approval Letter must be printed to show to the migration officer upon arrival at the airport.
Some other contacts for getting your visa:
Residence Permits and long-term visas (more than 12 months)
It is possible to get Residence Permit for 2 to 3 years if you are true Vietnam lover or a businessperson, who wants to settle here.
Approximate prices (2017):
One-year entry visa – $450;
2-year Residence Permit – $600;
3-year Residence Permit – $800.
Details on application process, relevant documents and prices are available at the visa agencies.
Entry rules for children
To enter Vietnam the children (minors) should also get entry visas – in that case, the migration policies are usual in Vietnam. If the child is going to stay more than 15 days, they should be mentioned in their parent passport – Vietnamese visa will be issued as a single one for two people, but the fee for Approval Letter will be doubled.
Important information: If the child travels with grandparents, aunts/uncles, or any other relatives apart from their actual parents, adults must have Power of Attorney from the parents, allowing the child to travel with these people to Vietnam.
The child should also have Birth Certificate or Travelling Passport with them – these documents are submitted to the migration officer for the checkup at the border.
An expired visa penalties
If your Vietnamese visa is expired for any reason, try to contact your tour agent – it may be possible to prolong your stay without crossing the border. It can cost you twice as much as the normal visa application, but you may avoid any troubles with migration officers.
For each day of overstay in Vietnam the tourist will pay 5 dollar penalty. If the period of overstay is long, it may result not only in penalties, but also in the entry prohibition for the tourist (blacklist).
Visa denial
It is almost impossible to get Vietnamese visa denial, because the migration policies of the country are flexible. The country encourages tourists from all over the world to stay longer, because they bring money and profit to the country.
It means that you can get your Vietnamese visa with ease if you haven't broken any laws or had no visa expirations before your current trip.
Visa denial can occur, if:
You are on a blacklist.
Your documents are completed with mistakes or any discrepancies.
Illegal activities of migration officers occur (lying, asking for the bribe etc).
Visa prolongation (visa run)
With departure from the country
Getting a new visa is the easiest way to prolong your stay in Vietnam. The procedure is called Visa Run. It means that you have to depart to another country and then enter Vietnam again.
You must get new Approval Letter first, and then go travelling to the nearest (or not) countries:
Cambodia (the cheapest, can take a bus);
Thailand;
Indonesia;
Malaysia;
Laos;
Philippines;
Hong Kong;
etc.
On your way back go through the same application process as you've already done before – that's it, you can stay in Vietnam for the next months or even years.
Without departure from the country
If necessary, it is possible to prolong your visa without leaving the country. Migration authorities can grant you 30 to 90 extra days (1 to 3 months), but for the foreigners such prolongation is usually not for the maximum duration.
Such process can be successful, if you have met two criteria:
You haven't broken any laws while staying in the country (it includes misdemeanor and small offense with administrative fines).
You submit to the processing through officials (migration departments of the country) or official intermediaries.
Prolongation can cost differently depending on the official you are submitting to. Usually the prices varies from 25 to 50 US dollars.
Working visa/permit
Sometimes travelers to Vietnam find suitable jobs and decide to stay and work officially in the country. Usually the job is within IT branch, Education, Ship Construction, Mining or Service Industry. In that case, some employers help their foreign workers to get working permit or working visa.
Working Permit is issued not from Migration Authorities but from Vietnamese Department of Labor. In such instances, the company registered in Vietnam must state its desire to hire a foreigner – usually it occurs when the foreigner has relevant experience and specialty in the field of future work.
Department of Labor requires such documents to issue Work Permit:
Application for the Job form.
Confirmation from the company, that wants to hire the foreign employee.
Certificate of Criminal Records from the employee's country of origin.
Application for the Visa form with up-to-date photo of the employee.
health certificate;
Copies of all documents, that state employee qualification and professional skills.
3 color photos, 3×4 cm in size.
Vietnamese Department of Labor check all documents within 15-day period to grant the future employee the Permit. In most cases, such Permit allows the person to work in the country for 1 to 3 years.
It should be mentioned, that with such Permit you should not change the place of work, because the company is responsible for you for the duration of your stay in Vietnam. If you change the employer, new company must start the application process again before you will be allowed to work for it.
Conclusion
We hope that our tips will help you throughout your Vietnamese visa application and answer most of your questions about it. You can submit any additional questions in the comments form below, and we will be glad to share our experience.
Vietnam is a very flexible country to get your entry visa. It is very welcoming for the tourists from Russia, Ukraine and Belarus.
Have a nice stay in Vietnam!