Rent a motorbike, scooter in Nha Trang, Vietnam
Lovers of independent travel, beautiful views and mobility is dedicated. Rent a bike in Nha Trang – this is the second thing that is interests travelers, after cellular connection.
If you have already been to Thailand or Indonesia, then imagine how much more comfortable the trip will be if you rent your own transport. And since the car to rent is much more complicated and expensive, the optimal solution is to rent a scooter.
So, let's consider in order – where, for how much and how to rent a moped for independent trips to Nha Trang shopping centers, markets, beaches and the nearest neighborhoods.
Places to rent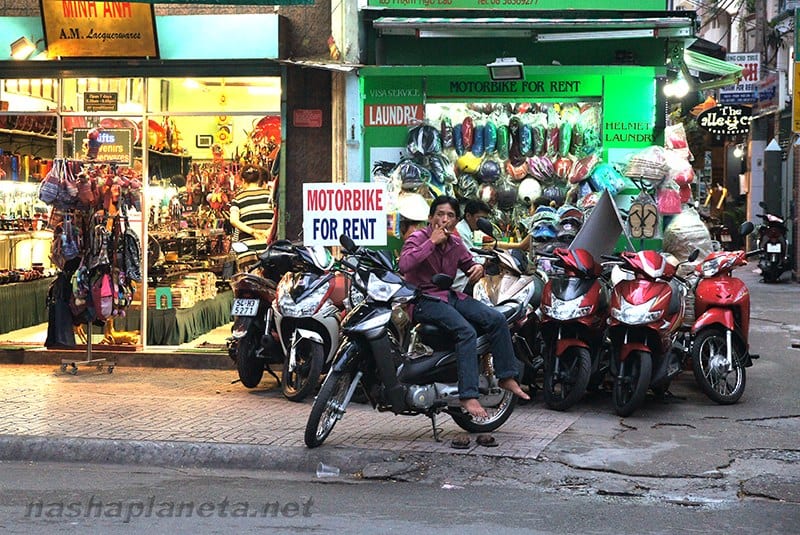 Motobike in Nha Trang, as in any city in Vietnam, is easy to hire. There are several options:
small hotels and hostels;
specialized points;
other options.
It seems that the choice is small, but it's not true. It is difficult to walk around the city (especially along the central streets) and not find a dozen places where you will be happy to rent a scooter.
If you stayed in a small hotel, then, for sure, at the reception you will prompt the nearest such place. And they can even drive a bike to the hotel itself, its owners often enter into an agreement with the owners of motor transport.
If there is no such service, it is enough to walk along the second and third lines of Nha Trang (the first line is near the sea where large hotels are located).
We recommend this point:
For a long time in Vietnam we had to rent mopeds for our friends and acquaintances and every time in this place we received a good, reliable and inexpensive service.
Another way of car rental in Nha Trang is to contact local foreigners who have been living here for a long time and are renting bikes. We advise you to contact our good friends – the guys from Moto Vietnam, they will not only pick up a good bike for your requirements, but also give a few lessons of driving and recommendations.
Deposit
If you take a vehicle for rent, then you need to leave a pledge for any document. This can be a passport or driver's license.
Instead of a document, you can leave a deposit of money. The amount will depend on the cost of the motorcycle.
Price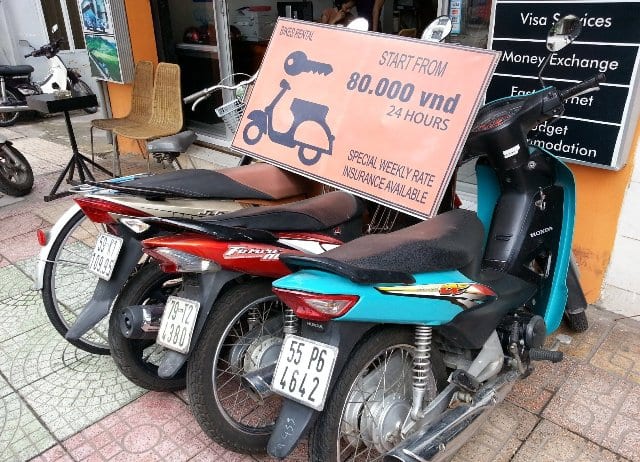 The cost of renting motorbike in Nha Trang is from 80.000 dong for a day. If you have long arrived in the country, you can rent a bike at once for a month, then the prices will be lower.
We recommend to choose bikes newer in 2010-2011, such as:
Yamaha Nuovo 4 ~ 150.000 VND per day;
Honda Airblade ~ 150.000 VND per day;
Honda PCX ~ 200.000 VND a day.
Relatively new scooters have not yet managed to patty careless tenants, they are more comfortable, and they have less chance to break away from the place of rent.
Petrol
Usually motorcycles are filled with AI-92 (Standart), the liter of which costs 14.000-15.000 dong – $0.65. Gas stations are everywhere. Sometimes you can see gasoline in the middle of the street in plastic bottles.
You can pay immediately a certain amount or say: "Full" – and, the bay full tank, pay the fact.
Be careful! Sometimes unscrupulous Vietnamese try to deceive the tourist without dropping the counter and, thus, winding up the cost for refueling. Therefore, when refueling, look at the column – the numbers on it must completely coincide with the expected.
In an ordinary bike like Yamaha Nuovo 4, you can pour about 3-3.5 liters of gasoline.
Precautionary measures
Before hiring it is necessary to fix all the external errors by photographing them. Internal defects should be identified by a test drive. Failure to do so may result in damage to the owner for damage or serious accidents.
Also be sure to take the contacts of the rental point: business card, check. This may be necessary in case of unforeseen situations.
Helpful information
Driver licence
Many sources state that in Vietnam only local drivers' licenses are recognized. In fact, since 2014 the country has signed the Vienna Convention on Road Traffic, which allows the use of international rights for the management of vehicles. If you do not have a certificate and an accident, you will become the culprit, because you manage the vehicle without the right to it.
If your driver's license contains category A, this will reduce the probability of a fine. But if you are still stopped without rights, you can try to buy off the largest Vietnamese banknote.
Arrest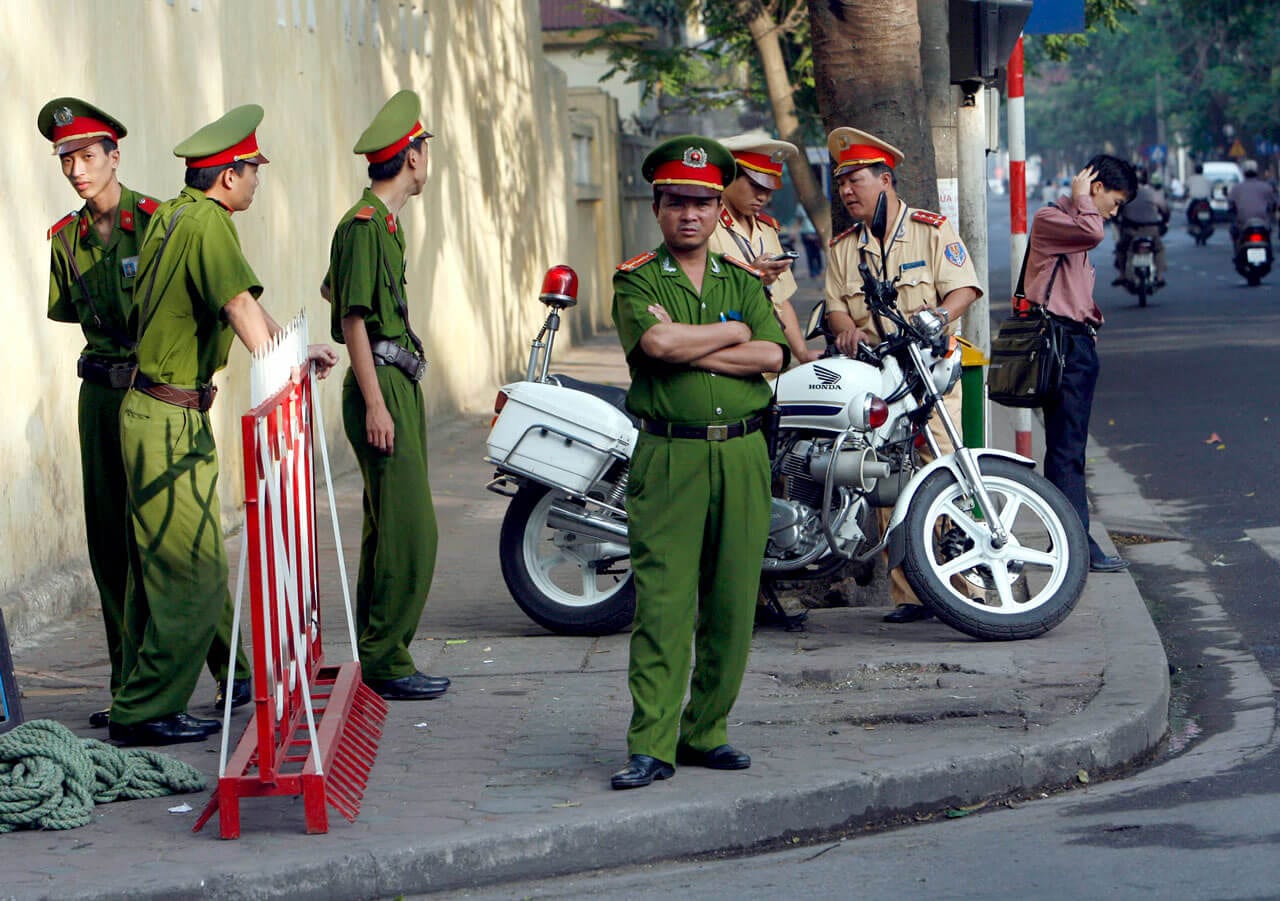 Local traffic police bodies will pay attention to you in the following cases:
Management of a vehicle of movement without the use of a helmet. It is required for its presence both for the driver and for the passenger, but to the lack of a means of protection in the latter can be treated loyally.
Serious violation of traffic rules, non-compliance with the speed limit – no more than 40 km / h in the city, and not drunk.
Editor's note: wearing a helmet is very important, this is the first thing that policemen pay attention to.
Punishment
Light violations, which did not entail serious consequences, are punished with fines in the amount from 60.000 to 100.000 VND (~ from $2.5 to $4). Control of the vehicle without a helmet or three-way ride, as well as some other violations – from 100.000 to 400.000 VND (from $4 to $18). Rough deviations from the rules entail a fine from 500.000 to 3.000.000 dong, ie. from $20 – $130. In addition, with a high probability, the bike is confiscated.
Advice
First, be very careful when driving on Vietnamese streets. The movement here is fundamentally different from what we are accustomed to in Russia. There is a feeling that there are no rules. You will easily encounter a biker crossing the entire roadway (4 lanes) diagonally just because it is so convenient for him.
Secondly, always wear a helmet. Try to take a closed helmet from the owners of the rental point. This is a super precautionary measure, which, moreover, will save you from a fine.
To be honest, for a year and a half of living in Vietnam, we were able to see the local traffic police several times.
Third, be careful on Friday and Saturday night, and even more so at night. Vietnamese after a busy week often drink and without the slightest remorse sit down drunk behind the wheel. And they can go without the headlights on and on the opposite lane.
If you broke down
If your bike has broken down on the road, do not panic. You can always call the owner of the scooter and talk about the problem. Plus, almost at every corner there are workshops where you can help to stick a punctured wheel. In order to find such a service, you can ask passers-by, showing on a broken bike, and you will be happy to show the way.
Difficulties can arise if you broke down in the evening, after 6-7 hours. At this time, almost no one is working, all Vietnamese close their cafes and sit down to supper. It is rather difficult to find an open workshop. Therefore, try to take the mopeds newer (they break less) and check the technical condition of the transport before the trip.
Try to contact the guys from «Moto Vietnam» or write Вконтакте to «Барахолка» group. For a small reward, the community members will help fix it, or at the very least, get the motorcycle to the right place.
Conclusion
In conclusion, I want to add that there is nothing terrible in driving along the streets of Nha Trang. We know a large number of girls who started from scratch to drive bikes and are perfectly able to cope with it. Cope and you!
Good luck!